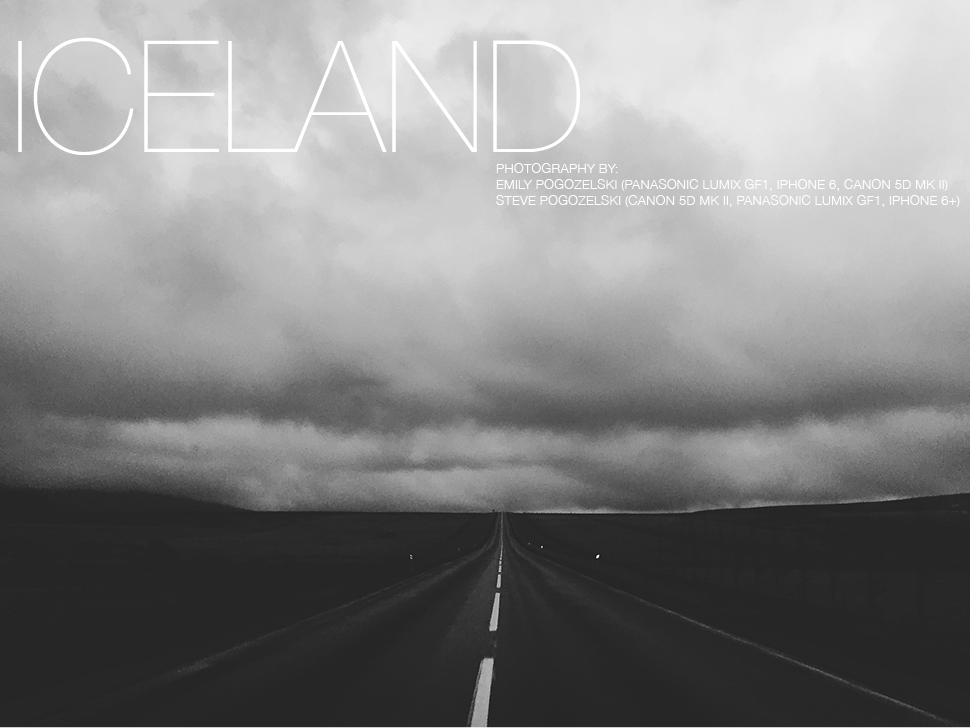 A year ago we heard about an amazingly inexpensive deal for a trip to Iceland. (We soon learned that Iceland in November is pretty much the extreme off-season, with the sun rising around 10am and setting at 3:30pm… but it's still an incredible place to see.) We figured hey… why not? We usually try to travel or escape around Thanksgiving anyway, as we're both turkey babies, so we booked the trip on a whim and then settled down to wait for six months.
We already shared our favorites from our portraits and exploring with Thu + Alek; this is more of a personal post, about our adventures together during this whirlwind of a trip. The biggest recommendation we can make is this: go see for yourself. We can't wait to go back. (Click the image above for much, much more…)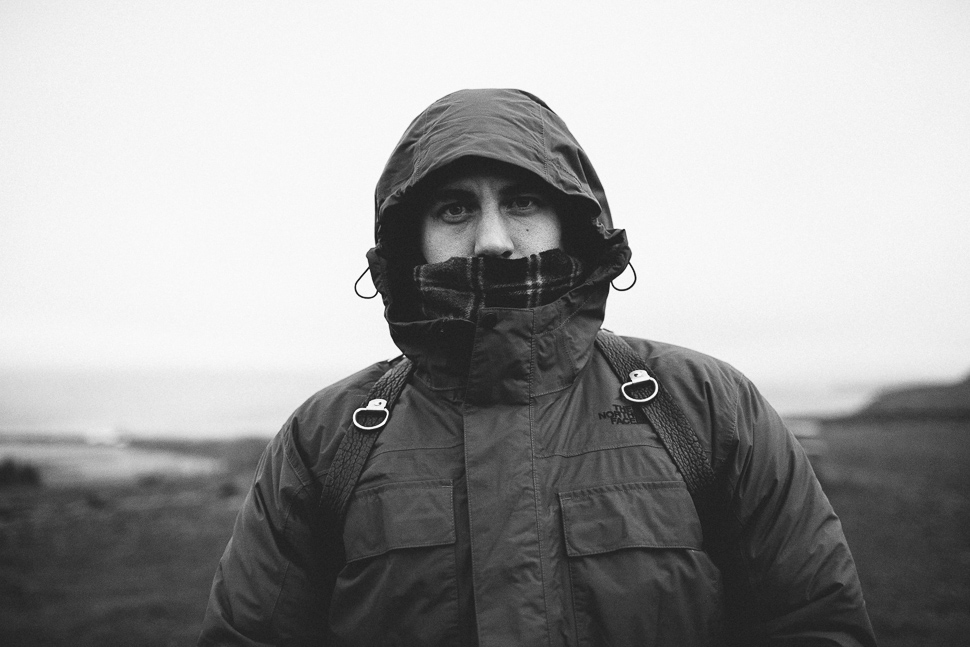 Our overnight flight landed just before 6am, leaving us around four hours of darkness to get SIM cards for our phones to have data (surprisingly easy and highly recommended for any foreign travel), pick up our rental car, and navigate in pitch blackness to Reykjavik, the capitol city where we were staying. After some strong coffee, a change of clothing, and a bite to eat, we headed north out of the city to make our way through the Golden Circle. The first stop on our list was Thingvellir, which is where the continents are literally pulling apart from each other.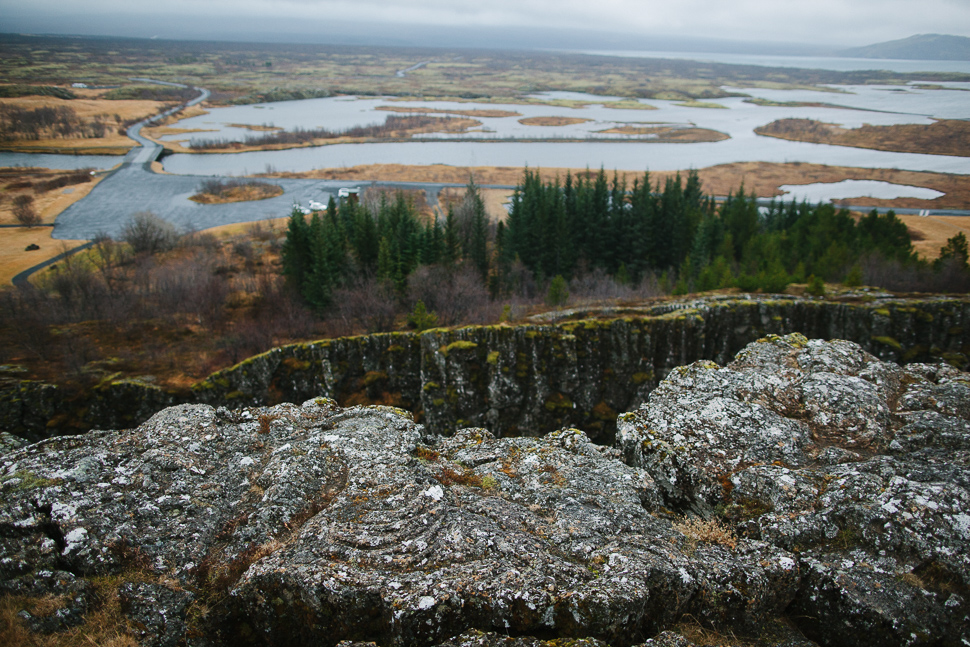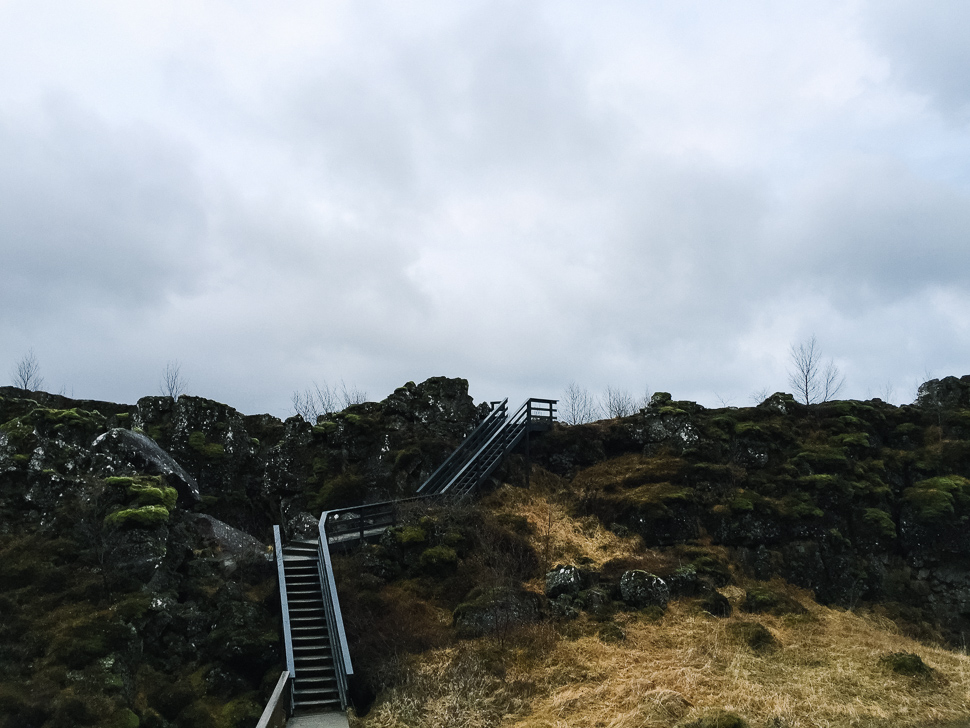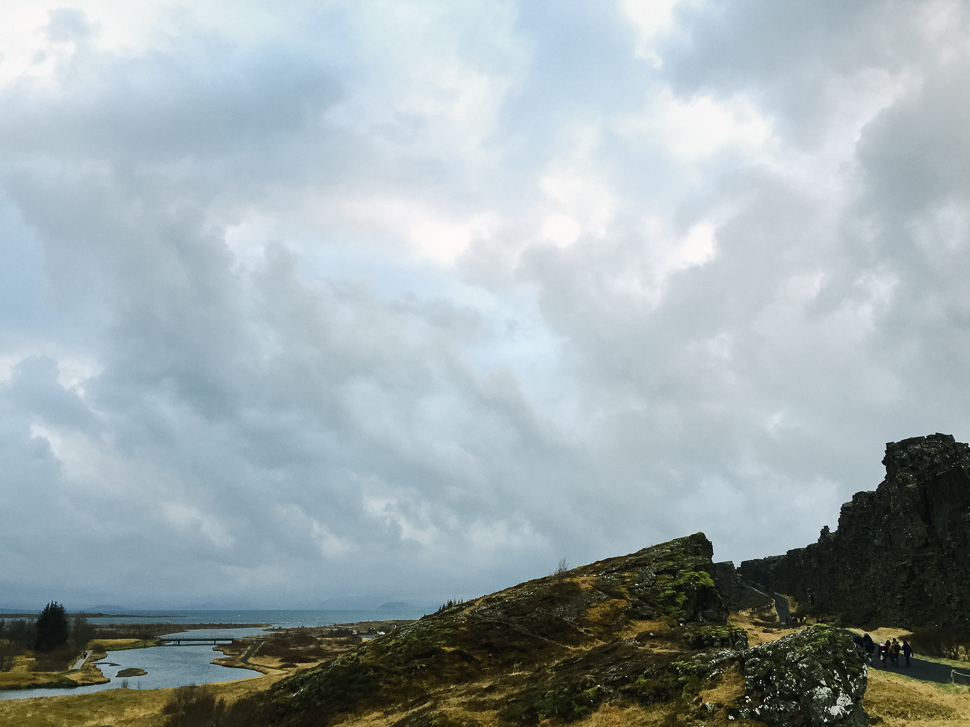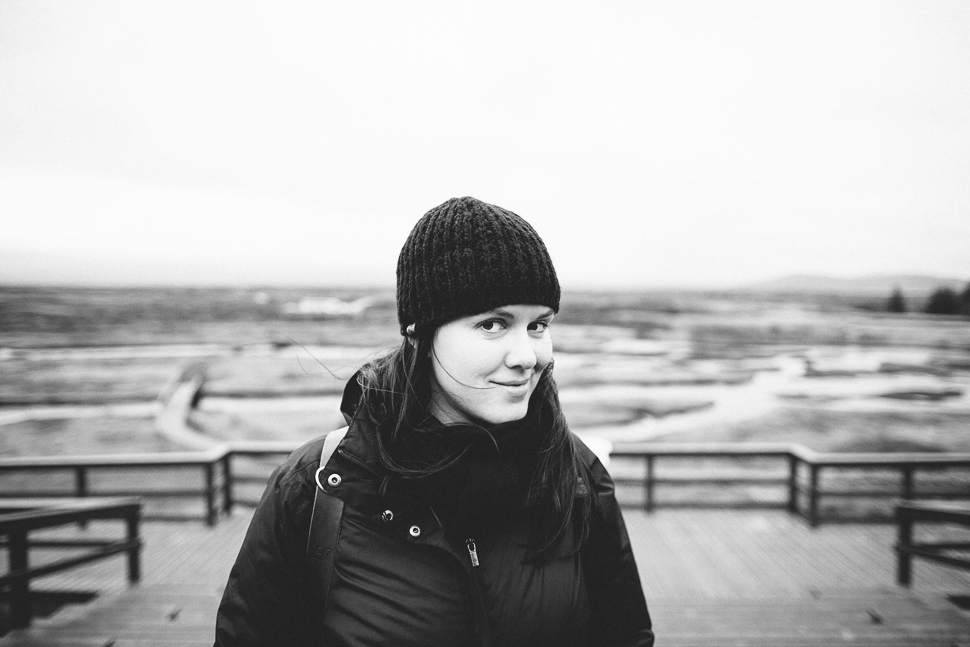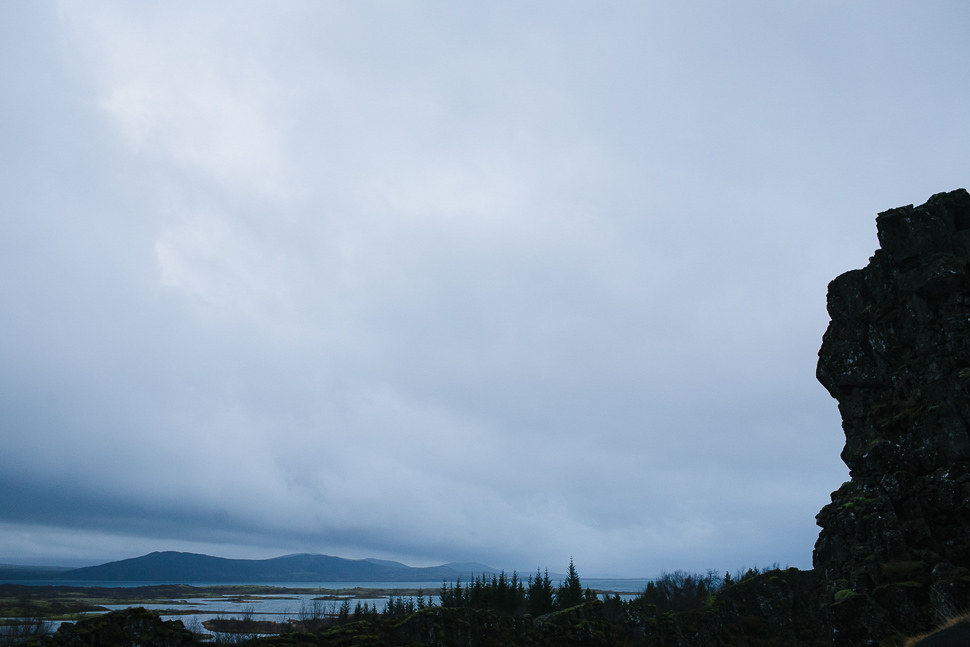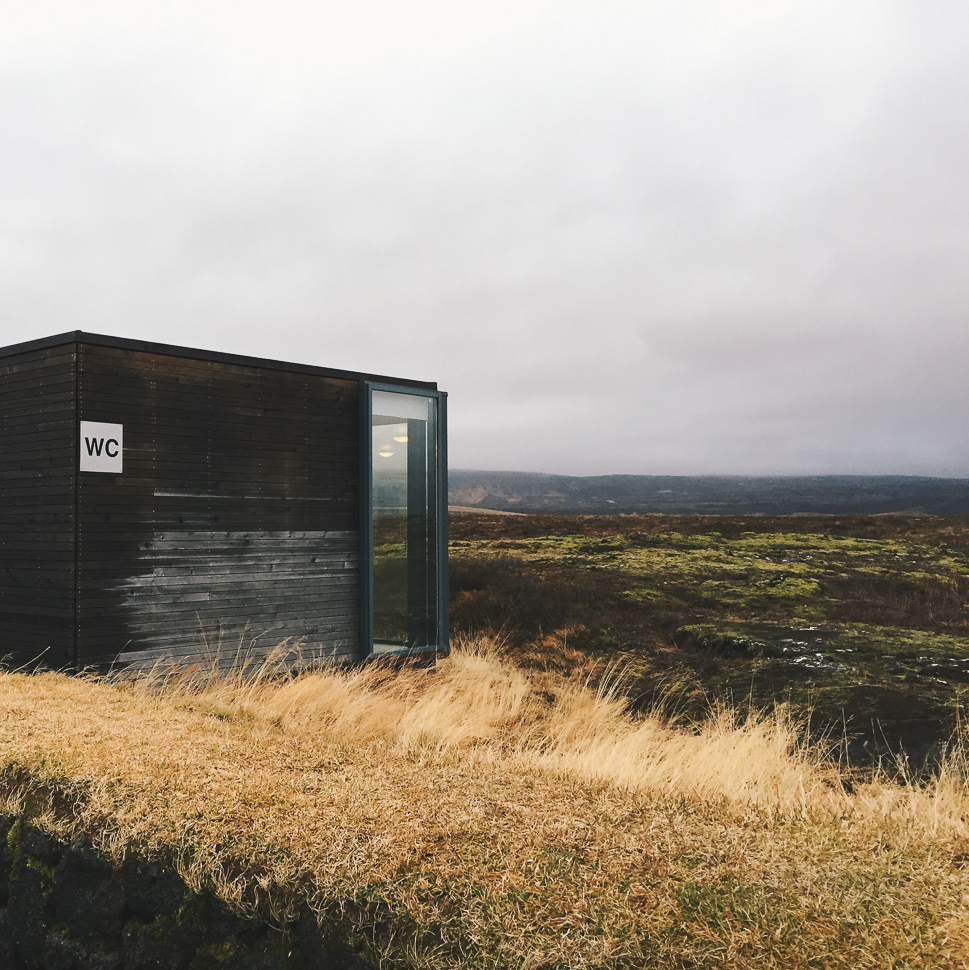 Public restrooms were available often, but this one had an added quirk: it was setup like a subway turnstile, and you had to pay to enter. Luckily it accepted American credit cards, but this kind of thing is a good reason to acquire some local change, just in case!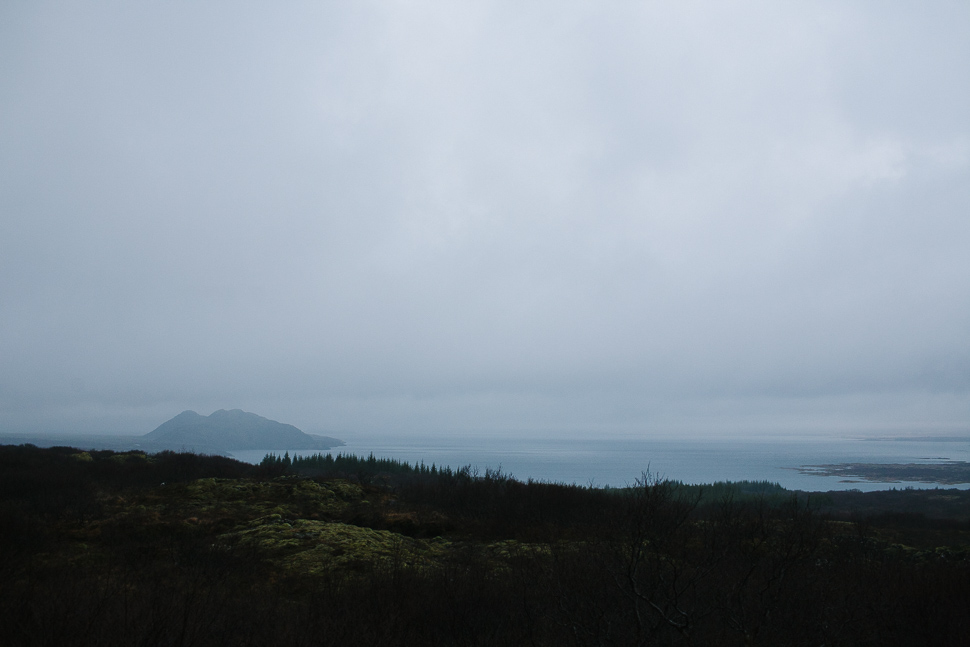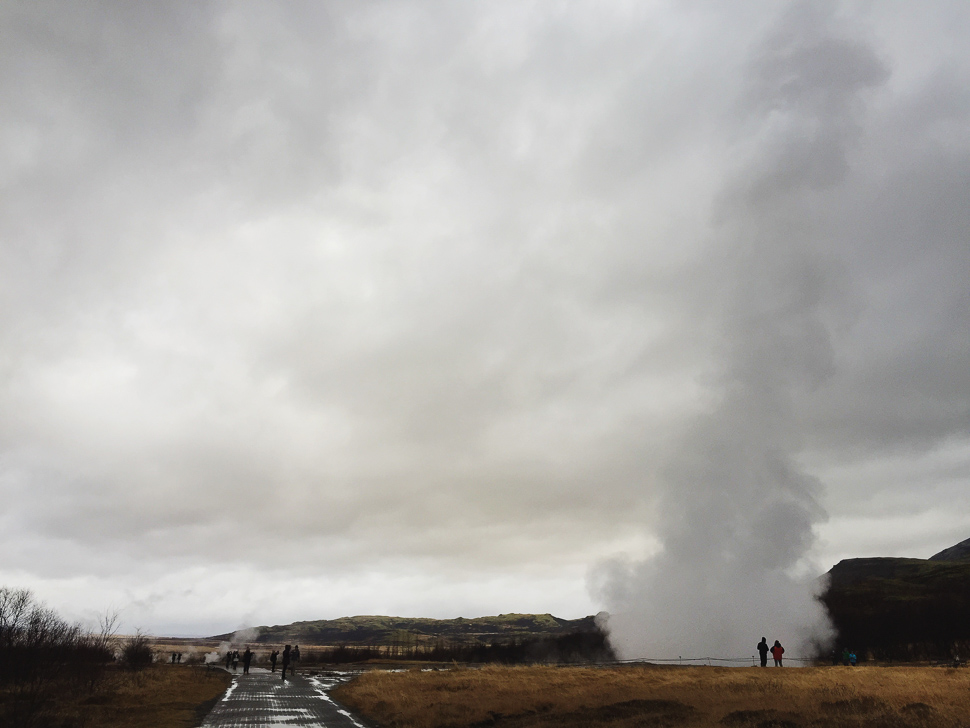 Our next stop was Geysir; the origination of the English word "geyser". The large Geysir doesn't erupt regularly anymore, but this "small" one does, and did twice while we were watching. Pretty intense blast of steam and water when it blows! Little trickles of bubbling water alongside the path suddenly looked less friendly when we saw tiny signs proclaiming the temperature to be 100ºC. Ahh.. "boiling", not "bubbling".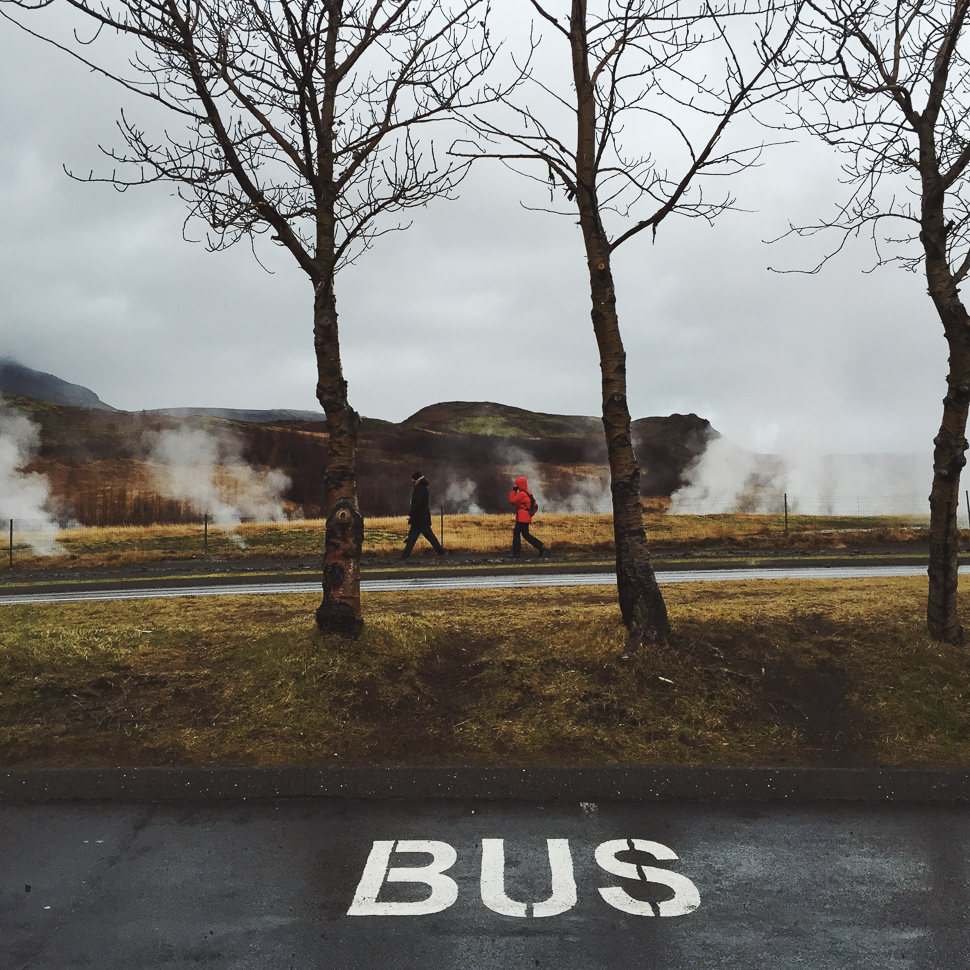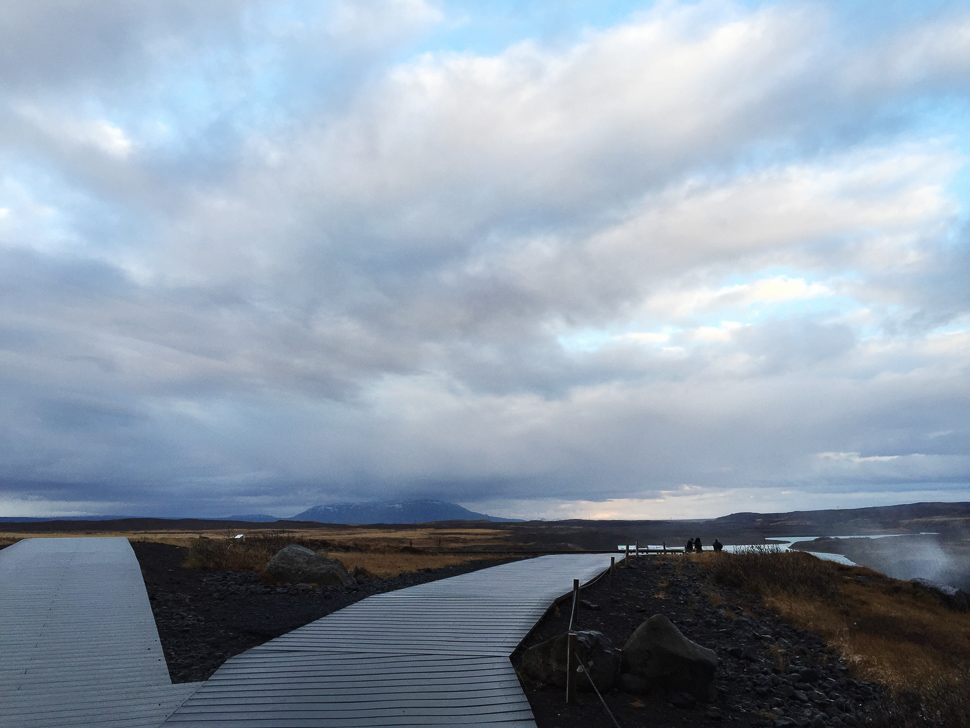 Gullfoss is the next stop along this route, and it was really quite amazing to park the car, walk along a boardwalk, and suddenly come across this enormous rift in the ground. "Gullfoss" means "golden falls", and when the sun peeked out for just a moment we immediately saw why; the water glowed like molten metal. We were able to walk all the way down a long pathway to stand on some rocks jutting out into the water; such an awe inspiring view.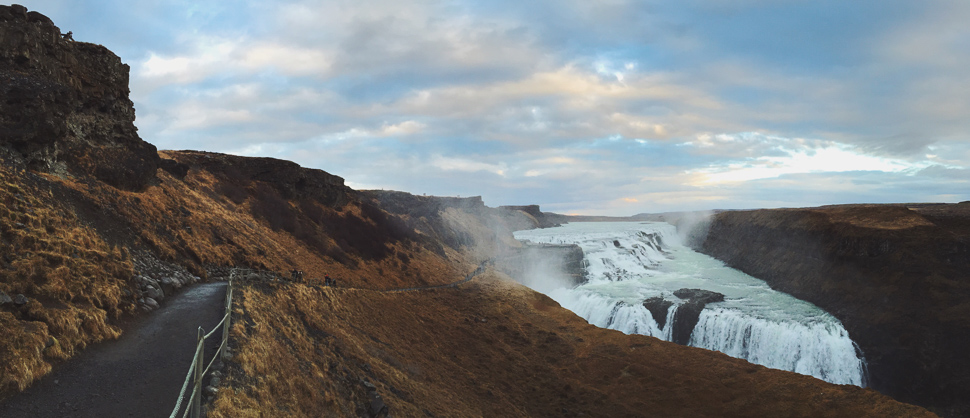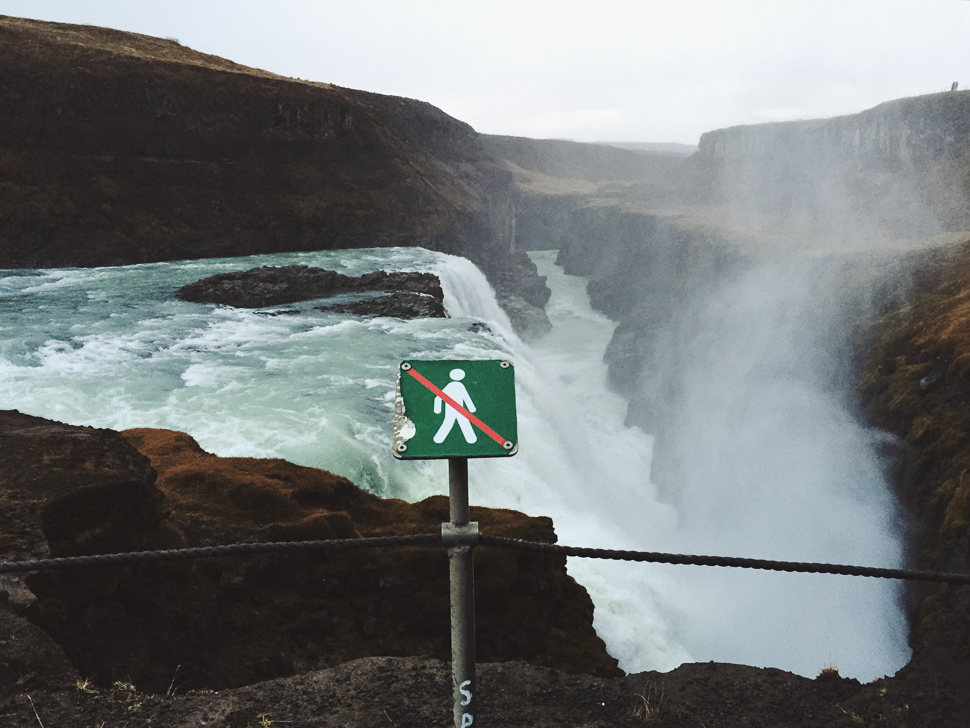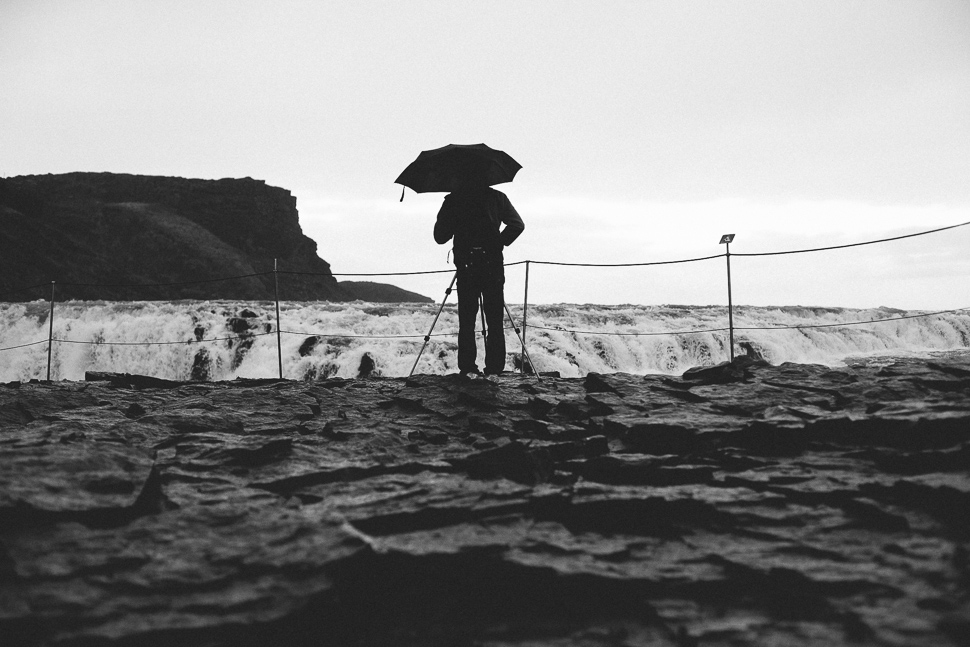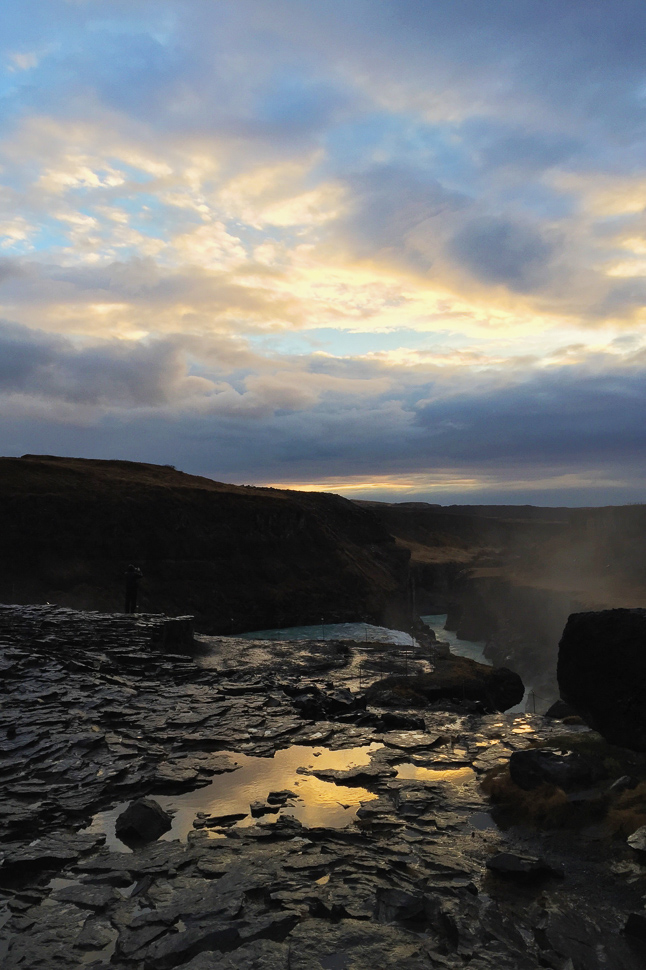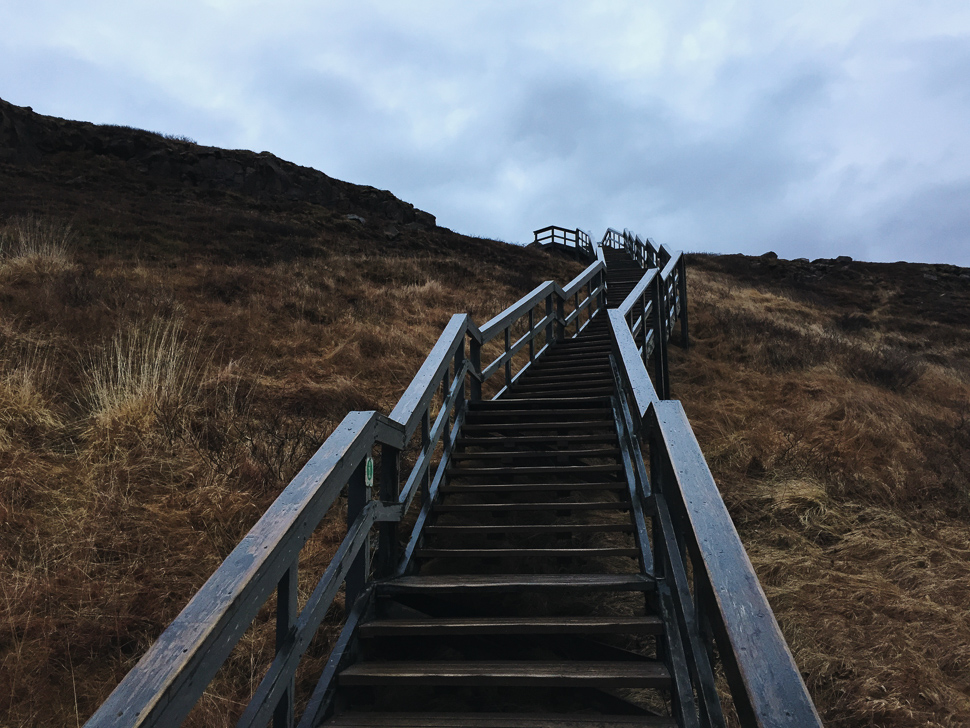 (And then we had to climb back up.)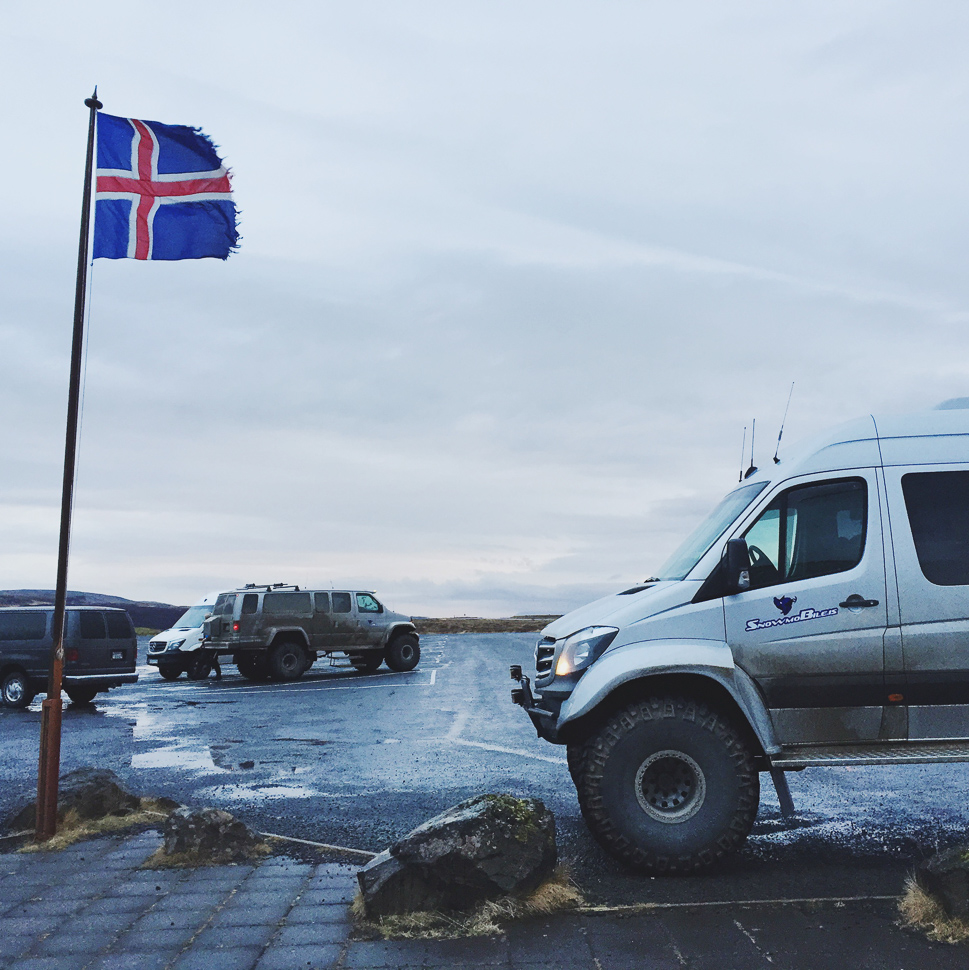 These giant vehicles made us realize why our little rental car had a warning sign forbidding us to drive in the highlands. You need some serious tires and clearance for that kind of trek!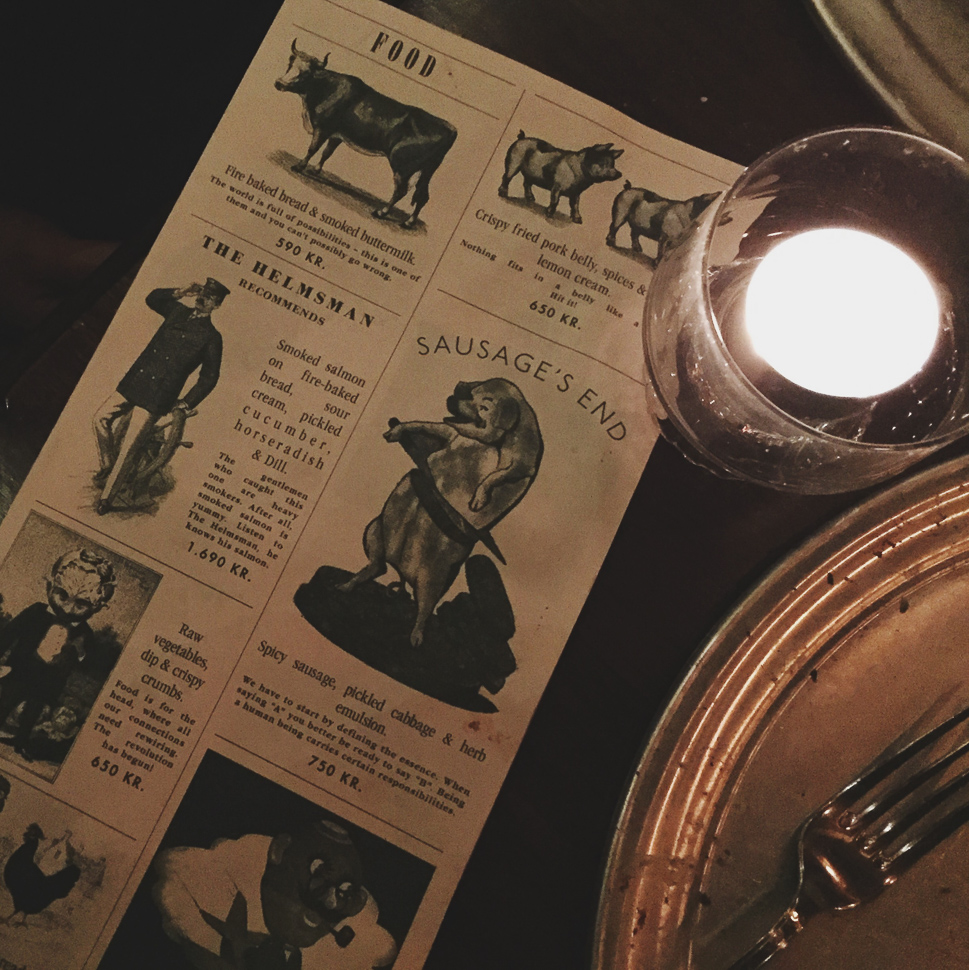 After an extremely long day we were completely starving; pastries for breakfast and snacks in the car weren't going to cut it. We'd done some research about where to eat in Reykjavik, and this extremely weird restaurant kept popping up. Referred to as "The Pizza Place With No Name", it literally doesn't have a name, just an address (12 Hverfisgata). It may have been because we were beyond hungry, but we thought the pizzas were delicious and the environment was charming, with friendly and efficient service. (The only downside was a table of six obnoxious American retirees who kept gossiping loudly about their neighbors back in Mississippi. We no longer wonder why Americans are regarded as irritating!)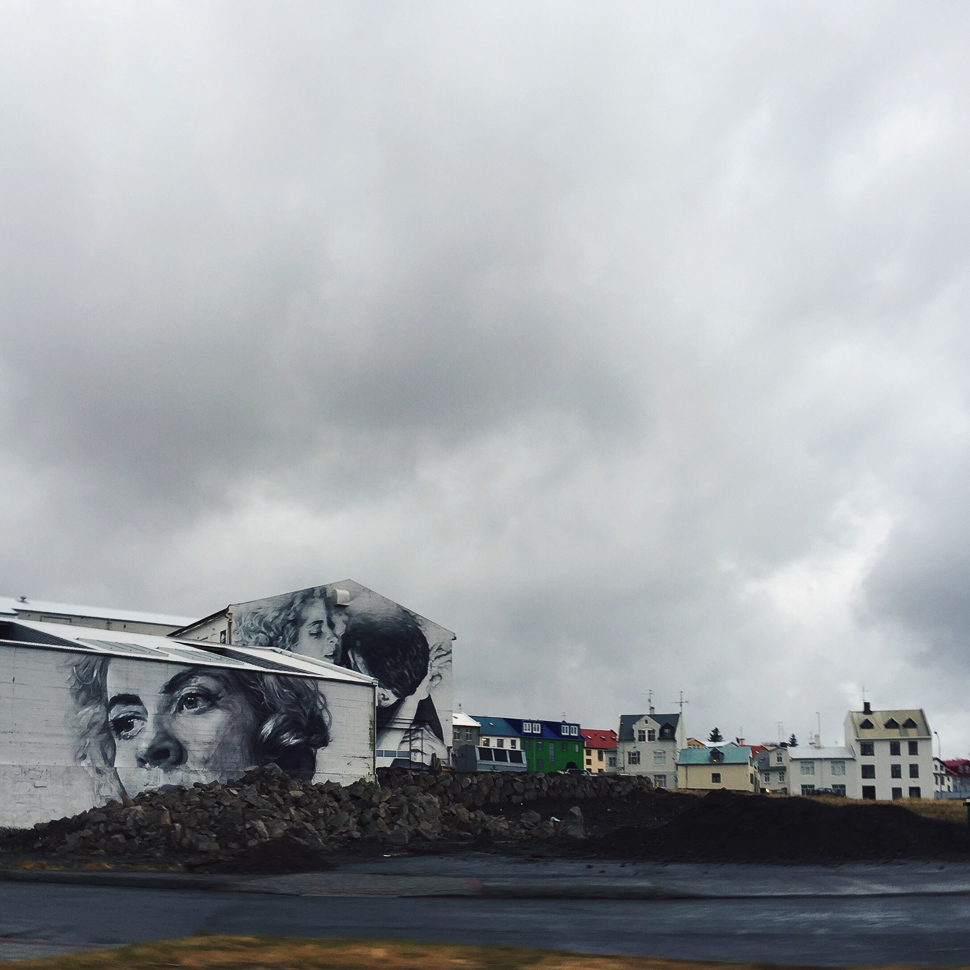 After a traditional Icelandic breakfast of smoked fish, hearty breads, skyr (similar to Greek yogurt), jams, and fruit, we headed out to traipse around the city and see what it looked like in daylight.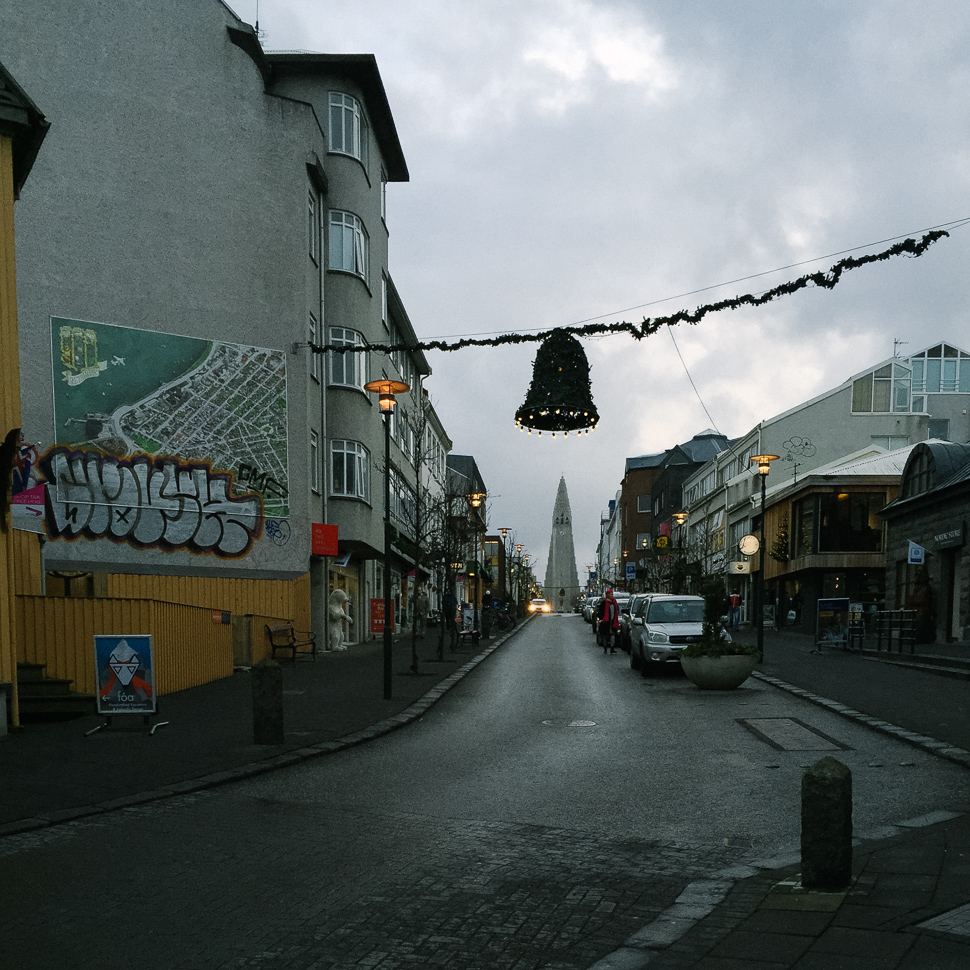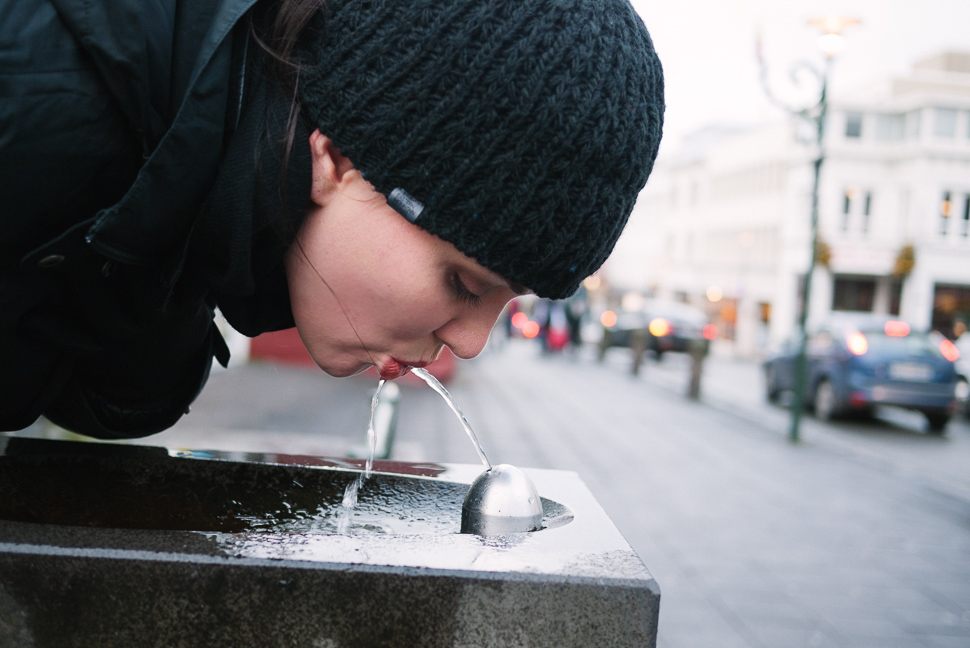 The best water we've ever tasted comes from these free fountains by the street.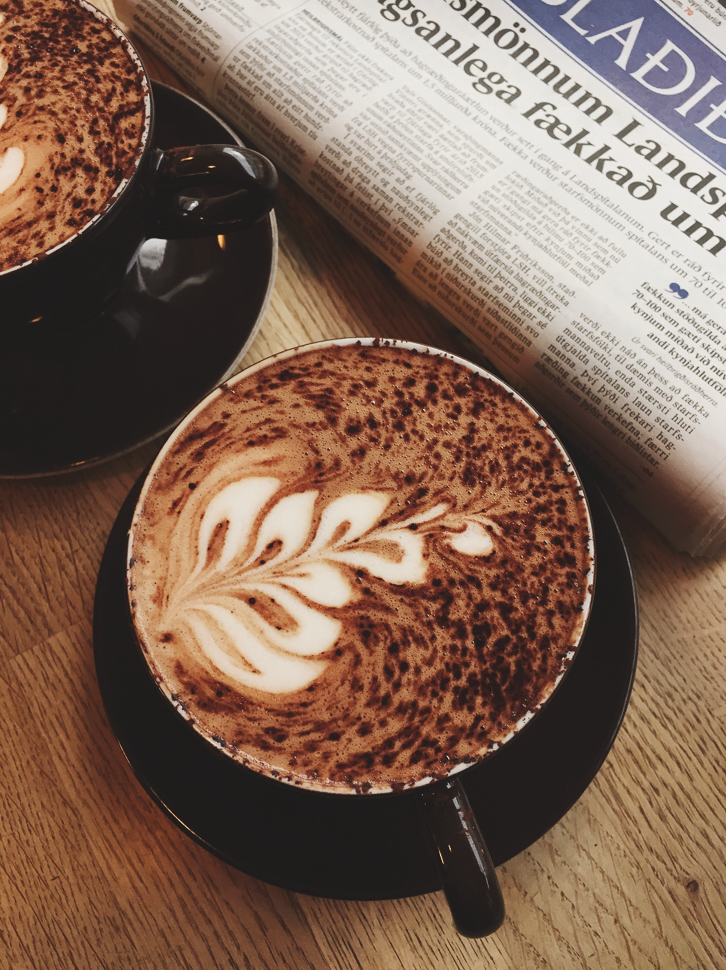 We discovered what we assume is the Icelandic version of Starbucks: Te & Kaffi, where we downed as many spicy chili mochas as we could.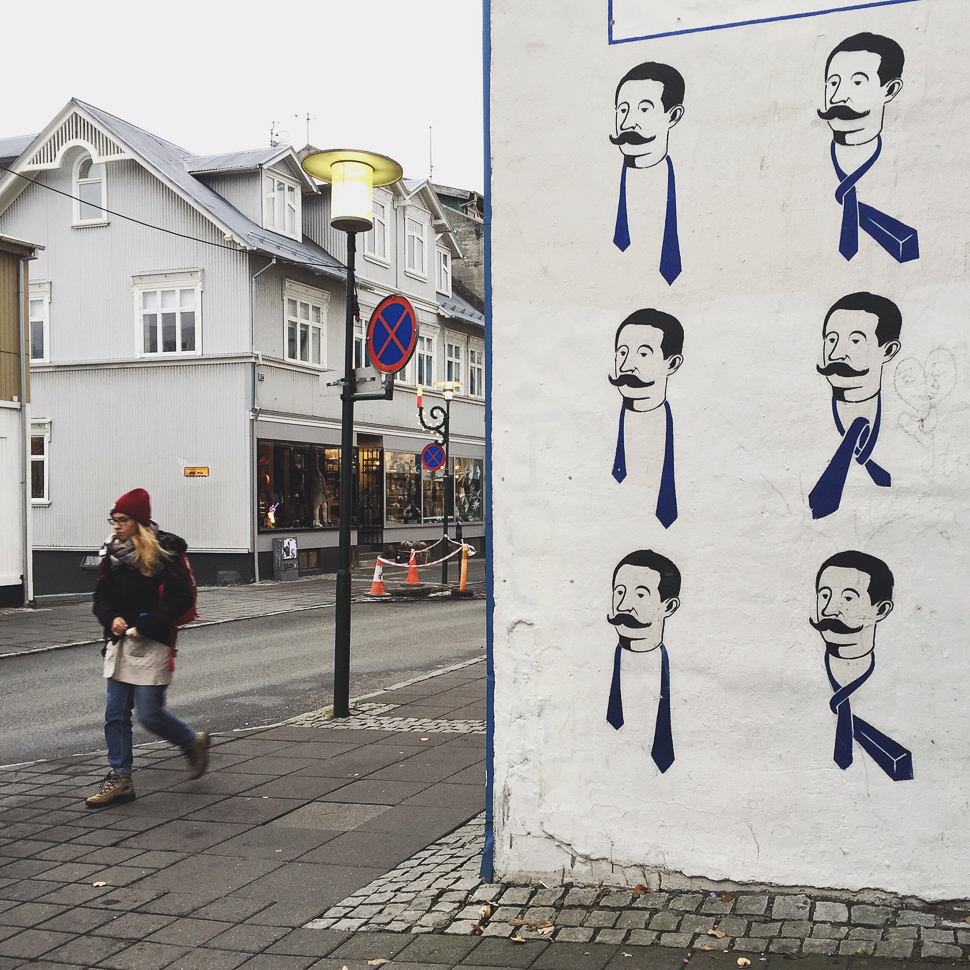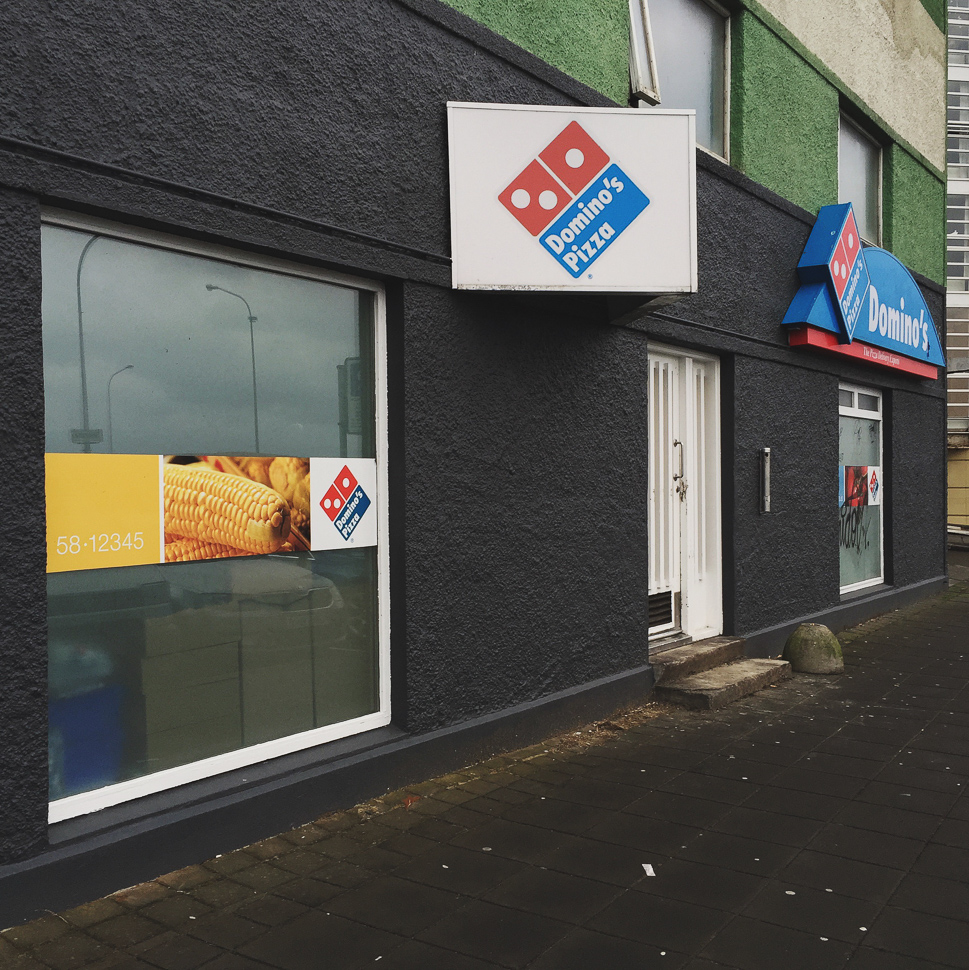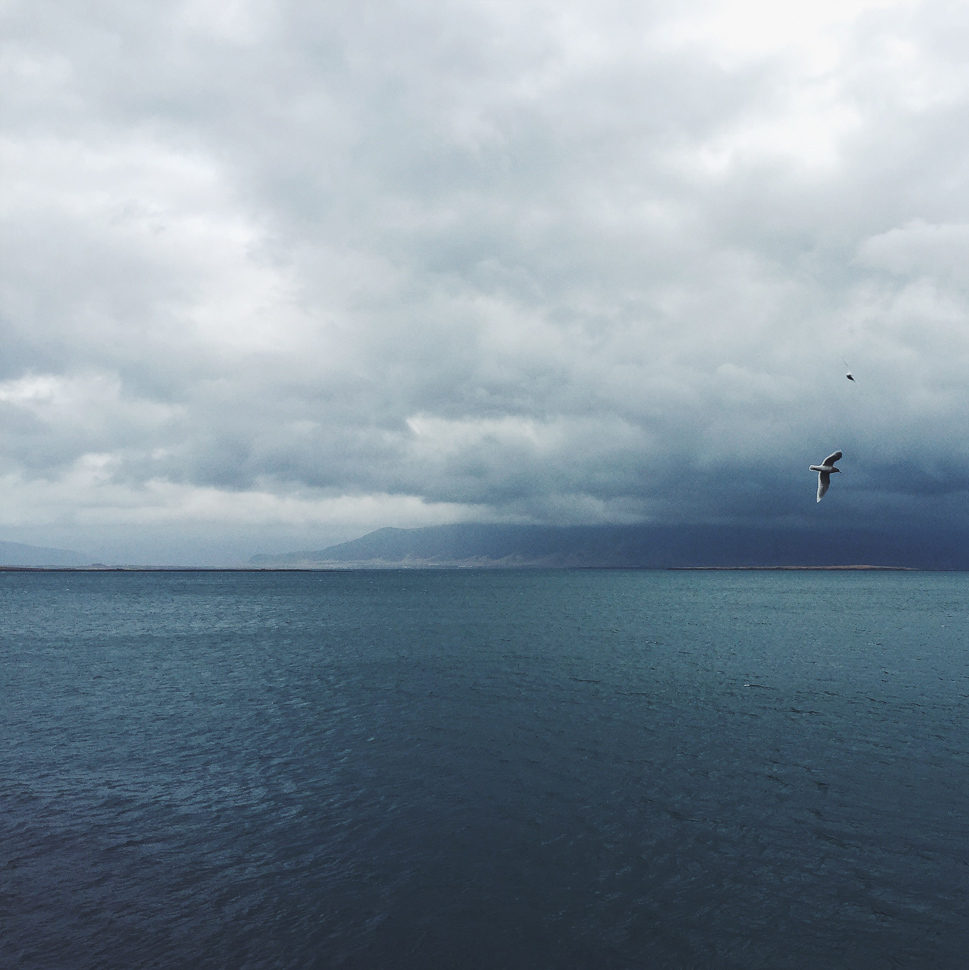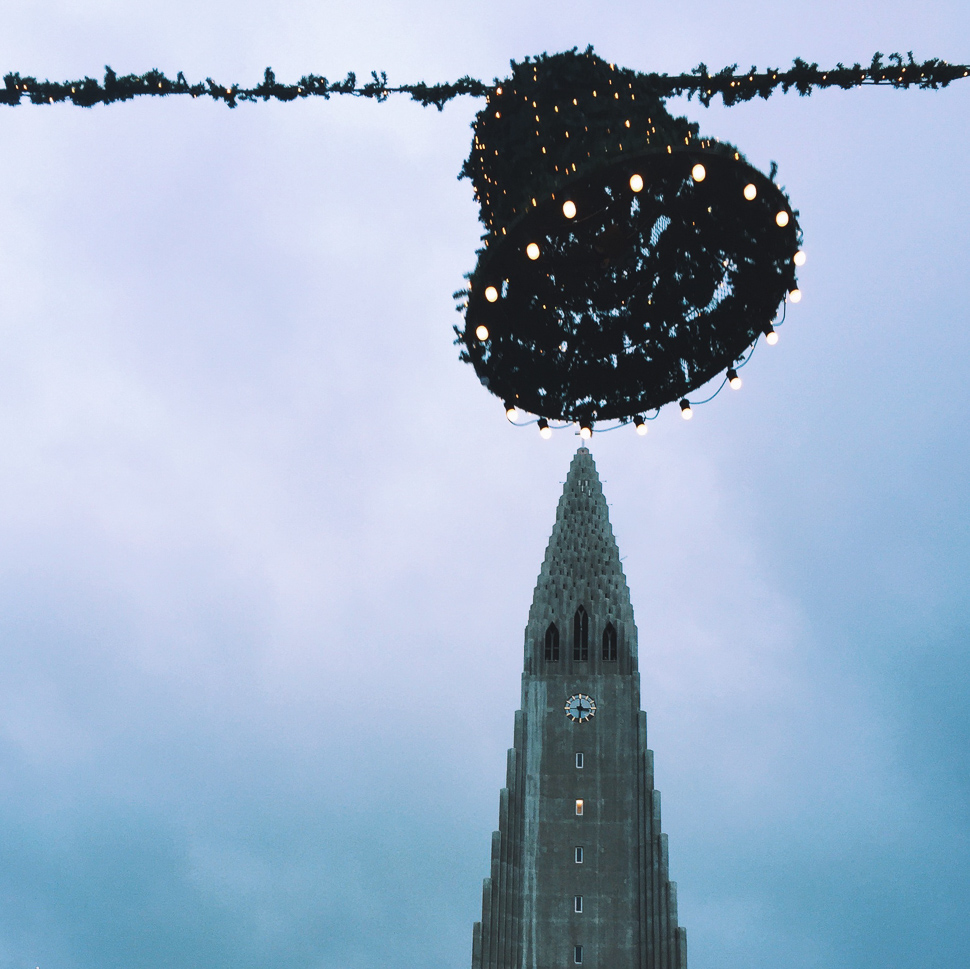 At the very top of Reykjavik's iconic church, Hallgrímskirkja, there are open windows; you can pay to take an elevator to the top and be buffeted by the bone-chilling winds. (Highly recommended for a view of the city; a bit dim and cloudy, but still impressive.)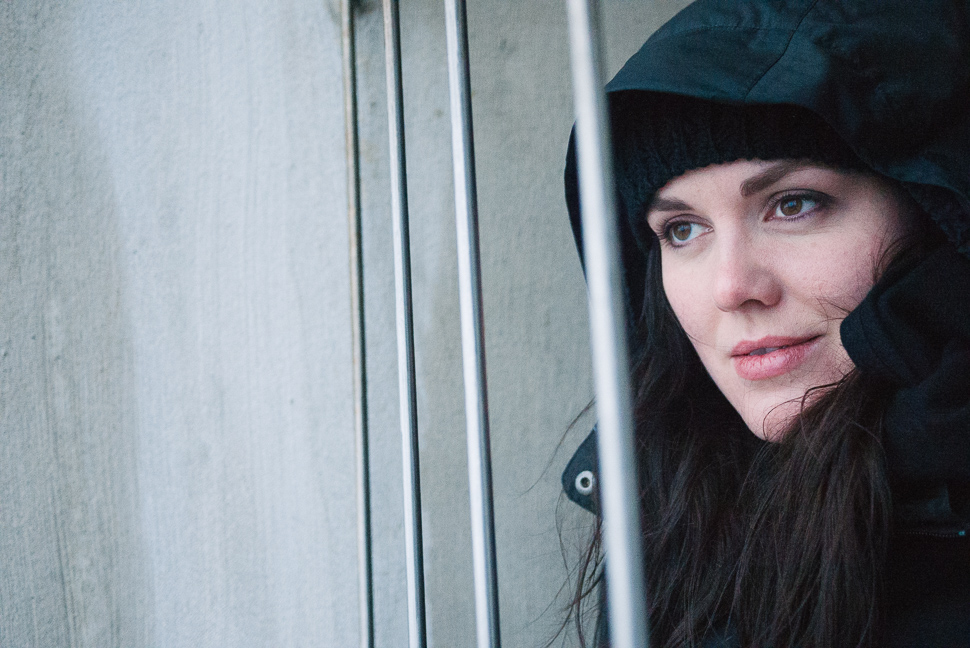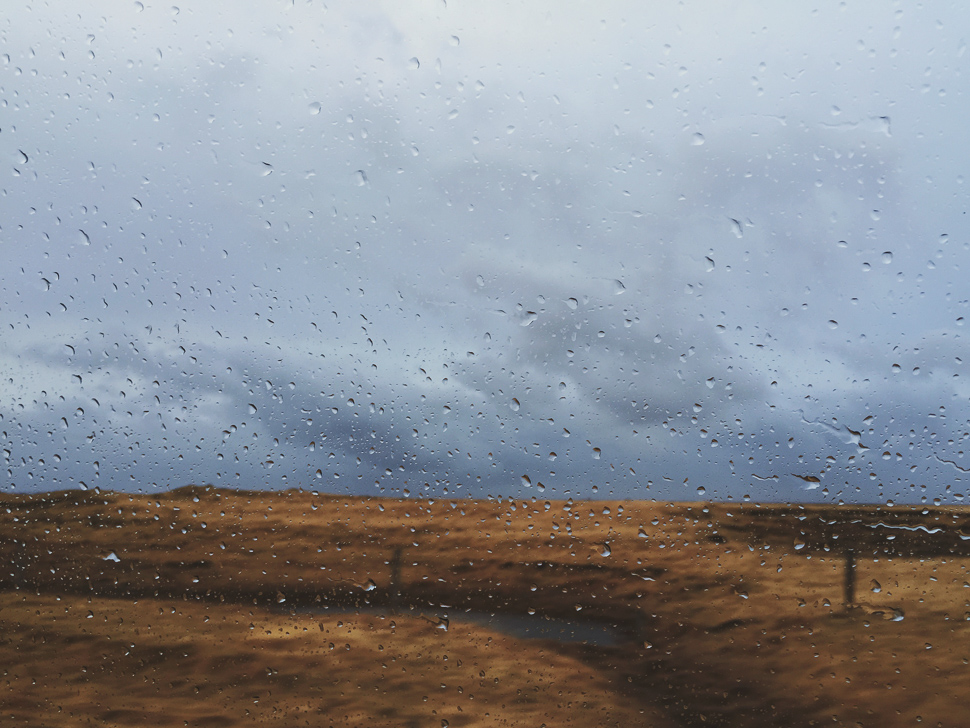 Our third day in Iceland we met up with fellow American wedding photographer Thu Tran and her boyfriend Alek for some new adventures along the south coast of the island. After a hearty breakfast in Reykjavik we headed out, with two waterfalls and a volcanic beach on our list.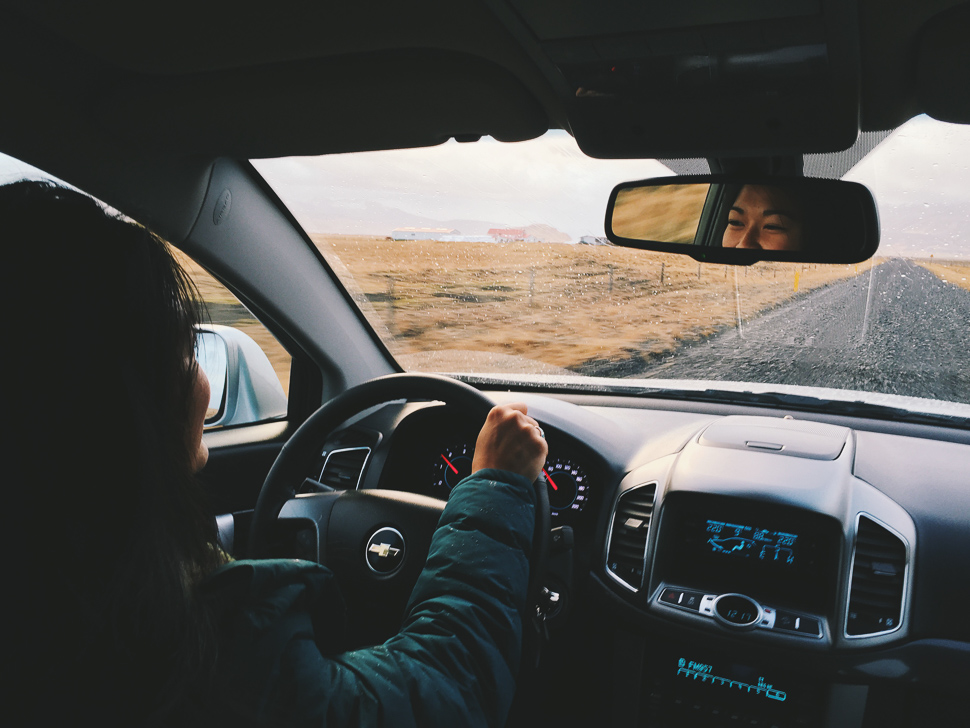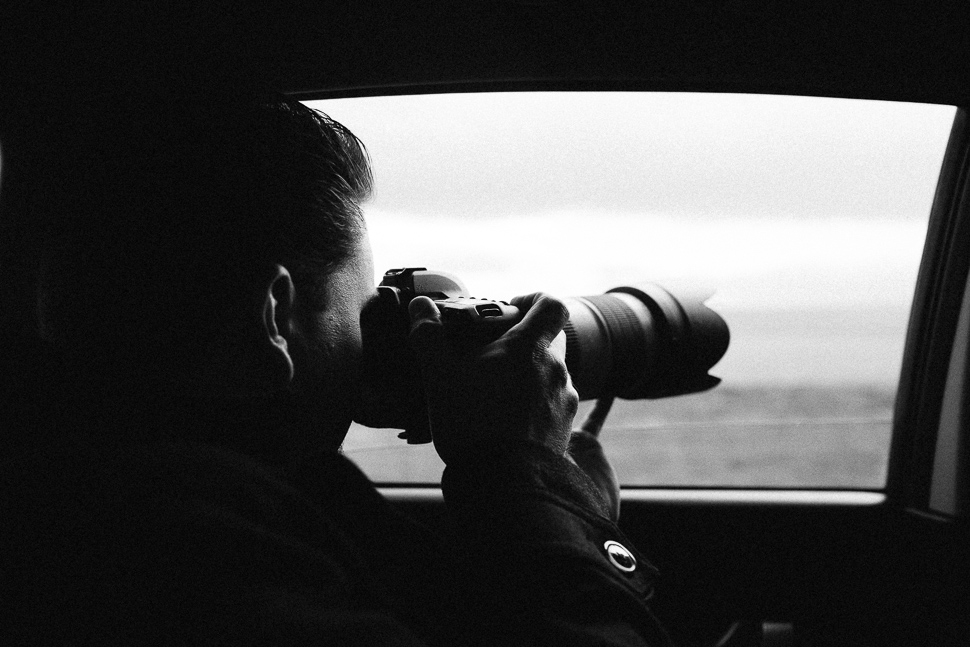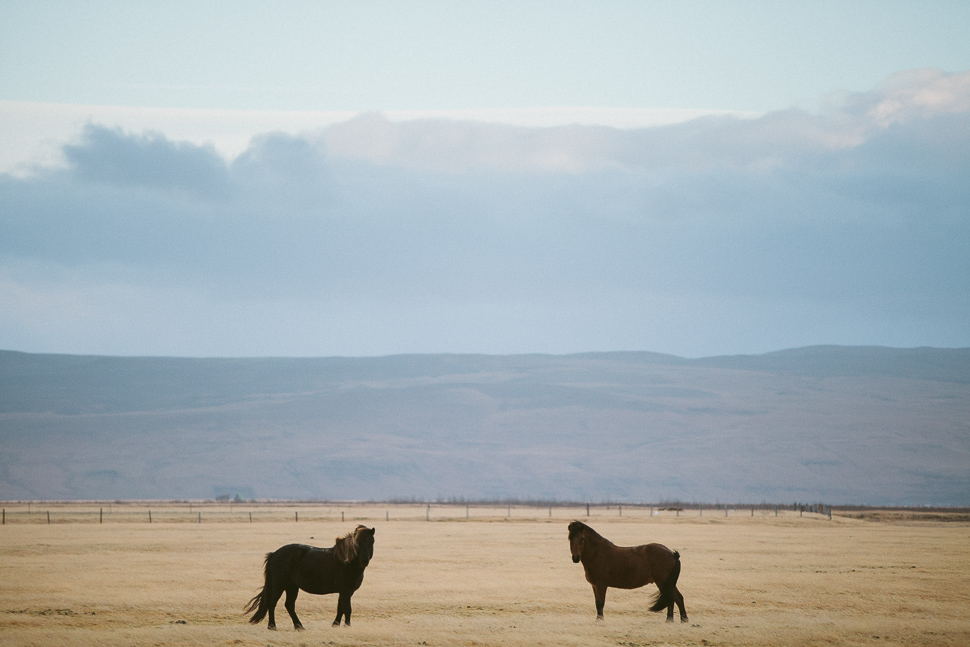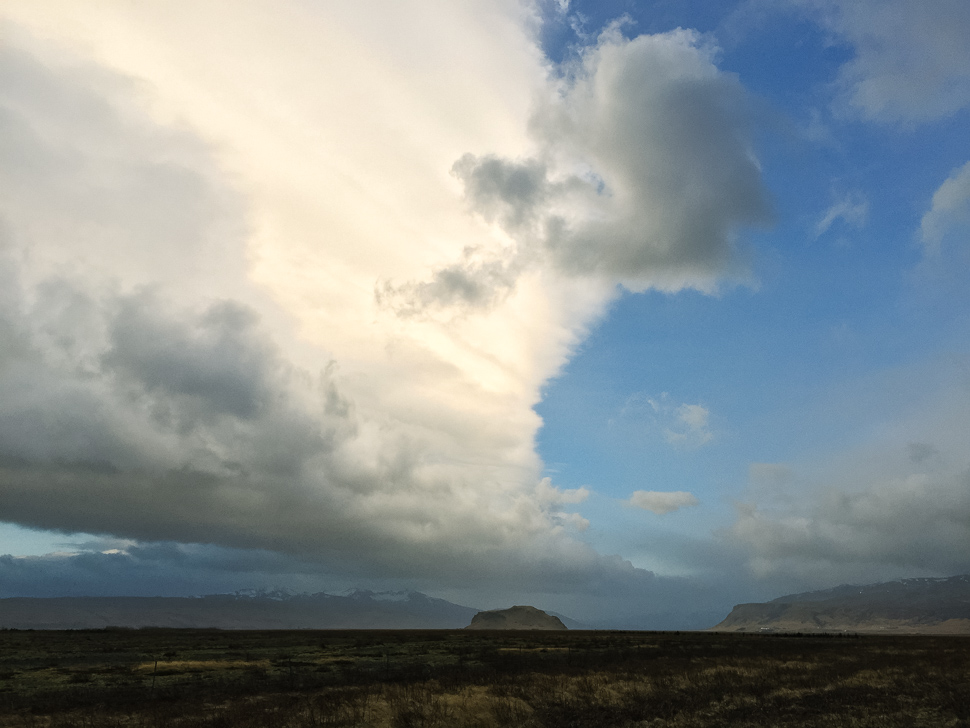 We were all excited to have another couple to photograph; we started out taking pictures of Thu + Alek on this windswept road off the main highway. The wind was incredible.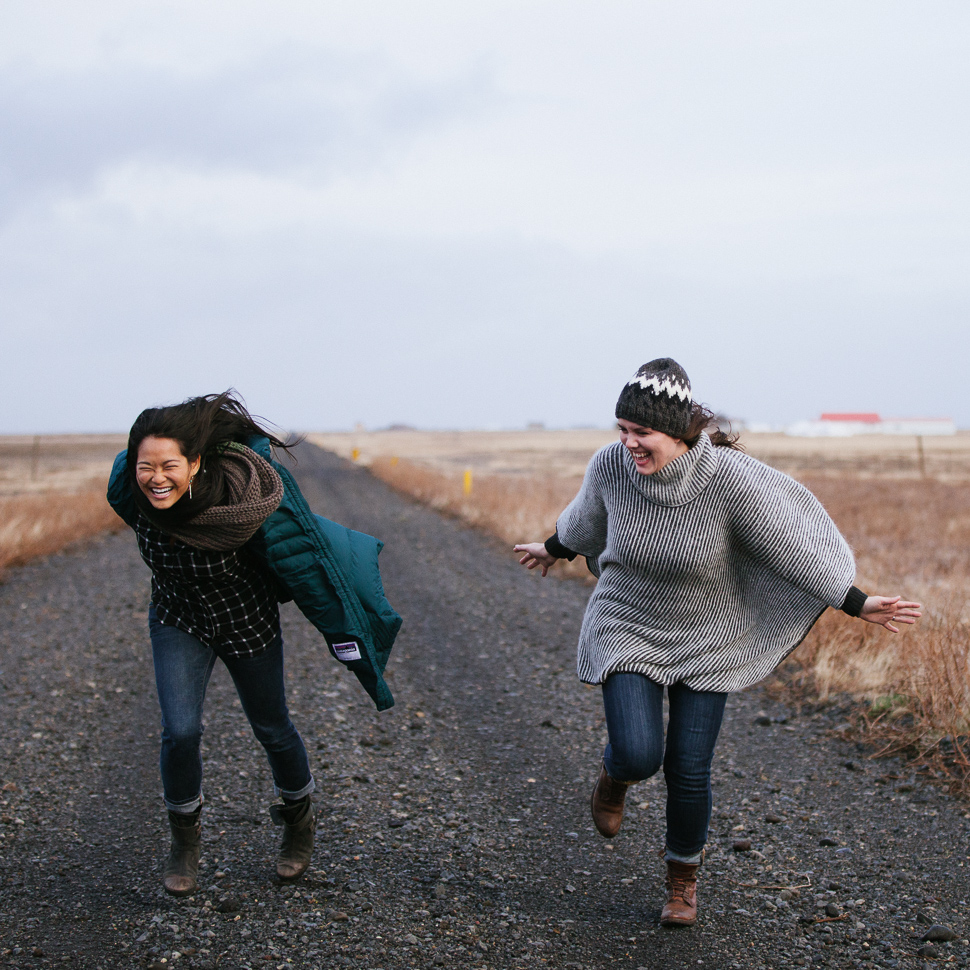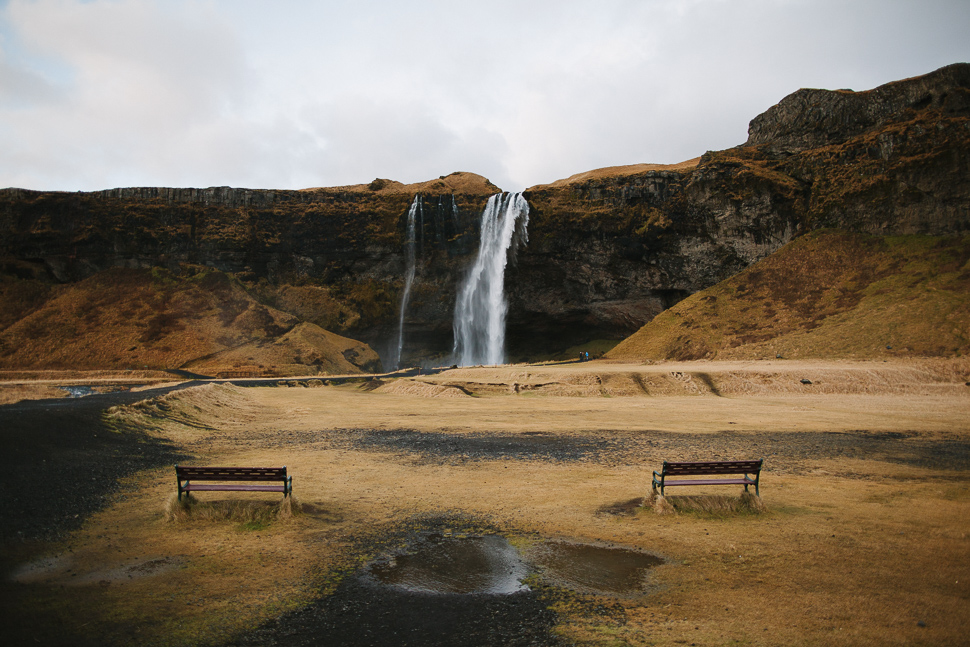 Next stop was Selandjafoss, a waterfall right near the main road that you can walk behind.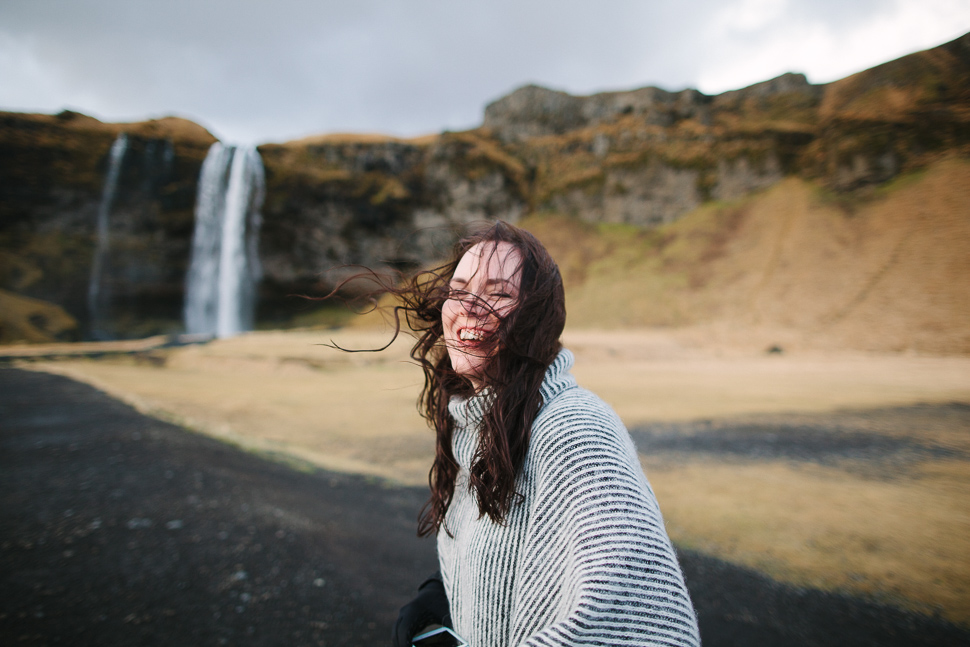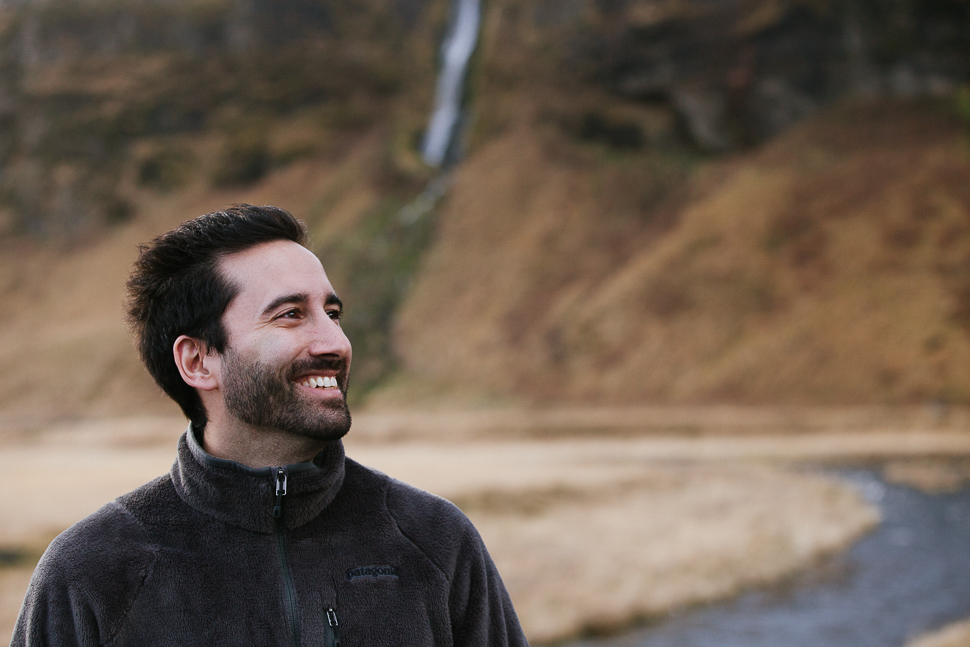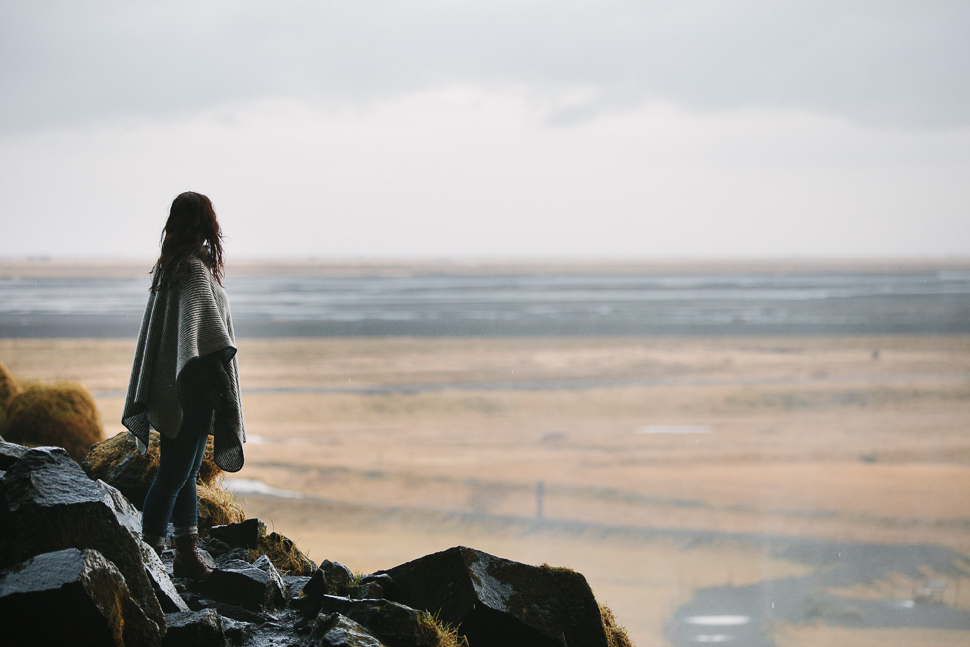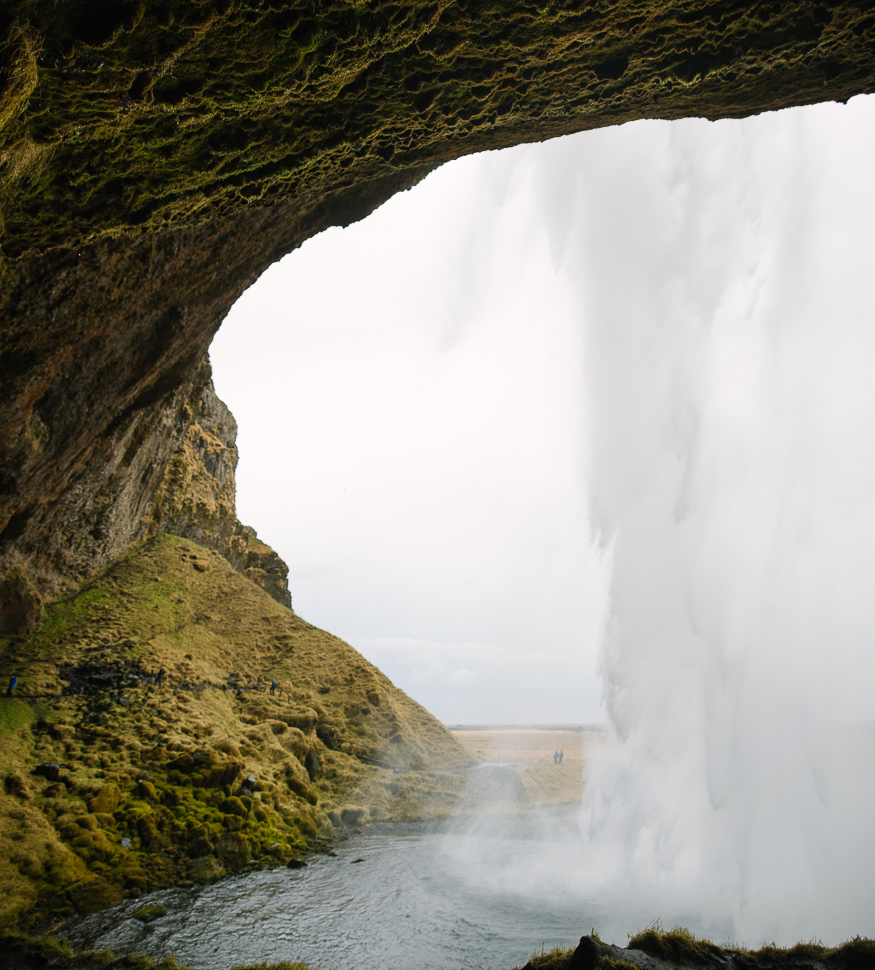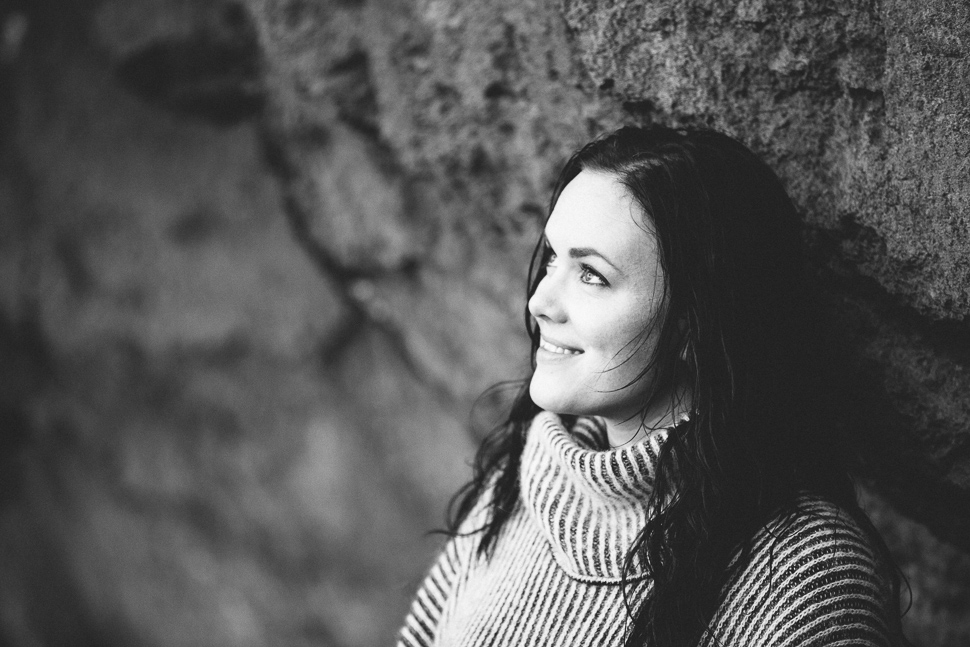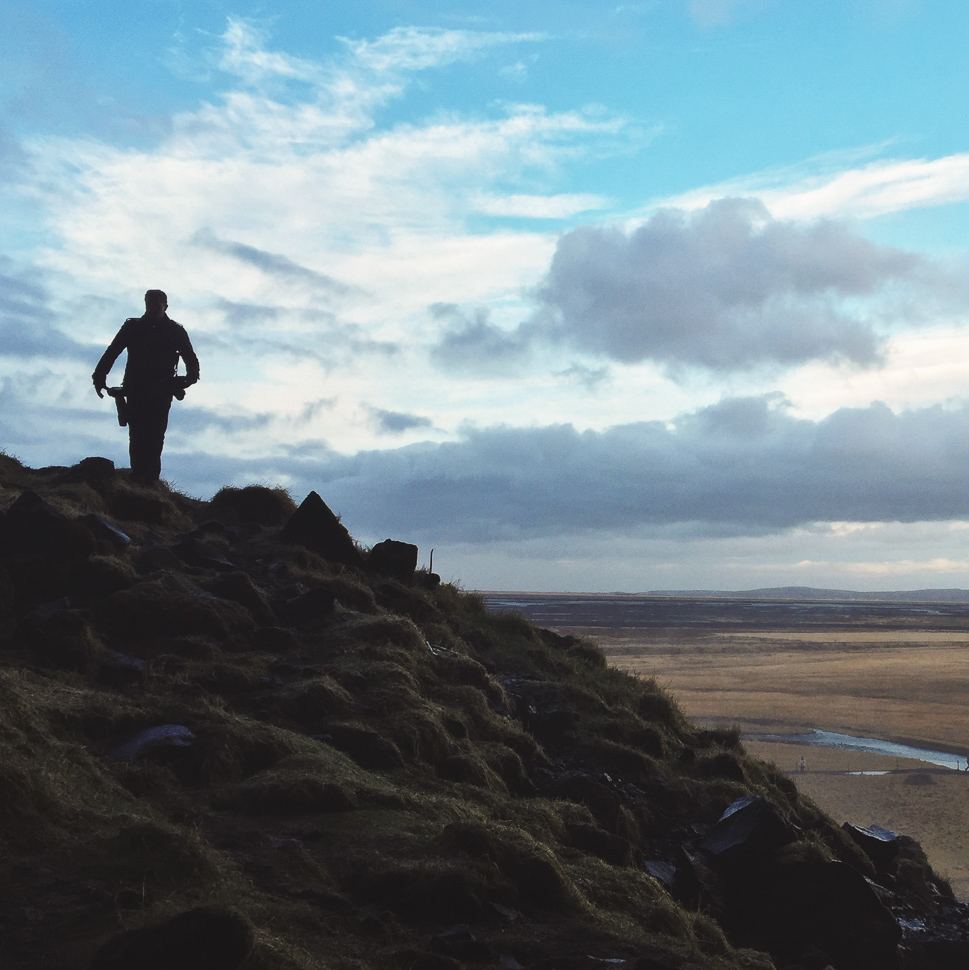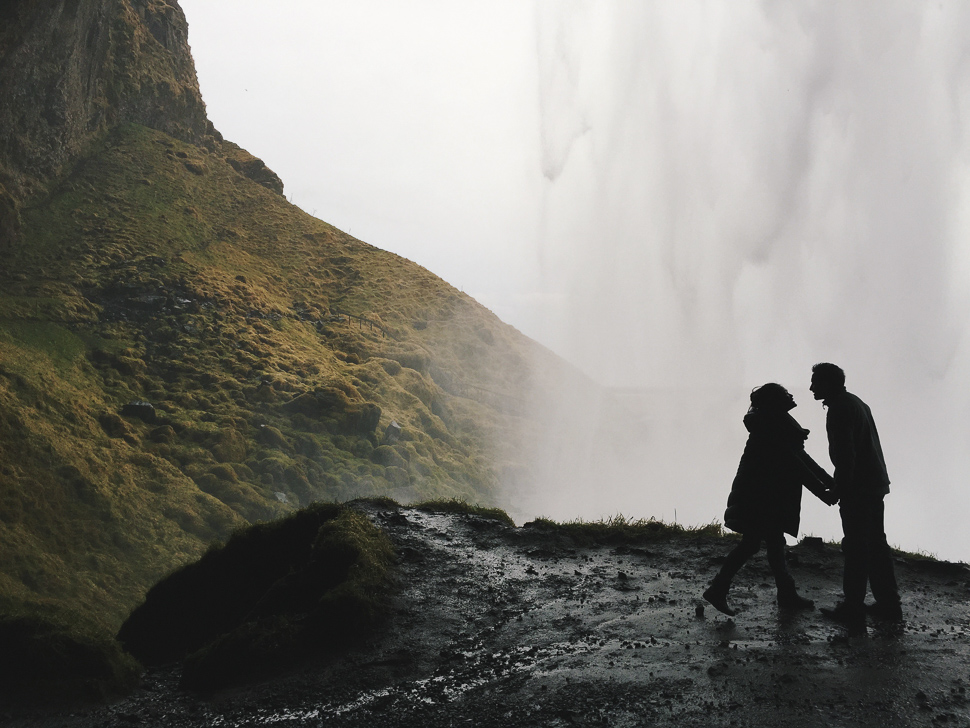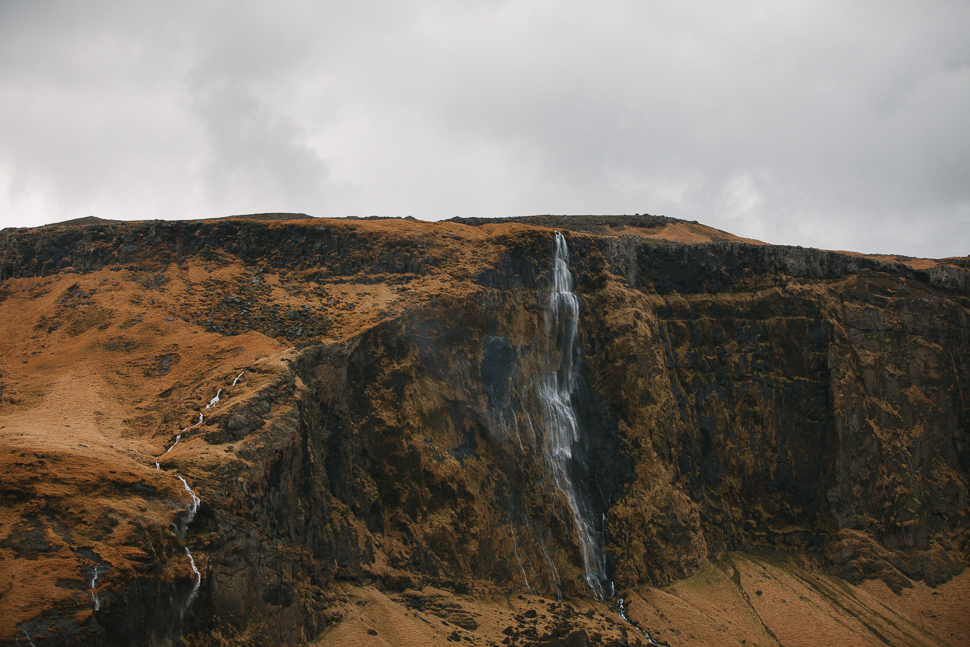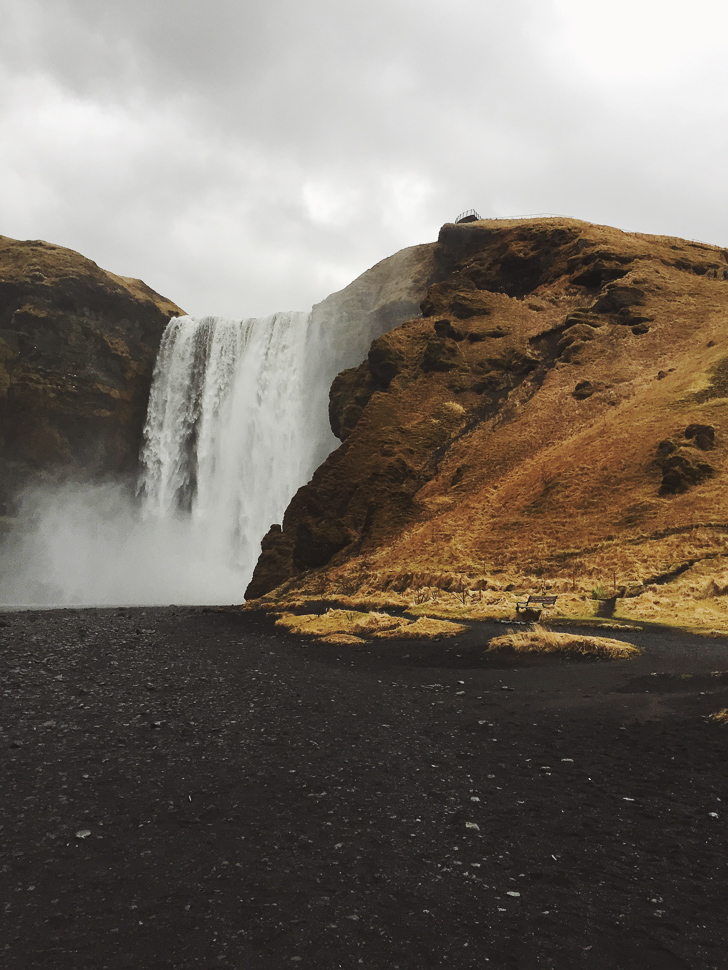 Also stunningly beautiful was Skogafoss, which can be accessed from both the bottom and top of the falls. We were eager to see Vik's black volcanic beach before the sun set at 3:30pm (so early!), so we made this a quick visit.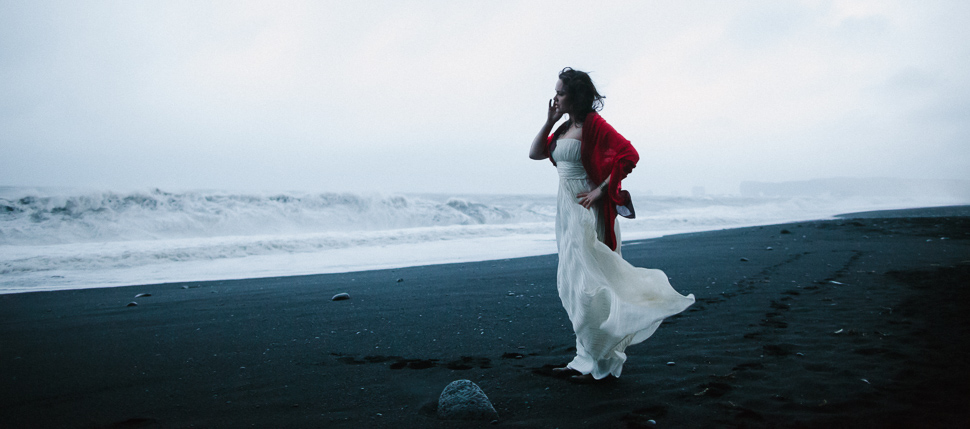 Thu had the foresight to bring a packable wedding dress along with us, which we took turns wearing. It was definitely not warm enough to be in a dress on this beach! No matter how cold you're thinking it is, add in the sea spray and overall dampness. It was breathtakingly chilly.
The next day was Steve's birthday (our last full day in the country), and we opted to have a relaxing day strolling around town before calling it an early night and getting up to hopefully catch the northern lights, cloud cover permitting.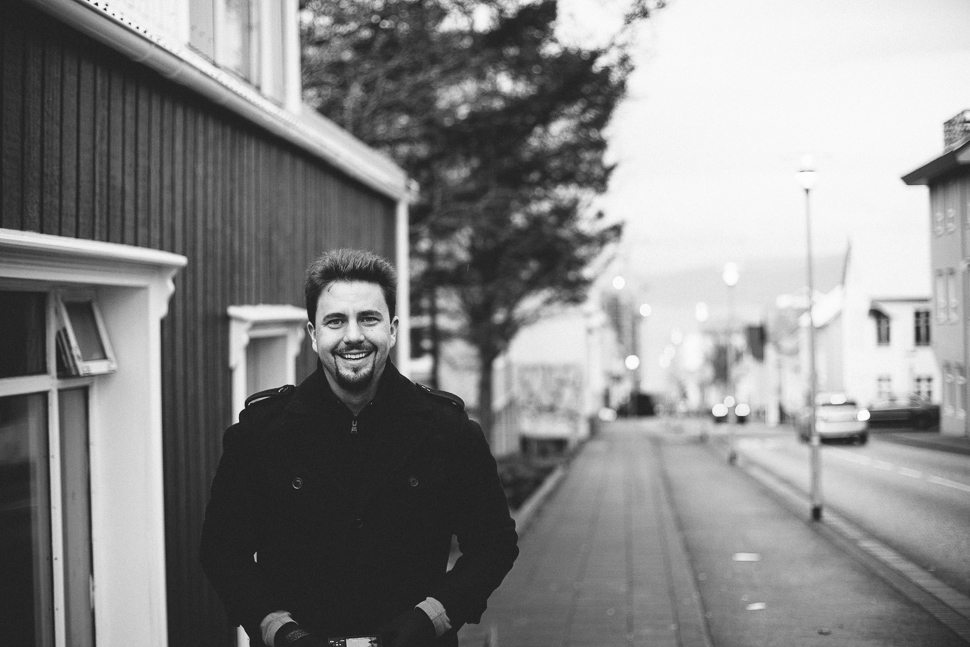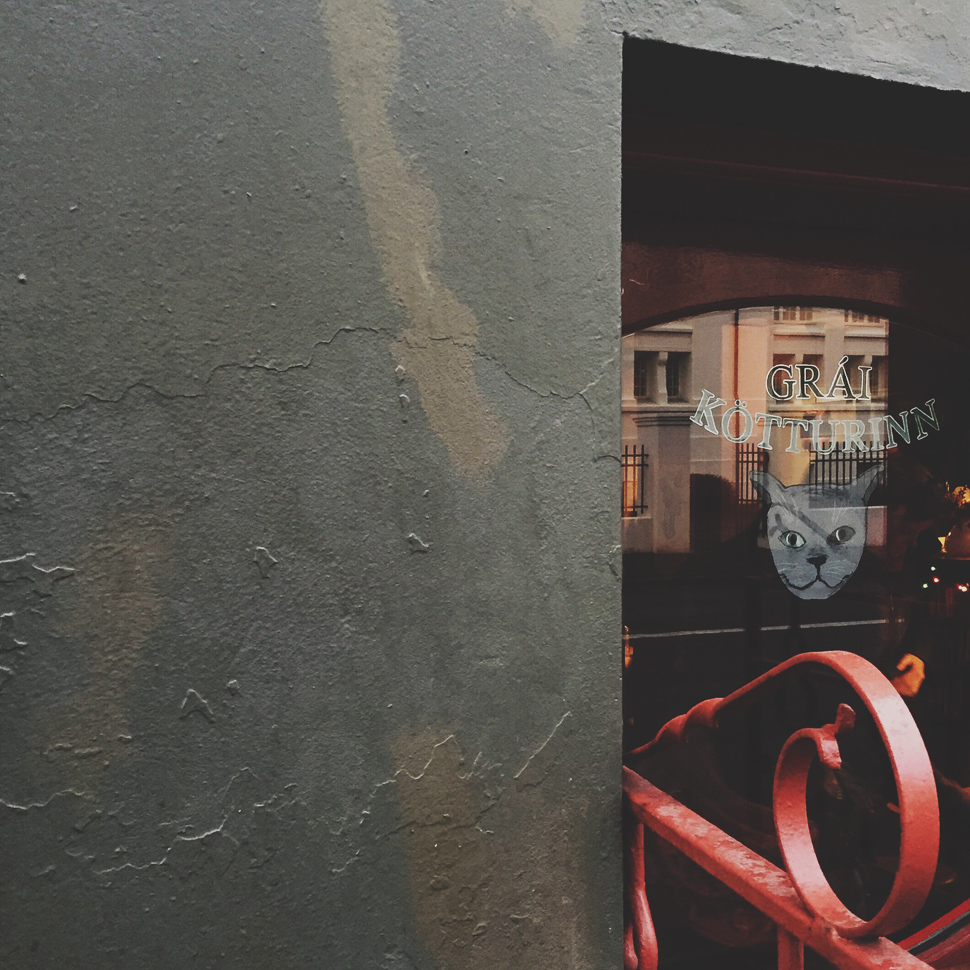 We started with a hearty American style breakfast at the Grái Kötturinn ("The Gray Cat"– appropriate place when we're missing our gray cat, Stannis), and then took our time wandering the streets, popping in and out of shops, picking up presents, souvenirs, and holiday decor.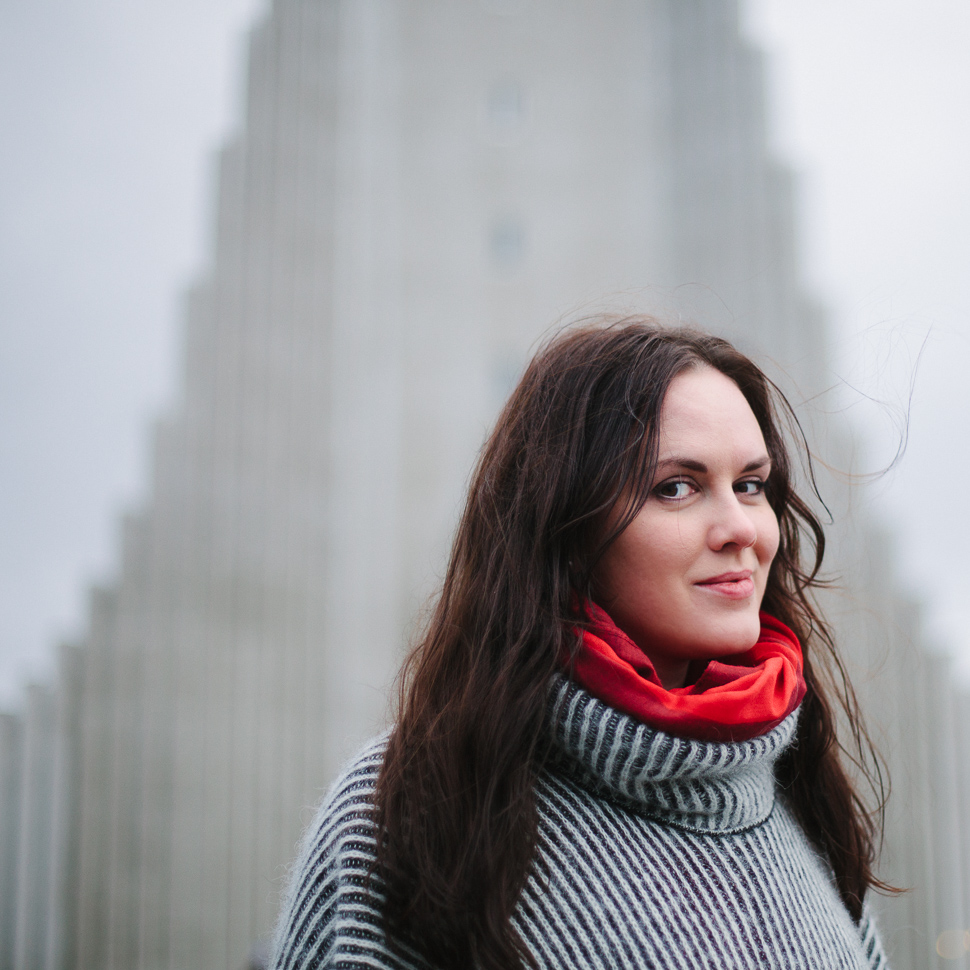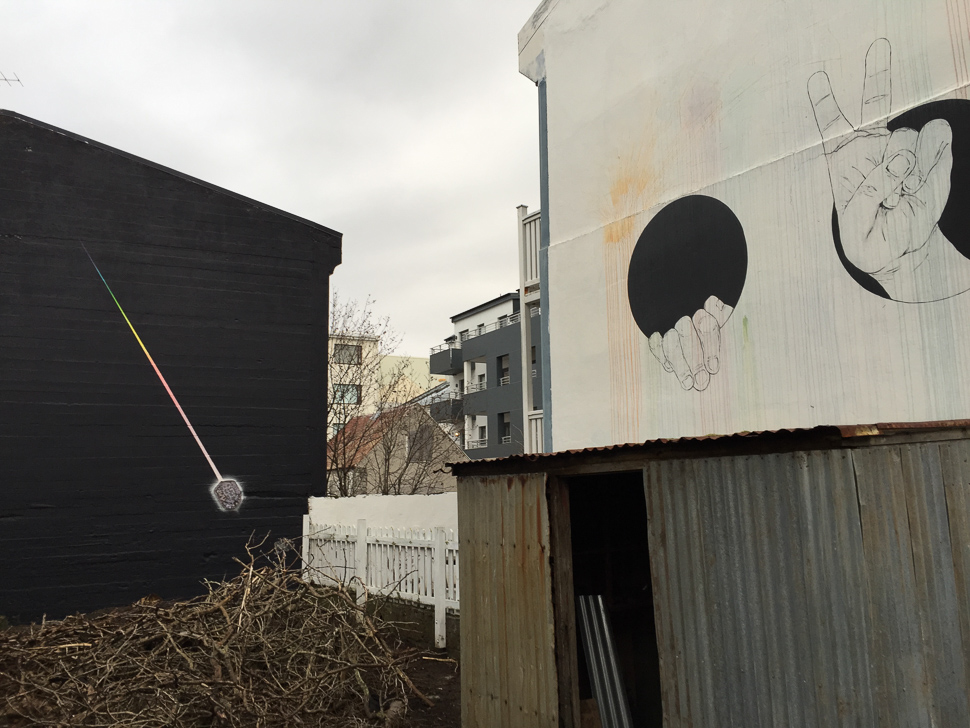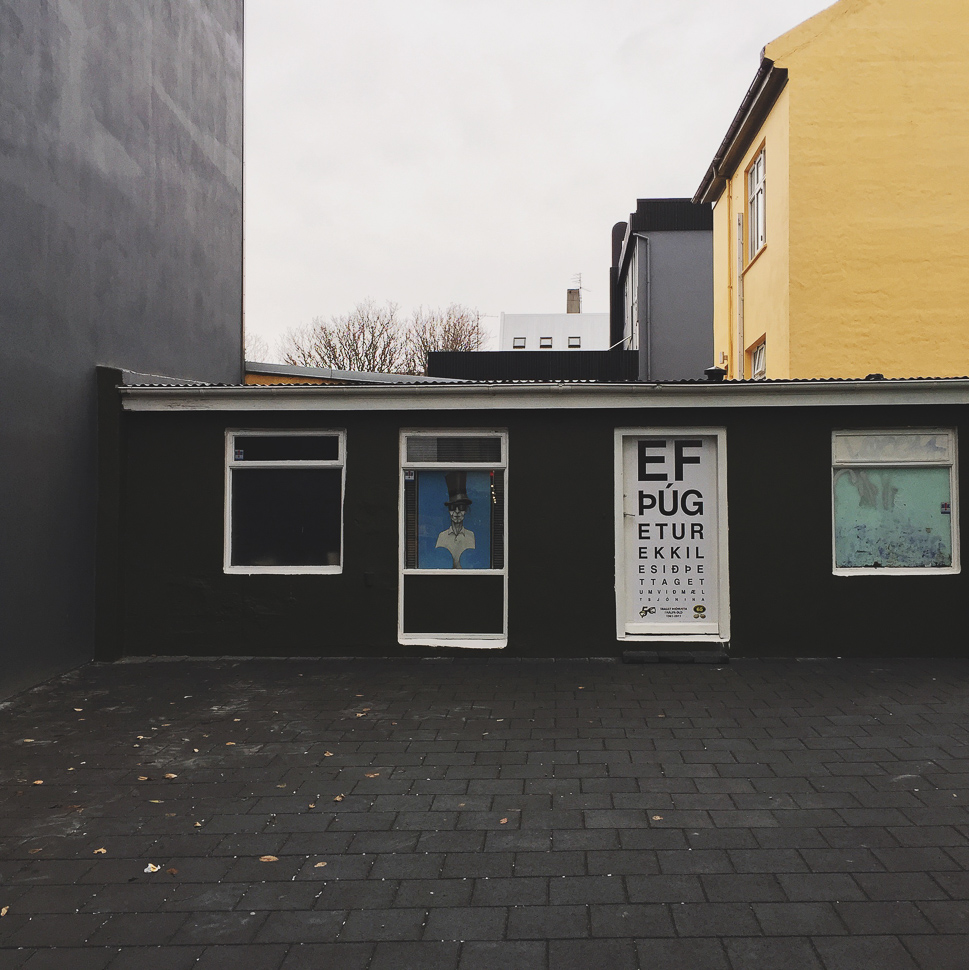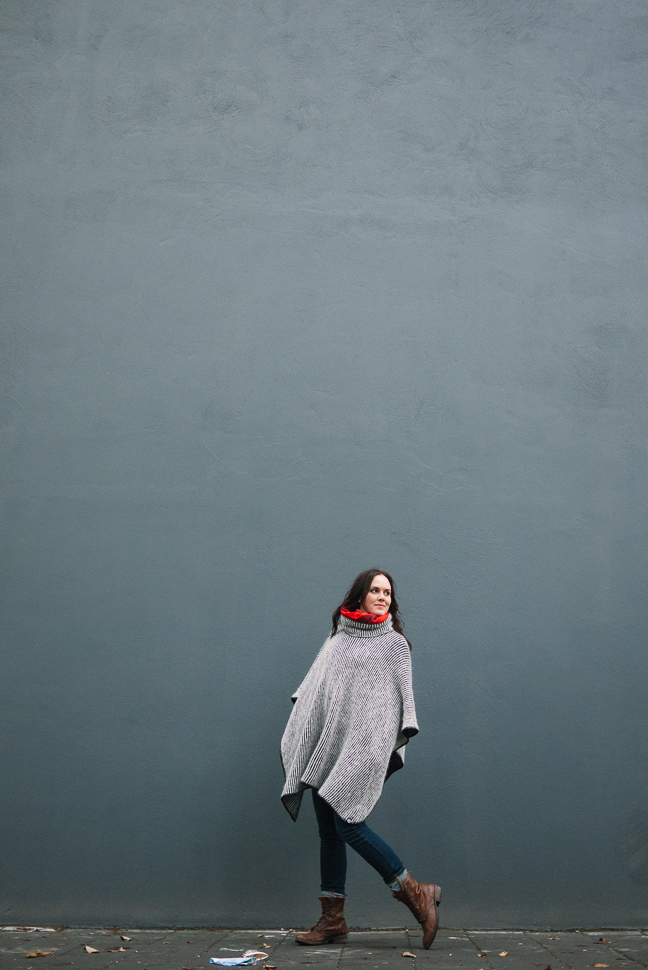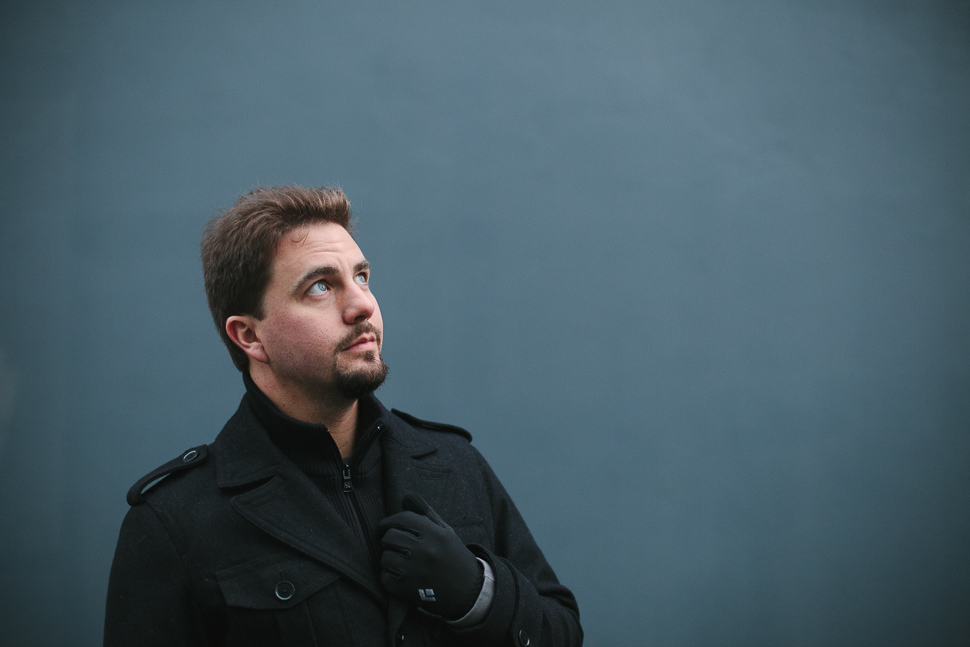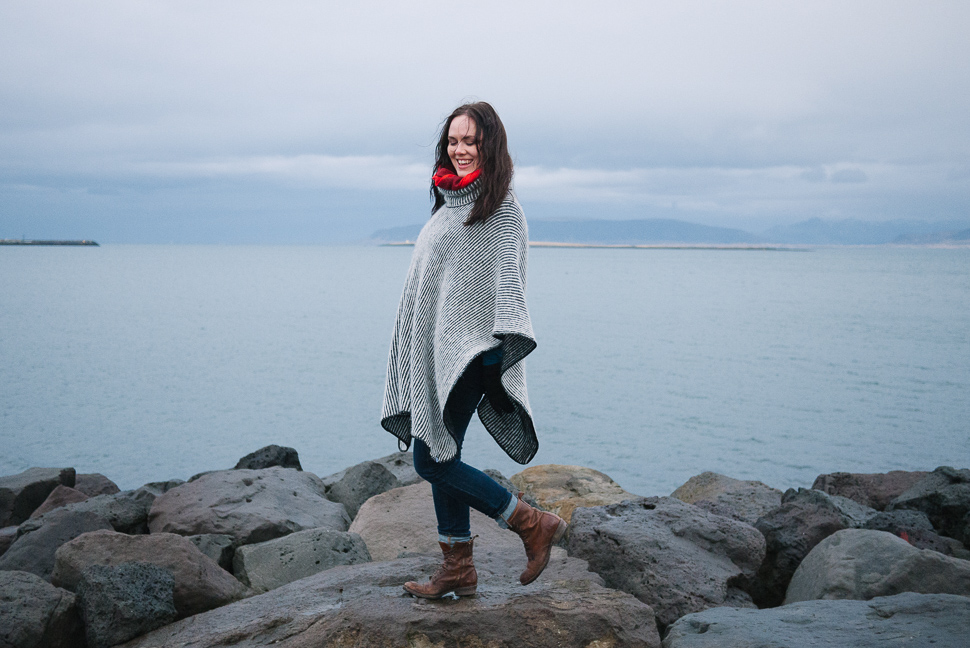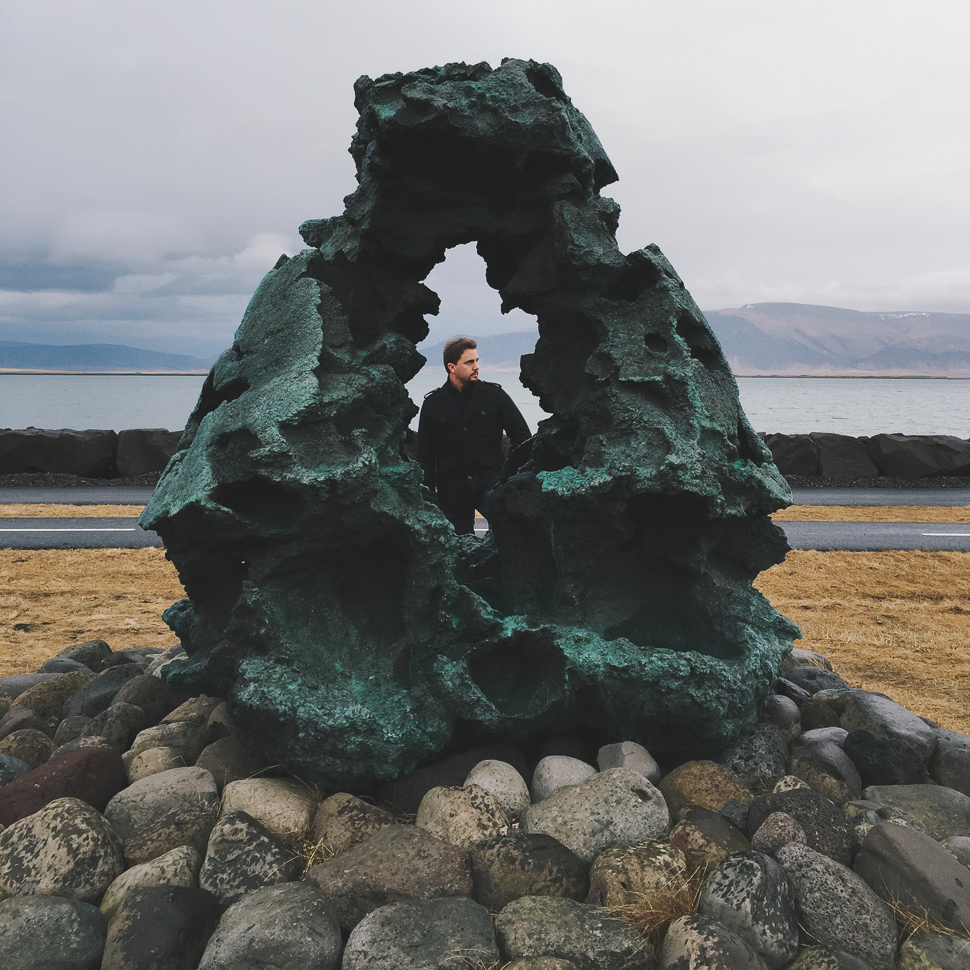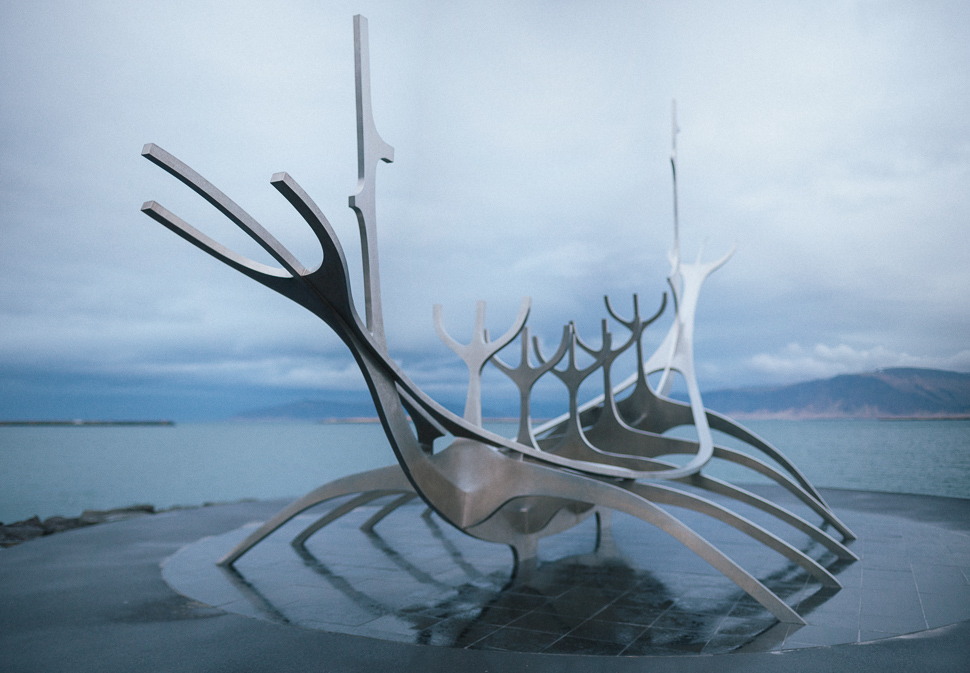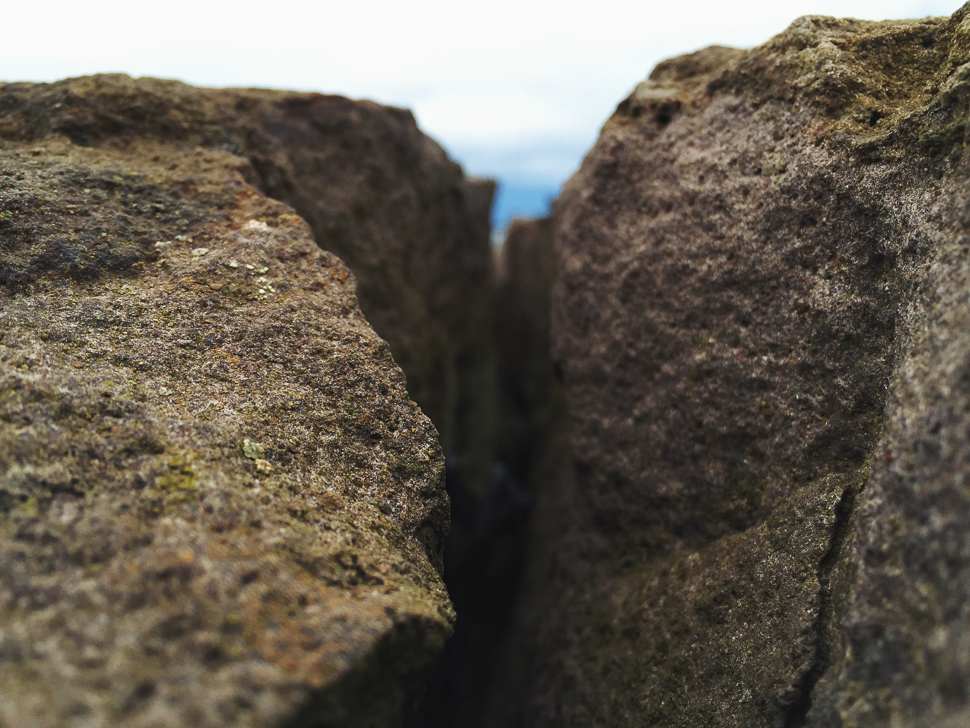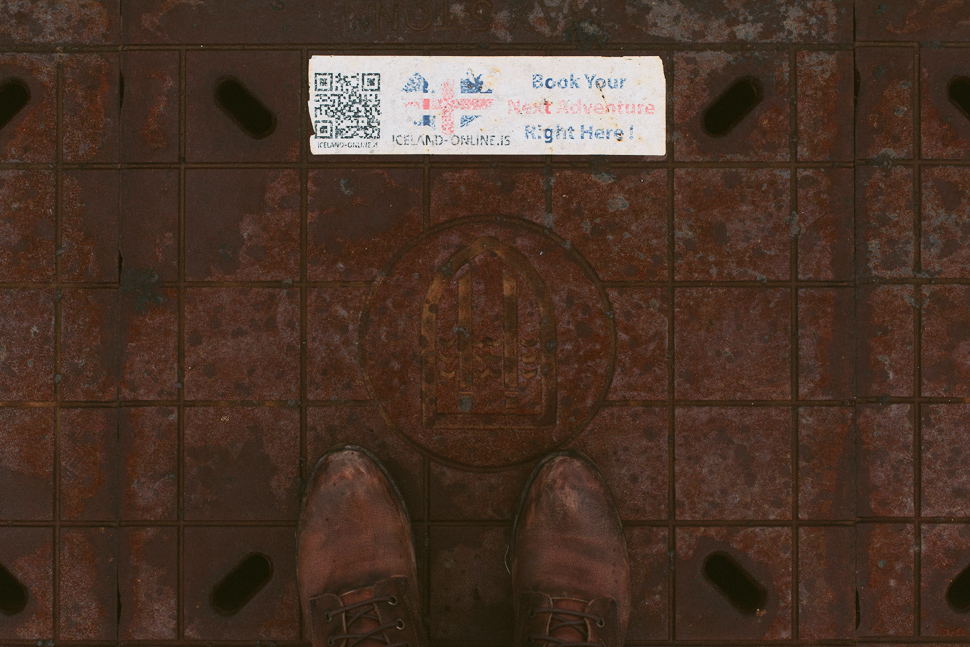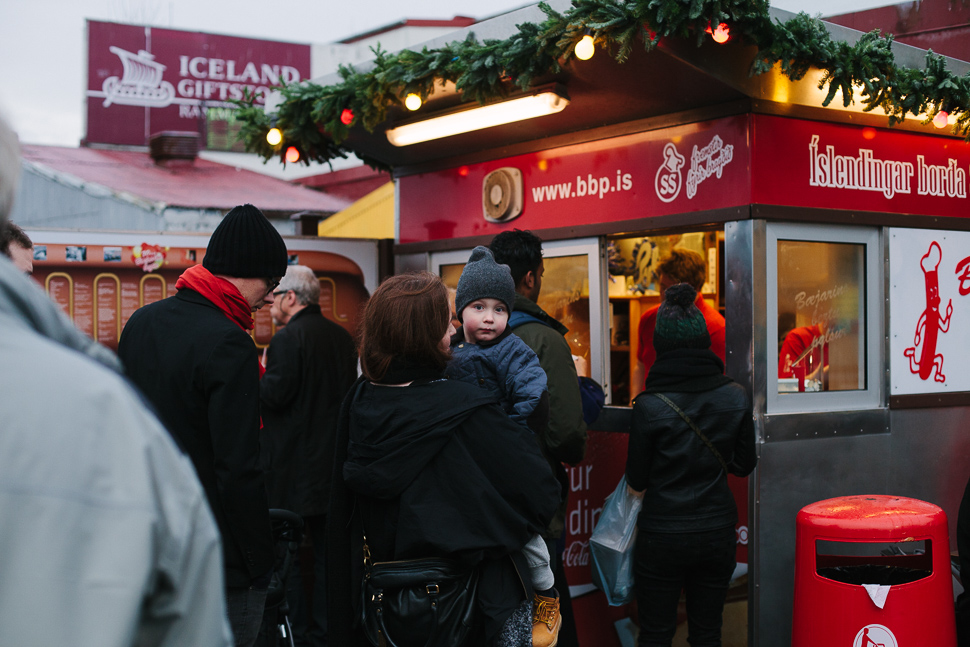 In the early afternoon we met up with Thu + Alek again for a bite at one of the most popular "restaurants" in Iceland: a hotdog stand.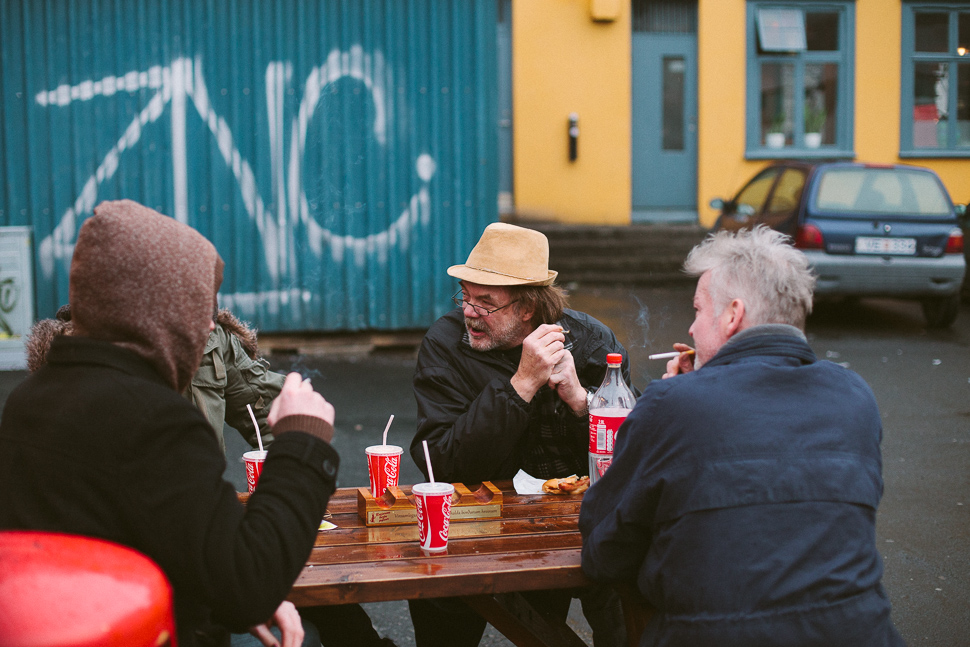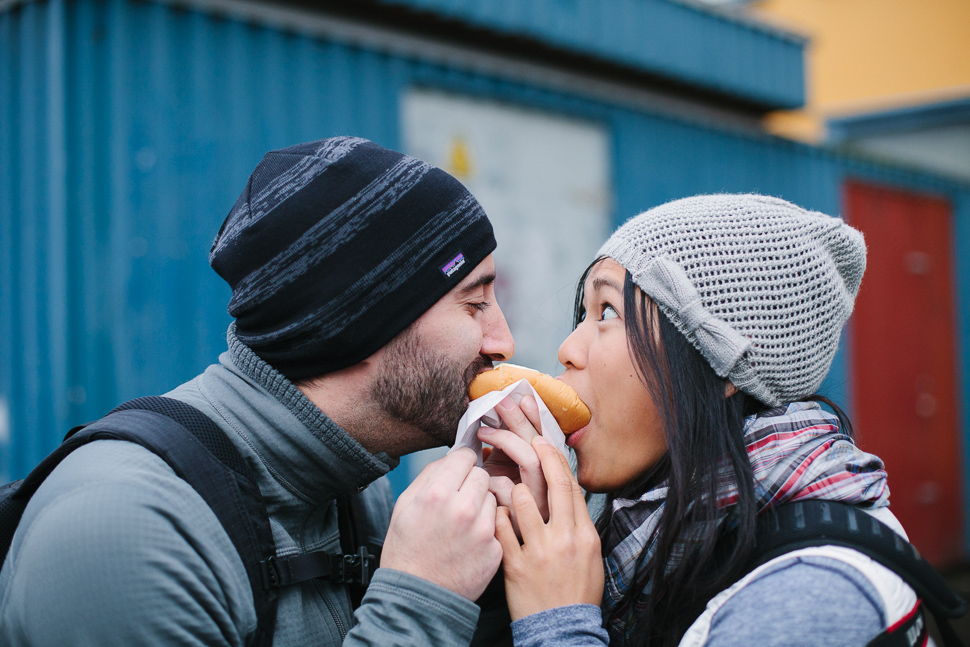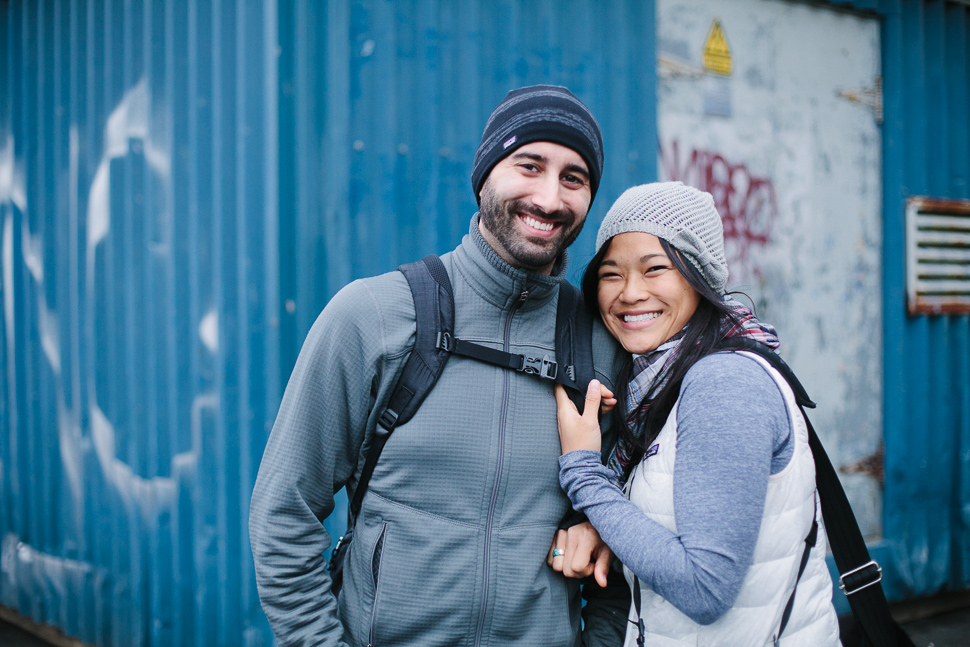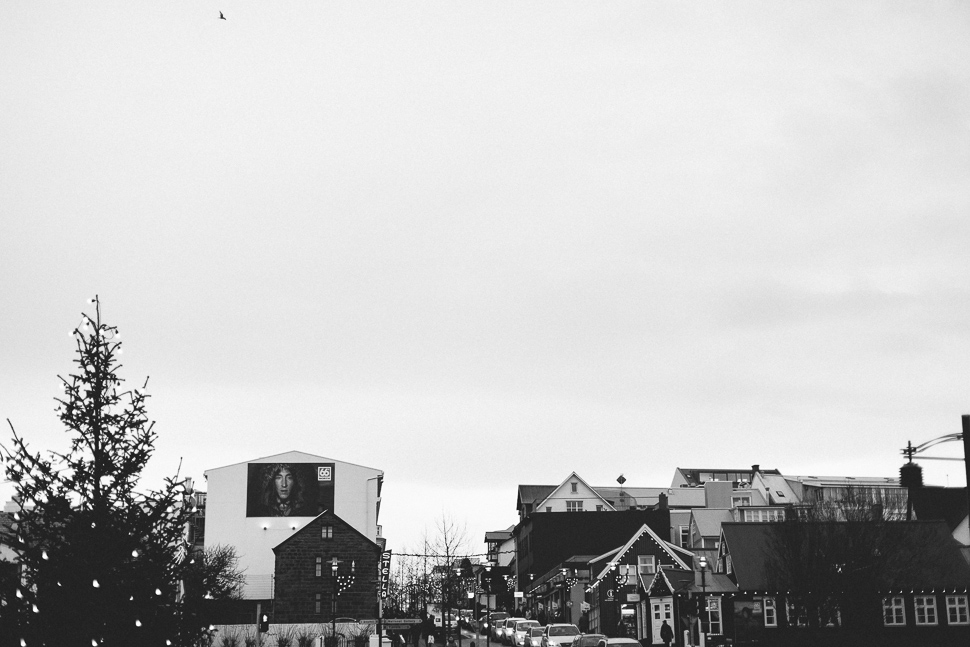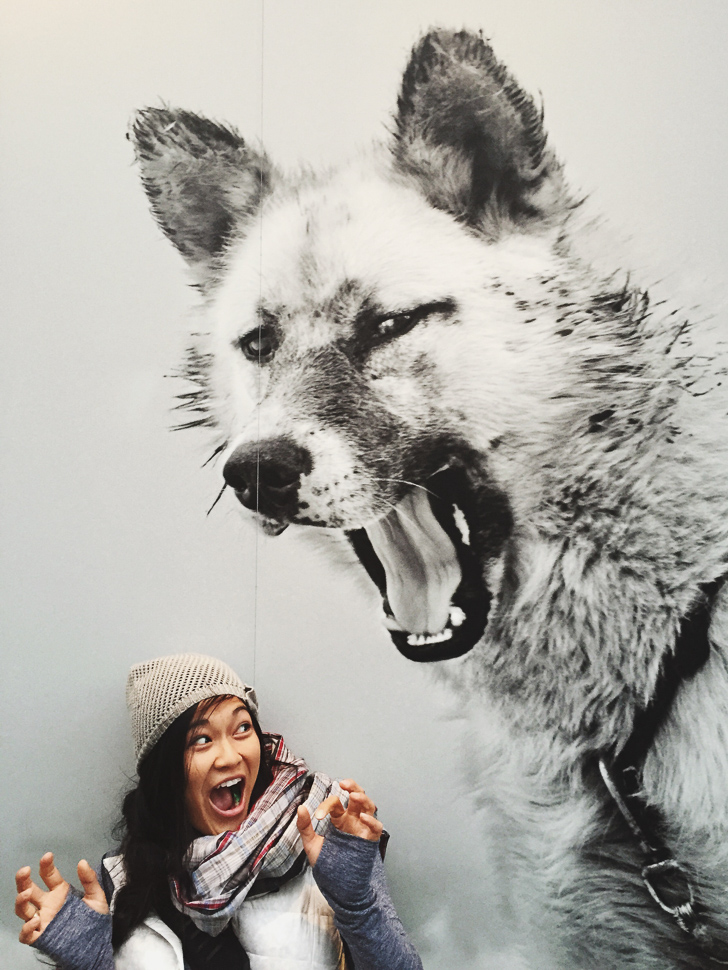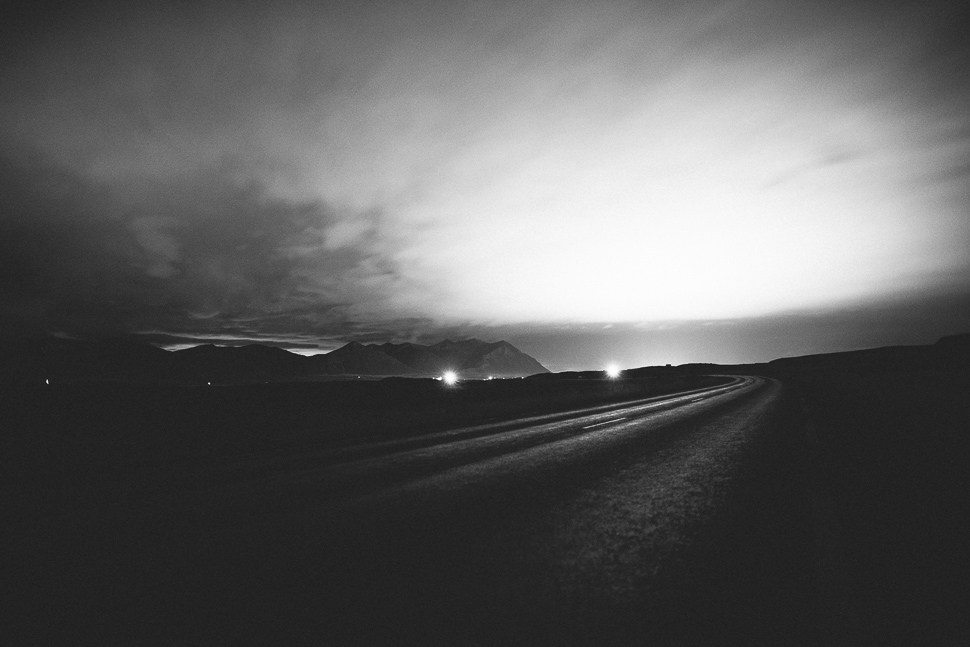 We took a nap in the early evening, waking up to what looked like promising weather reports just to the north of Reykjavik. We picked up our new traveling buddies and set off into the night, stopping at a gas station that strangely enough had a Quiznos for some "dinner". The northern lights danced elusively just out of our view; a tiny hint of green through many layers of cloud cover were all we had to show for our late night out, but we had a ton of fun exploring in the night.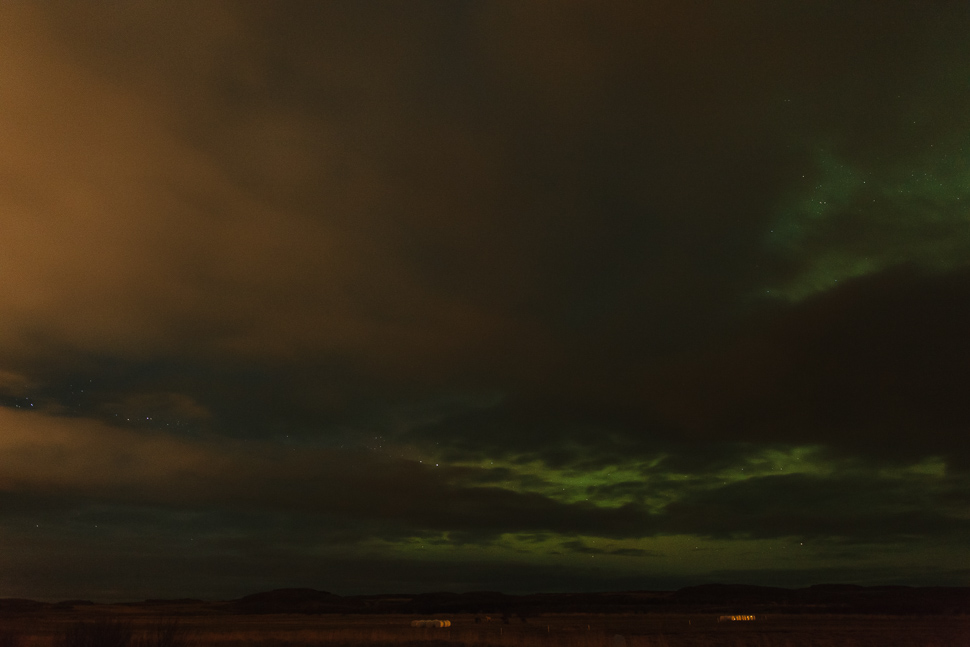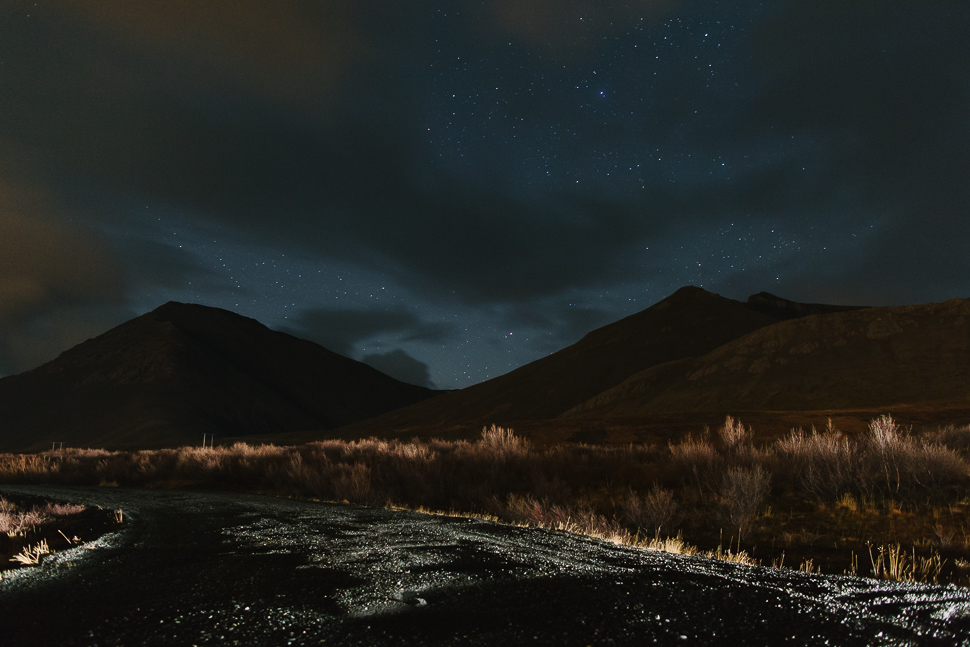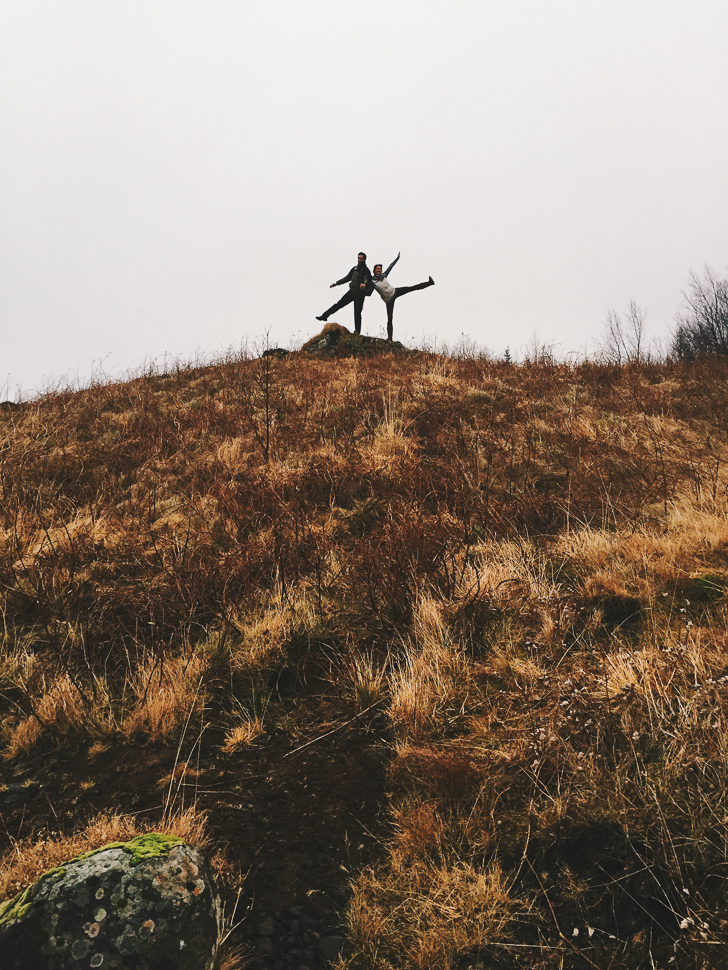 We raced back to our hotel in time to pack up, check out, and meet up with a nice couple from the states who were game to be photographed in a nearby hiking park. It was dark and drizzly, but exhilarating to be shooting another couple in this wild countryside. (Below is one of the fun things you can do with an iPhone panoramic selfie: race around the other side and be in the photo twice.)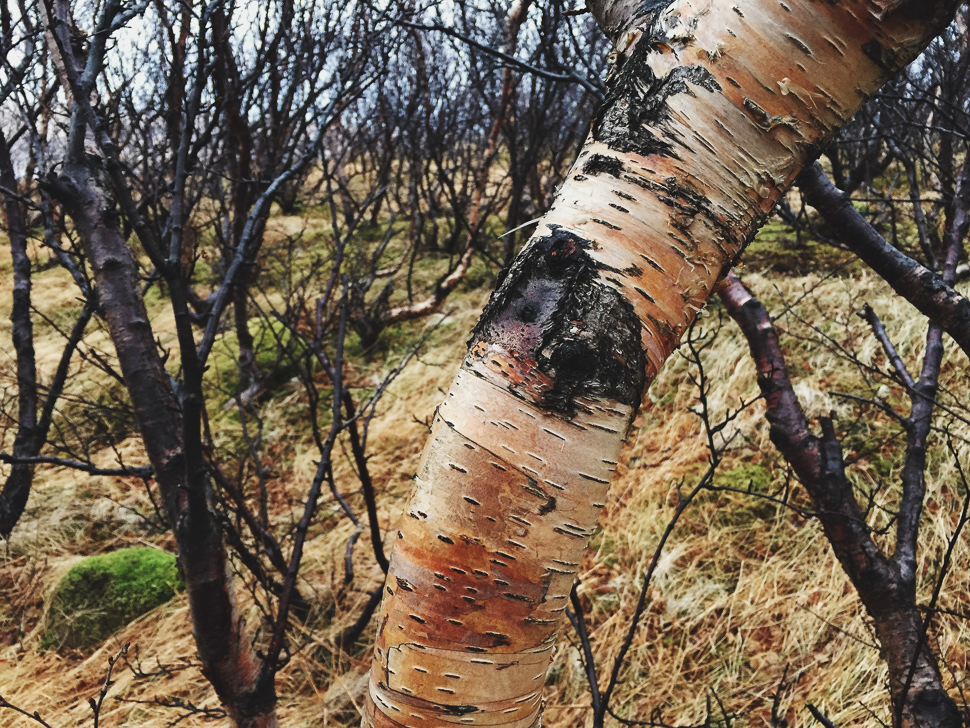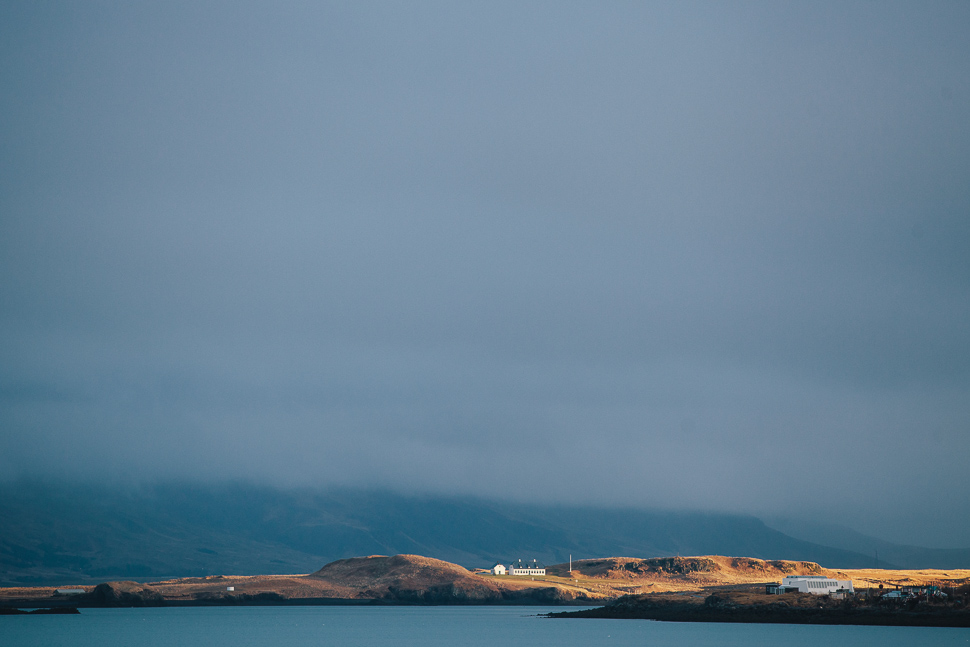 After parting ways with our new friends, we went with Thu + Alek to Kex, a hipster paradise of a hostel right in Reykjavik. We'd heard wonderful things about their food and thought we'd give it a try as a last meal before leaving for our flight that afternoon.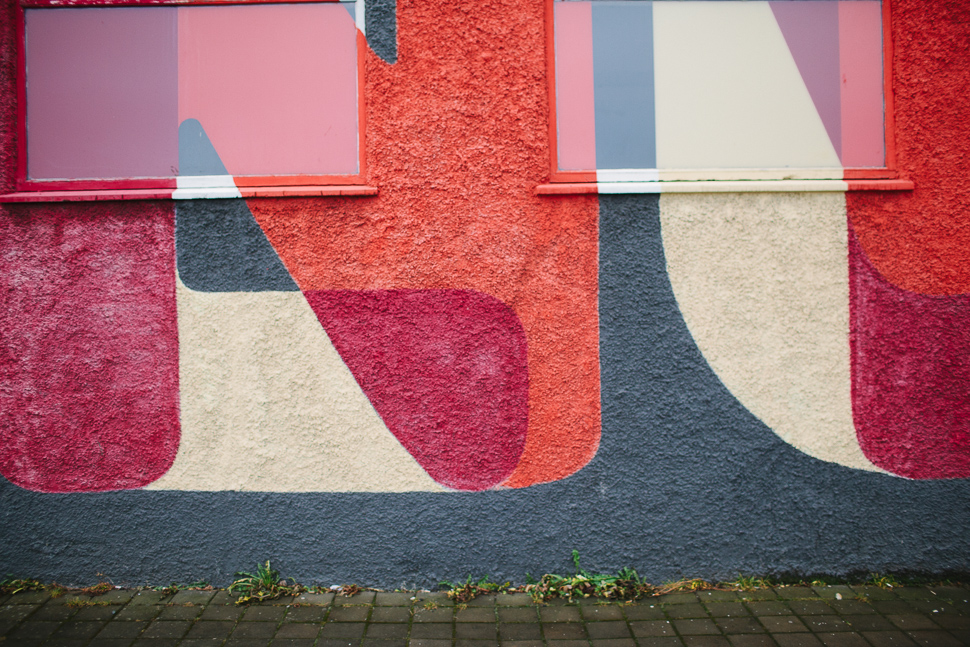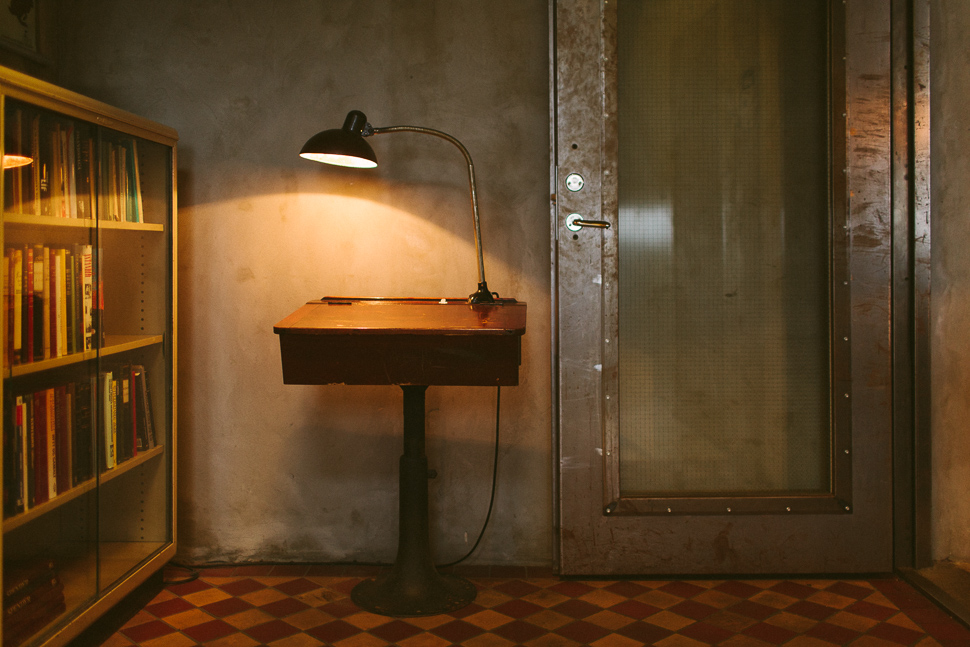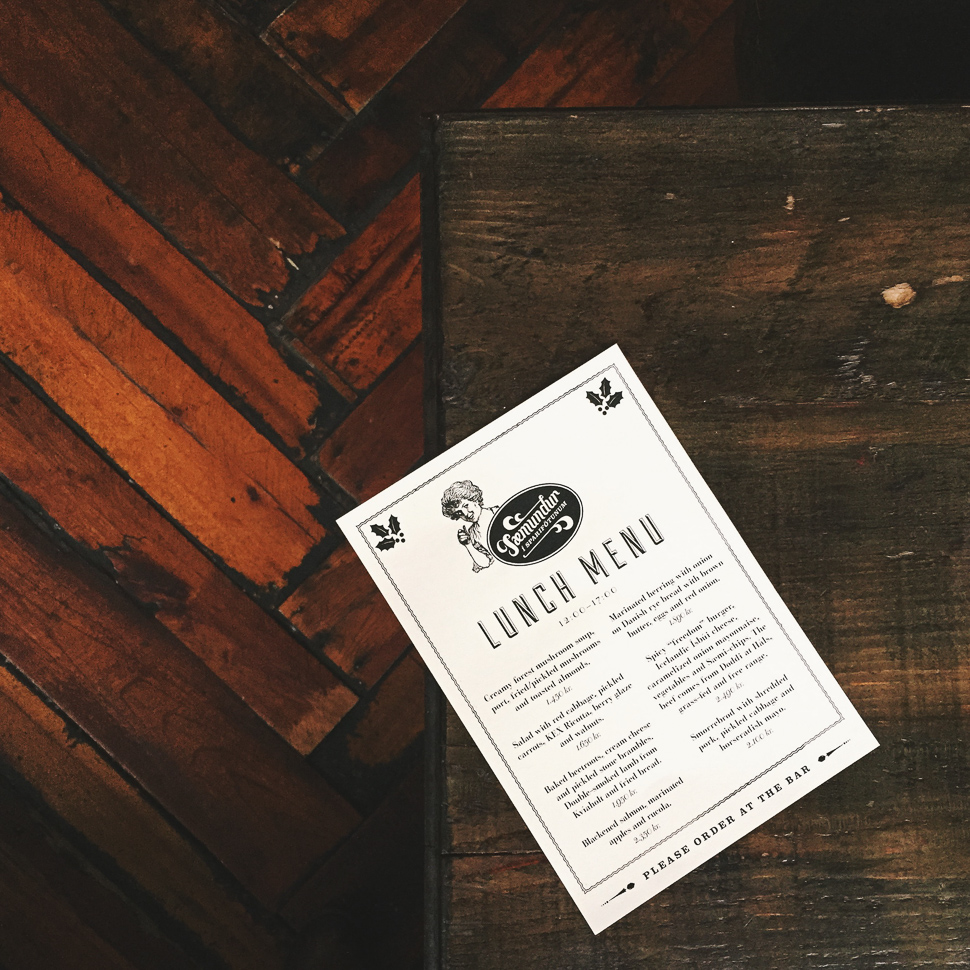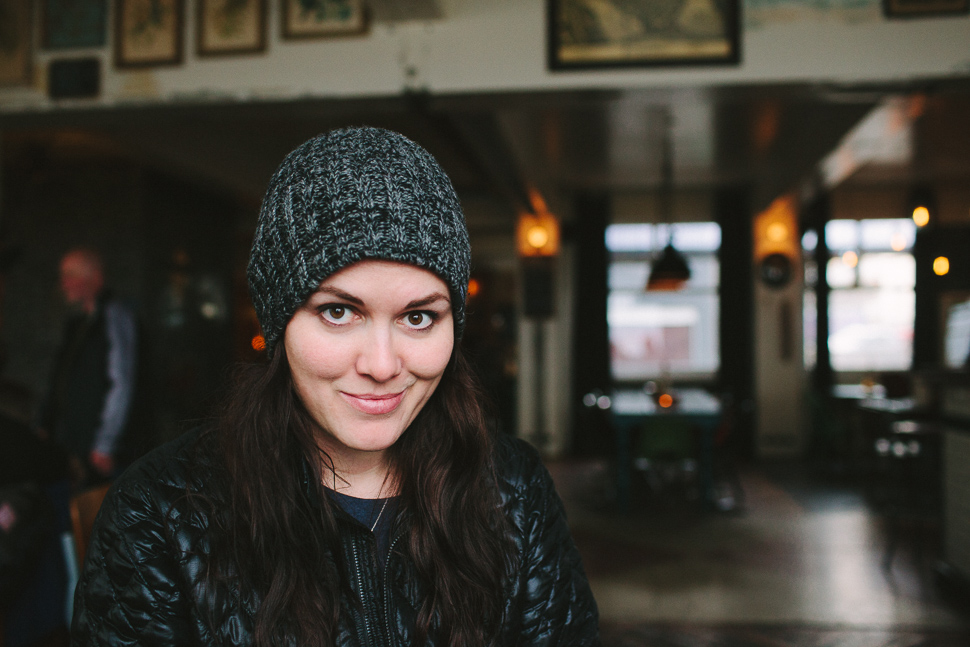 The food was simple and perfect. Flavorful and filling, we were all thrilled with our choices. As we started to wind down and wrap up we realized that there were homemade cookies and hot chocolate available, which obviously meant we all needed just a bit more to eat.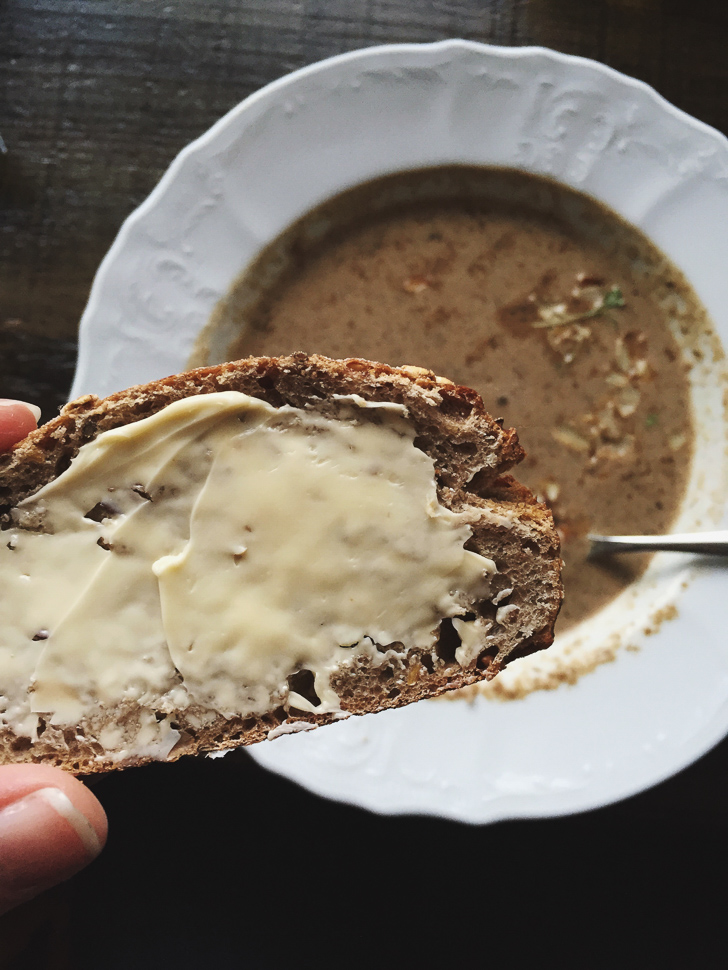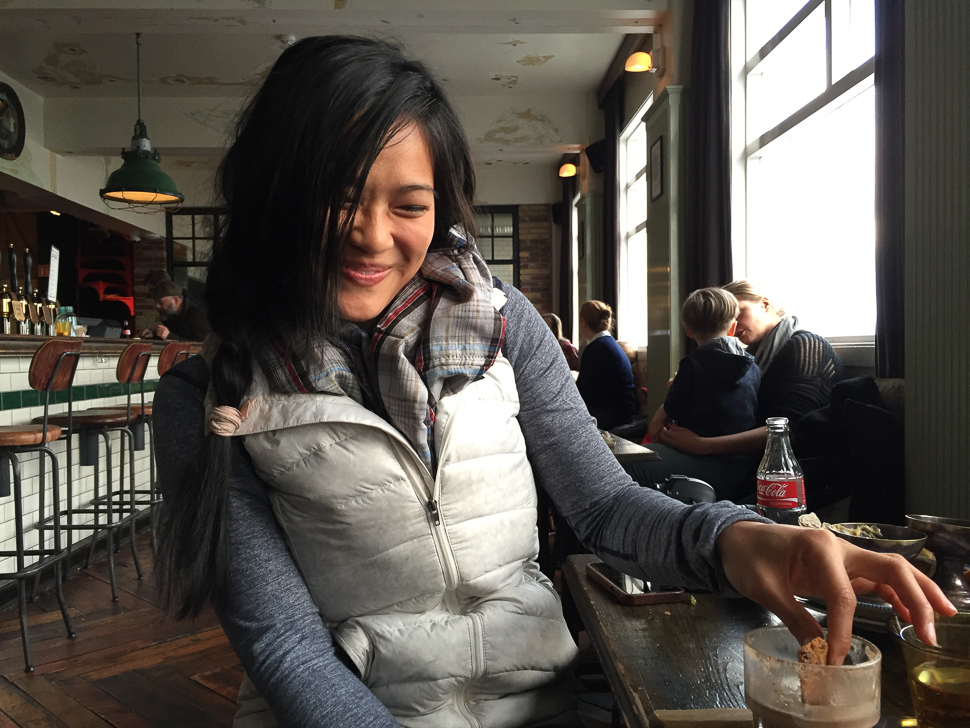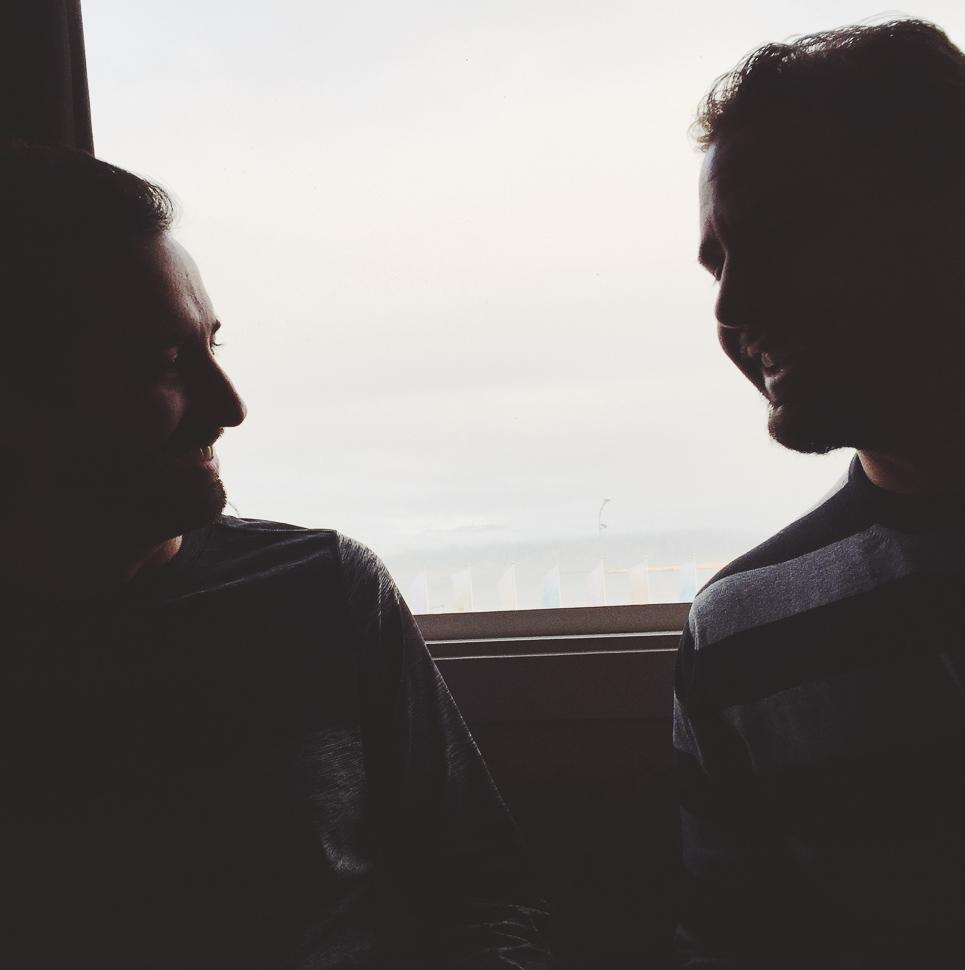 As we were enjoying our cocoa and cookies we noticed that the room had filled up with very small children and their parents, who had all come for an Icelandic author to read from his book. The language was foreign but the feeling was warm and familiar; the author read his story with great voices and character, and the kids listened with wide eyes and intense concentration.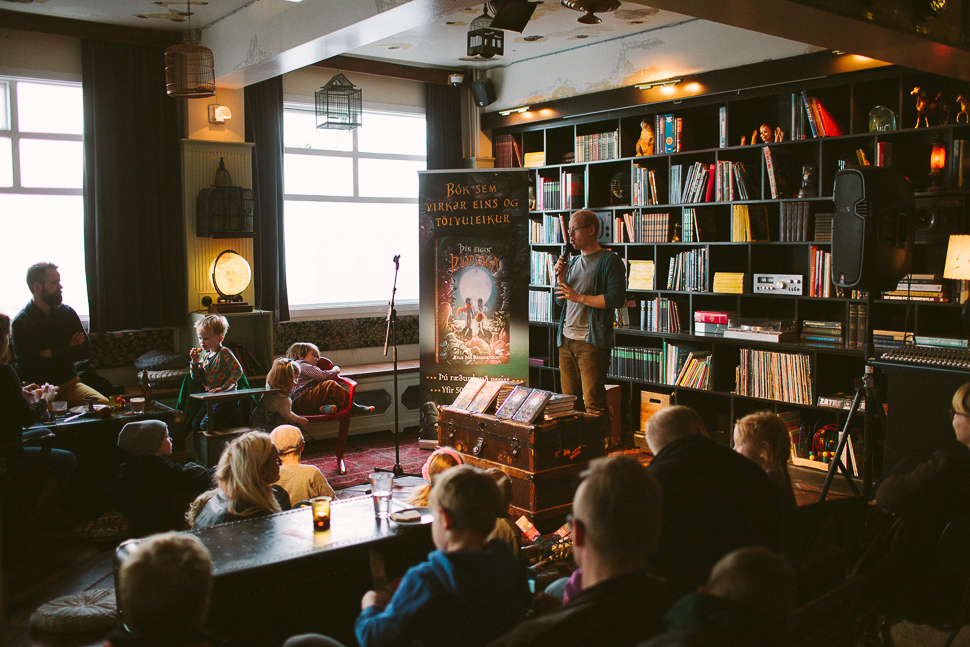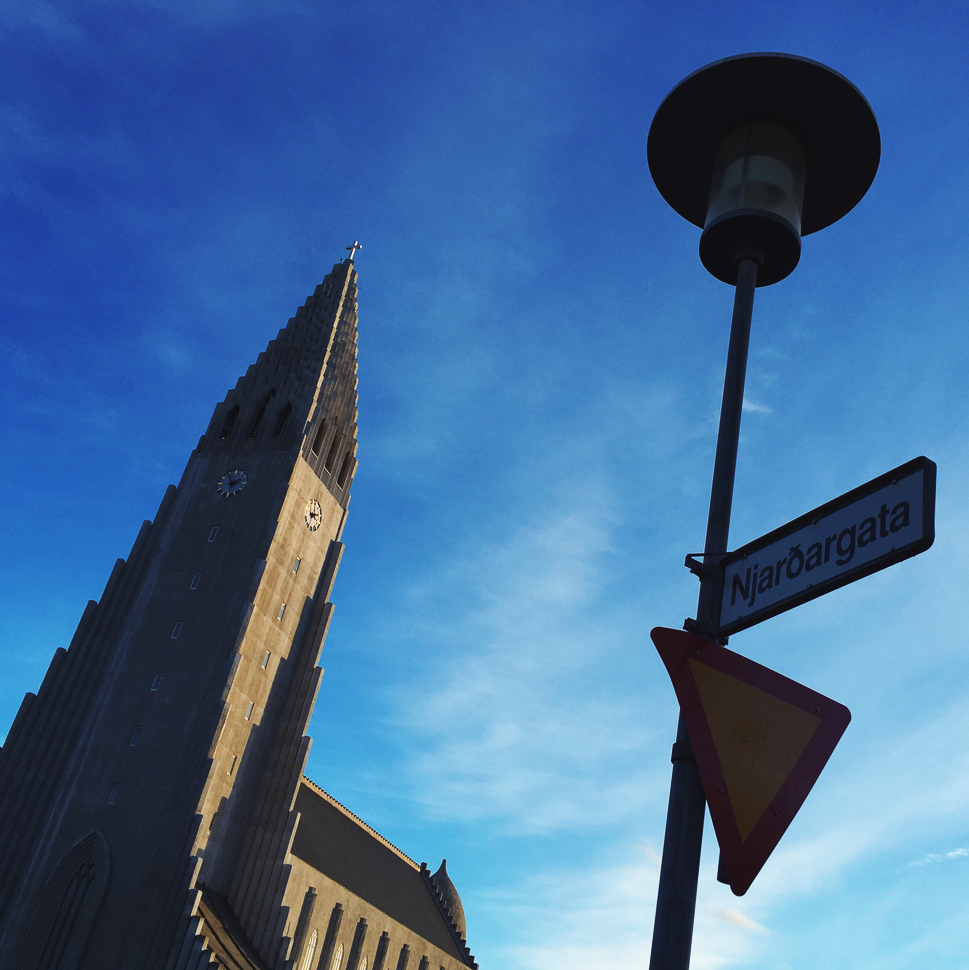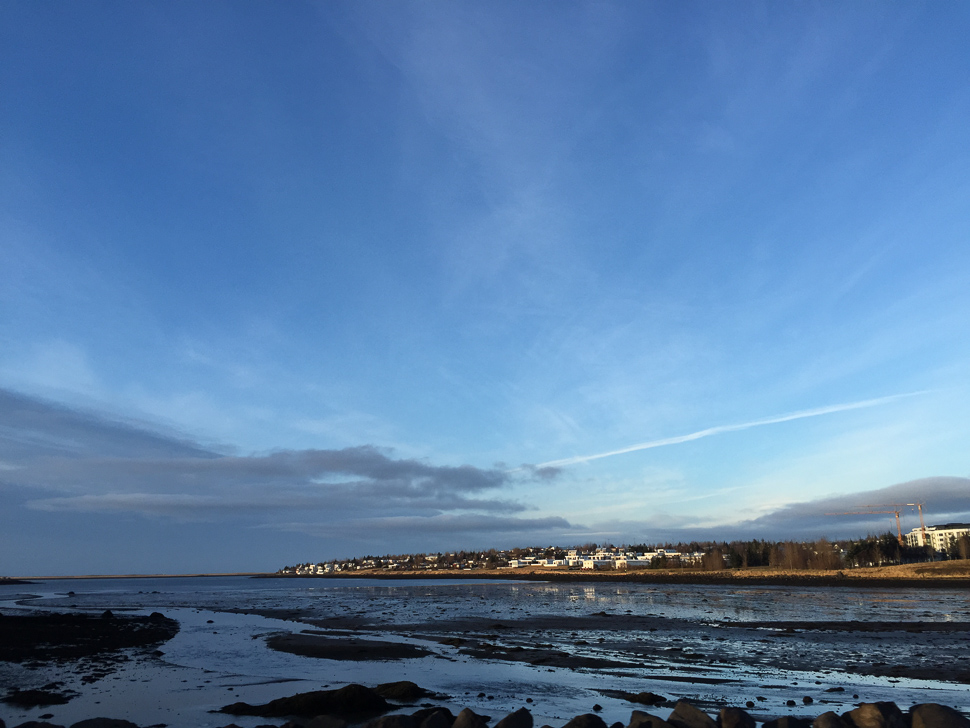 On our drive to the airport we noticed clear blue skies for the first time in our trip and felt a pang of longing to stay. This trip was just a toe-dip into this country, and we can't wait to return!
Comments
comments