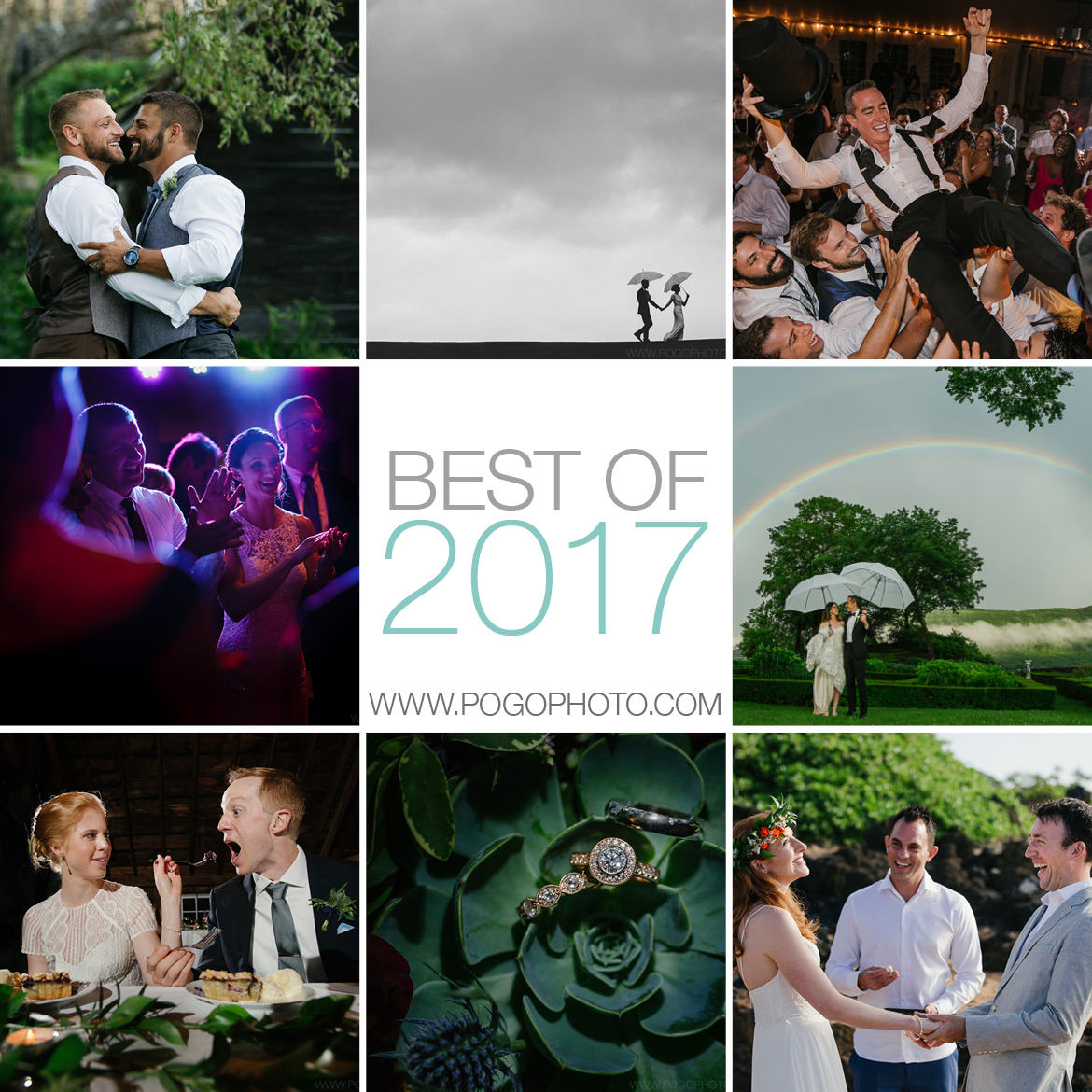 A whole year has flown by already? Sounds like it's time for a visual review of some highlights! We've had a busy and adventurous year, filled with a variety of photographic opportunities (work for our corporate clients, wonderful families, portraits of strong and beautiful women, travel and nature photography, not to mention the industry teaching we've been doing), but for the sake of keeping this "short" we will focus on our favorite subject: love stories.
Love stories took us all over our new location (Vermont!) and Florida, but also around the country, including a recent trip to Hawaii. More important than location was emotion, and we found that in spades. From tearful flower girls to exuberant crowd surfing, capturing moments of real human interactions is what gives us all the feels. These next images are the ones that make our hearts sing… and the ones that crack us up. (Feel like you've seen most of our photos already? Hint: you haven't. And make sure you also continue to the end for some behind-the-scenes images of us working!)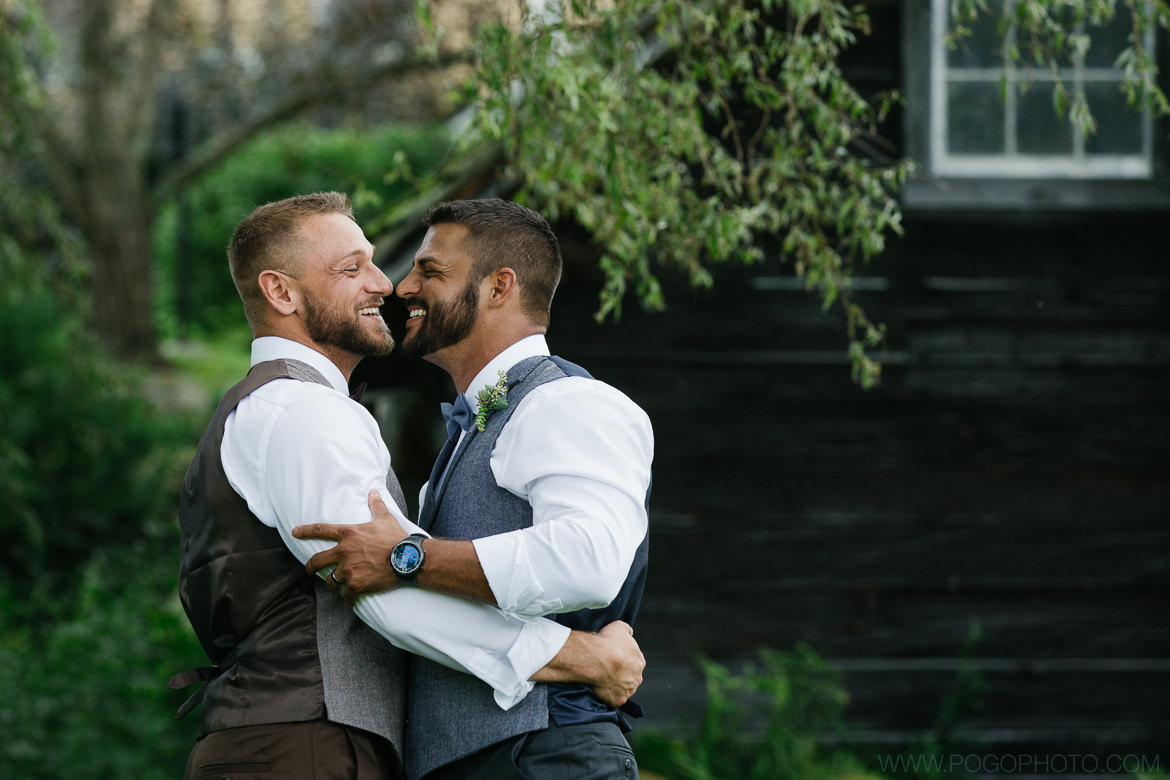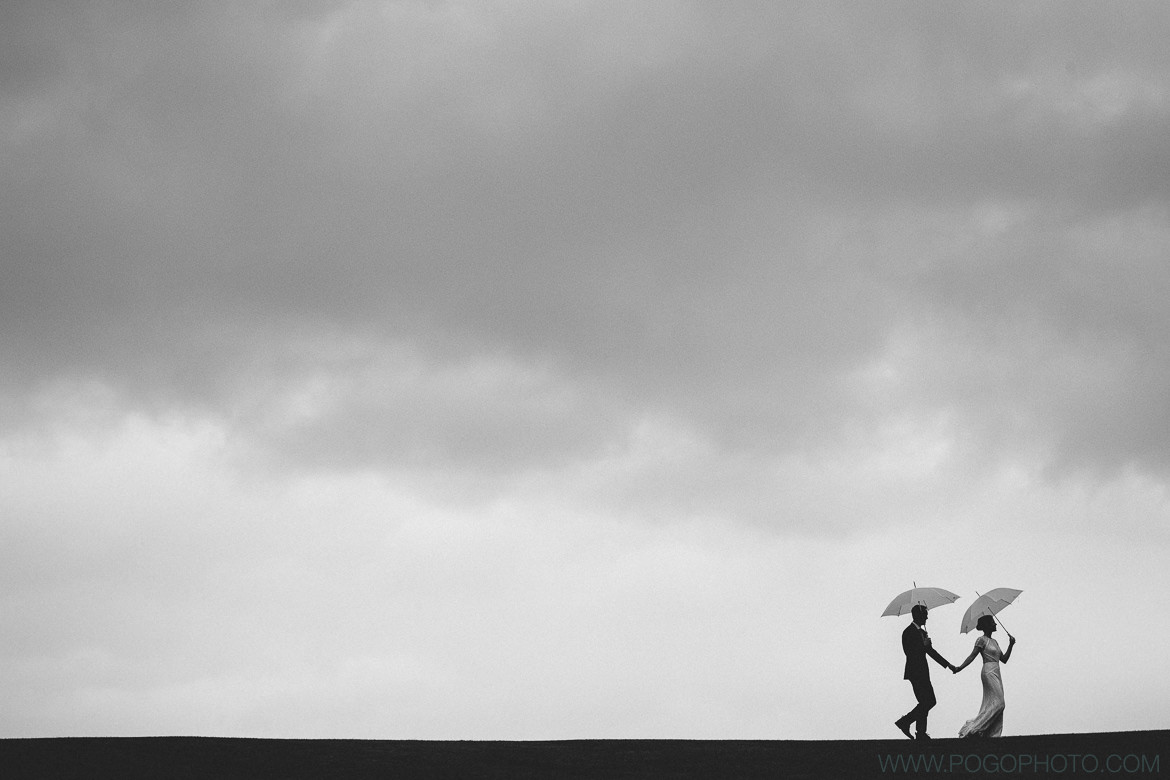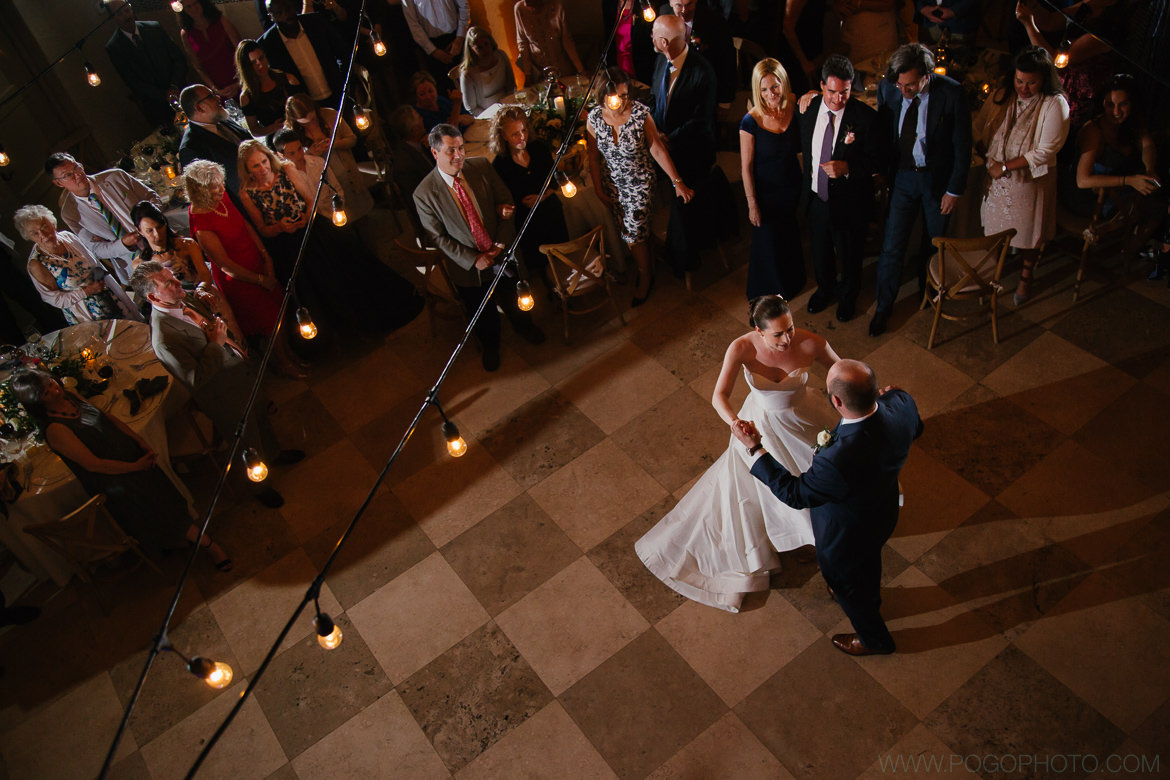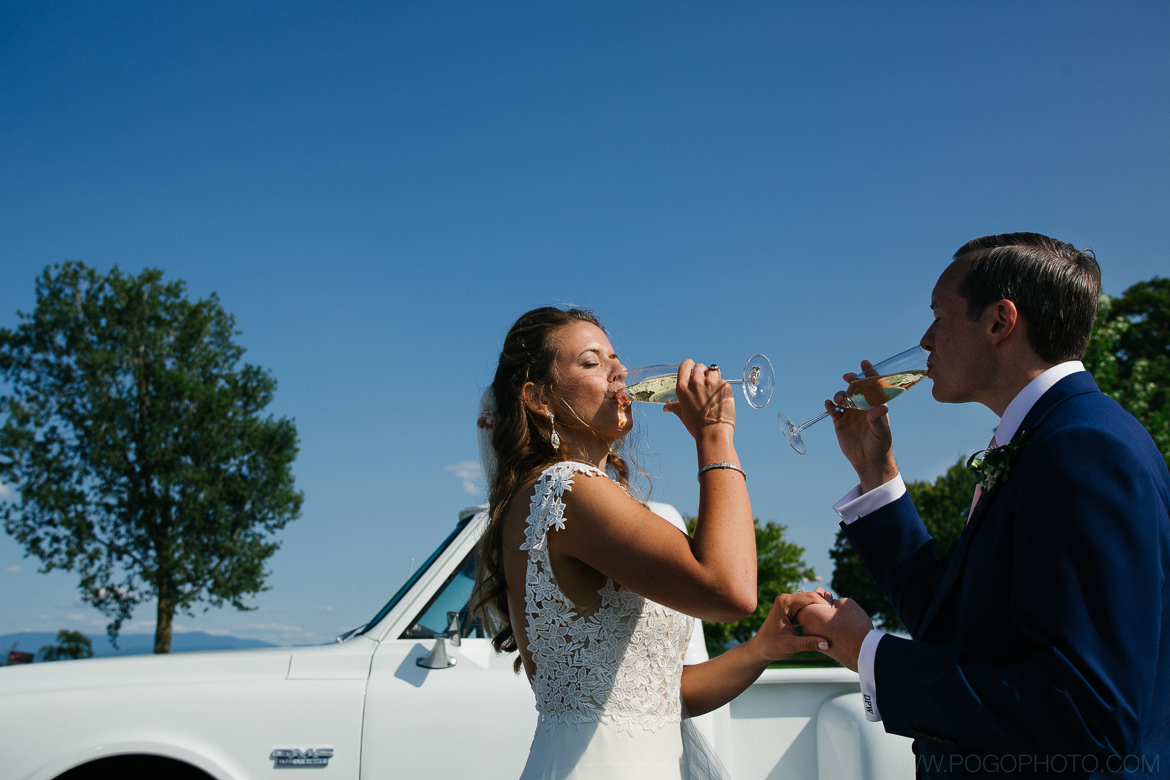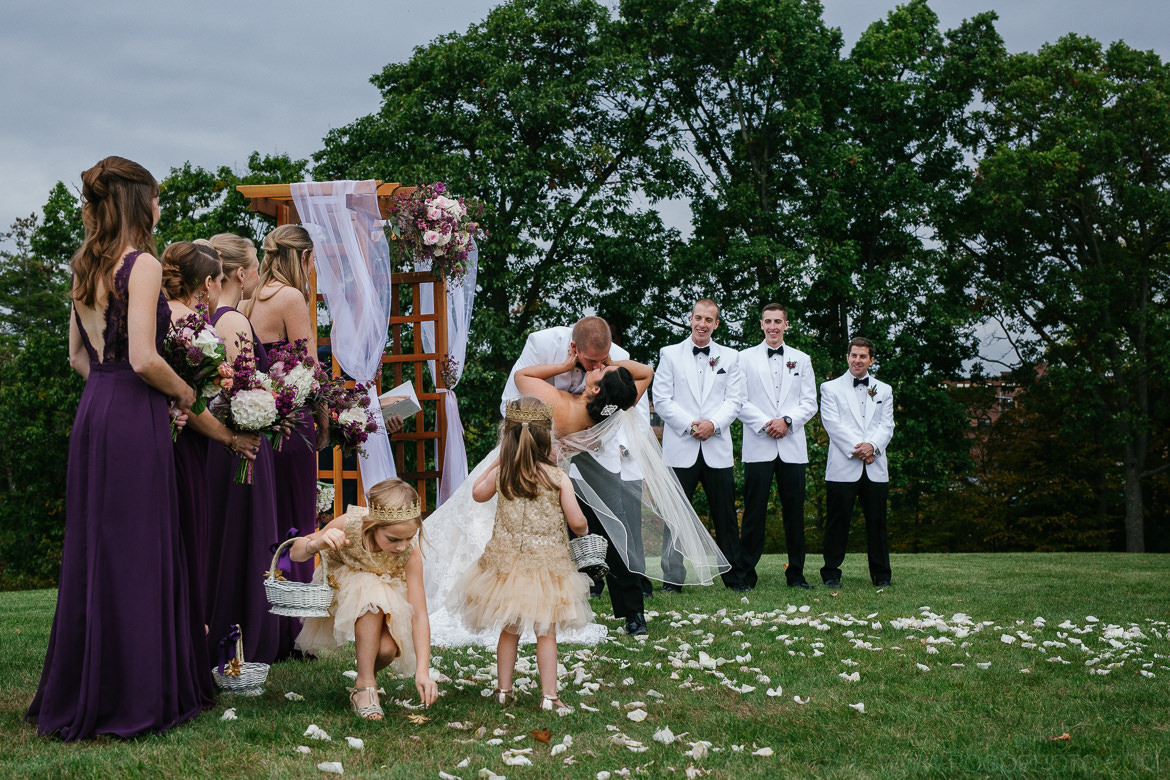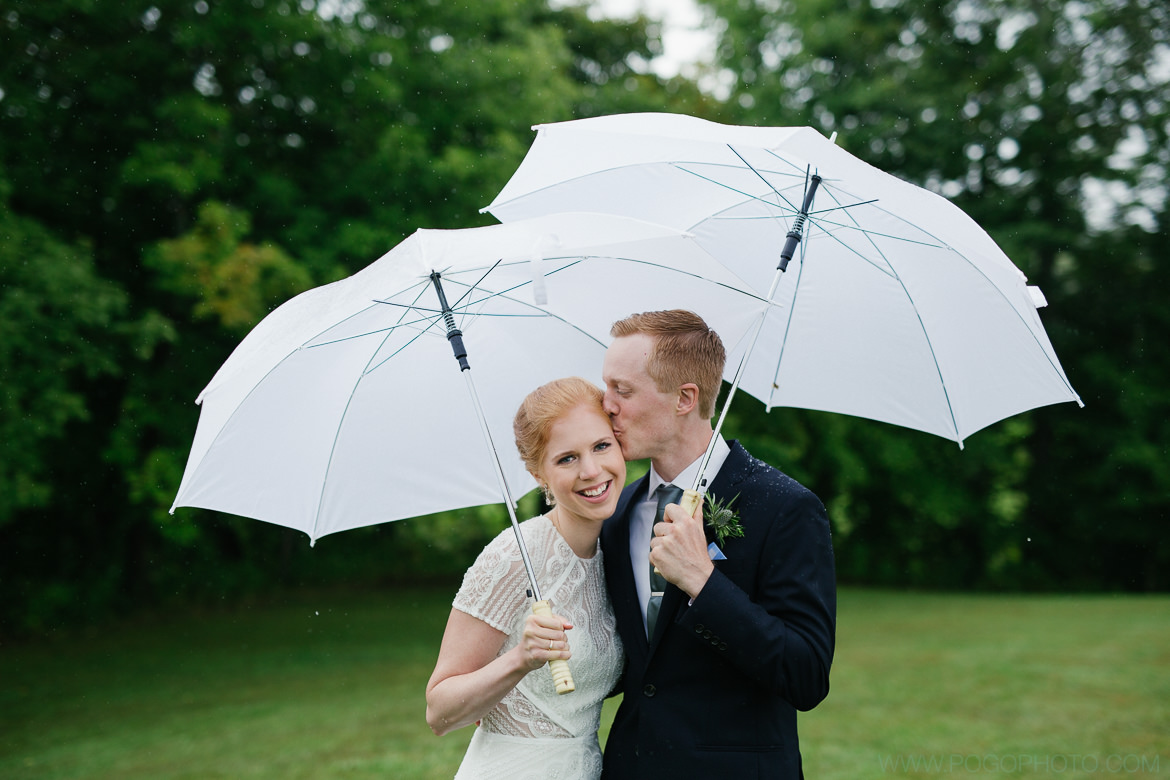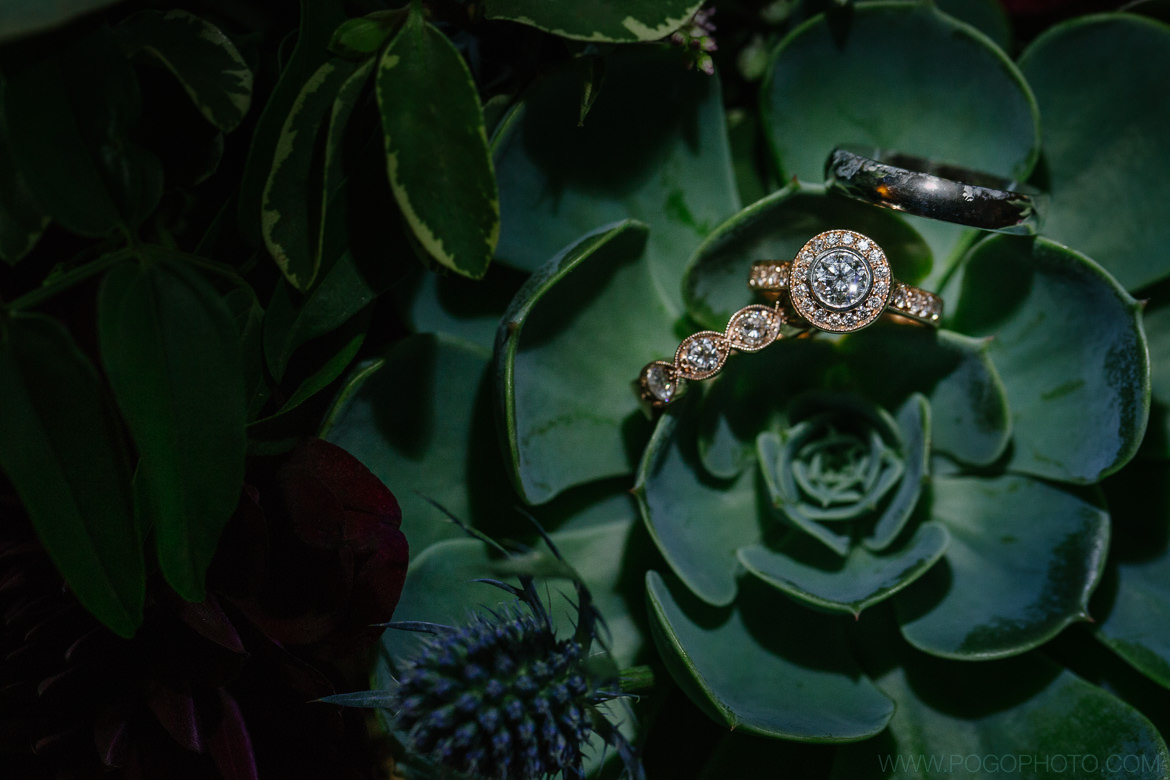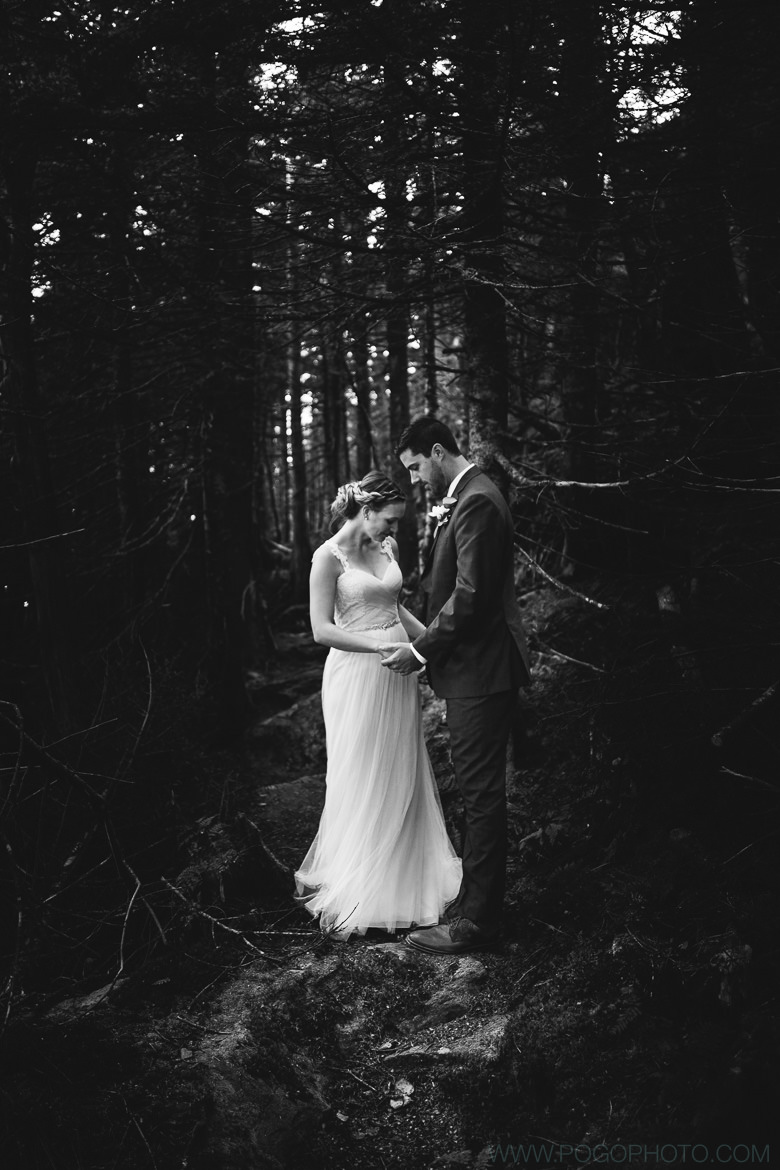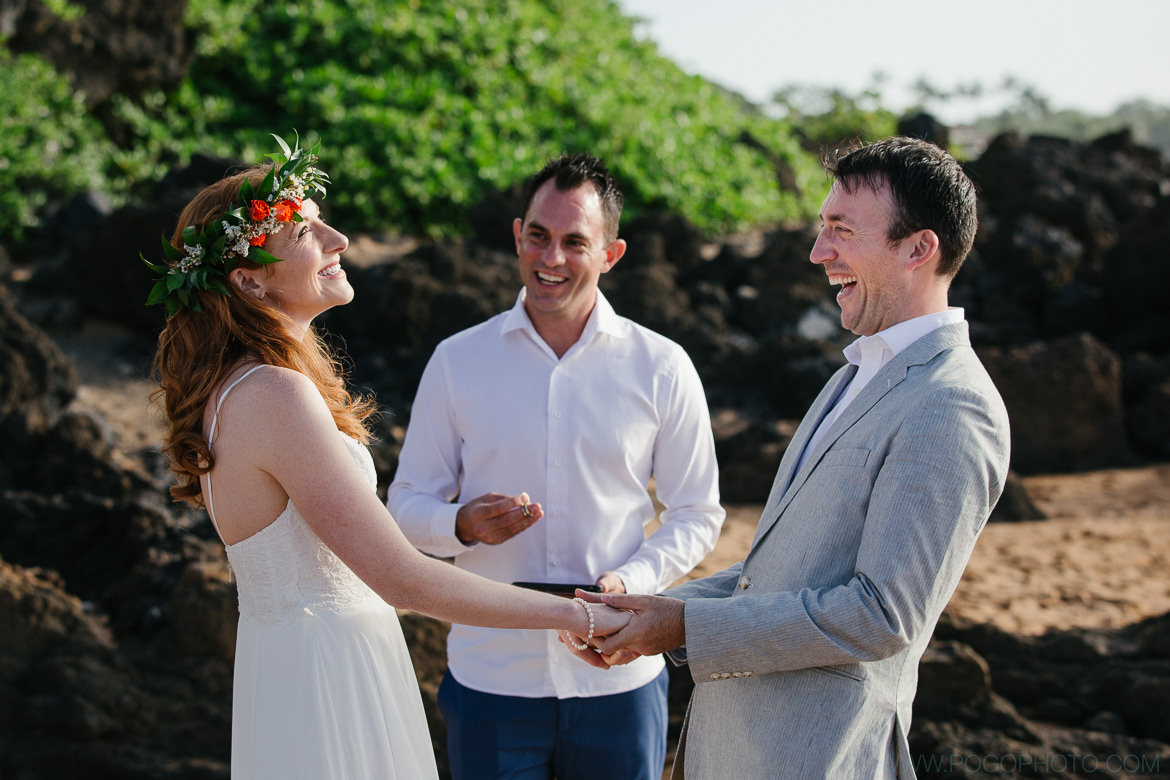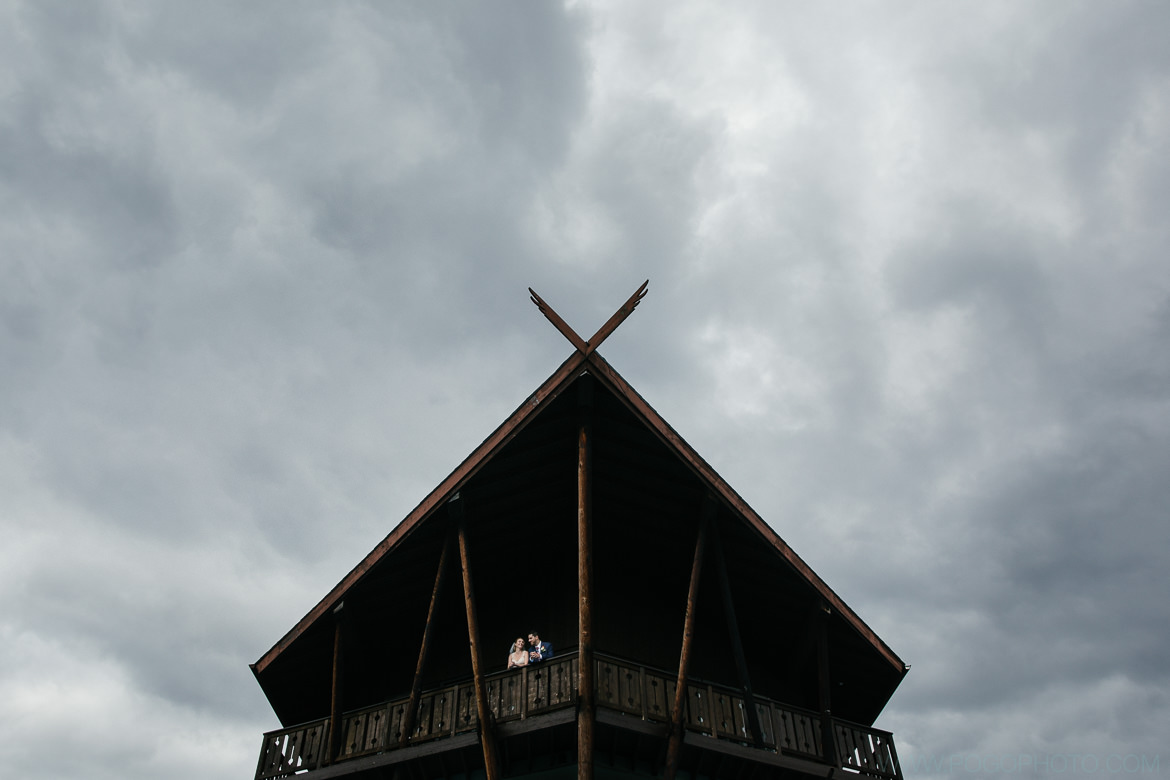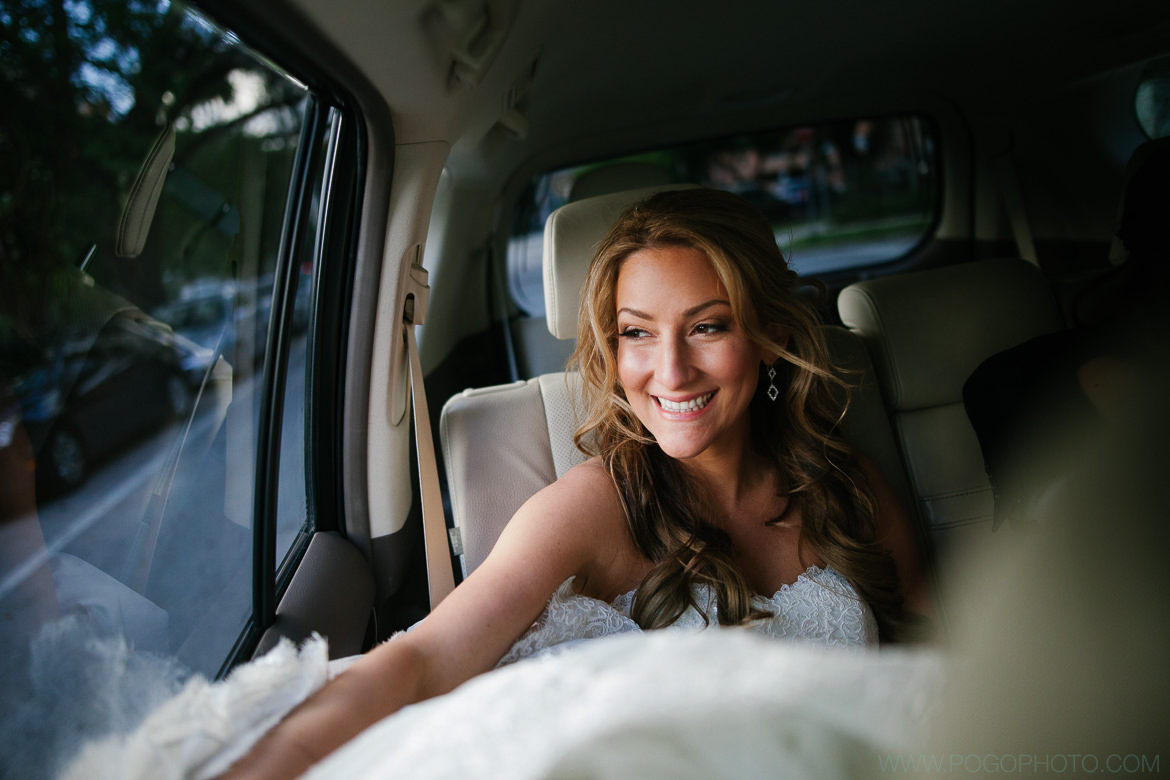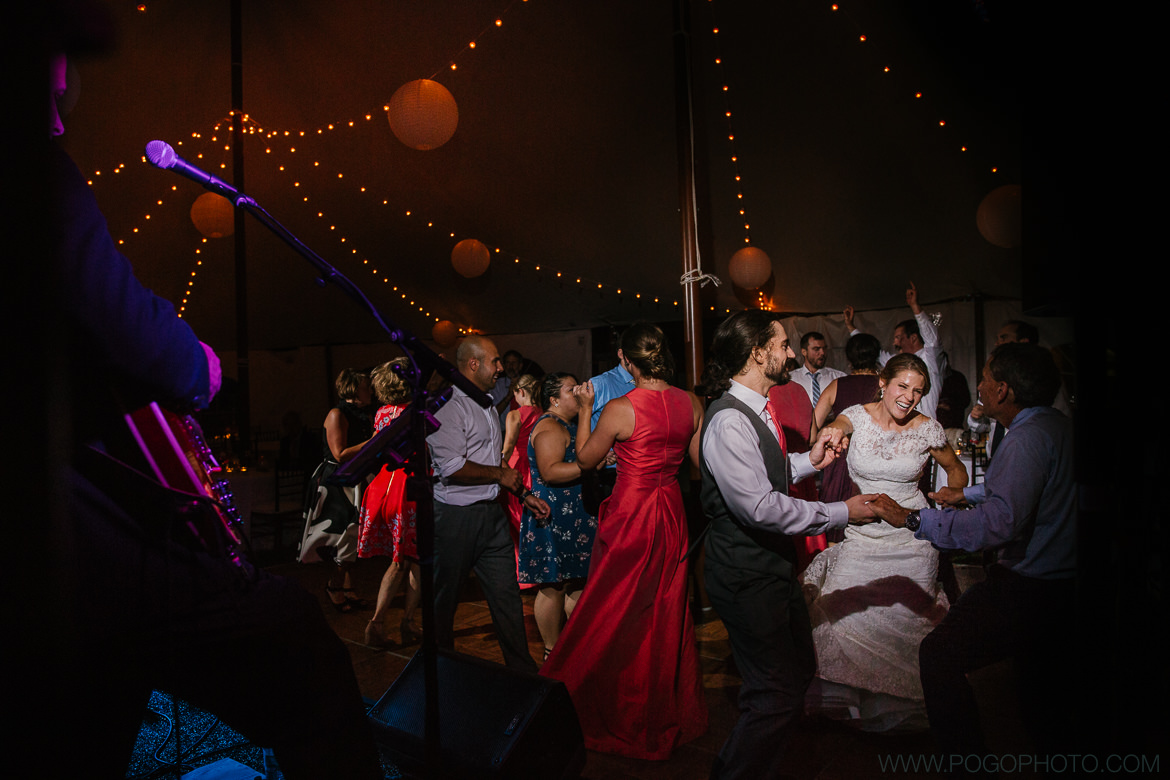 The rainbow photo at Hildene! We've had so many people ask if this was "real". The answer? Yes. Absolutely! One of our personal policies is to never fake images (unless they're hilarious and over-the-top… and clearly fake, like photoshopping a 21 foot housecat into our family portrait, which may or may not have happened this year). This double rainbow was truly awe-inspiring; from the time we noticed it until it finally faded from the sky took the better part of an hour, and it was a stark contrast to the dark and terrifying storm that tore through the valley moments after this day's ceremony. We do want to explain a bit about the technical aspect of capturing this panorama, because we think that's part of why it feels "fake" to some viewers! This is stitched from 9 vertical images shot at 35mm with the Sigma Art 24-35mm ƒ2 (at ƒ8); keeping the focal length at 35mm rather than the wider 24mm helps prevent the historic home from "keystoning", or warping into an unrealistic angle. We popped a bit of fill light with a small flash to help Kamilla + Brian stand out from the background, as the sky was still very dark and overcast from the storm; their happy grins are really what makes this image shine, as without them it's just a pretty picture.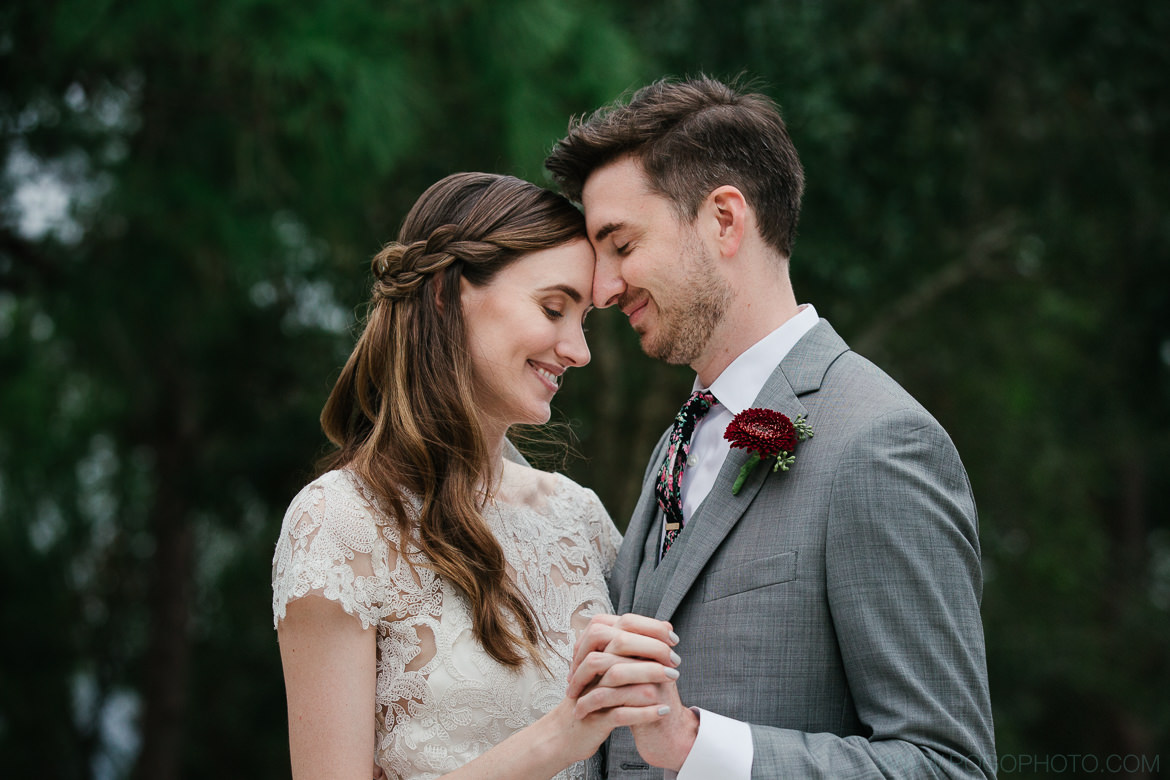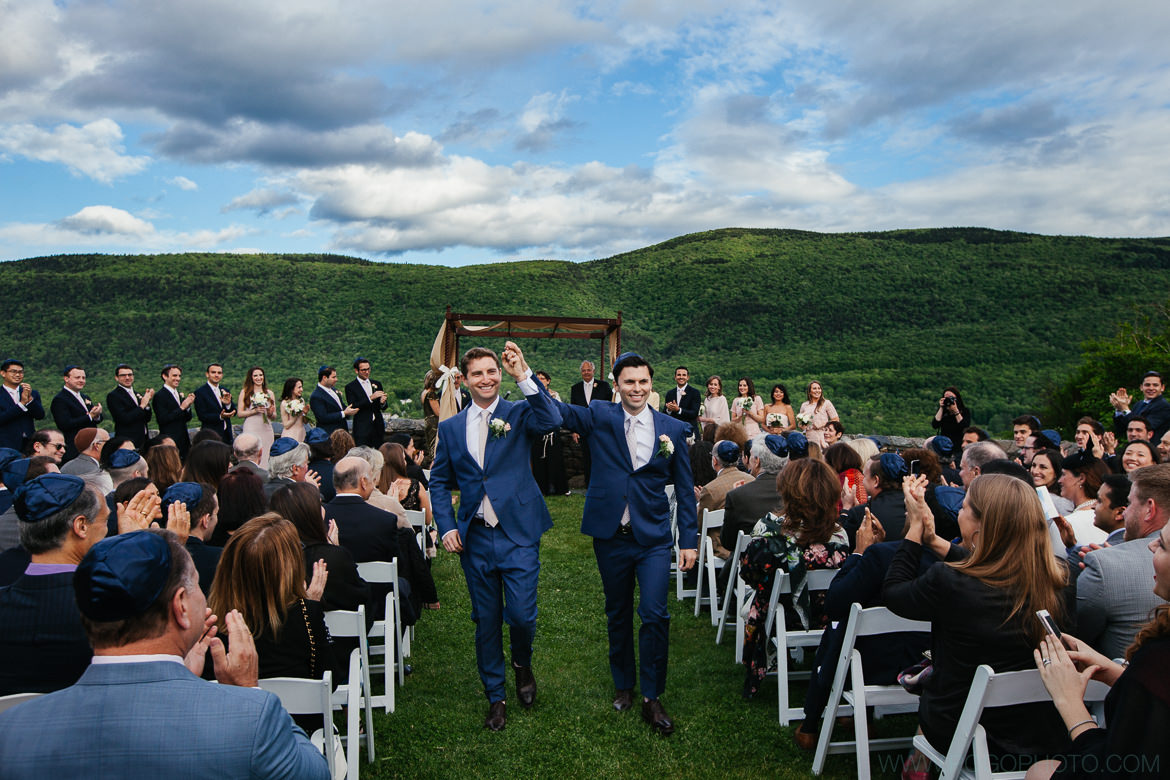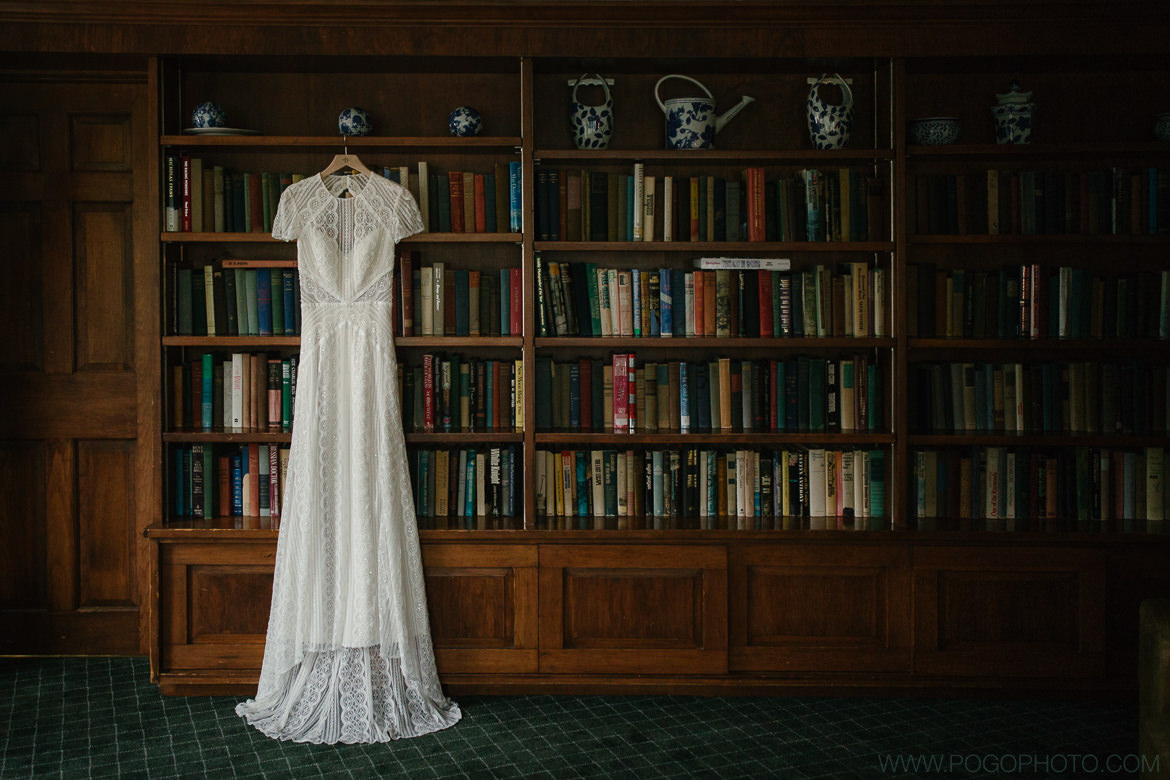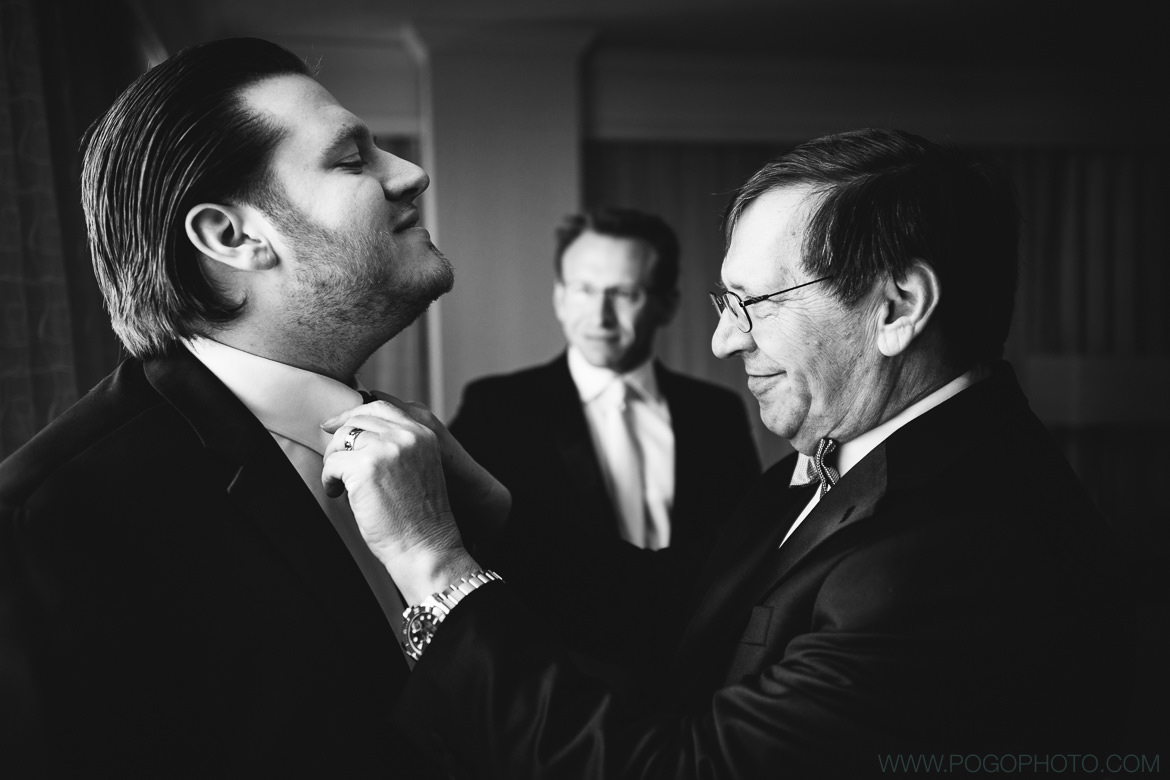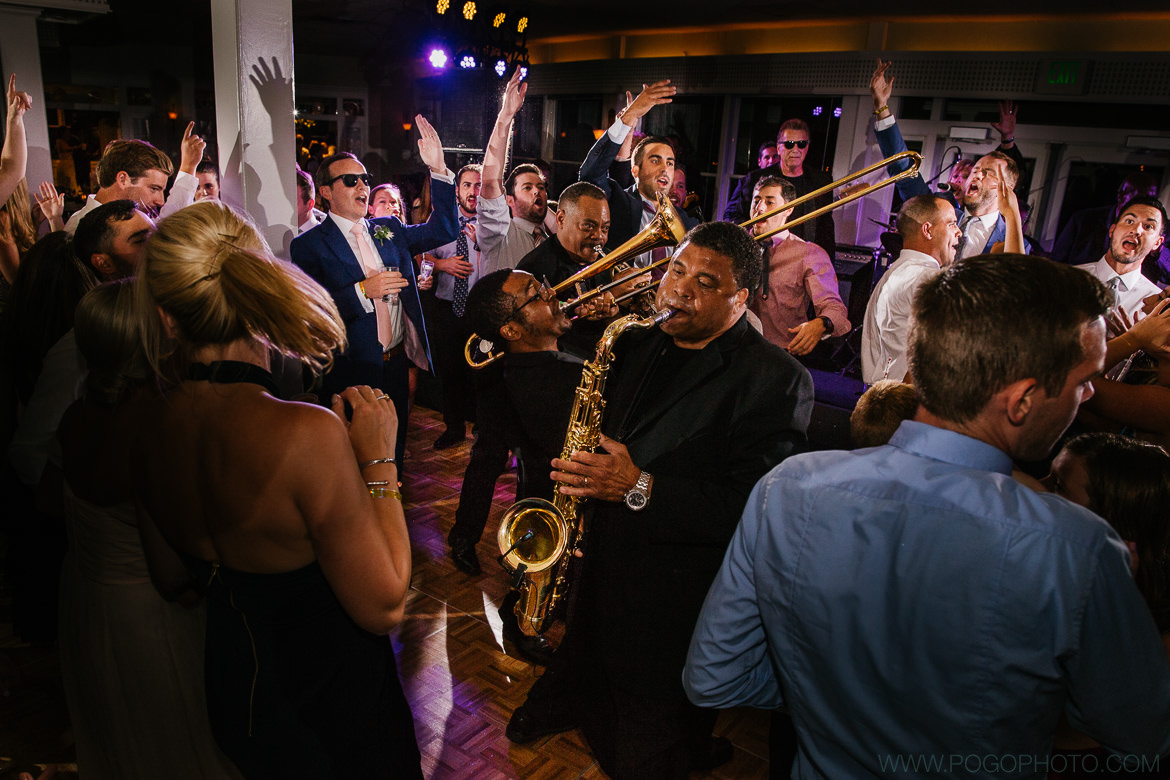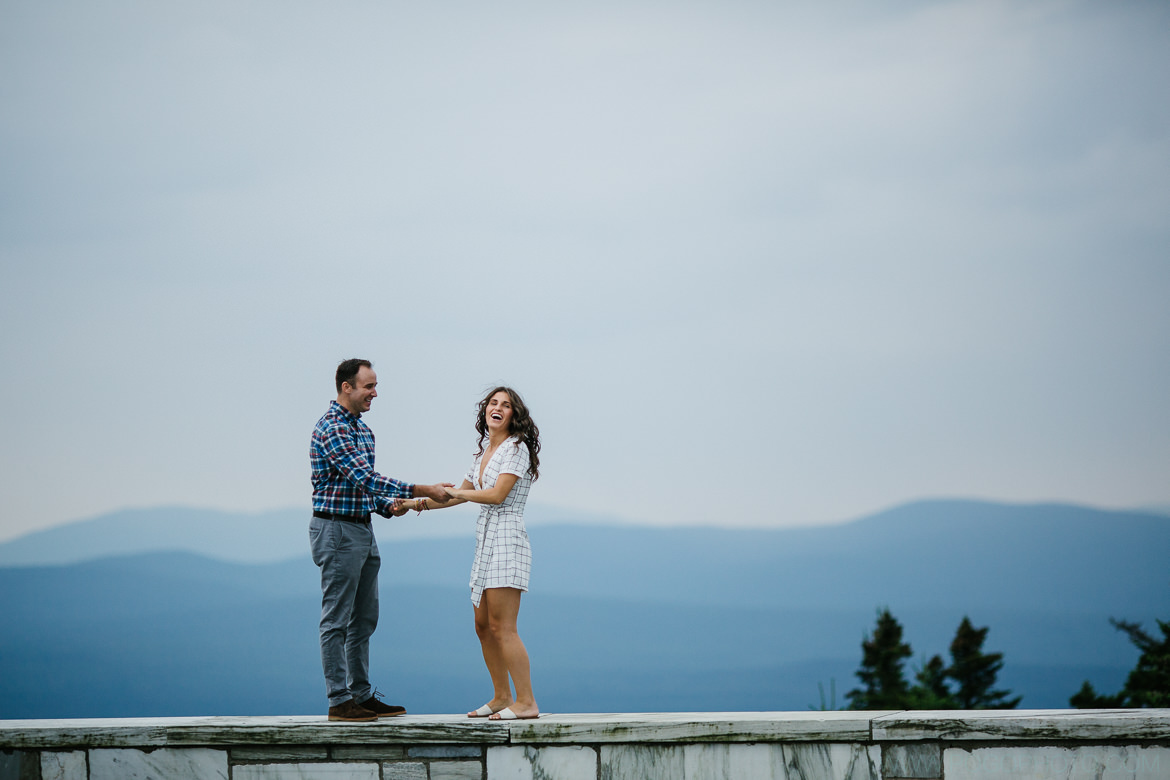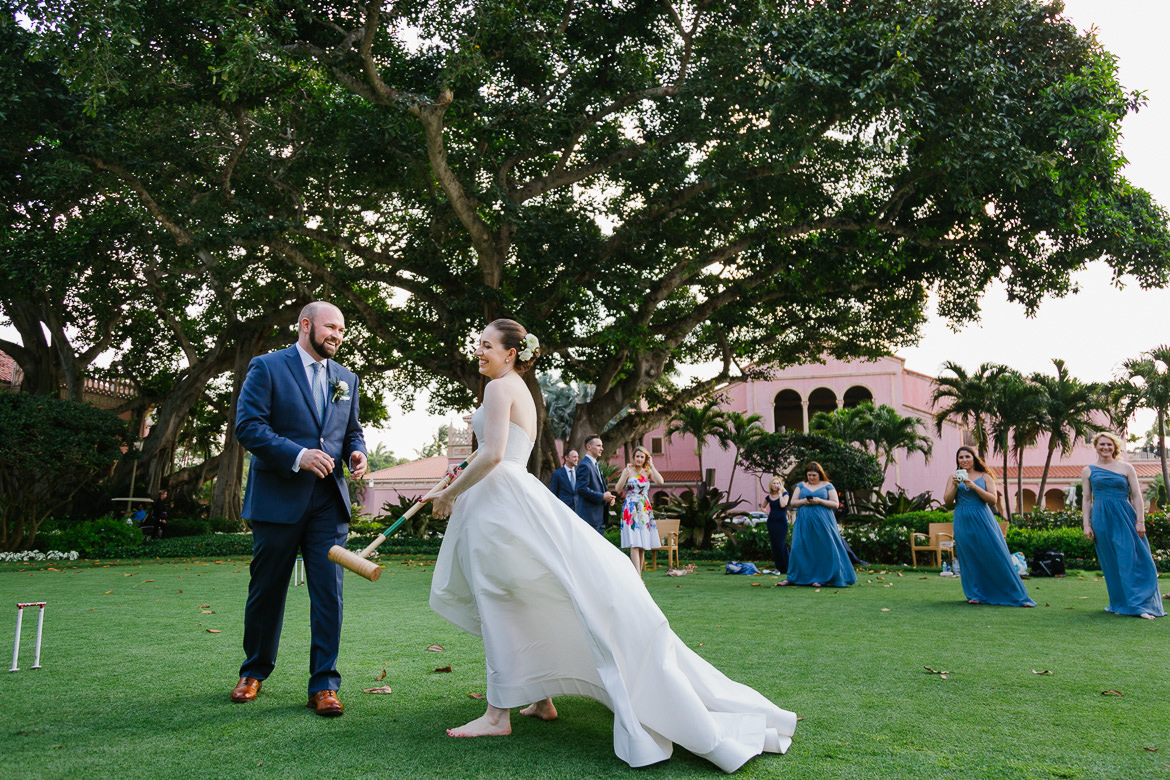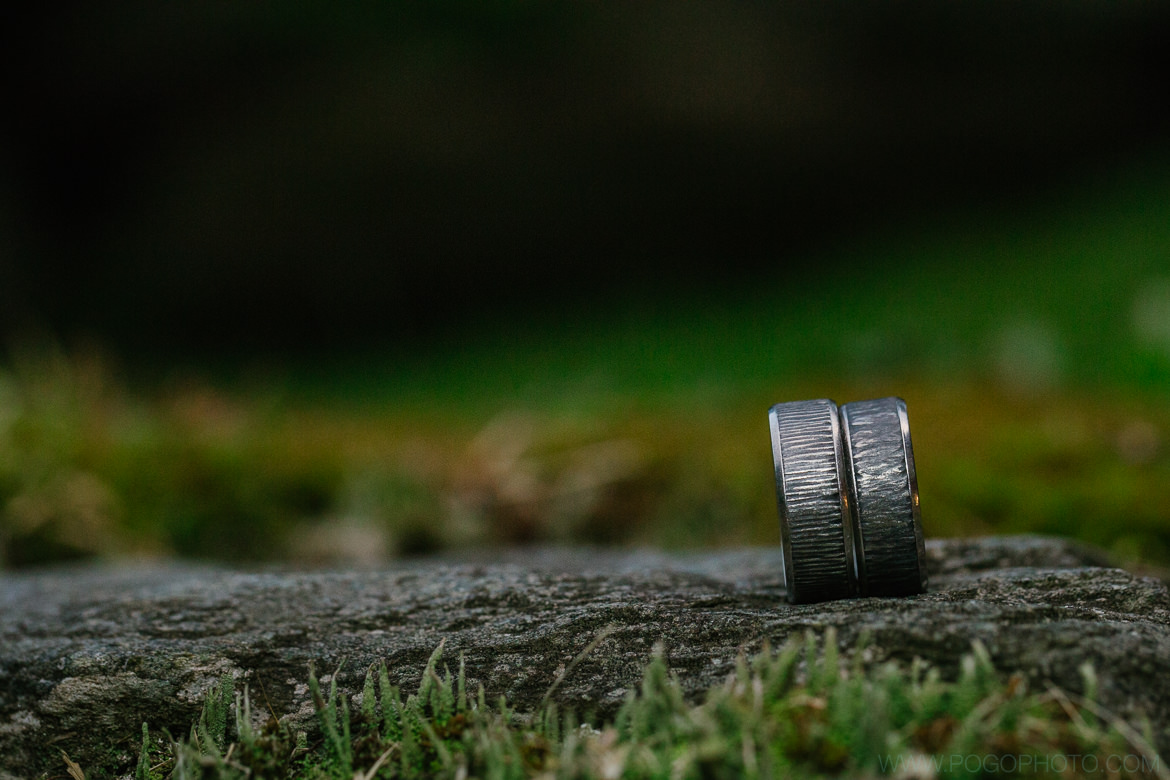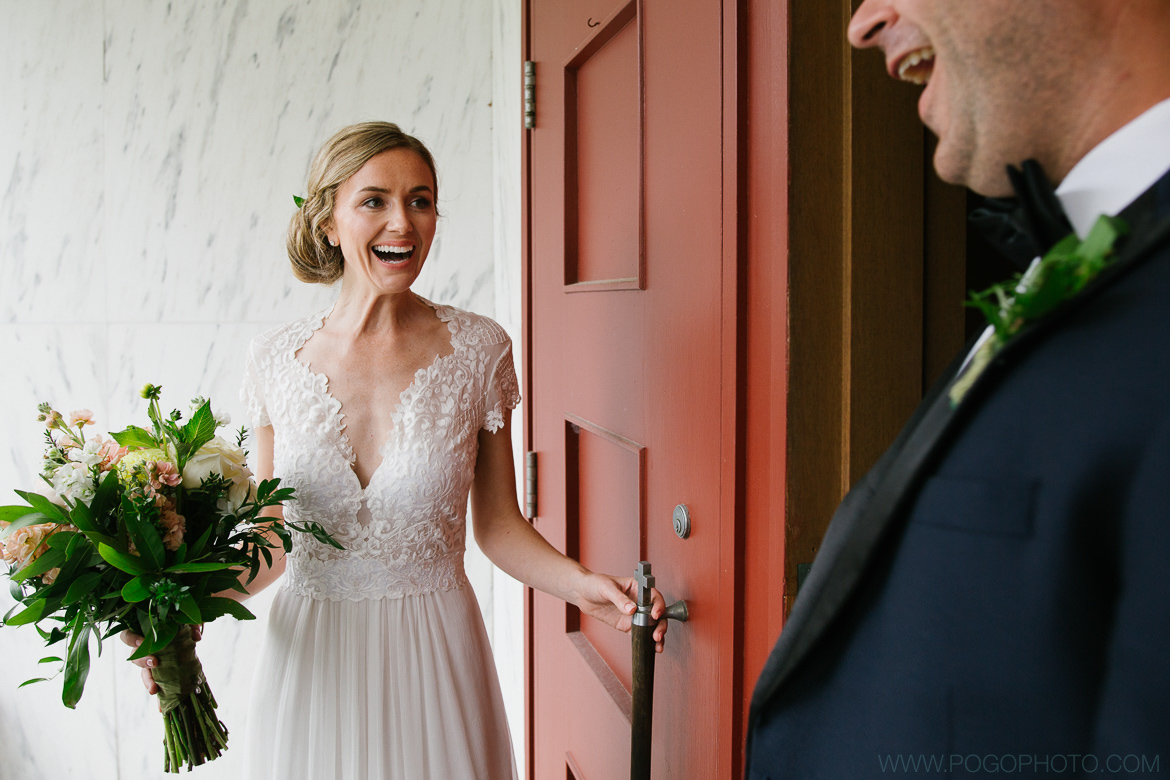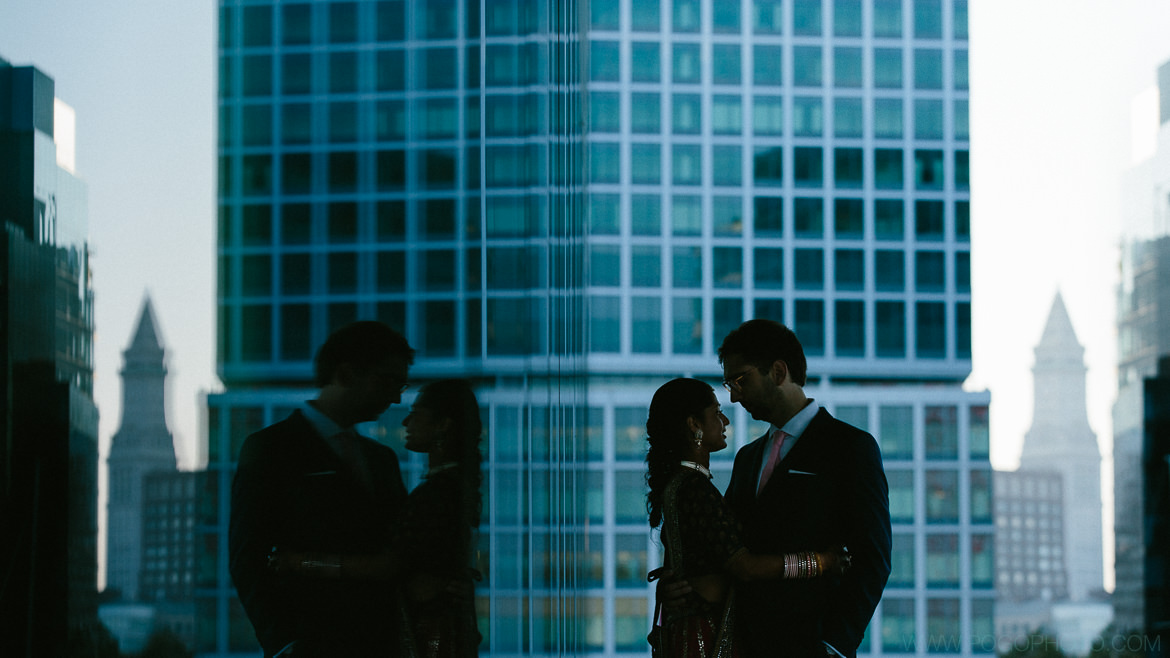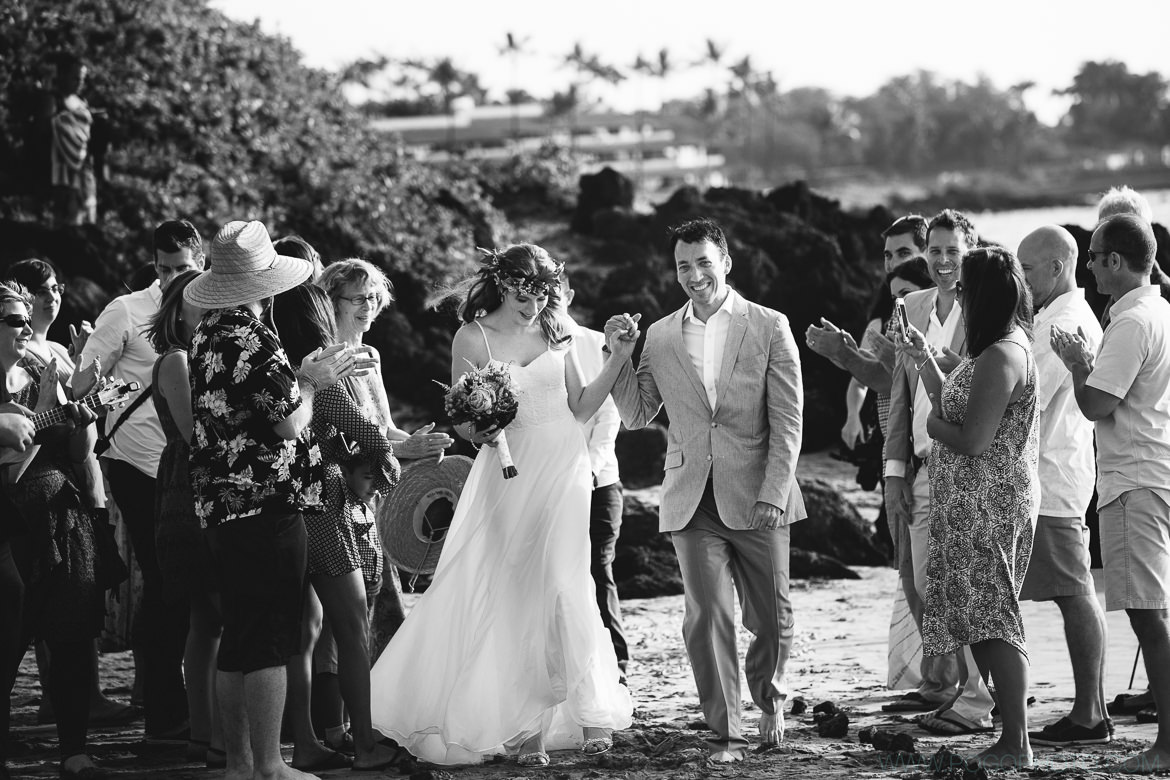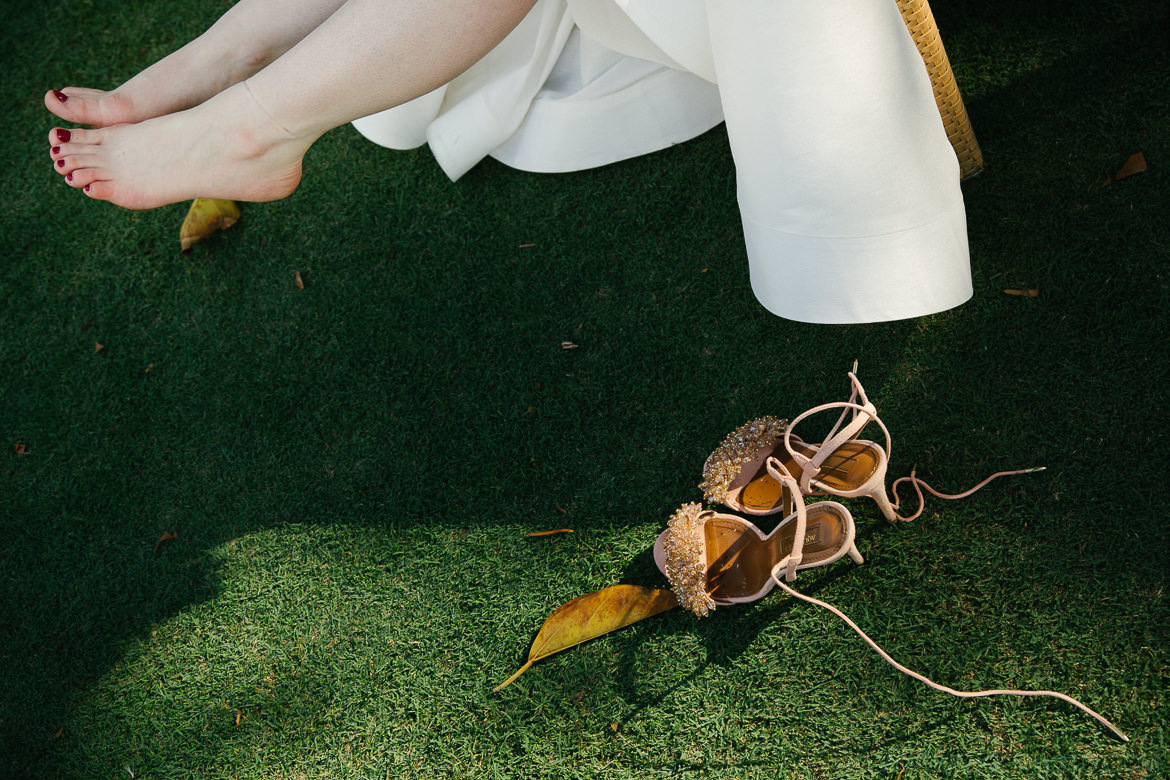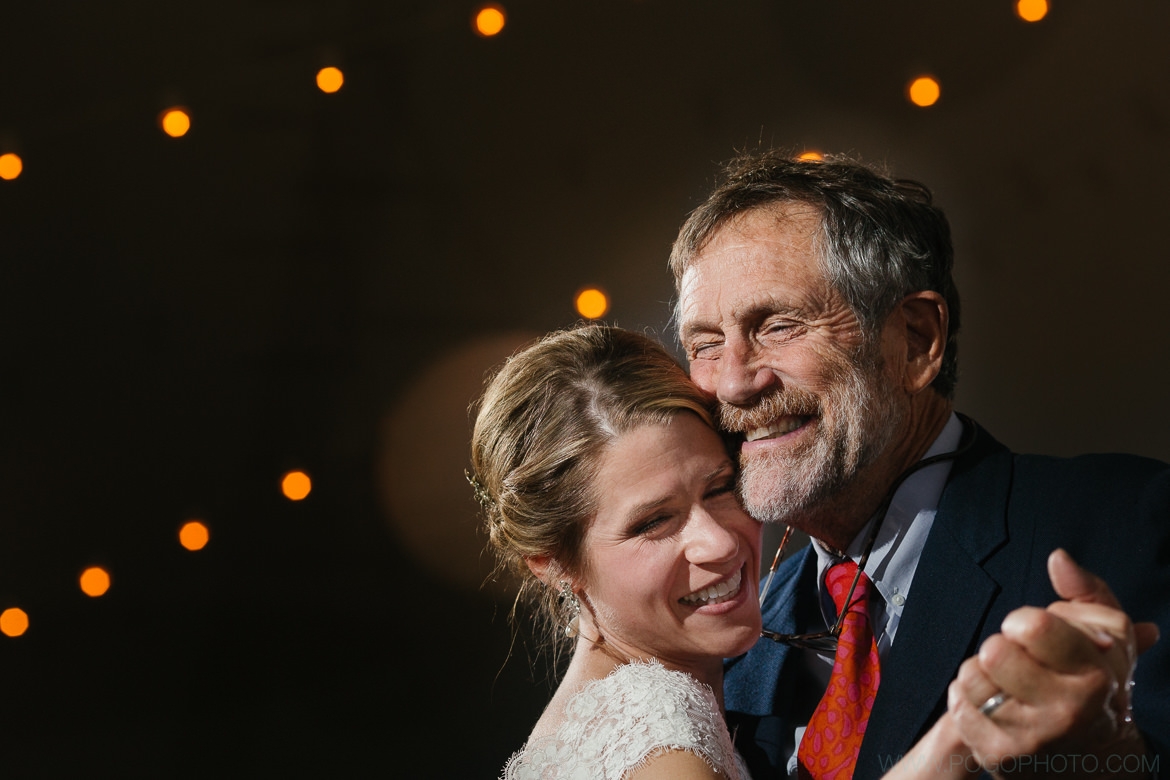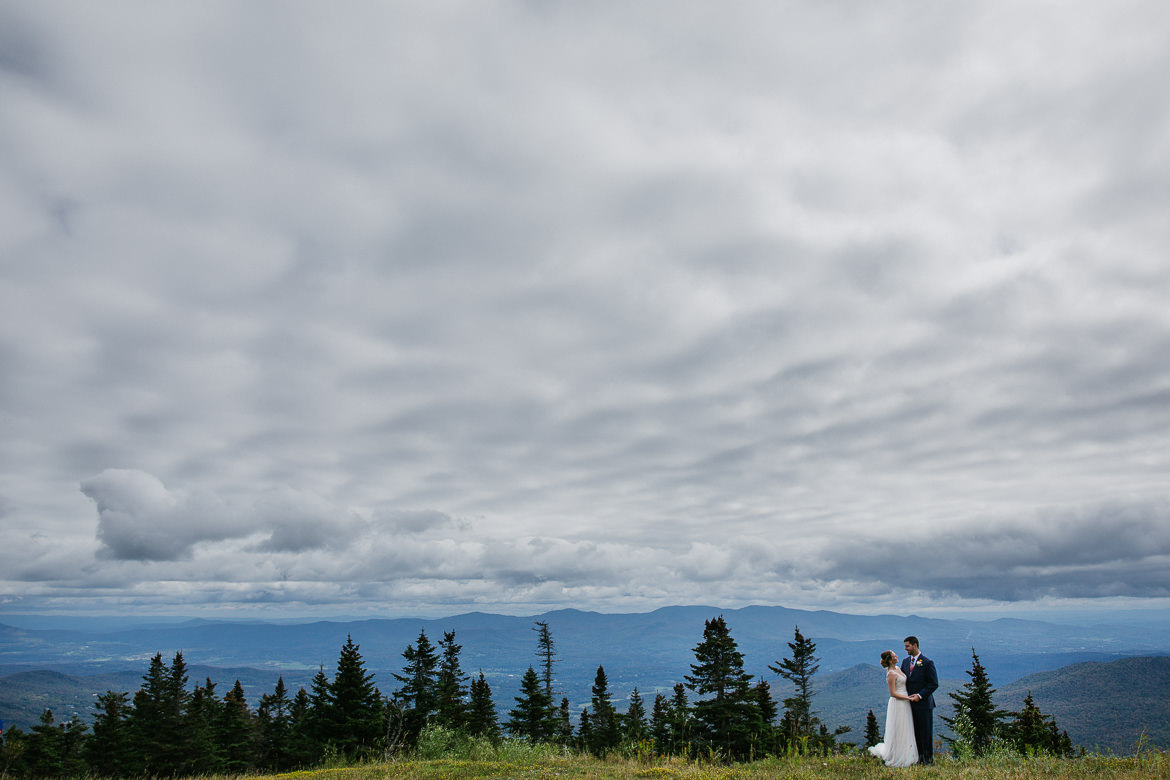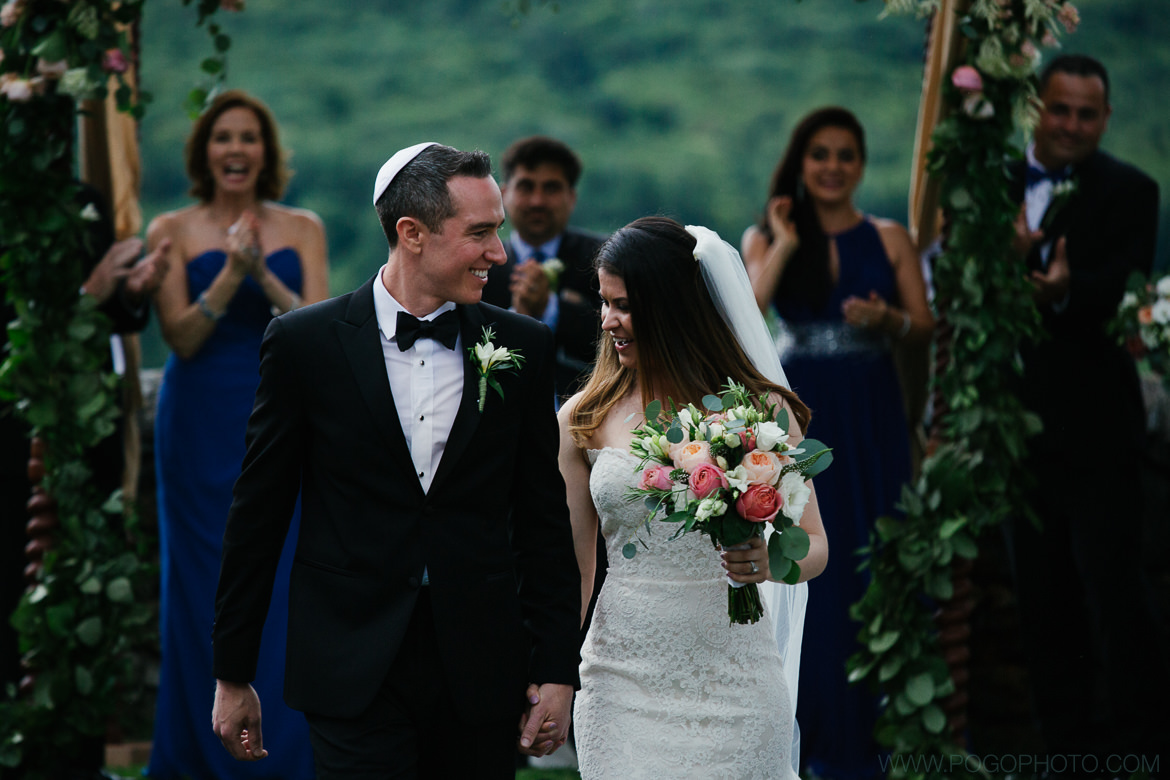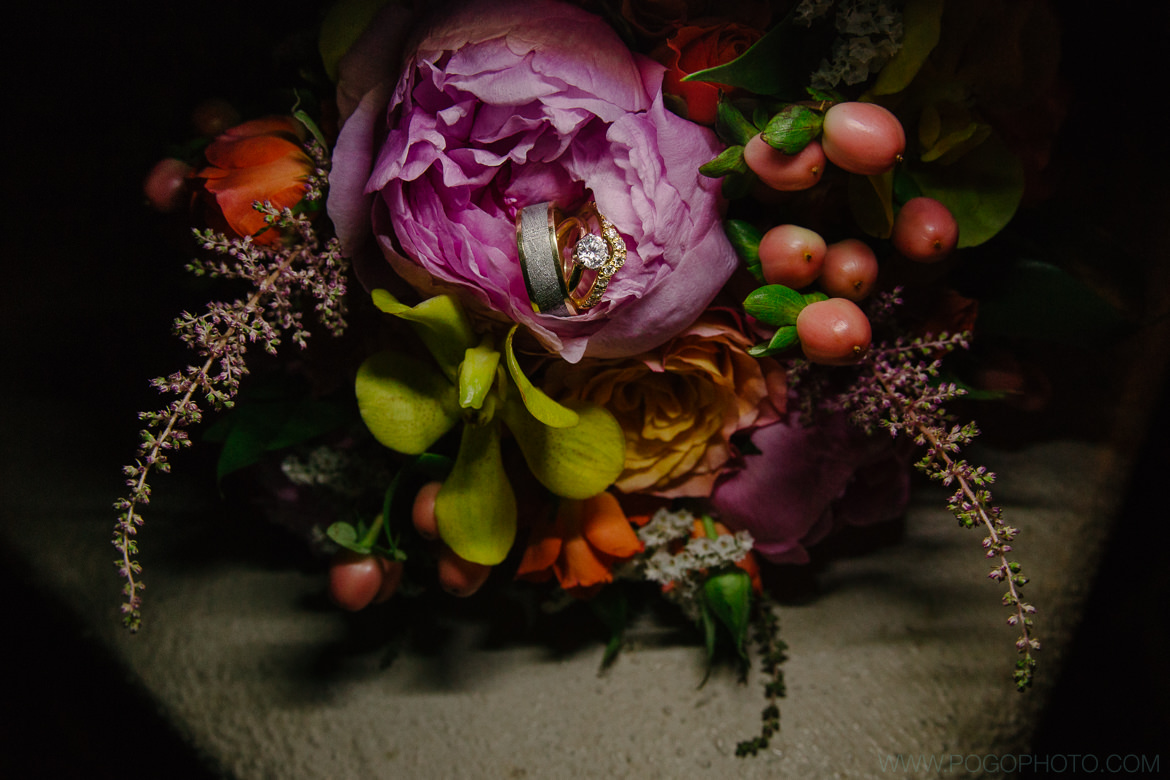 Fellow Vermont wedding photographer Paul Reynolds has seen hundreds of wedding rings throughout his career, so when it was time to pick out his own he went for something pretty unique! Outlined in yellow gold is a band of genuine meteorite, making a stunning and "out of this world" ring. (We're a little obsessed.)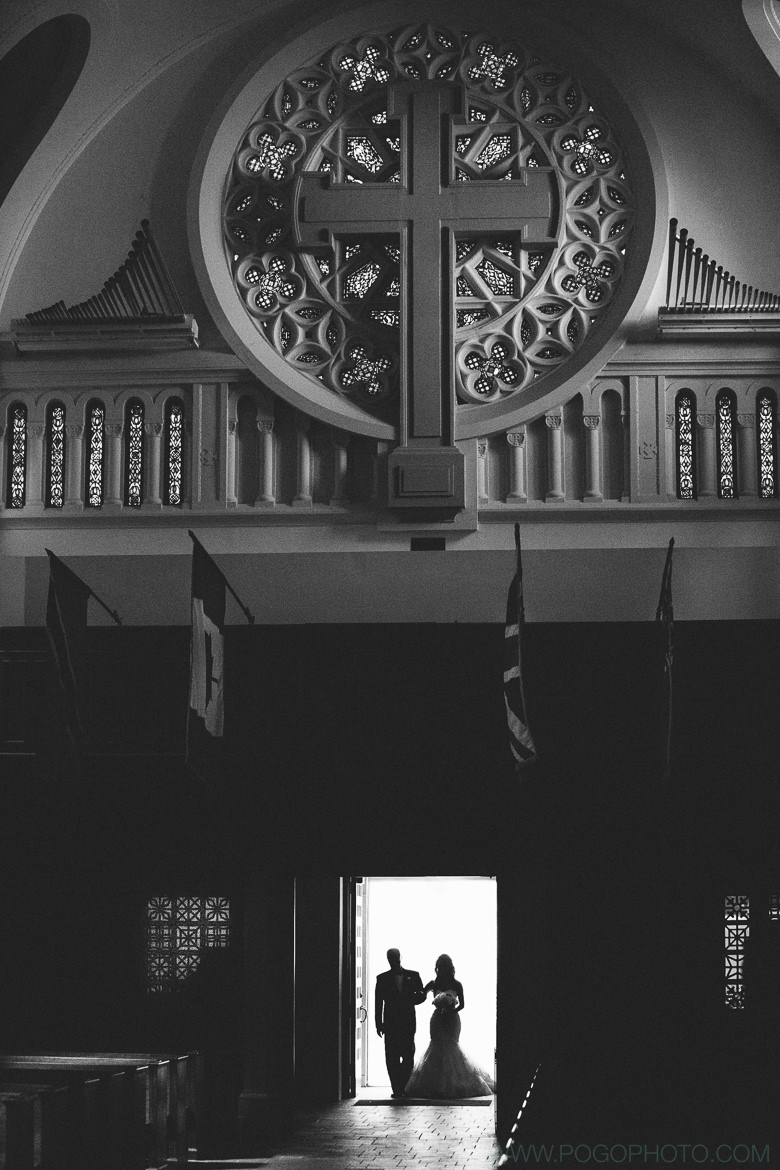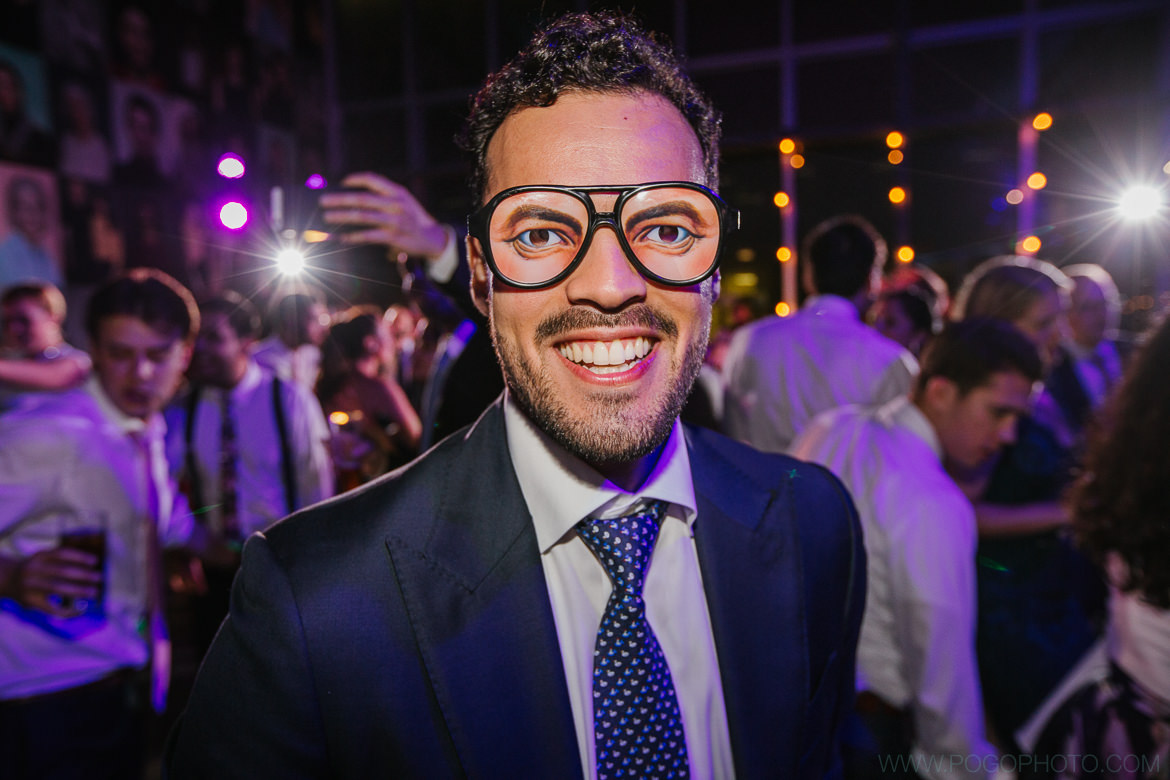 …well that's unsettling.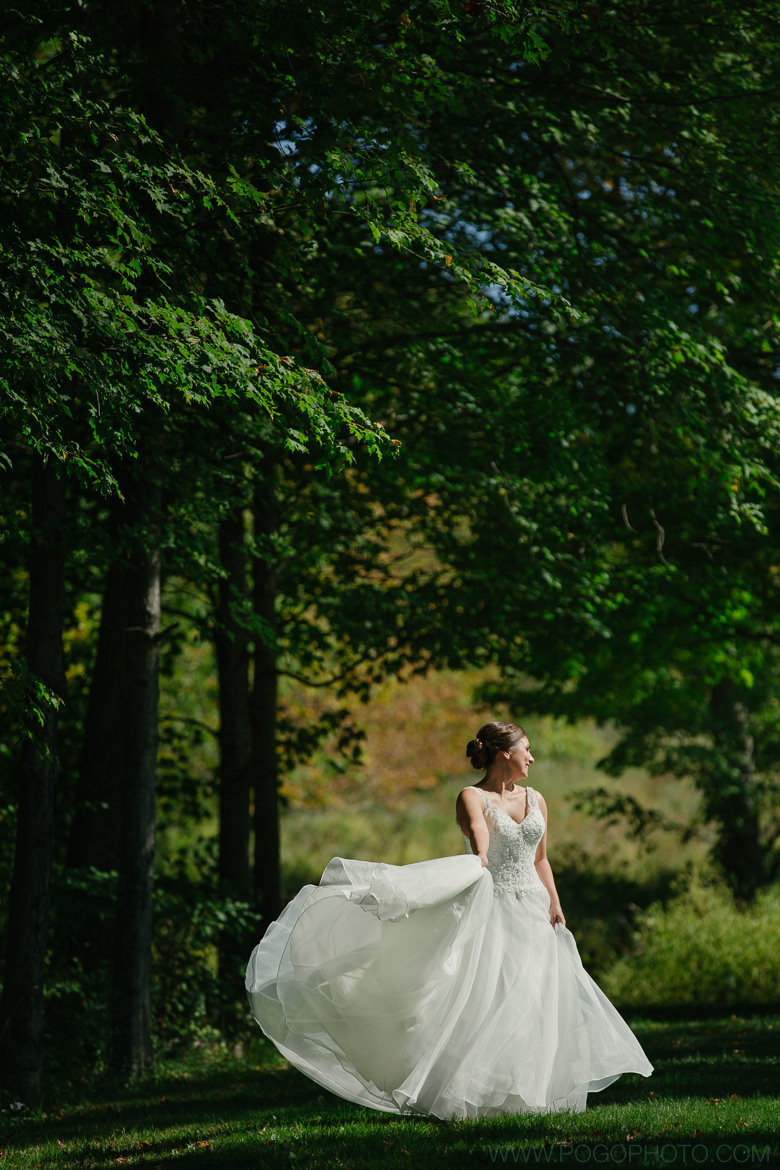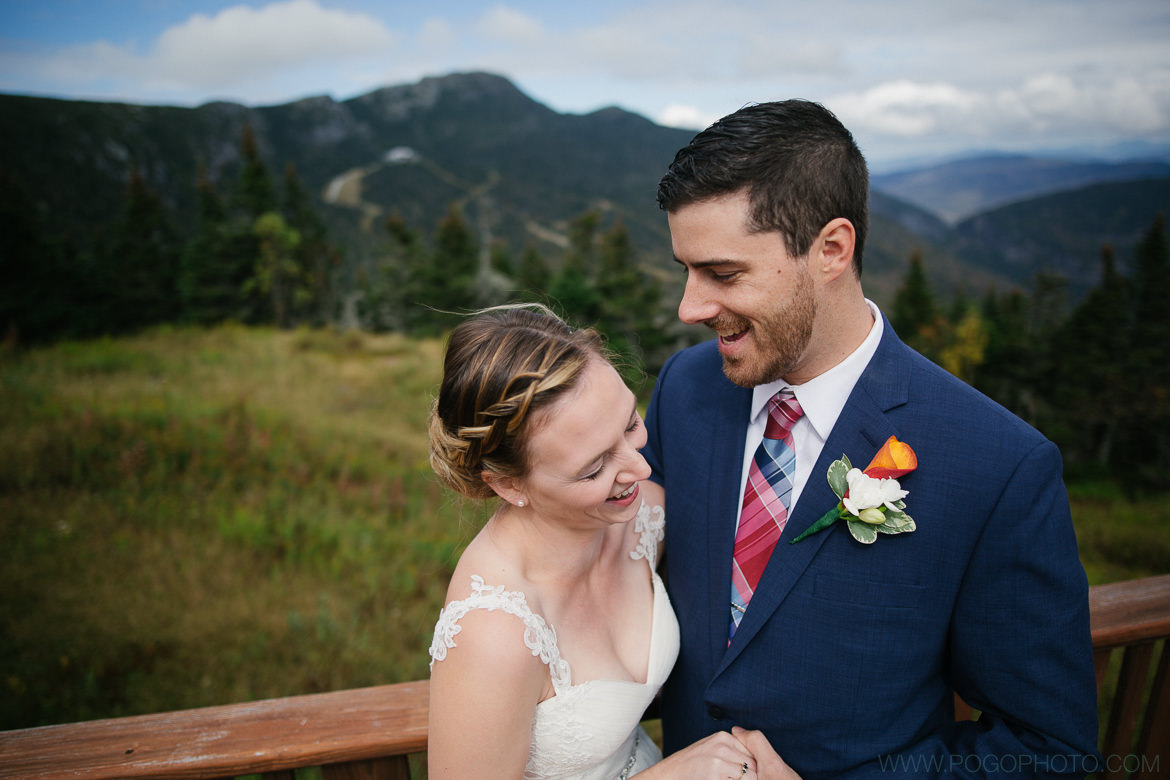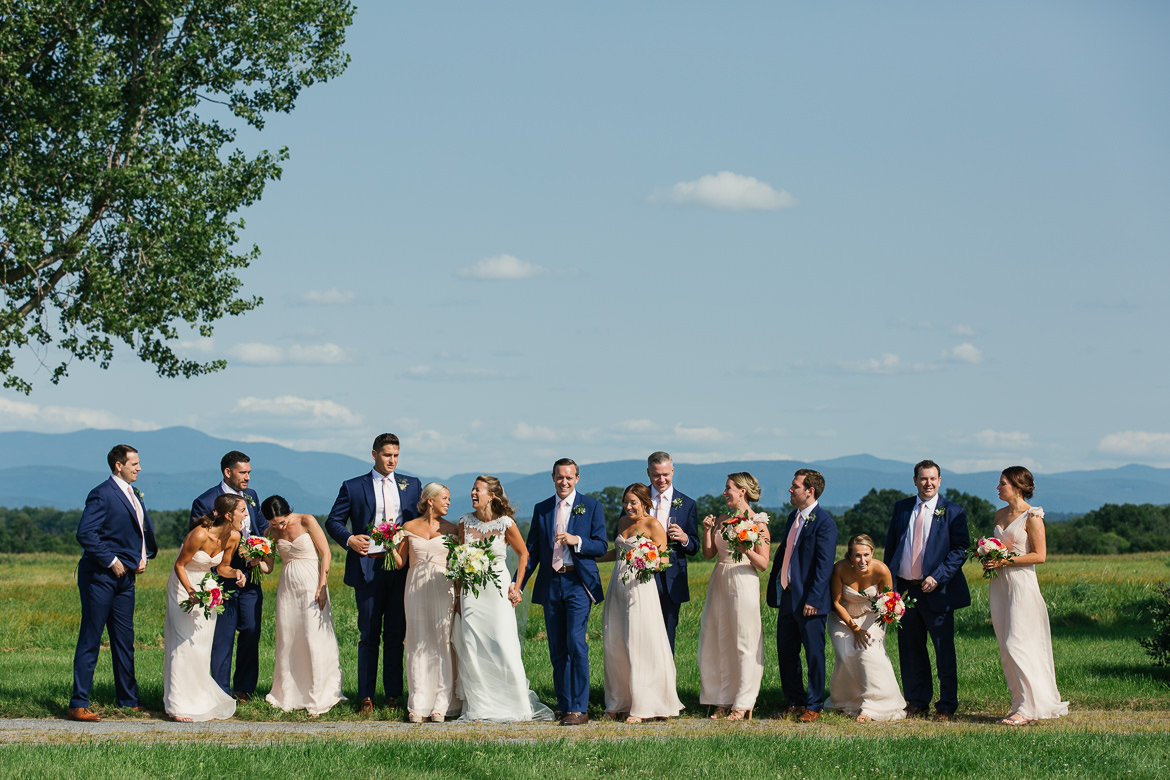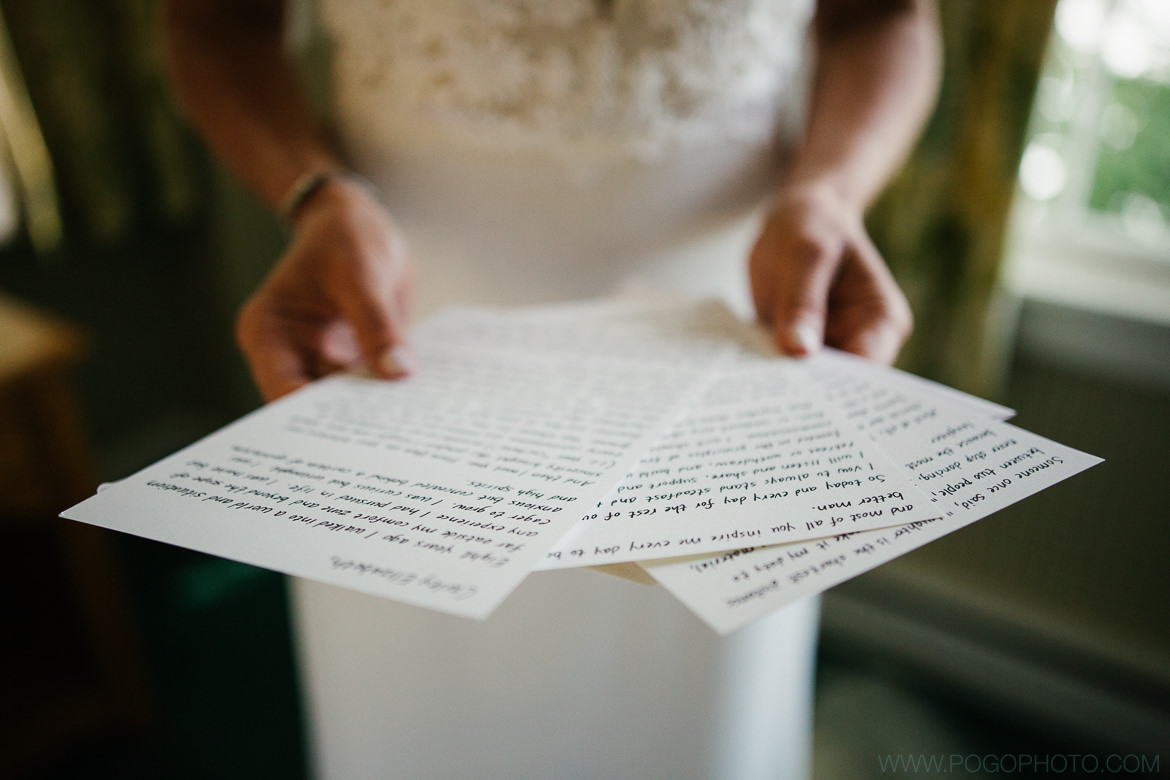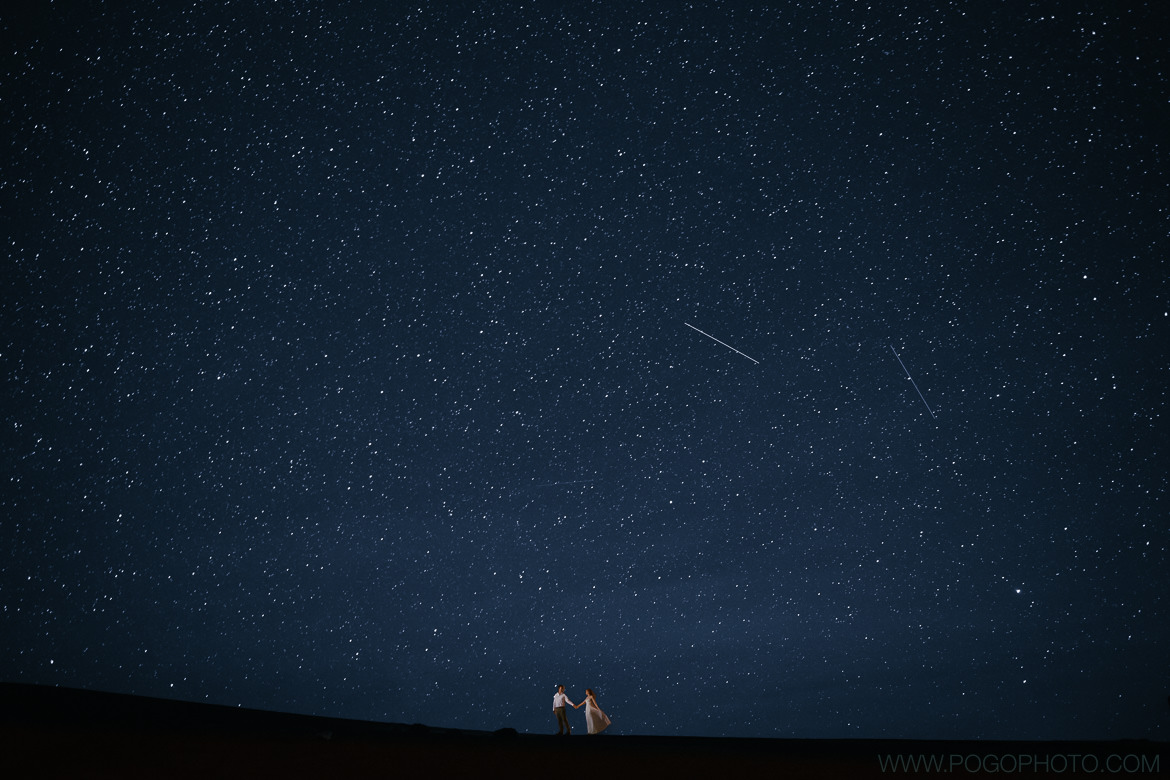 [note: this description is long and detailed, but photographers have been asking us questions, so we figured we could give some extra info! Scroll past if you just want more photos.]
Climbing a 10,000 foot peak wearing a wedding dress would be a challenge. Luckily Haleakala has a road to the tippy-top, enabling the four of us to have a leisurely drive the day after Shannon + Paul's Maui wedding. This starscape seems to be grabbing attention, so much like the rainbow photo above we wanted to give some technical details for anyone who might be curious! Shots like this have a lot of challenges; the biggest one is that you need clear and DARK skies. As anyone who has photographed weddings in cold climates knows, keeping a couple out in chilly wind is not something you can do for long, so being able to dial in settings and nail the shot as quickly as possible was vital. (Yes, it's Hawaii. It was warm on the beach. At the top of the mountain it was around 40ºF with a chilling wind, and this elevation is equivalent to the altitude most airlines allow you to pull out your laptop and take off your seatbelt.)
We knew we wanted a field of stars with a very low horizon line in the frame. Photographers who are not familiar with astrophotography often choose to keep the subject close to the camera in focus, which means the starscape is not as sharp, or they use a method like "focus stacking", which is blending multiple images with different focal points in software like Photoshop. To achieve sharp focus on both the subject and the stars means consulting a hyperfocal table, which will give you the distance away from your subject the camera must be considering the lens and f-stop used in the exposure. In this shot we used the Sigma Art 24-35mm ƒ2 (at 24mm and at ƒ2), which gave us a minimum distance of 31.5 feet. Typically we photograph night skies with a 16mm lens, which allows for a maximum exposure duration of 30 seconds before pinpoint stars begin to have trails from the earth's rotation. Extremely cold hands and chattering teeth distracted us from the fact that we were using a longer lens (with a maximum exposure duration of 21 seconds), which means that you can start to see very small trails if you look closely, as the shutter was open for 25 seconds. Instead of ruining the shot we found that we actually liked this inadvertent result, as it gave a bare hint of motion to the image, and by pure luck it meant we were able to capture multiple meteor trails from the beginning of the Geminid Shower.
How were Shannon + Paul lit? We use a highly reliable radio controlled system from a company called Phottix, which allows us to trigger our small speedlight flashes remotely. The speedlight head was modified with a brilliant system from a company called MagMod, which enables us to stack modifiers with a magnetic system quickly and efficiently. We used two grid modifiers (to direct the light and prevent spill) and the MagSphere (to diffuse the directed light). We took two shots to test the light and dial in the power of the flash; this was the third and final shot before we all sprinted to the car to warm back up. Post production was done entirely within Adobe Lightroom, and consisted mostly of adjusting the color balance of the sky and boosting the contrast of the RAW file (and removing Steve, who was holding the flash). Bottom line? We love this shot. And we love it even more knowing that the technical knowhow enabled us to create it without compositing!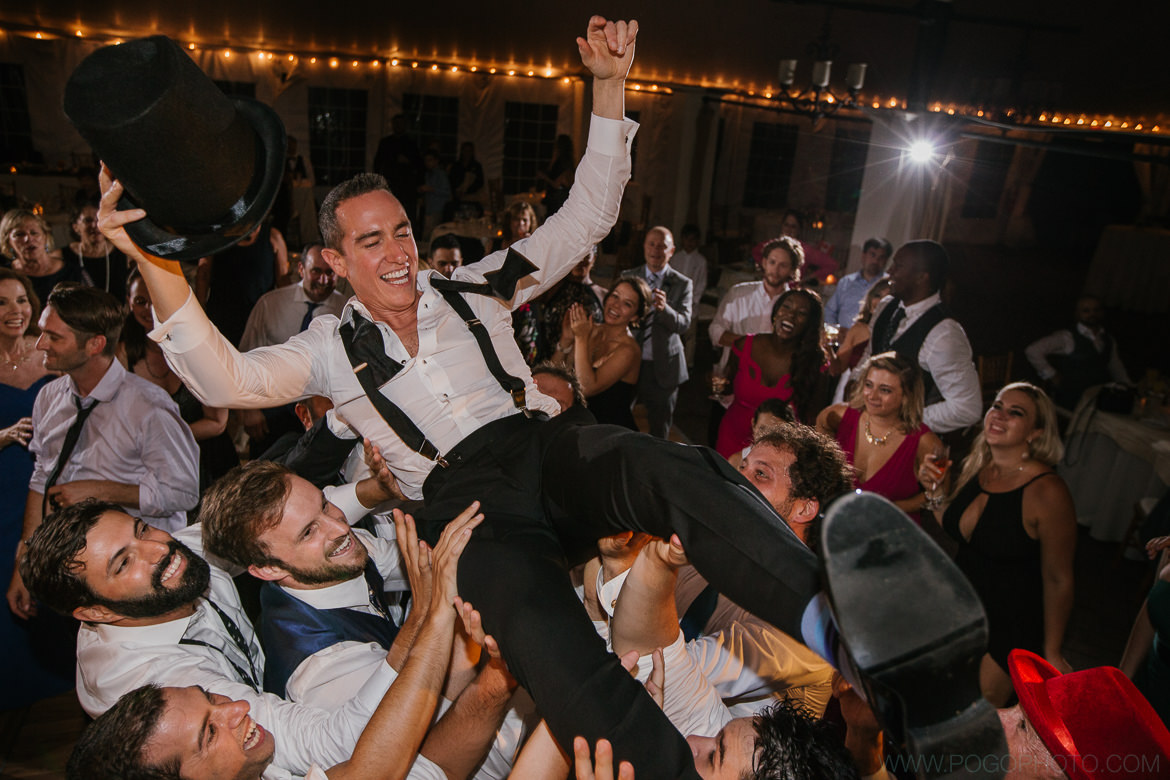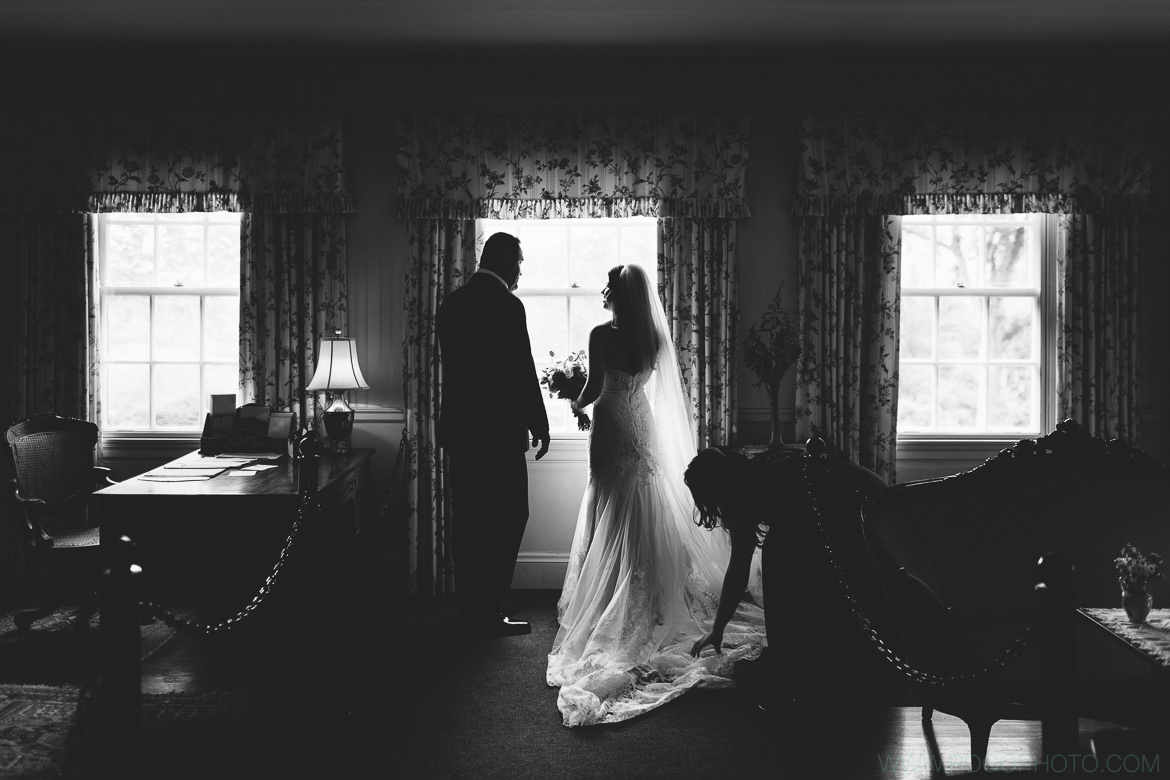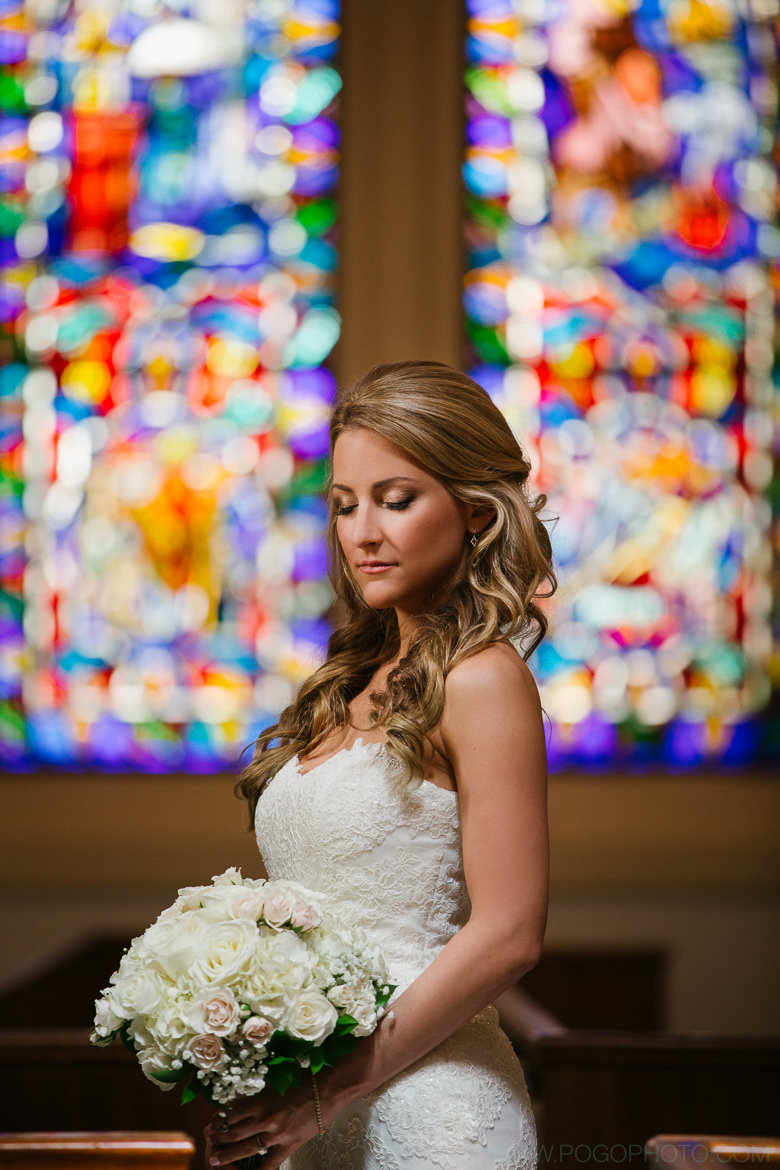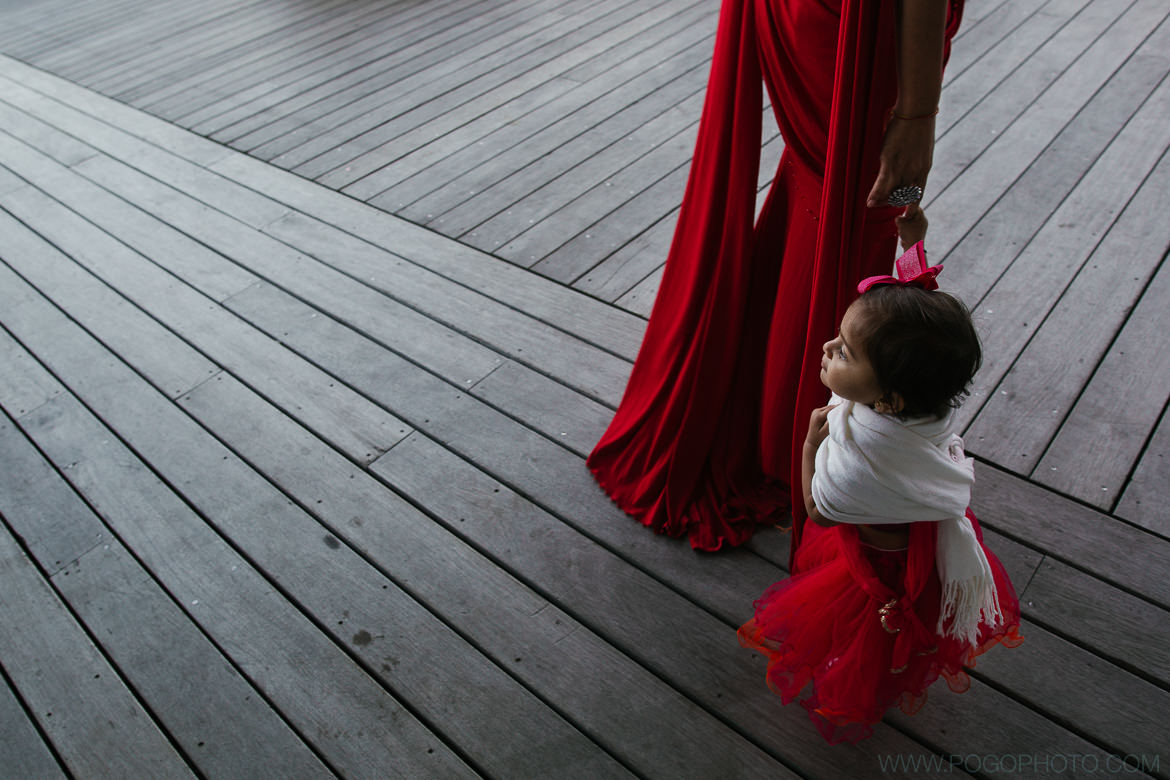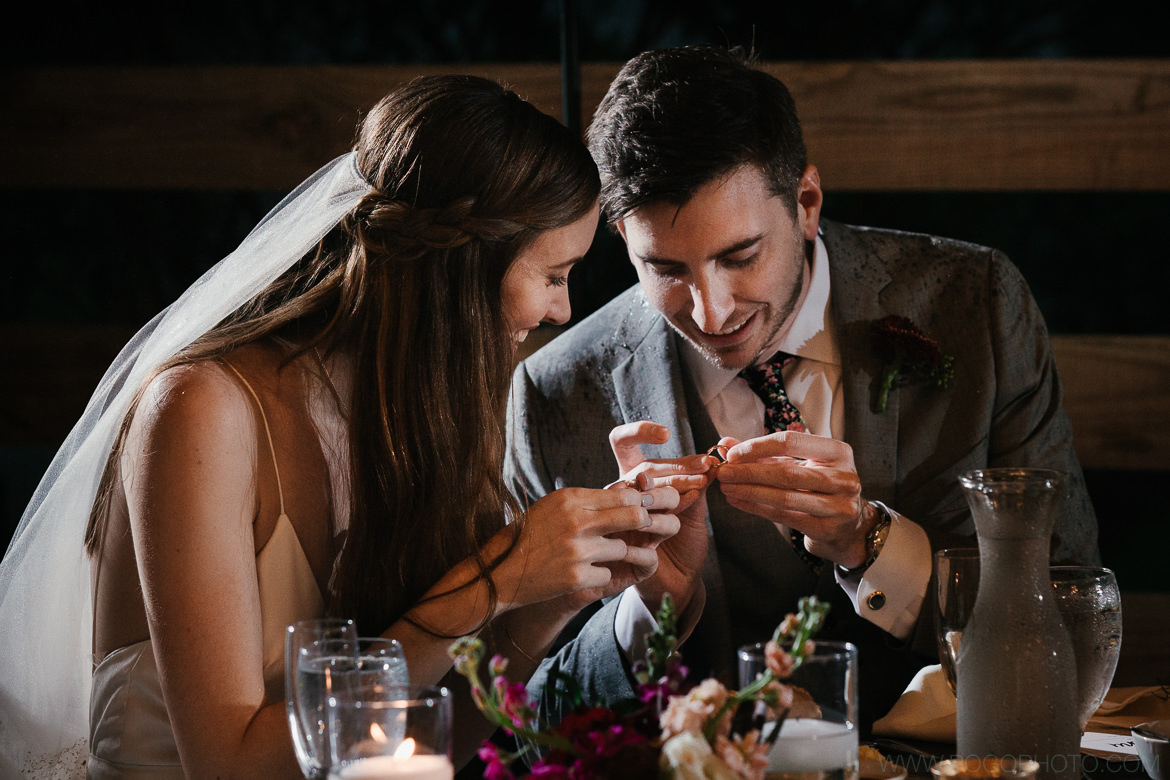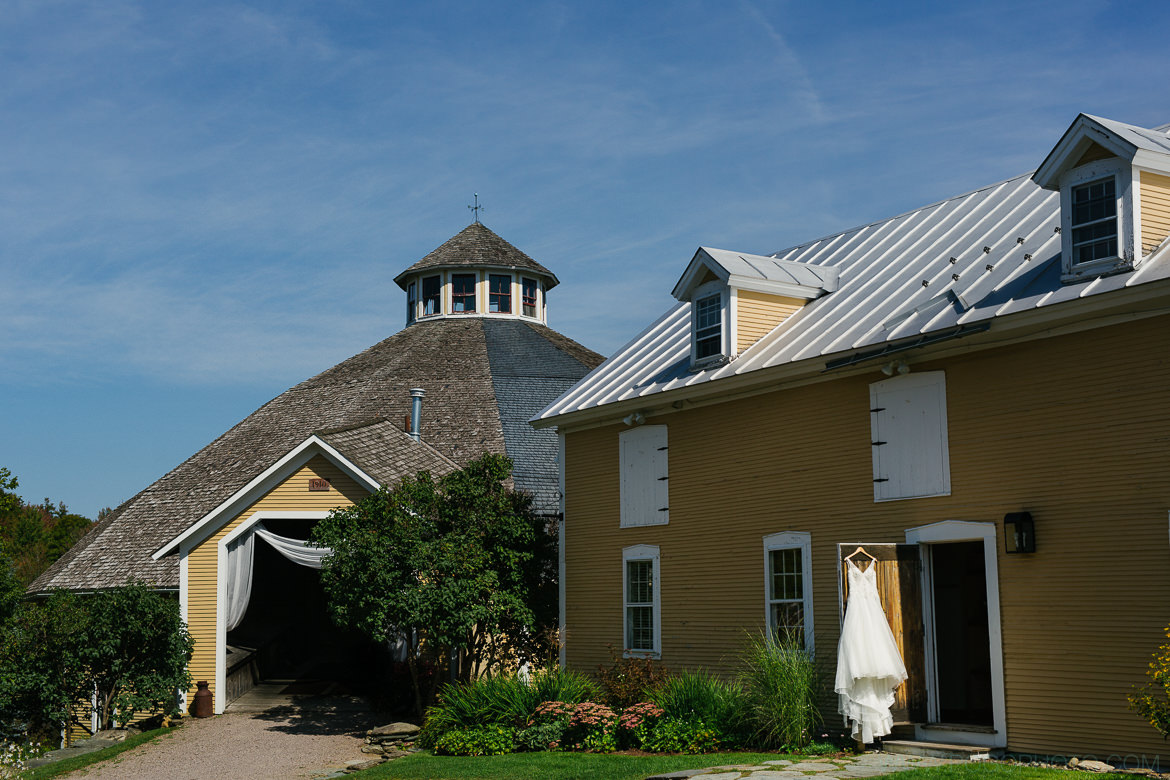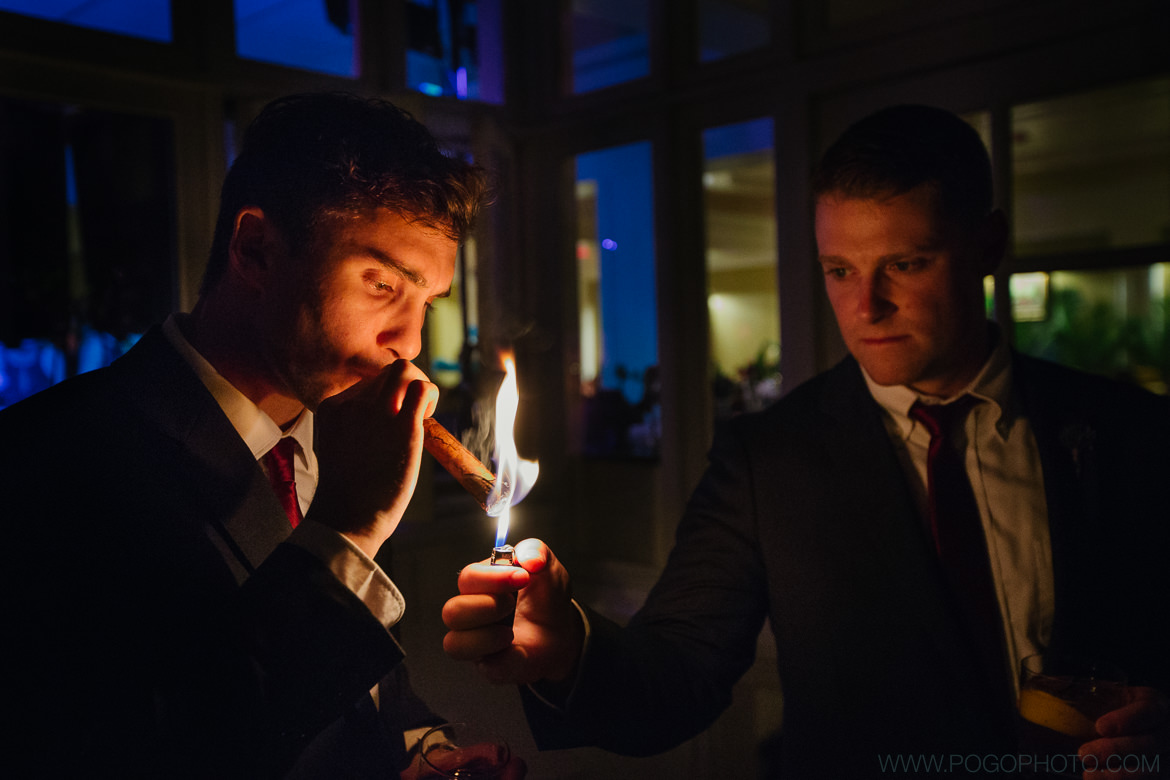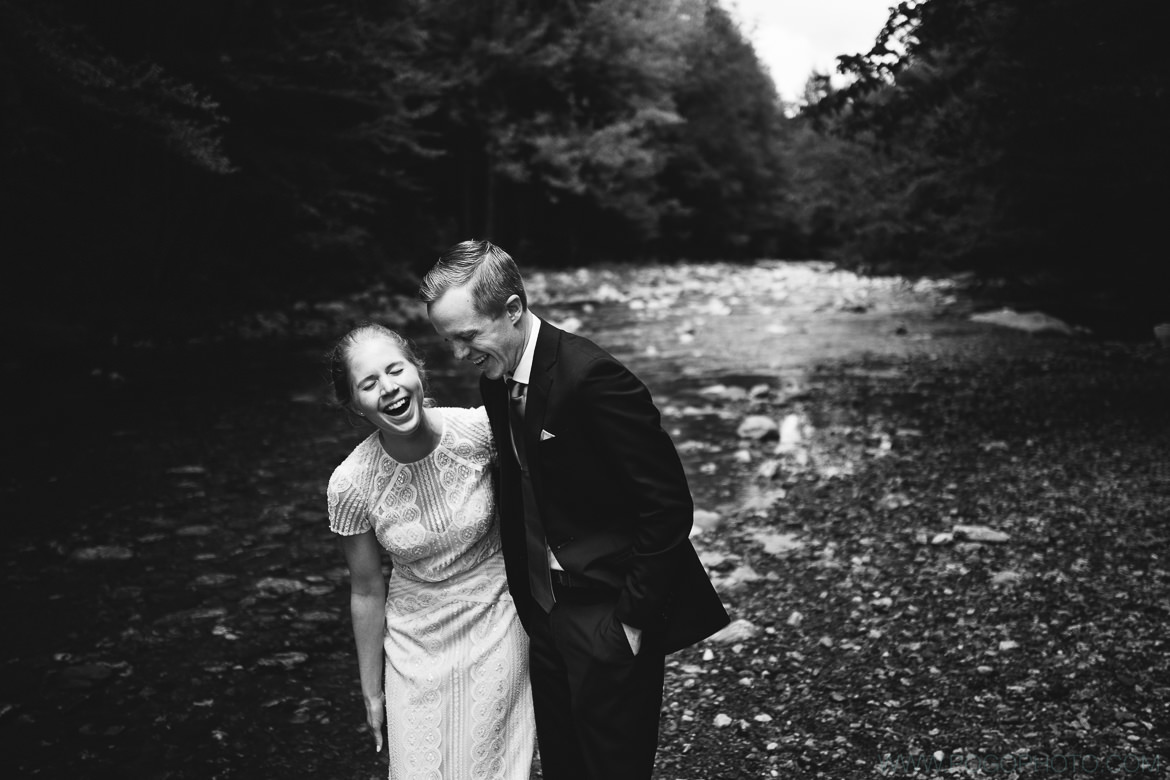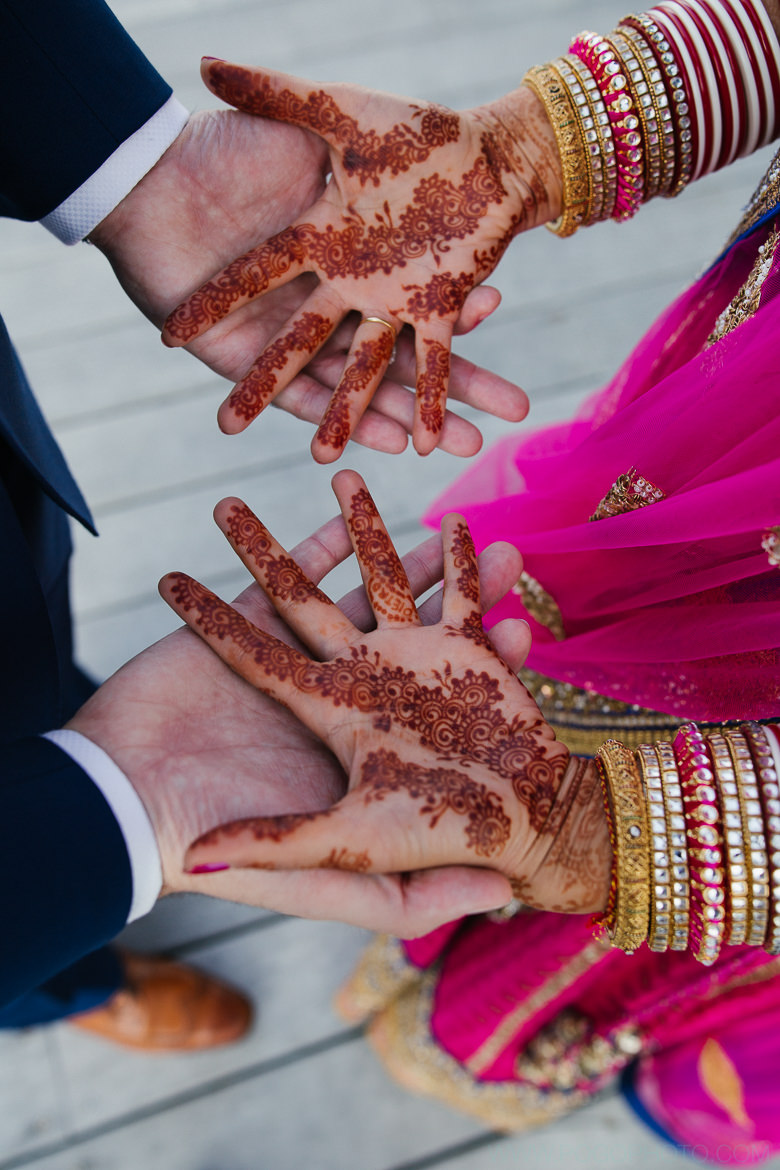 We adored this colorful melding of two families and two cultures (Indian and Brazilian). A favorite detail? Malavika had her mehndi artist add Pietro's name to her ring finger. Aww.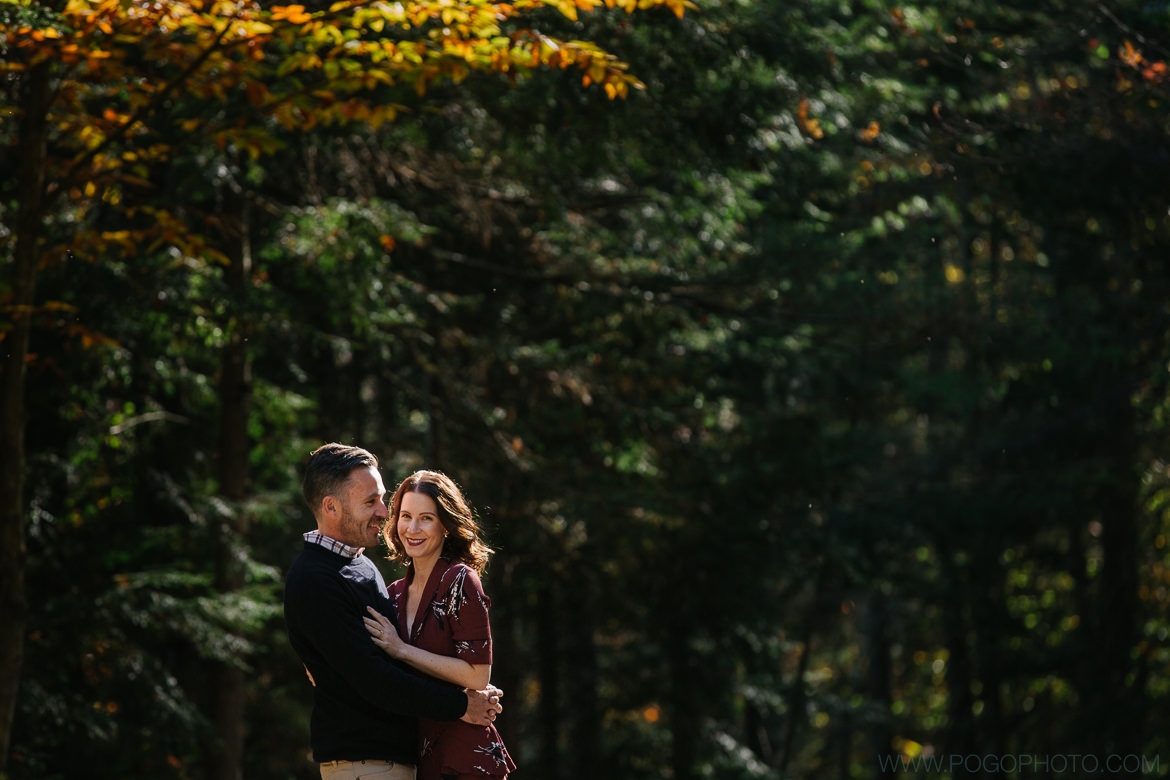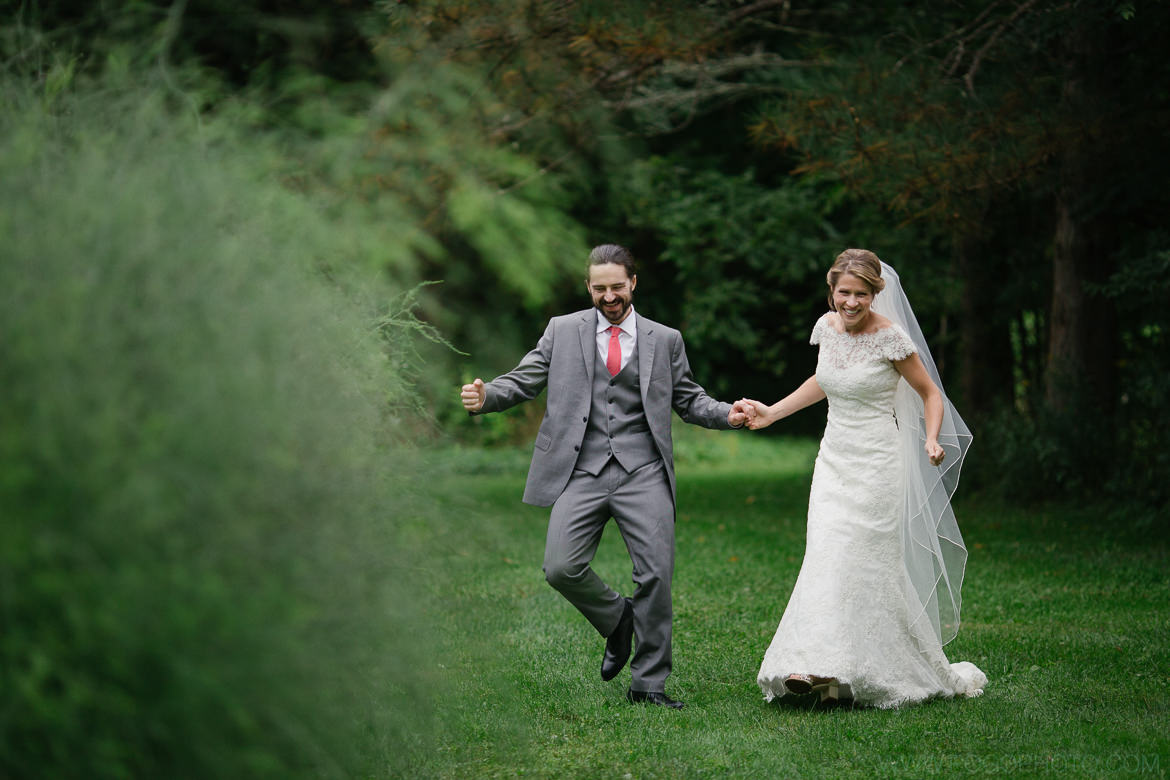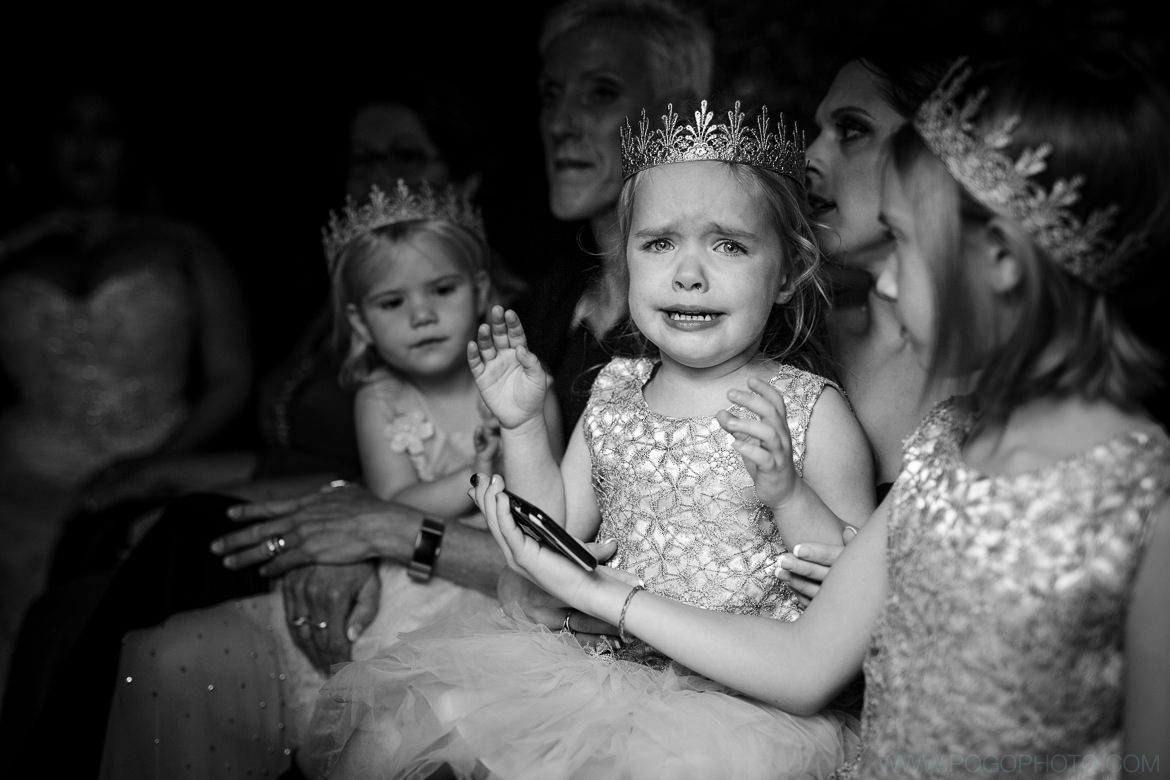 Wedding days aren't always happy for everyone. Luckily this sweetpea cheered up as soon as her momma came back.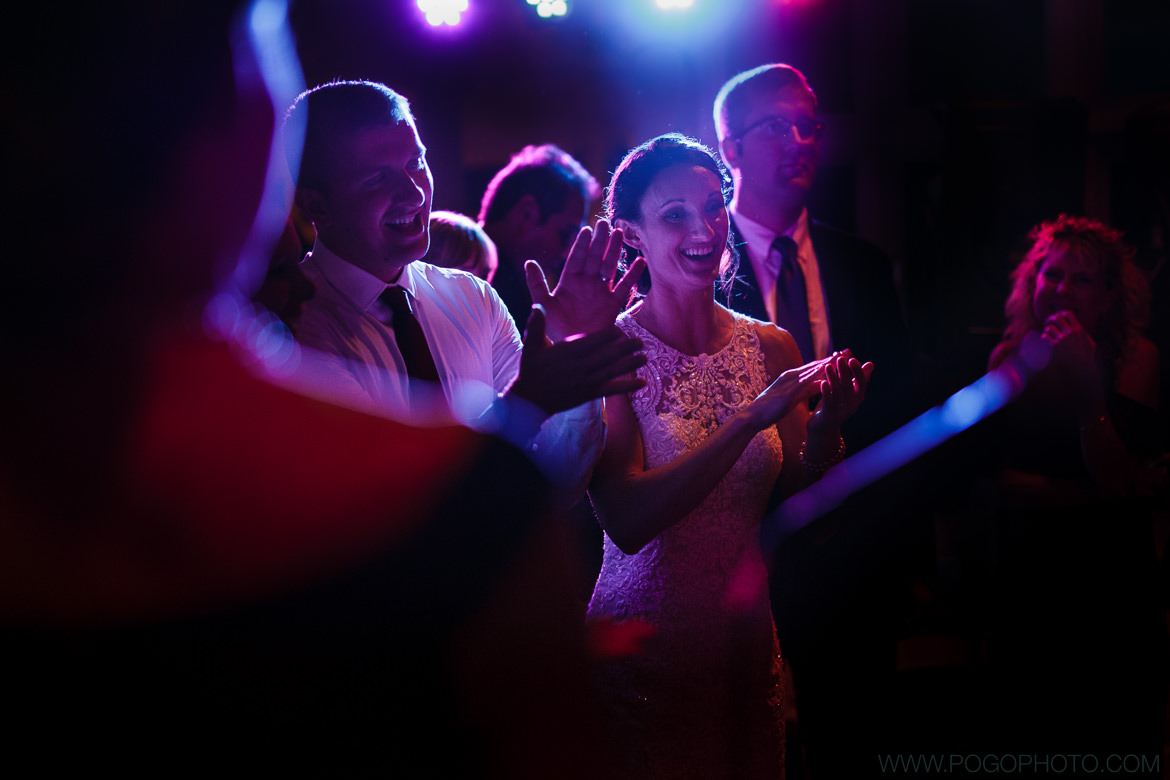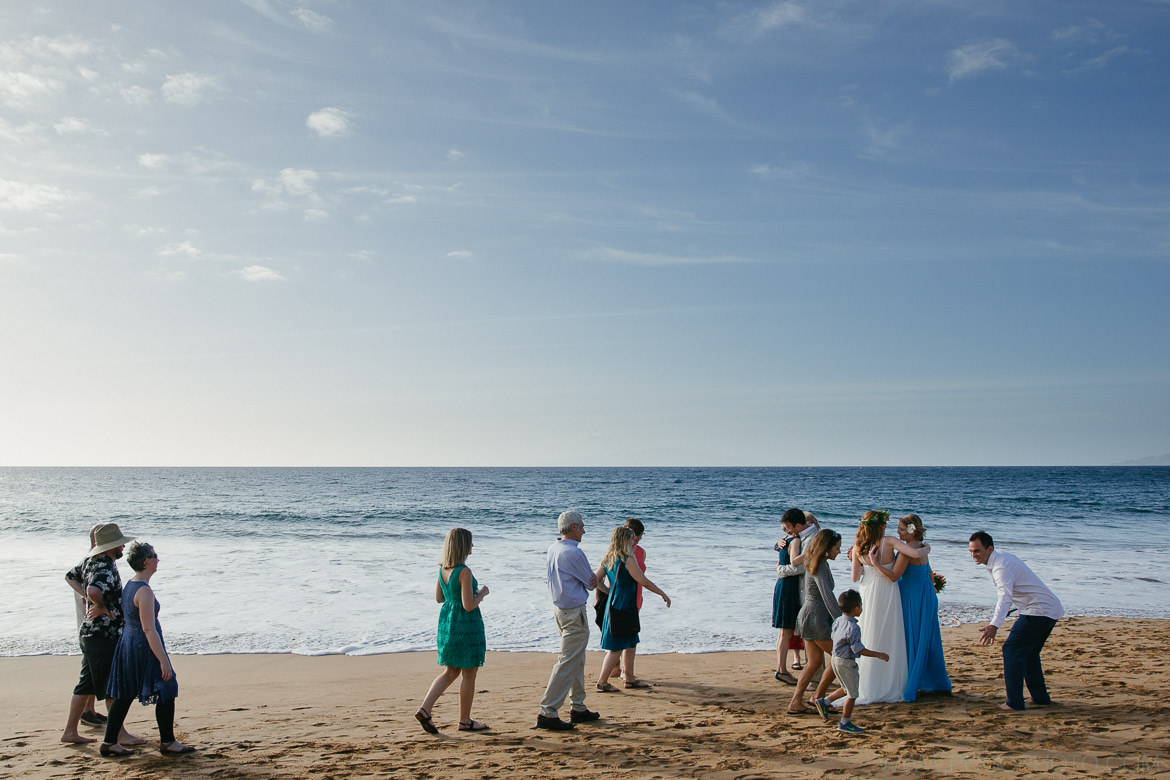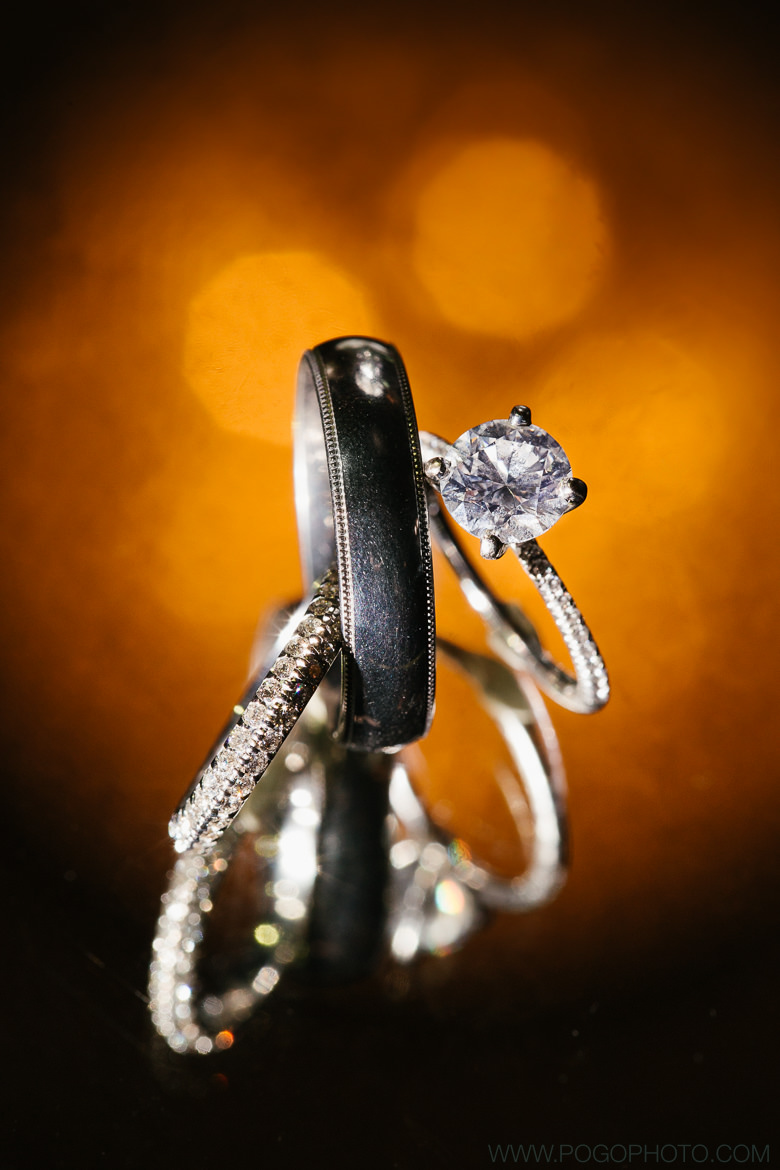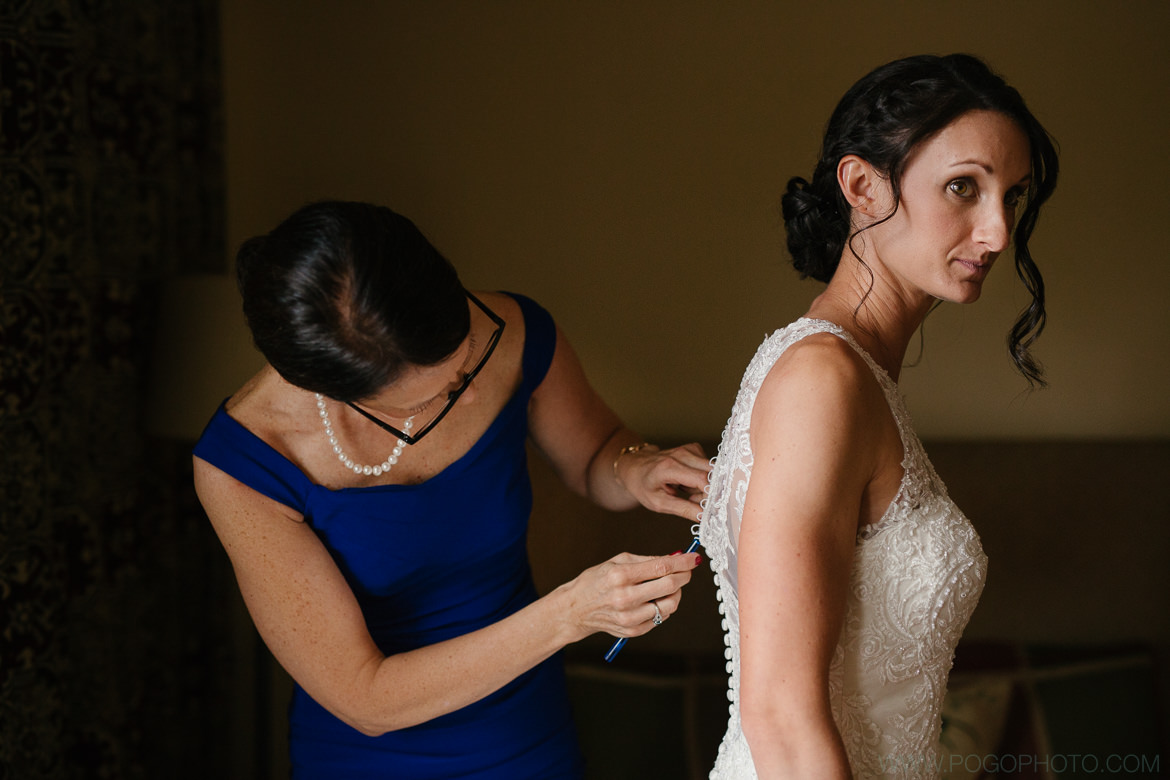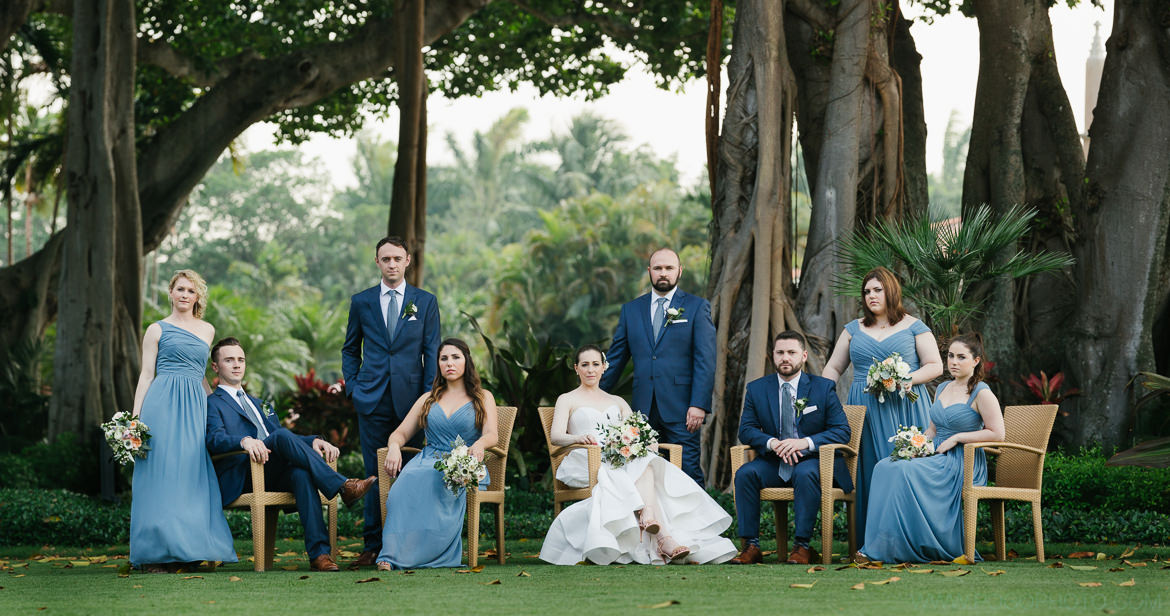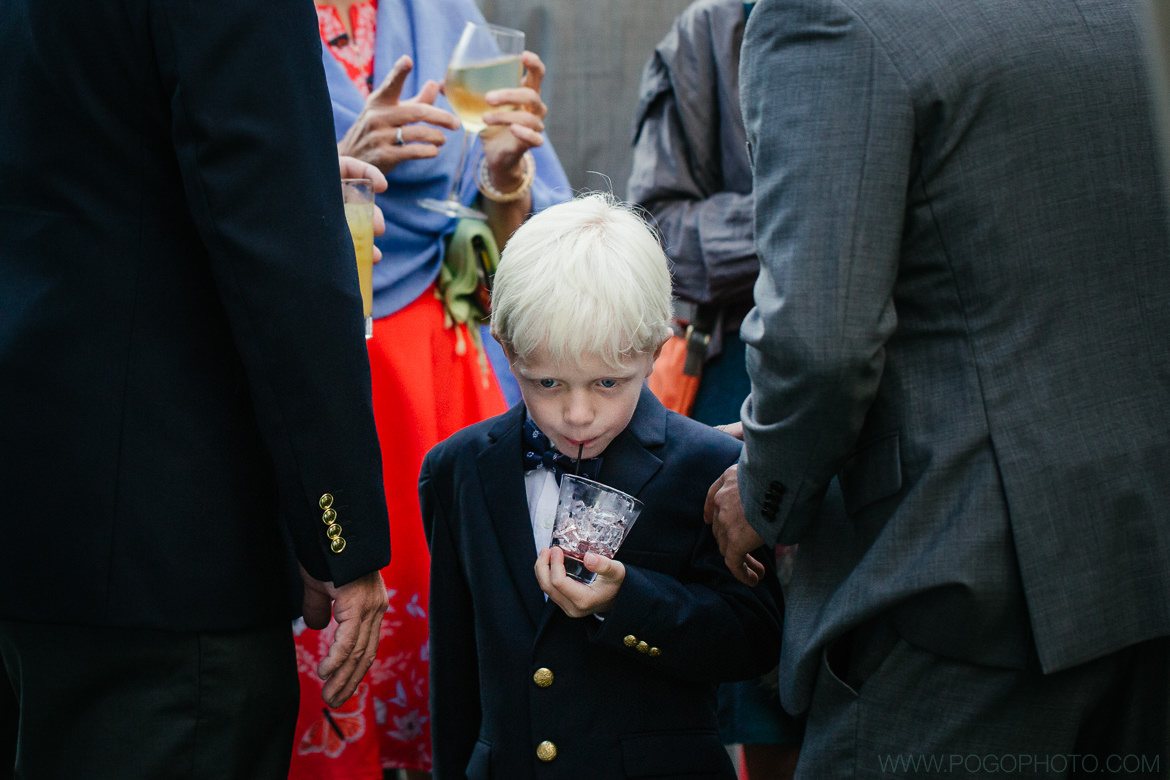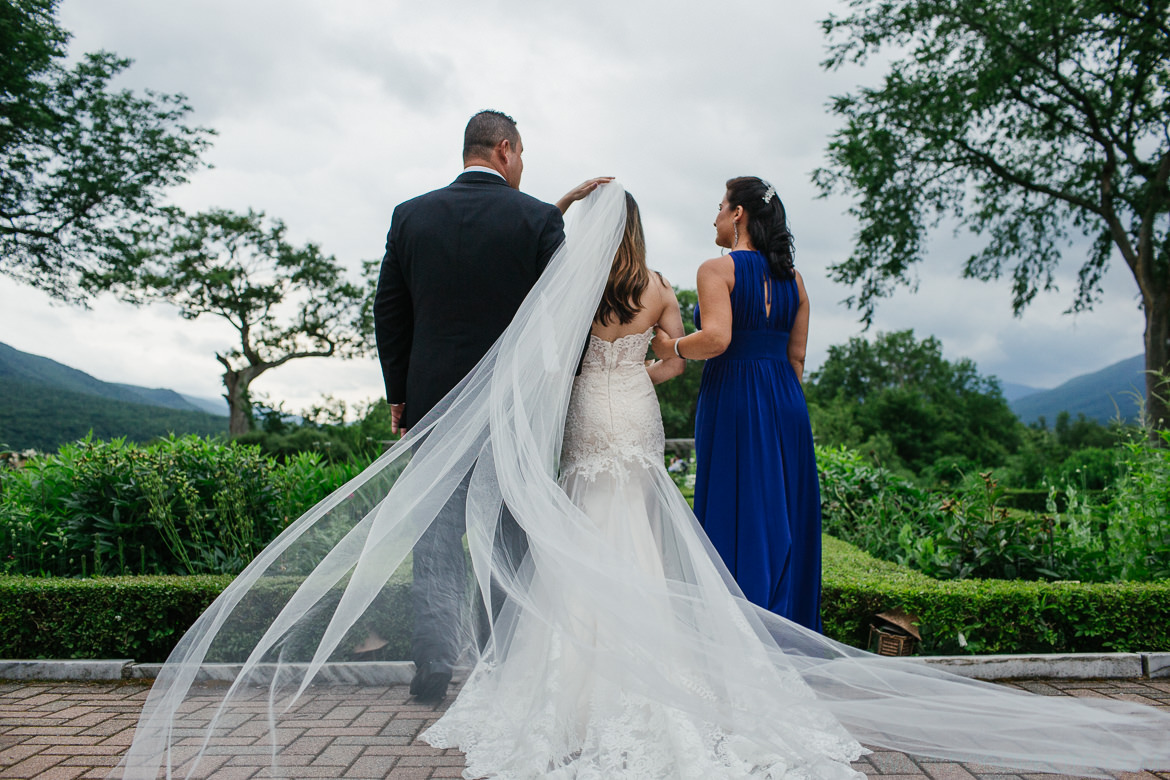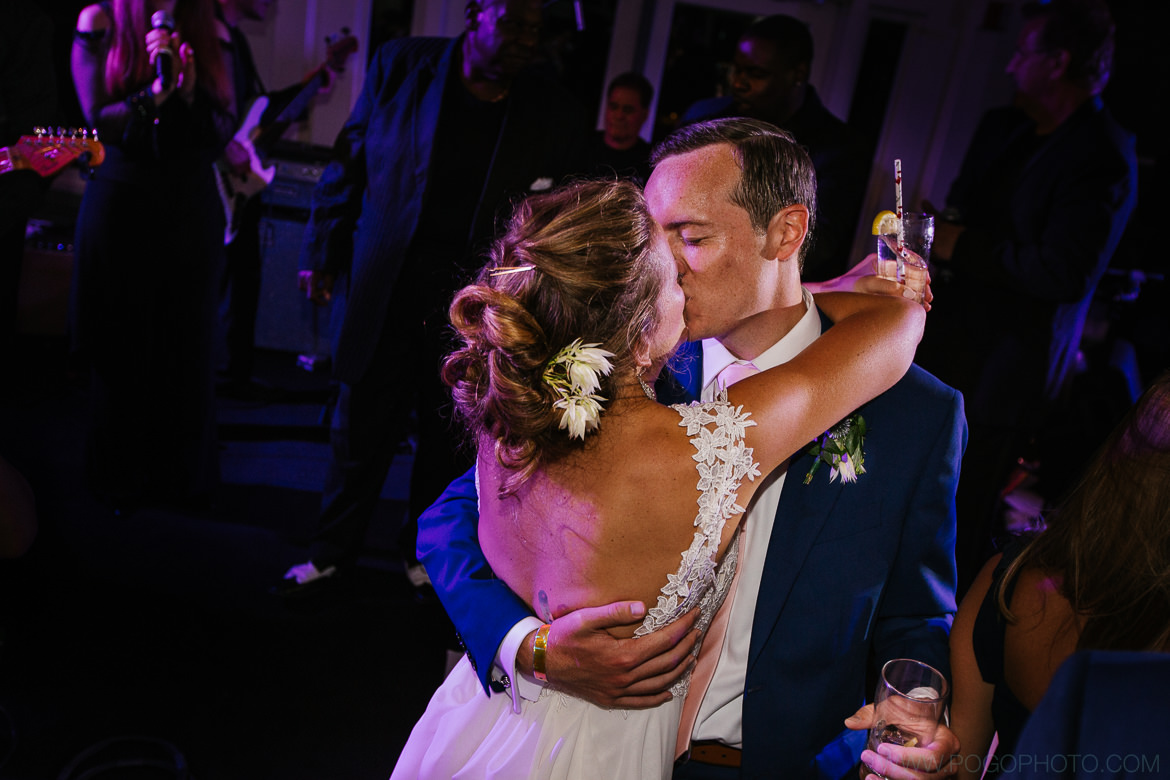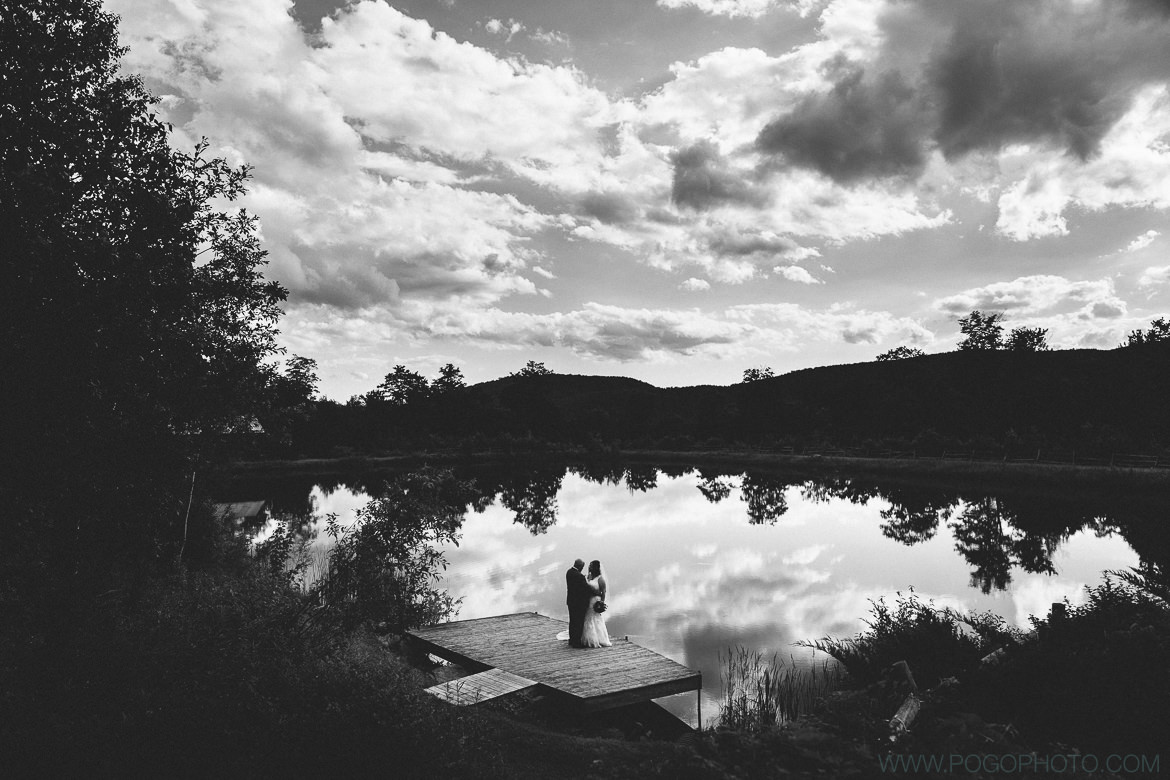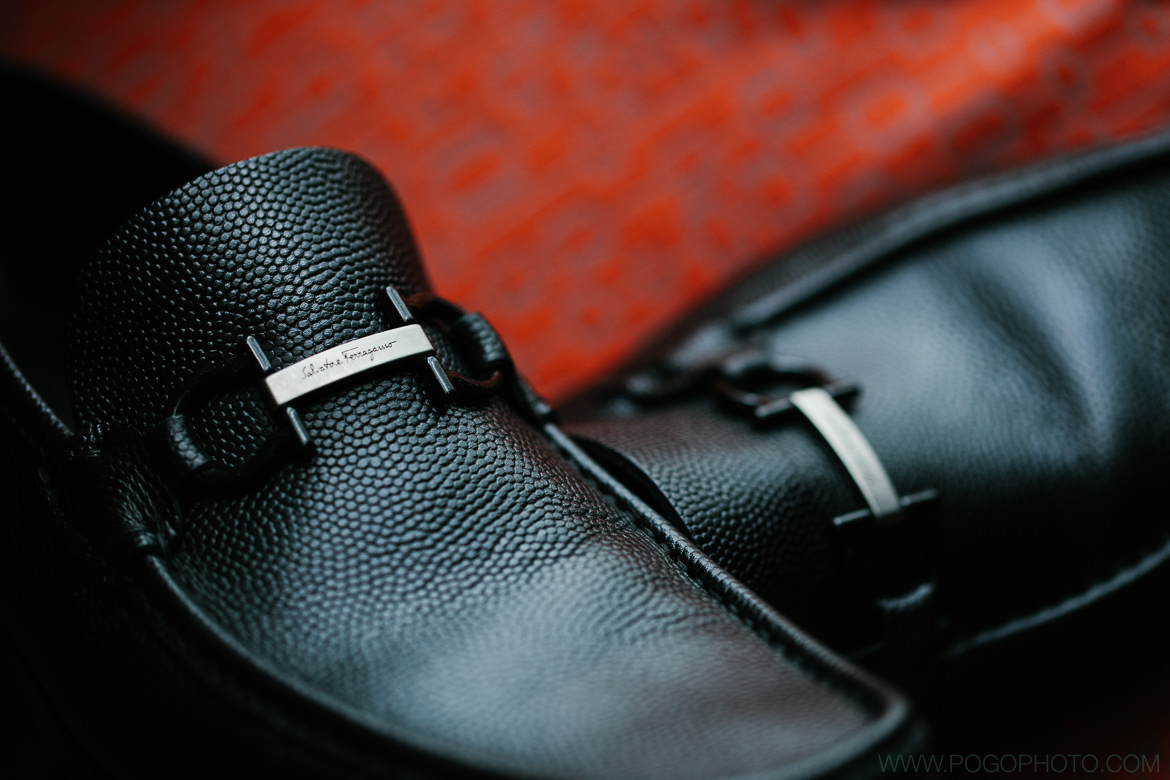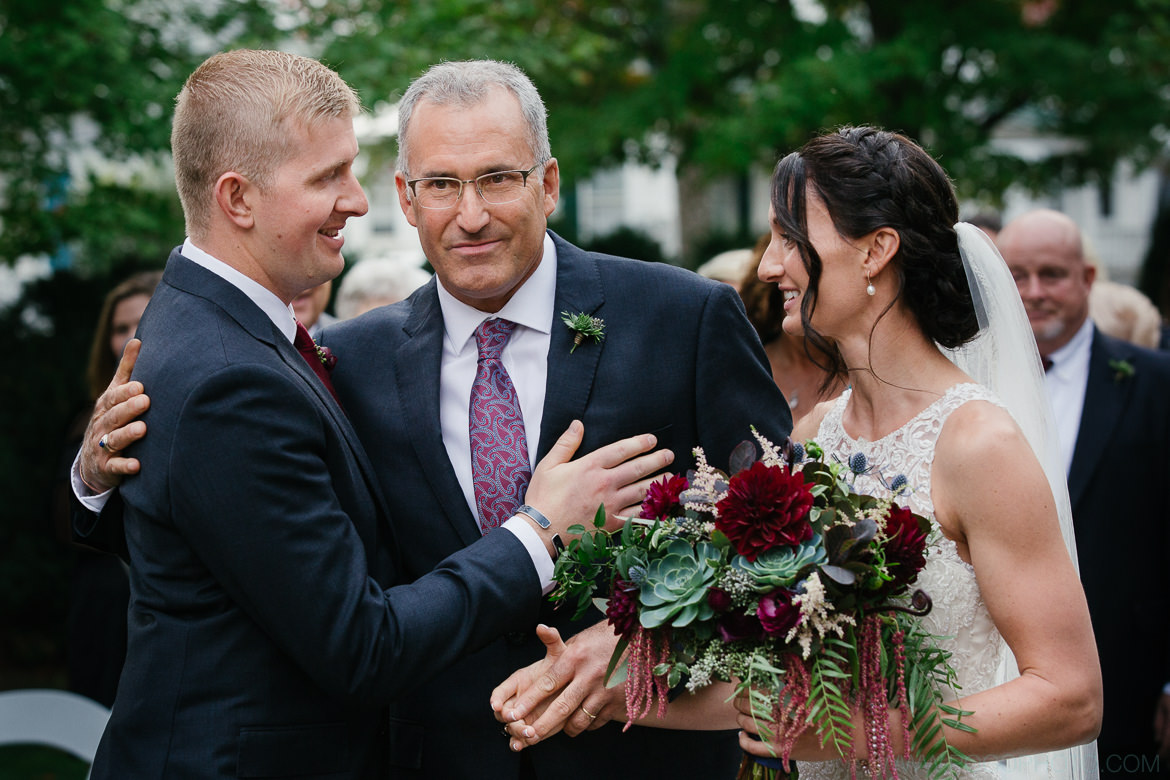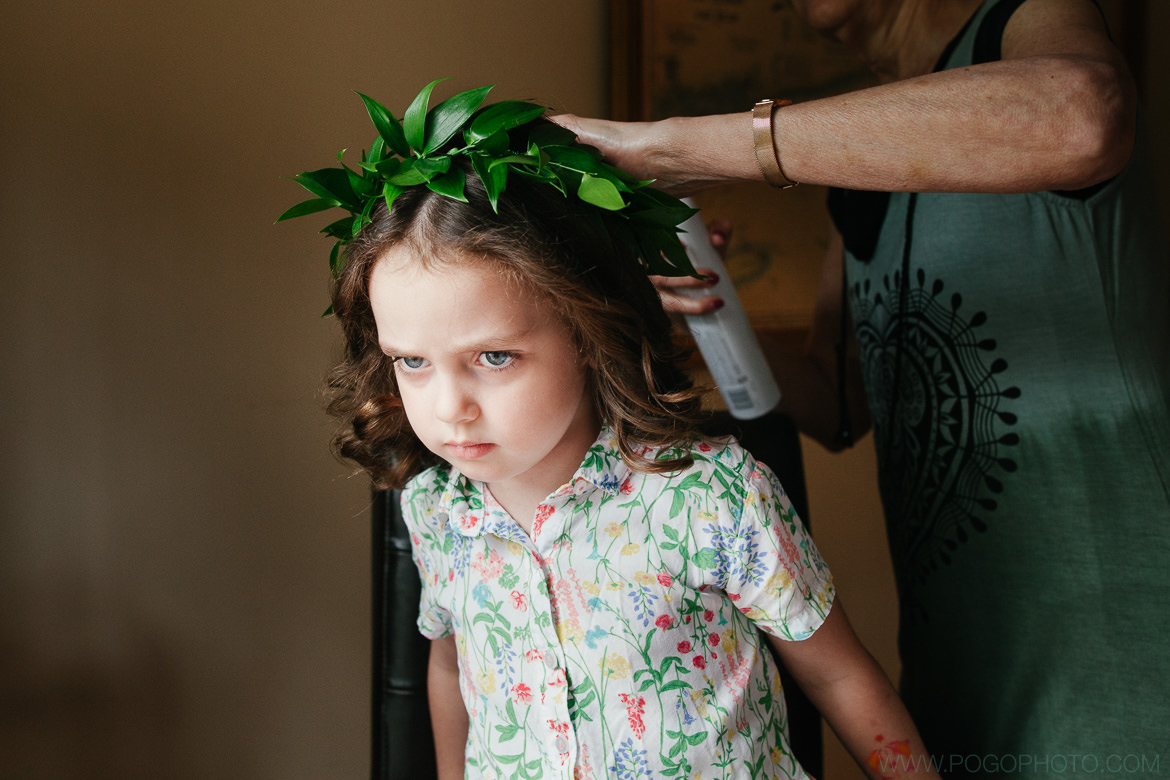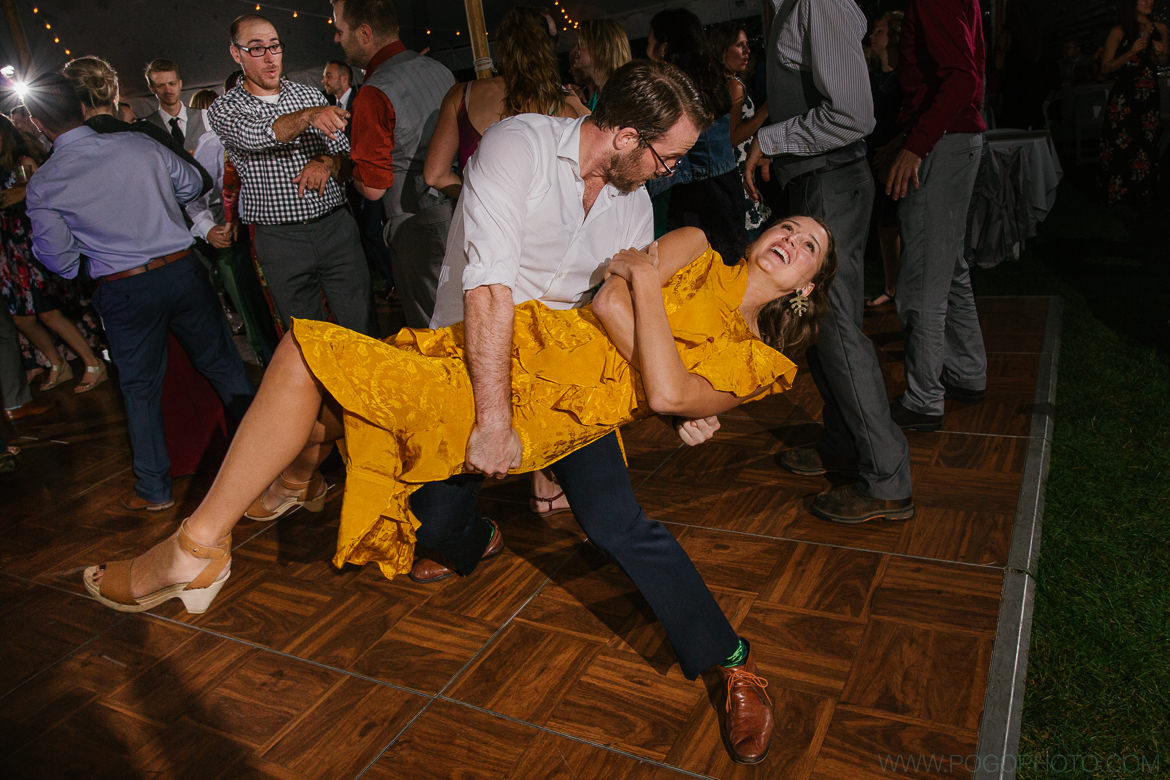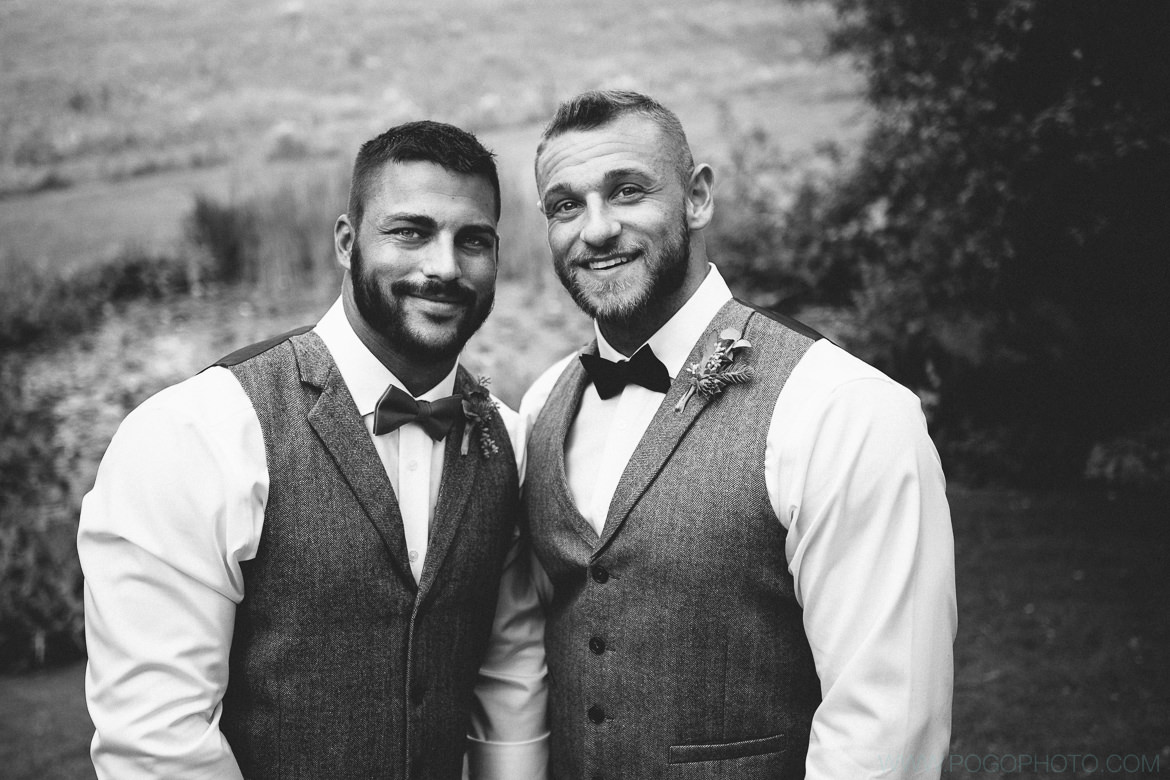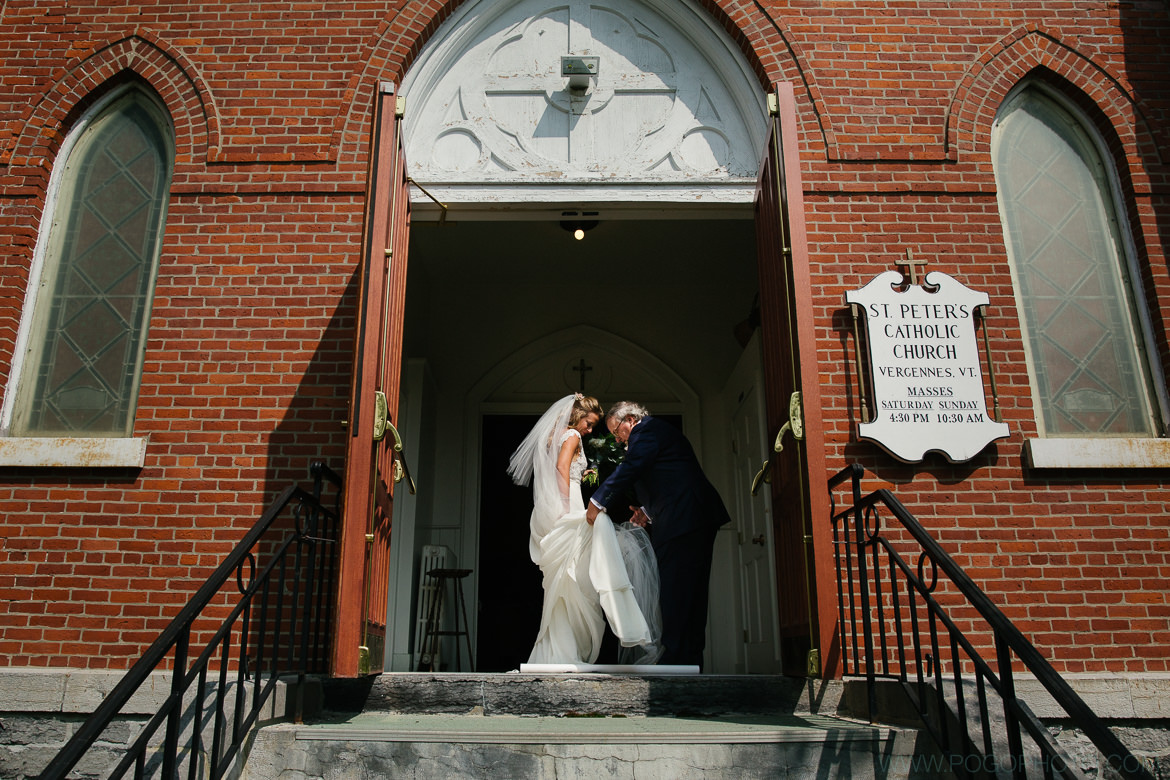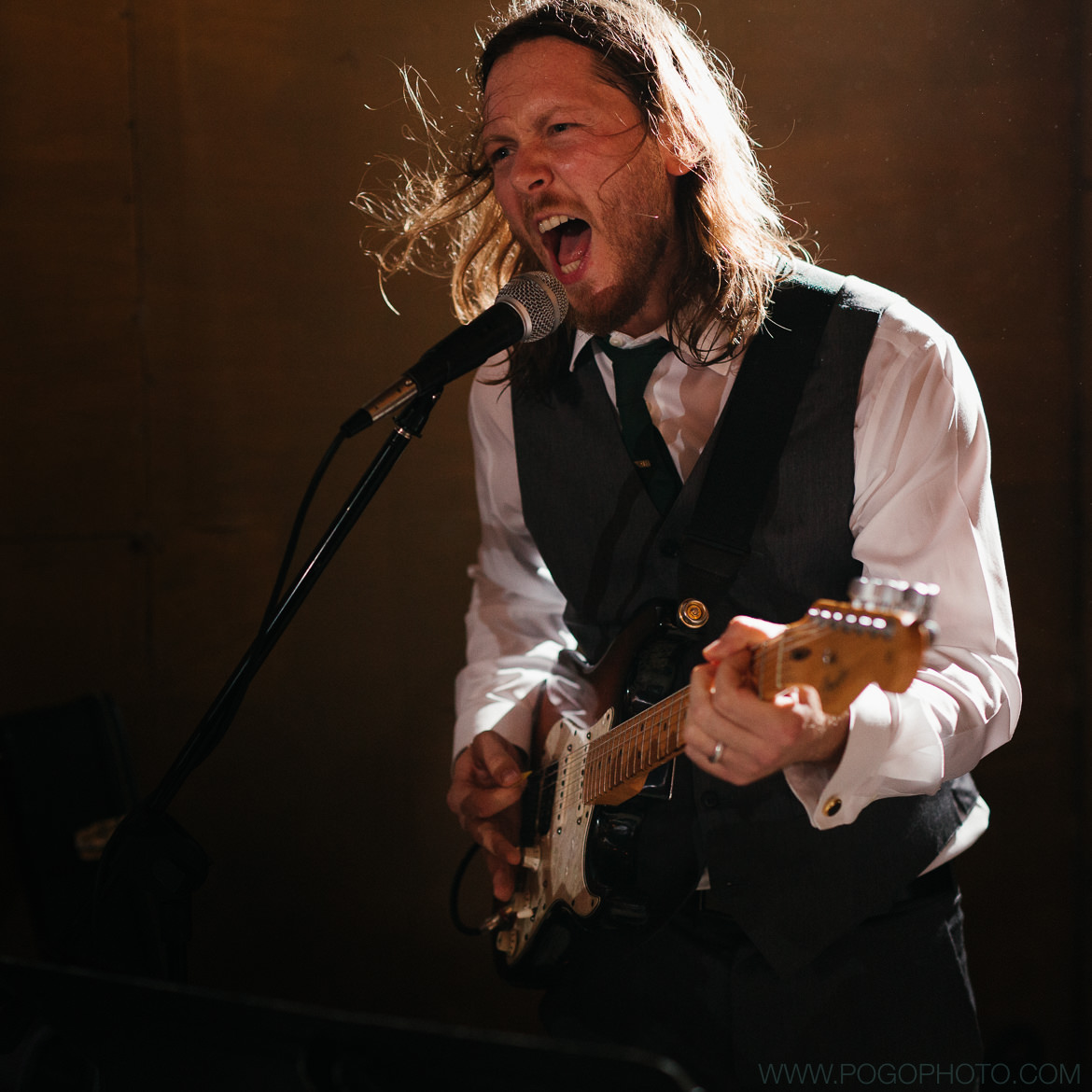 We LOVE it when a talented friend or family member sits in on a set or two. This groomsman nailed it.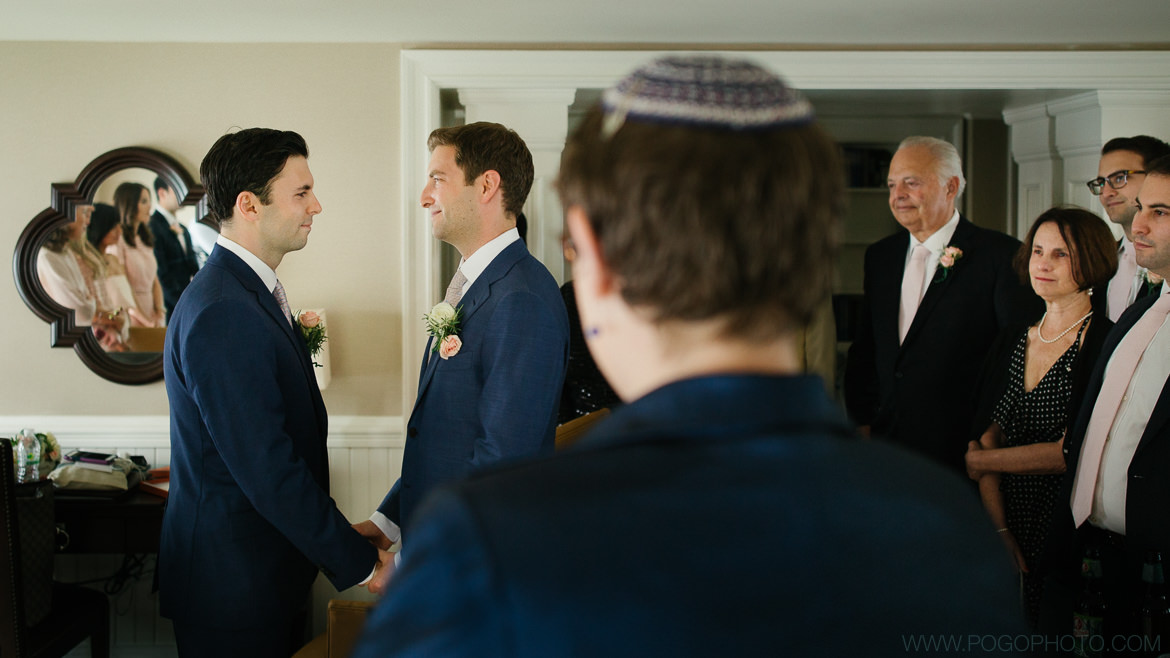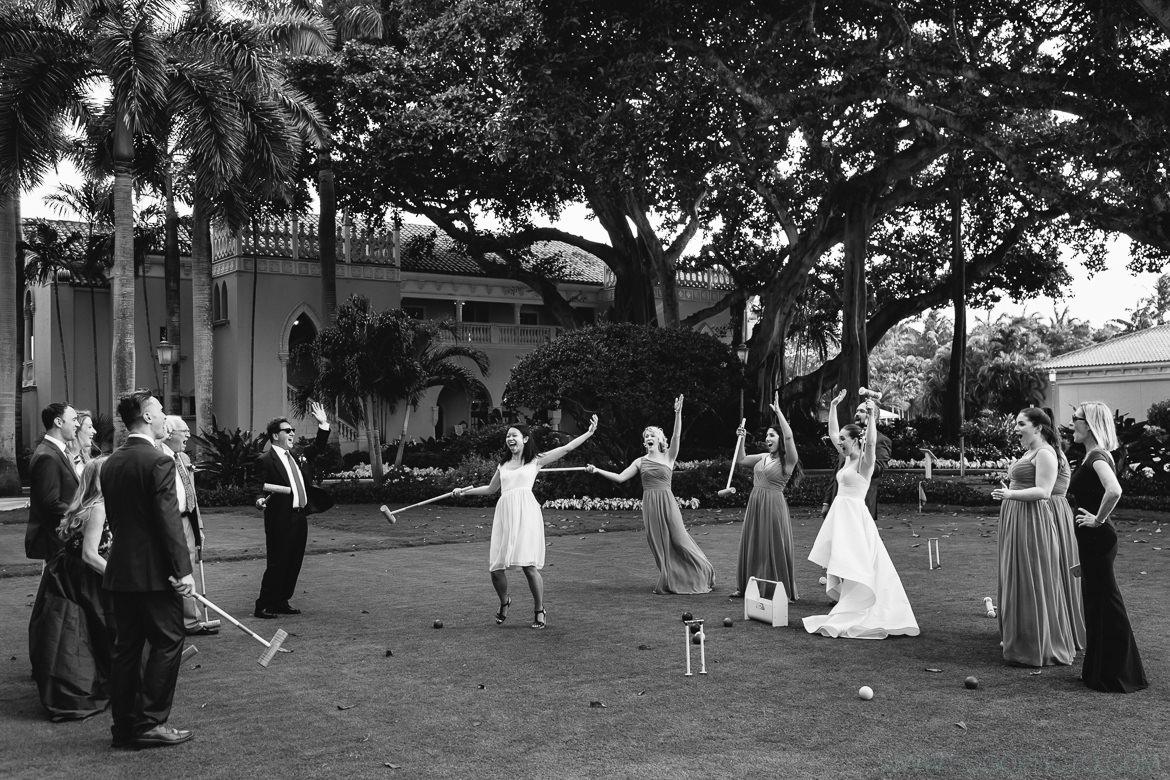 Pro tip: want actual candids with your wedding party? Schedule time for an activity and then actually ENJOY THE HELL OUT OF IT.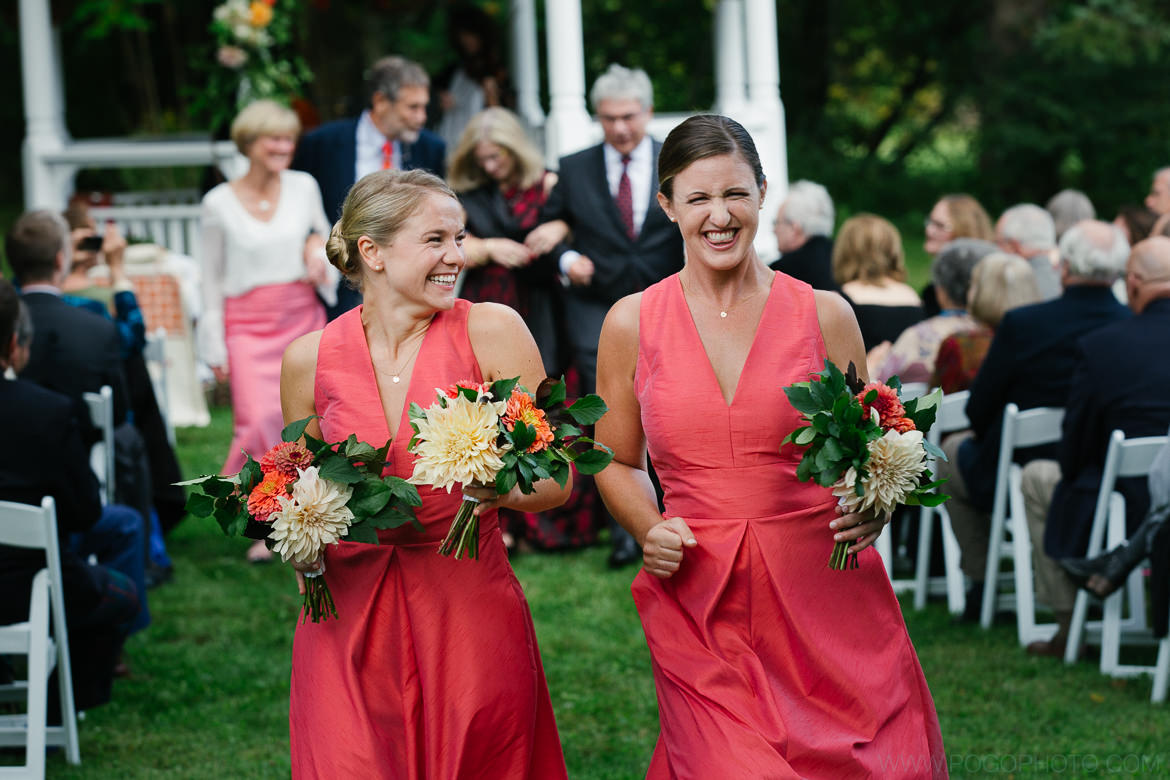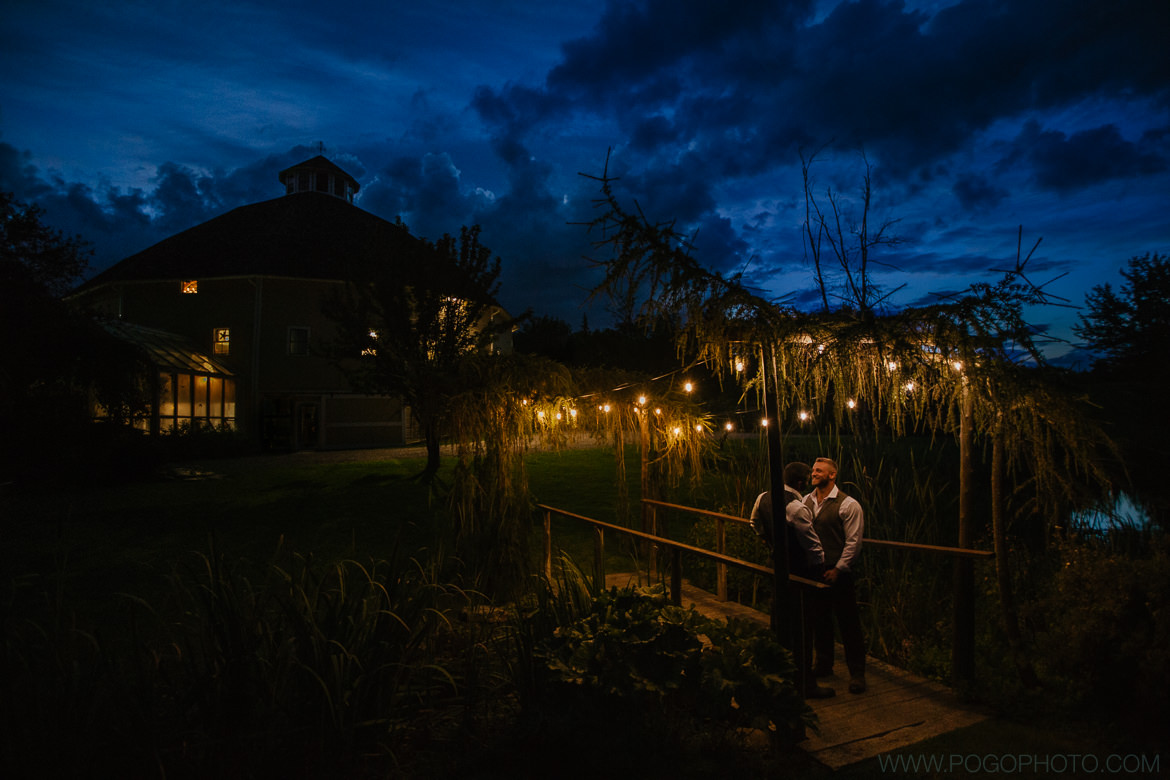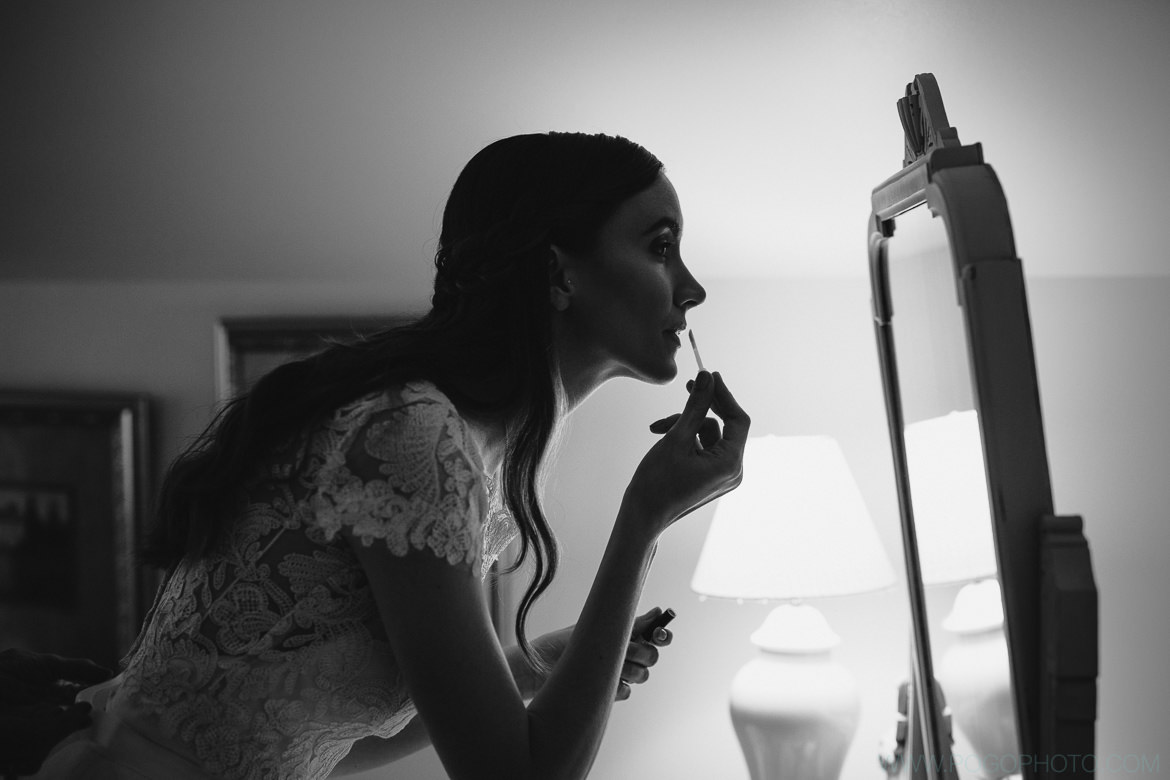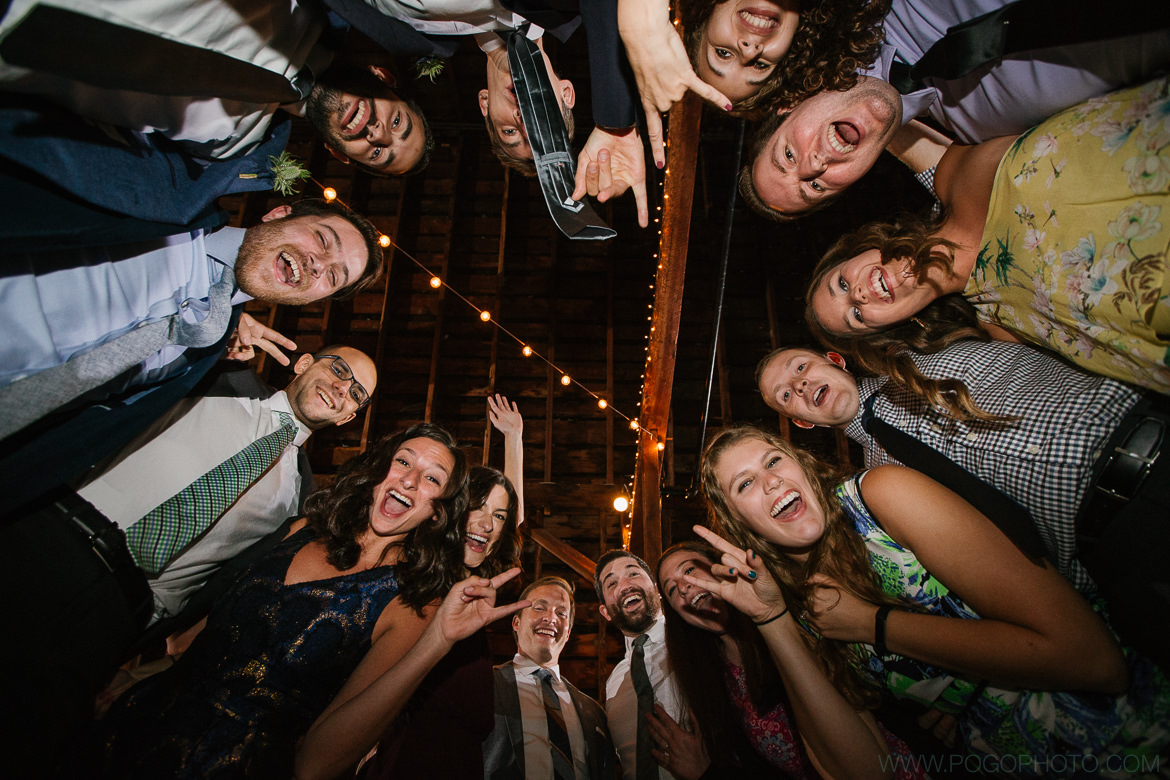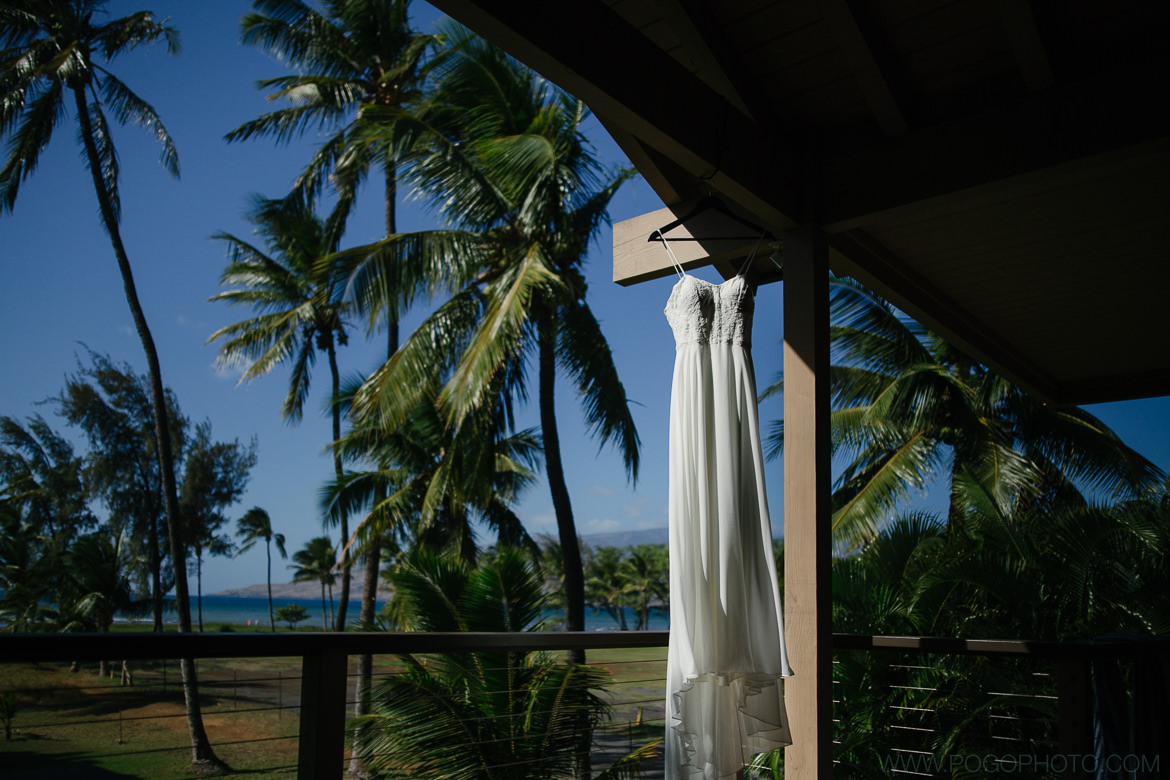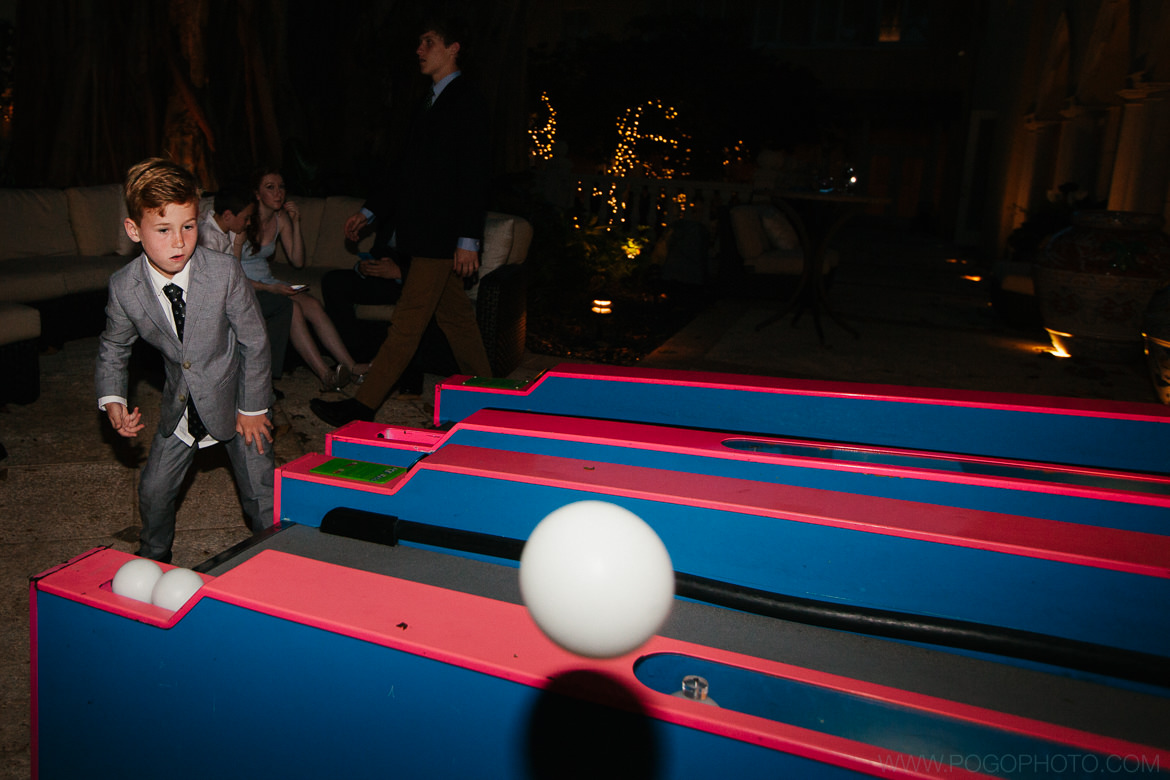 (The camera's fine.)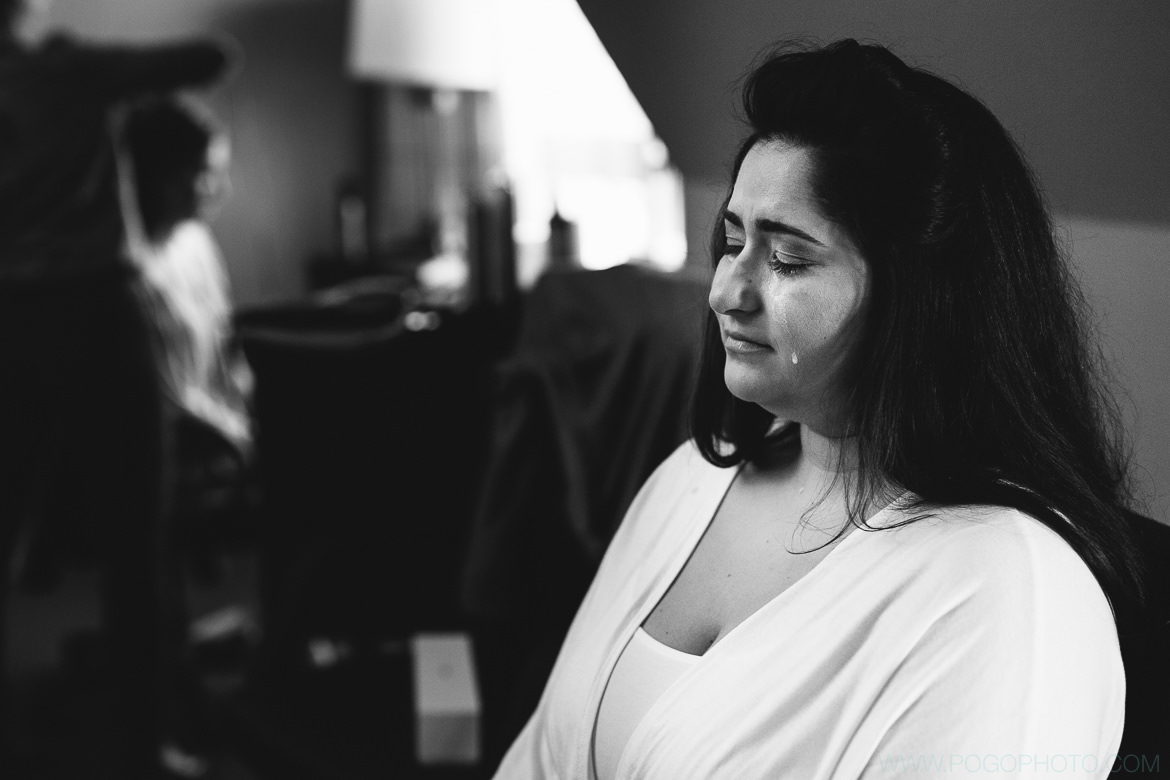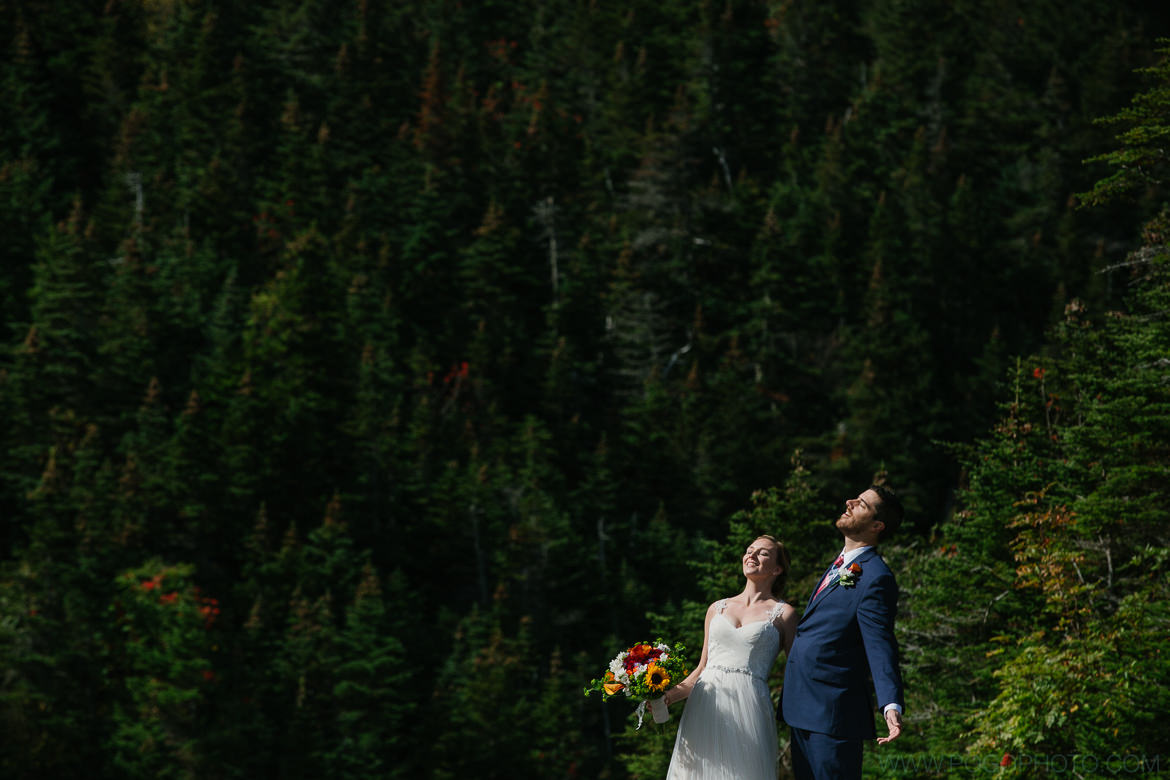 That feeling when the sun comes out on a frigid Vermont fall day on a mountain. (Unstaged.)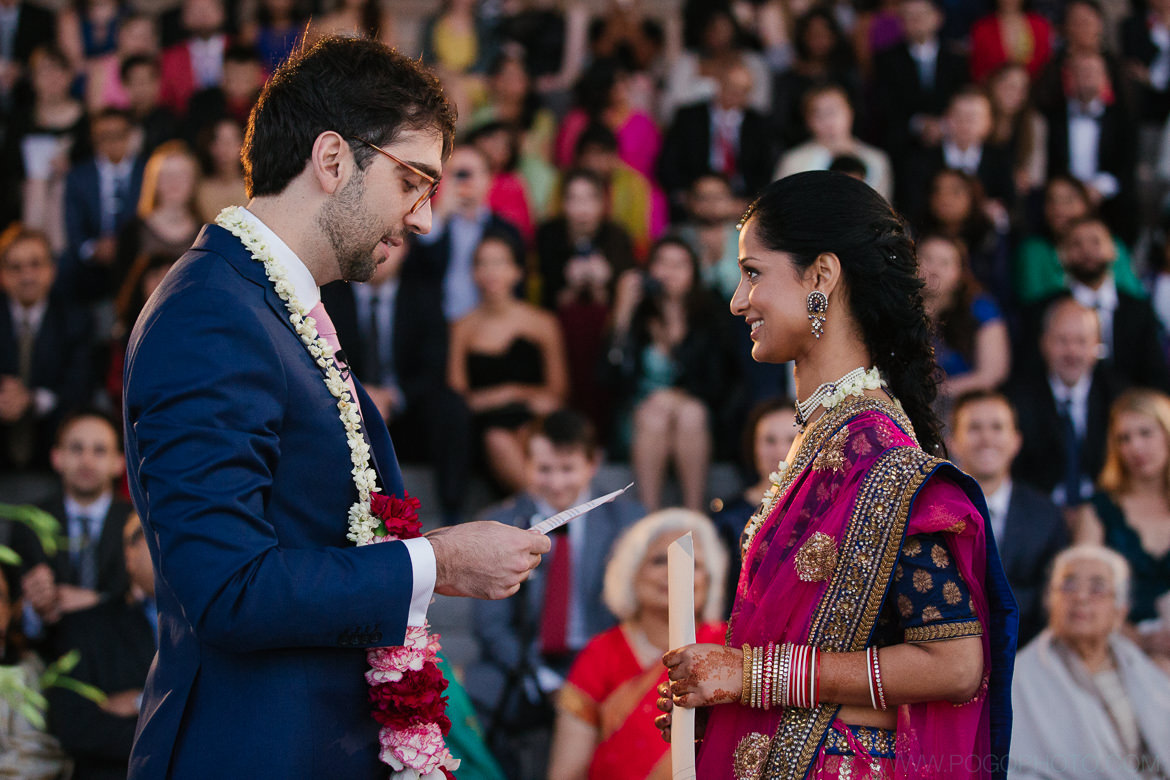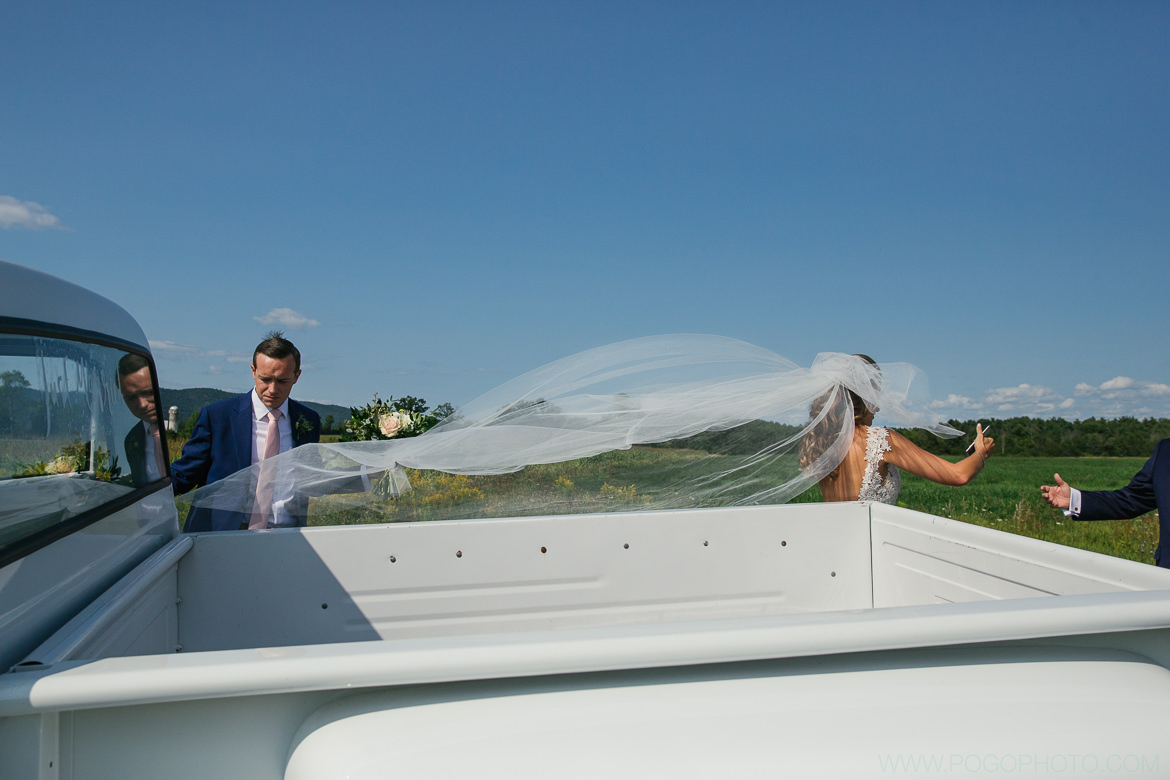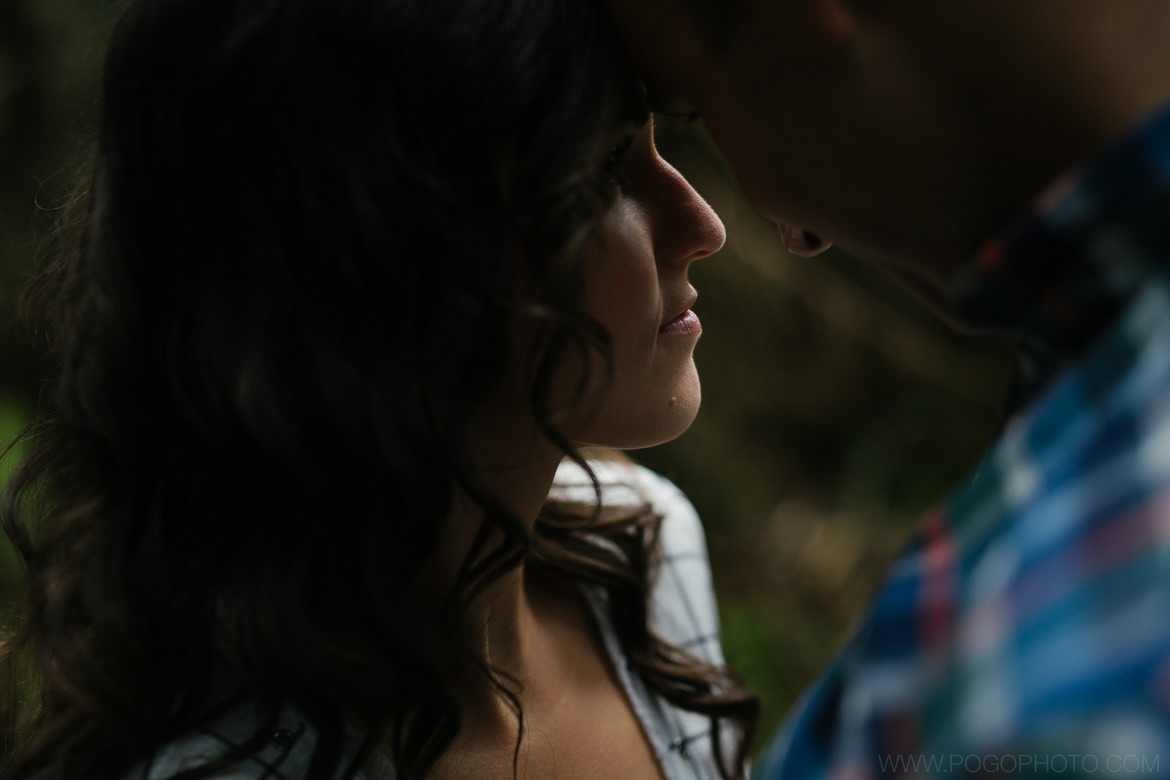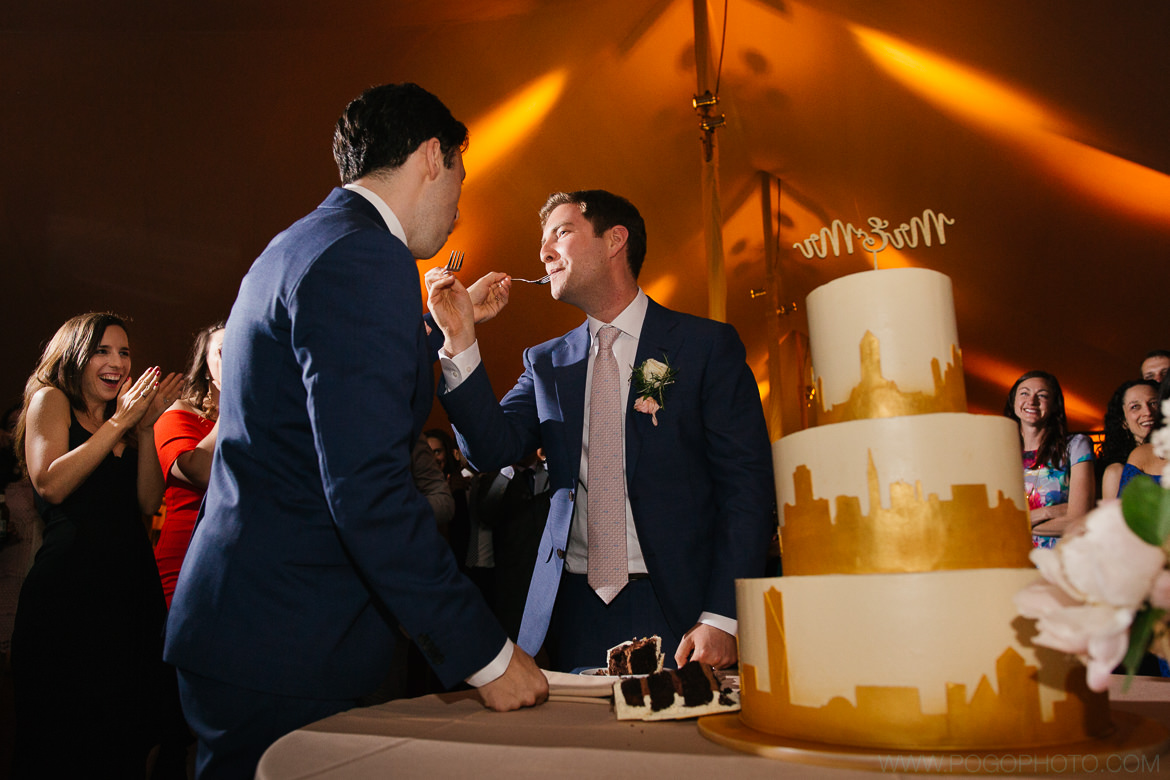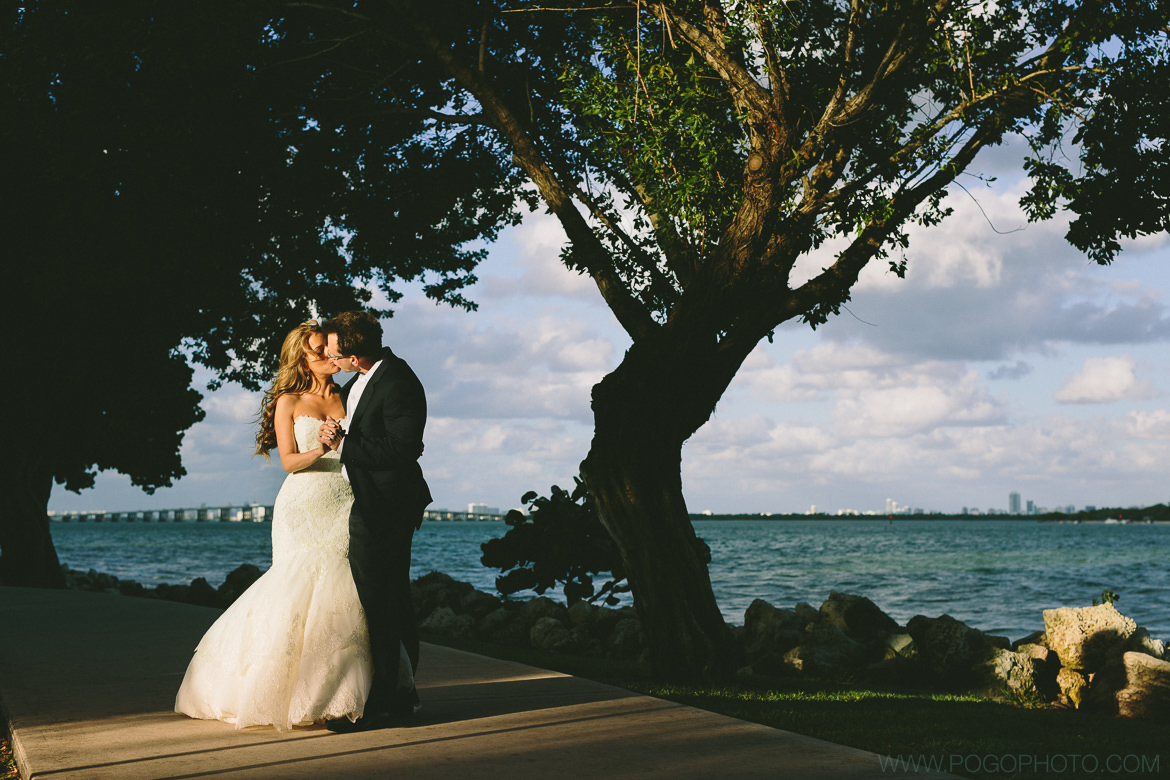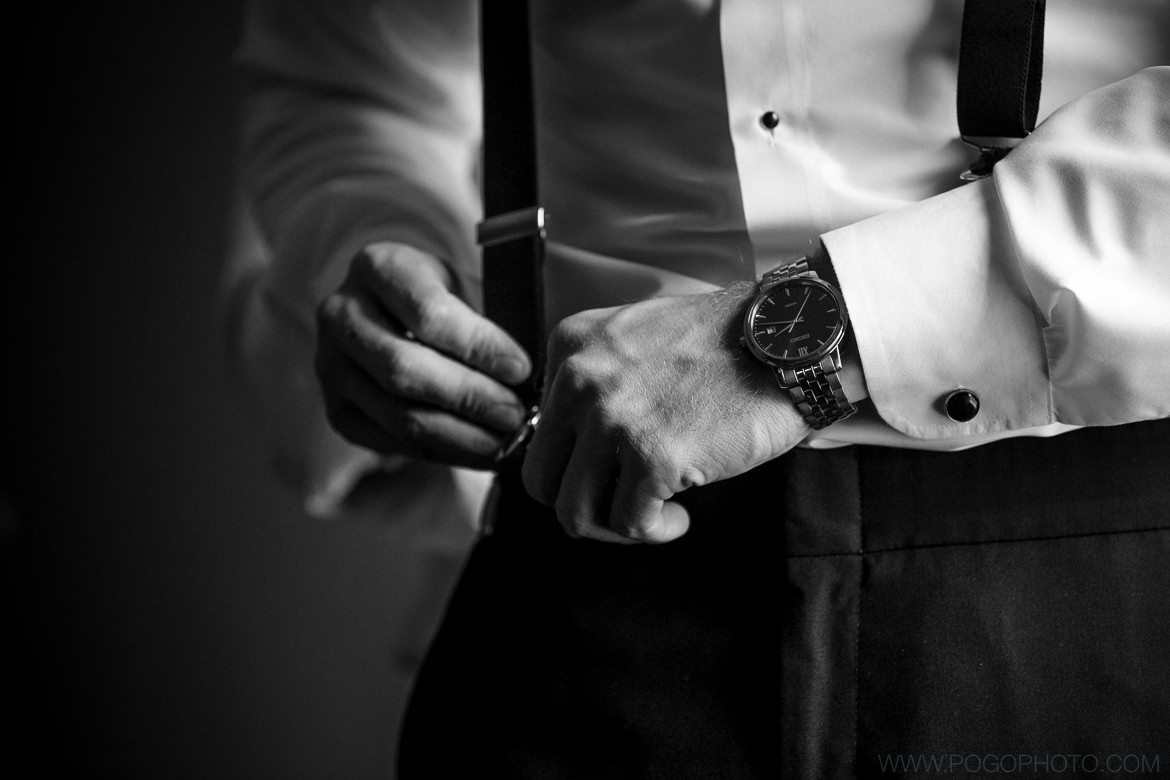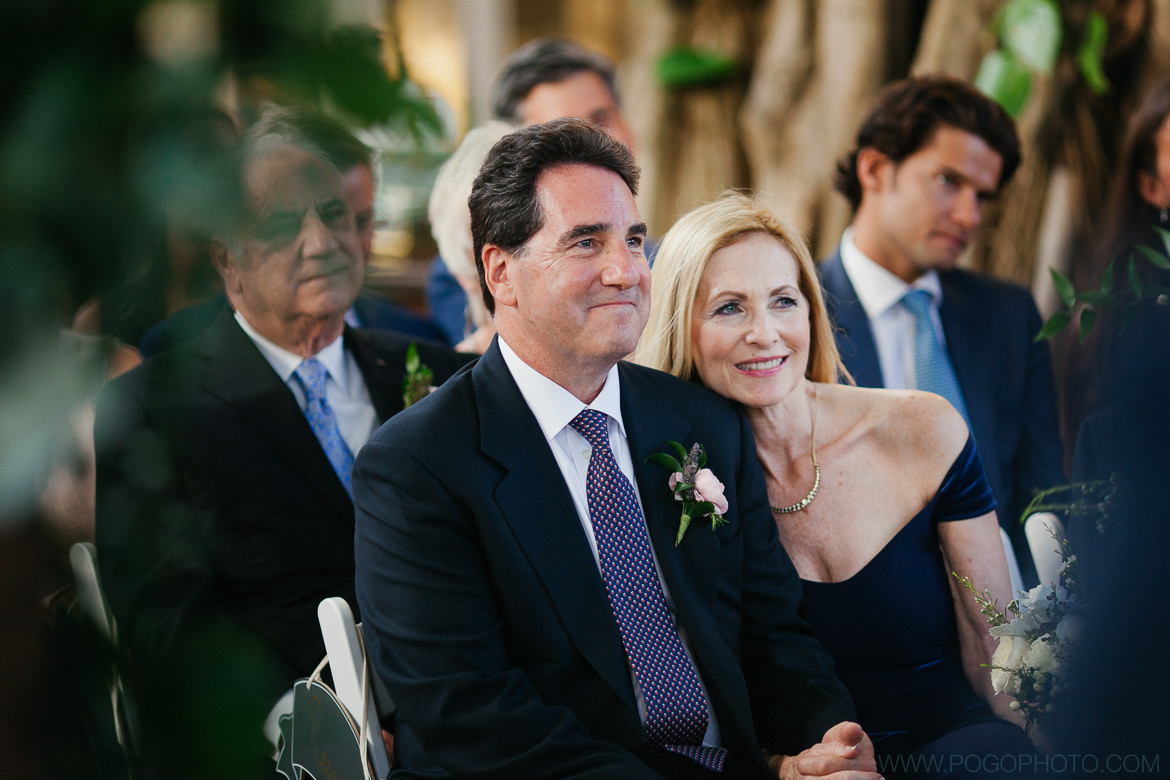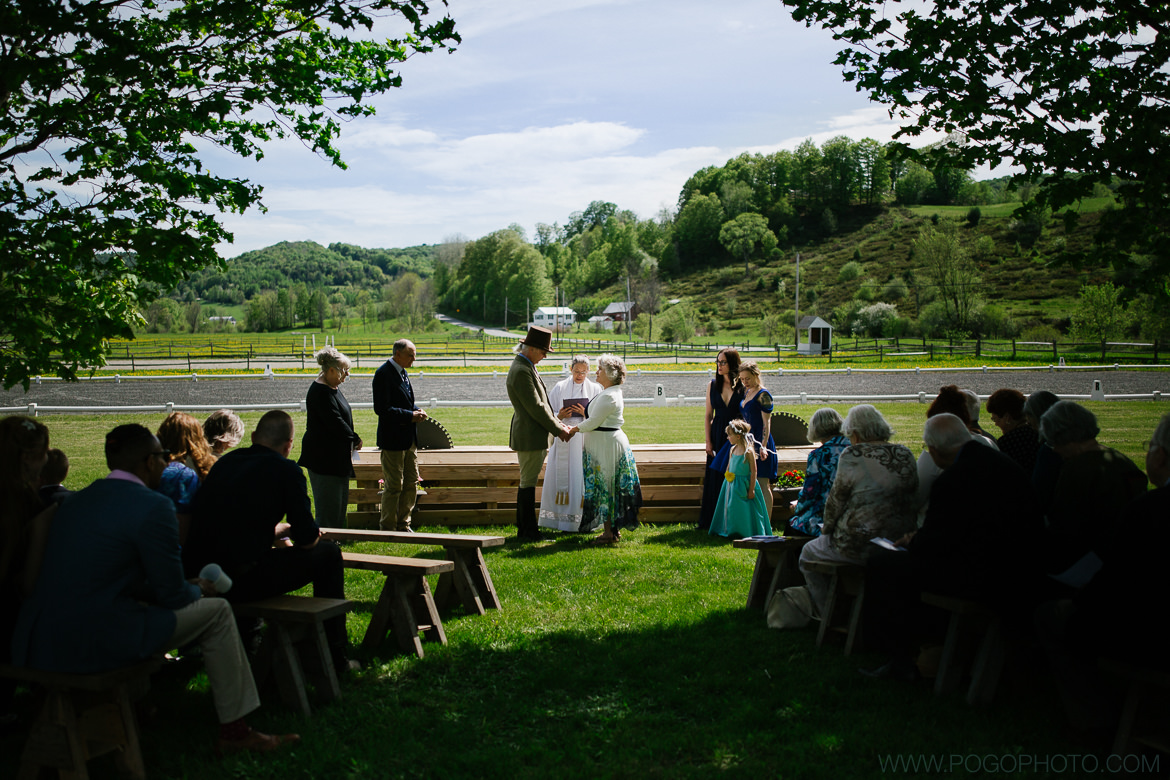 This one has special meaning for us: Em and her sister Monica were bridesmaids at their mom's wedding! (Steve shot solo.)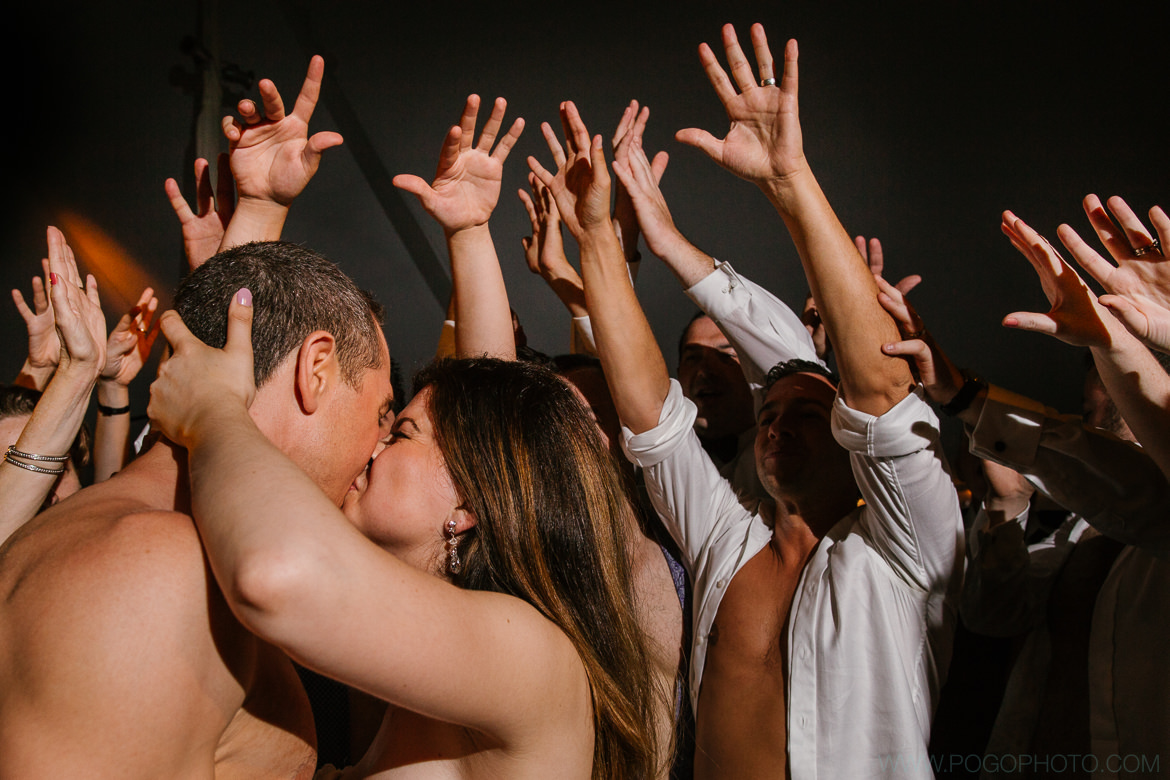 Many receptions are wild. This one was… topless. (Well. The groom was, anyway.)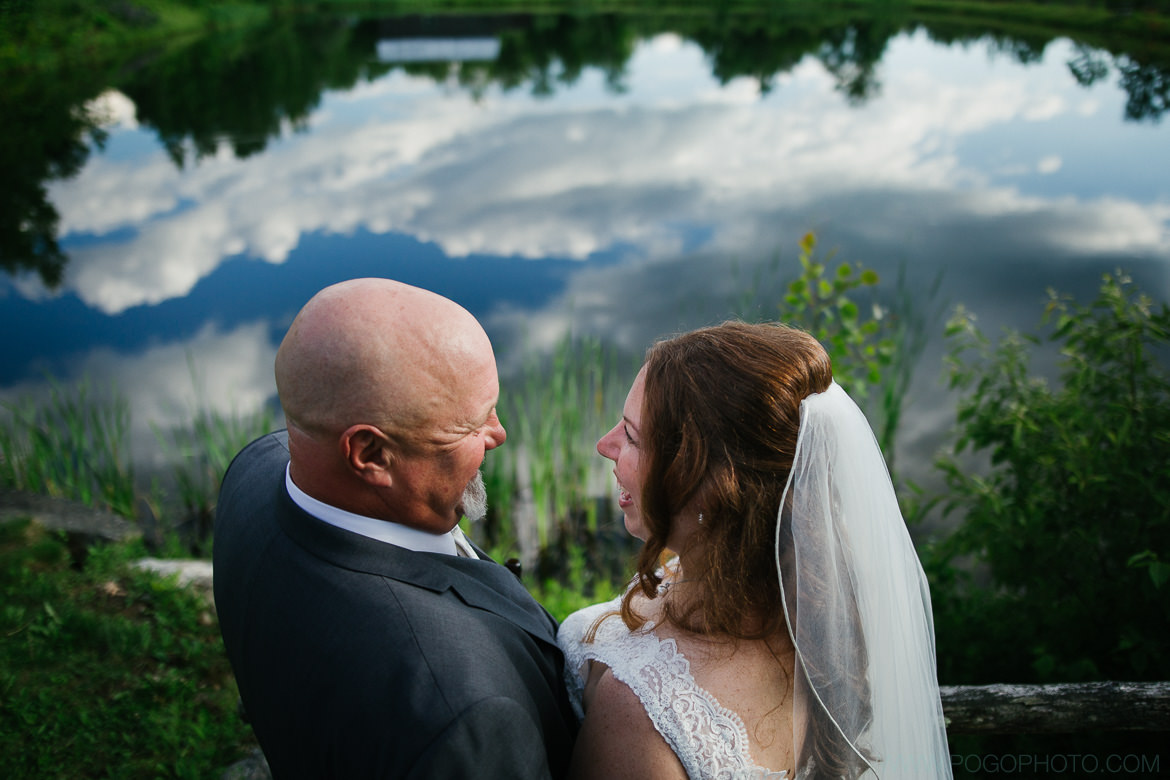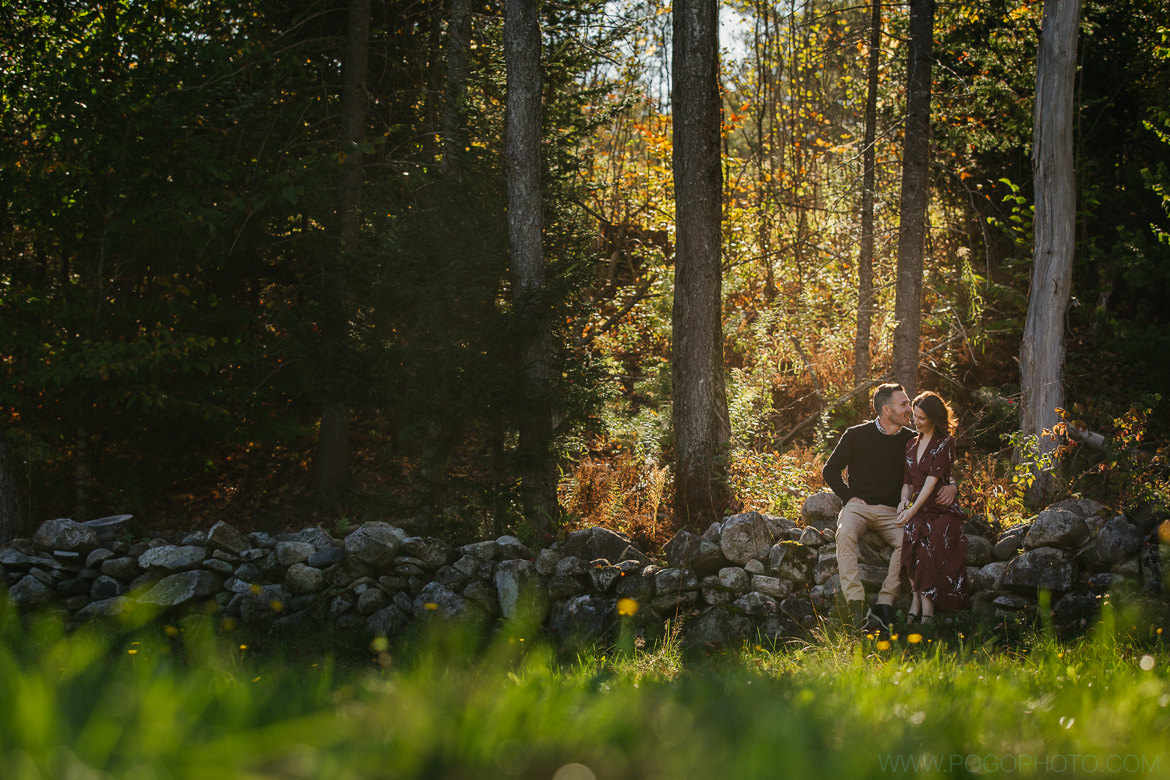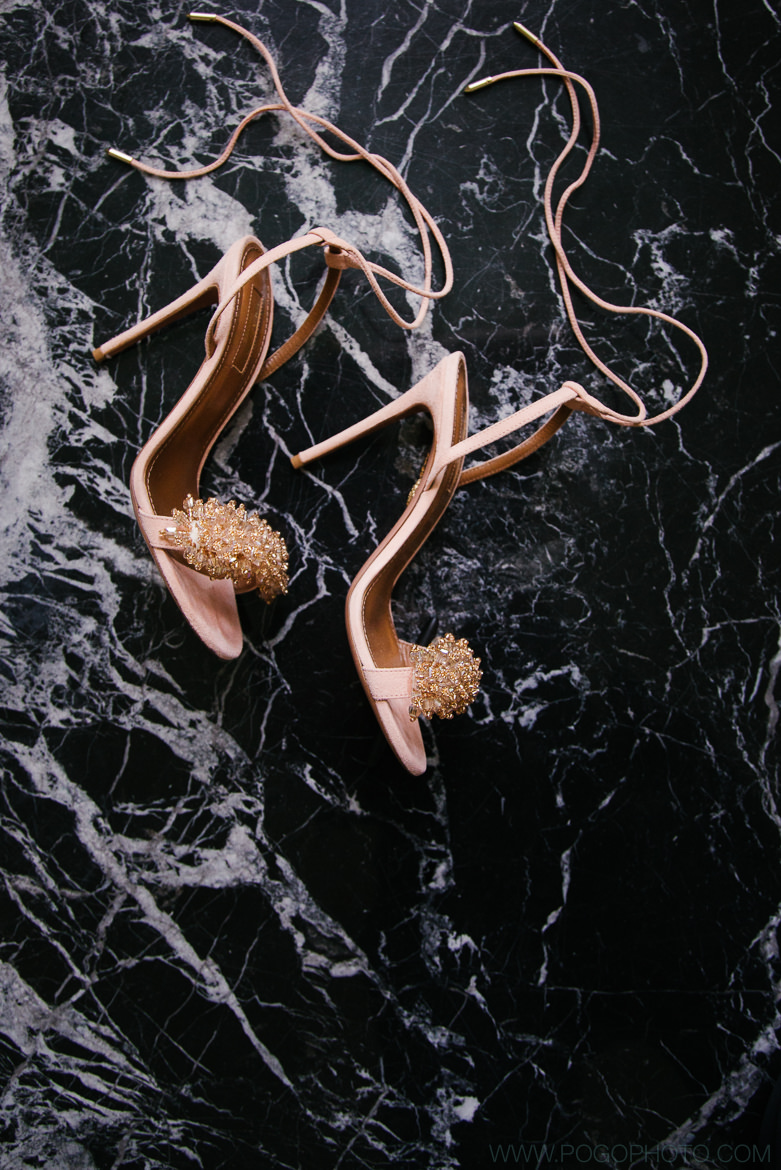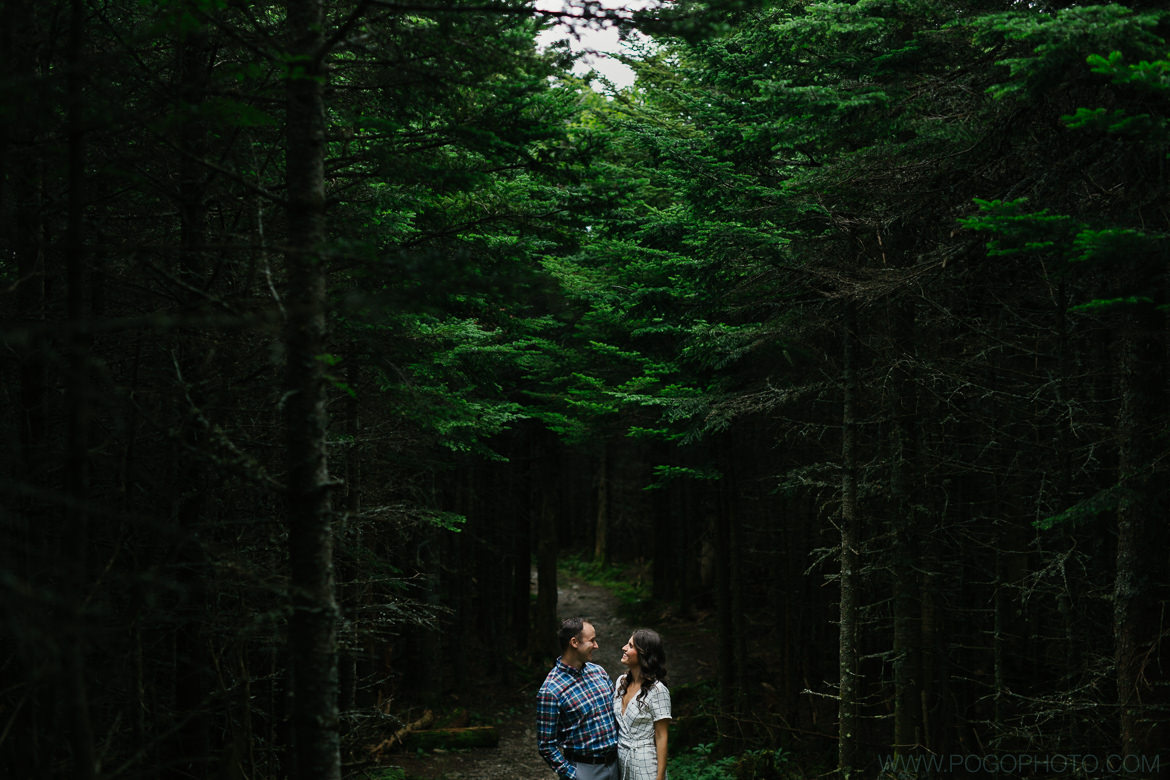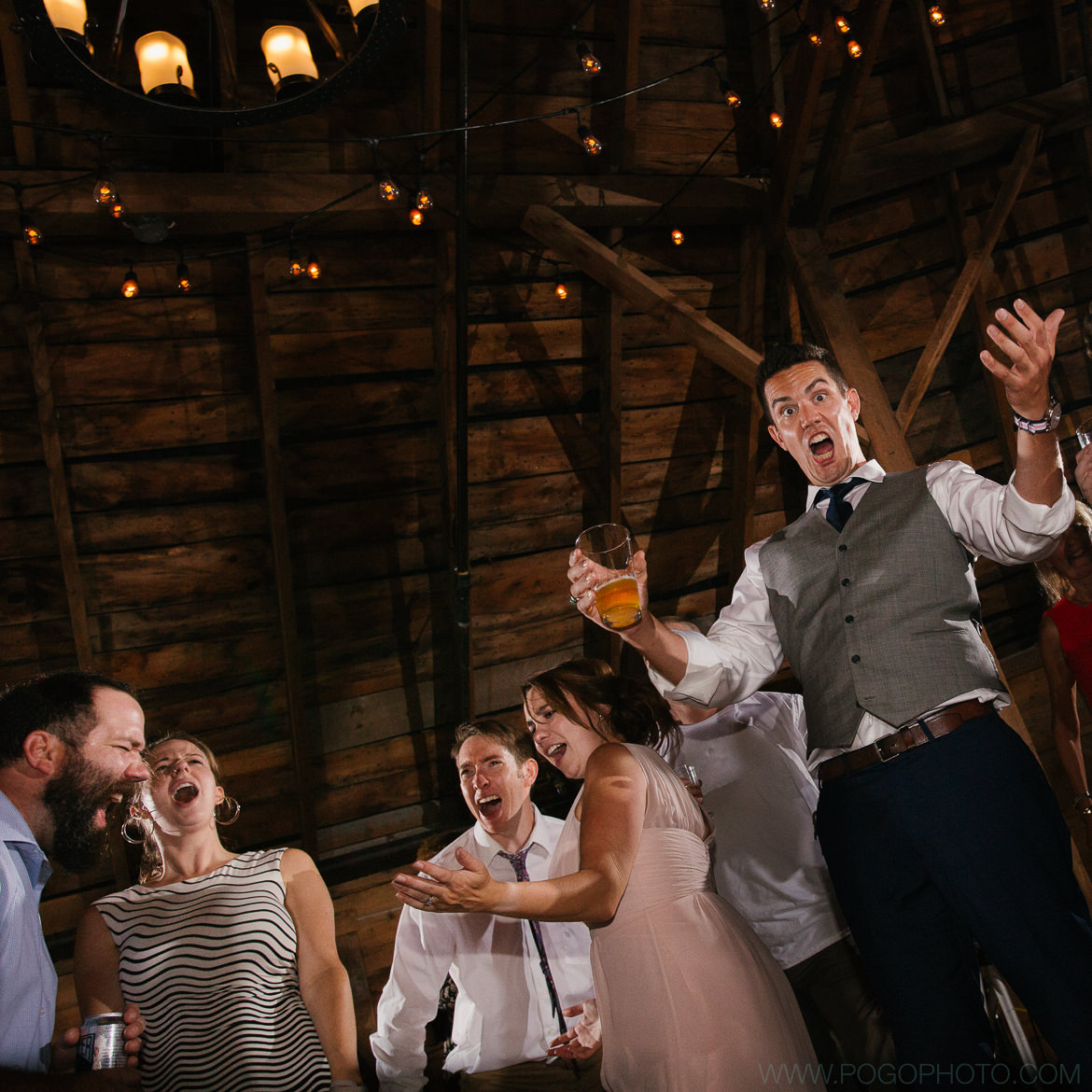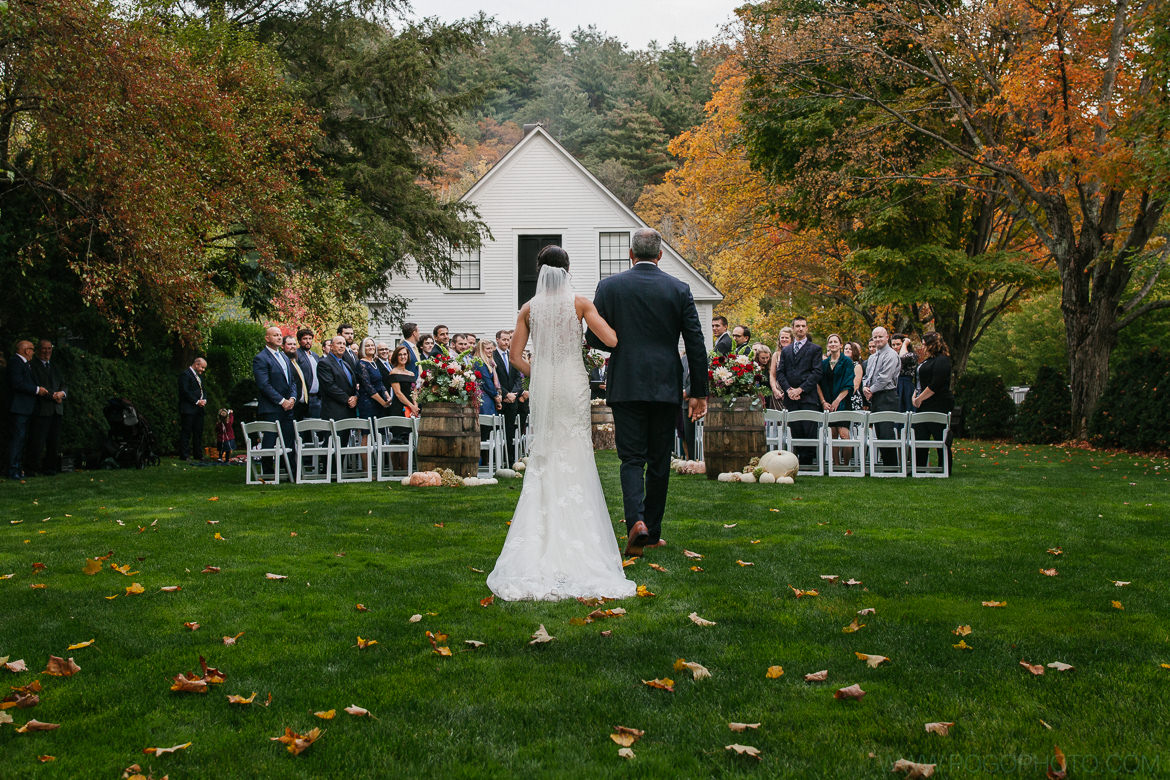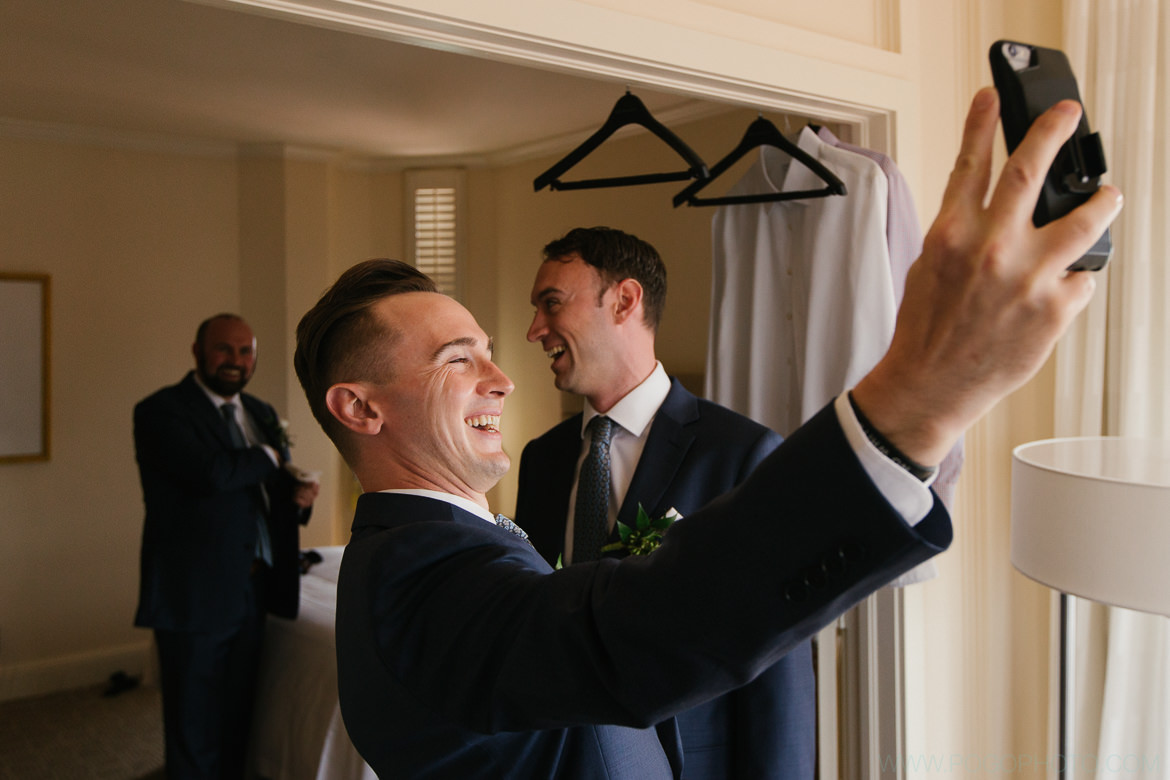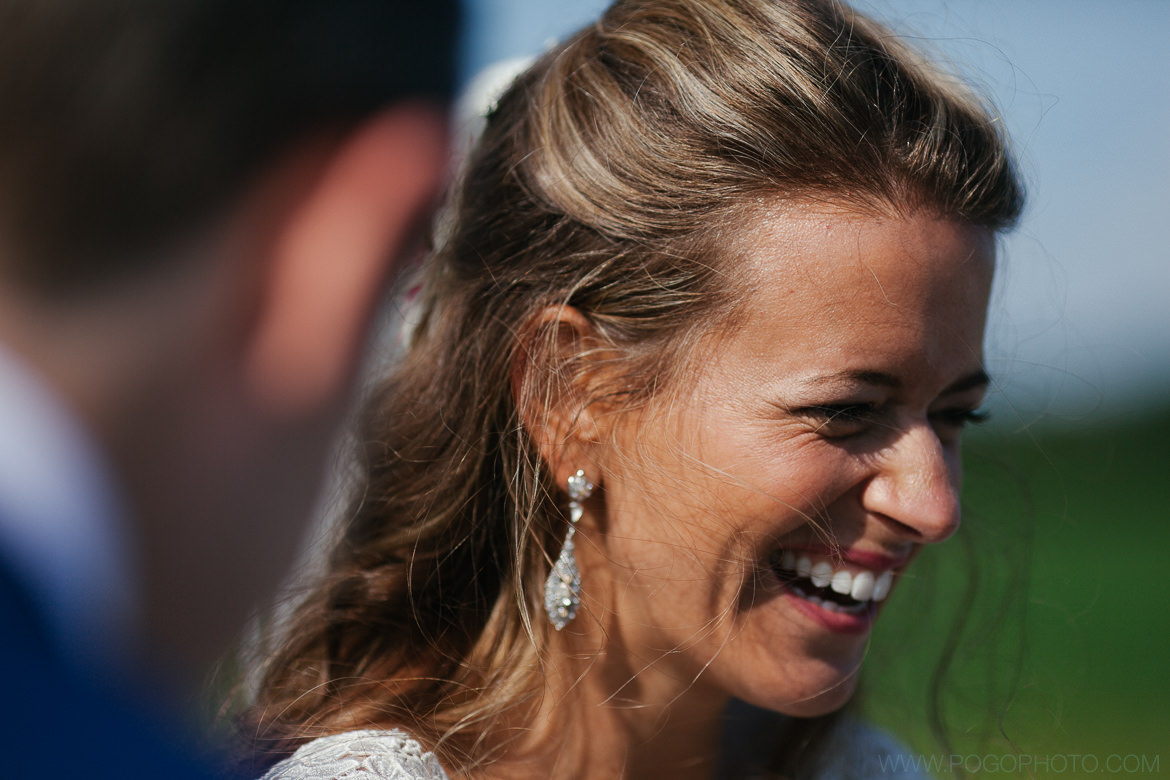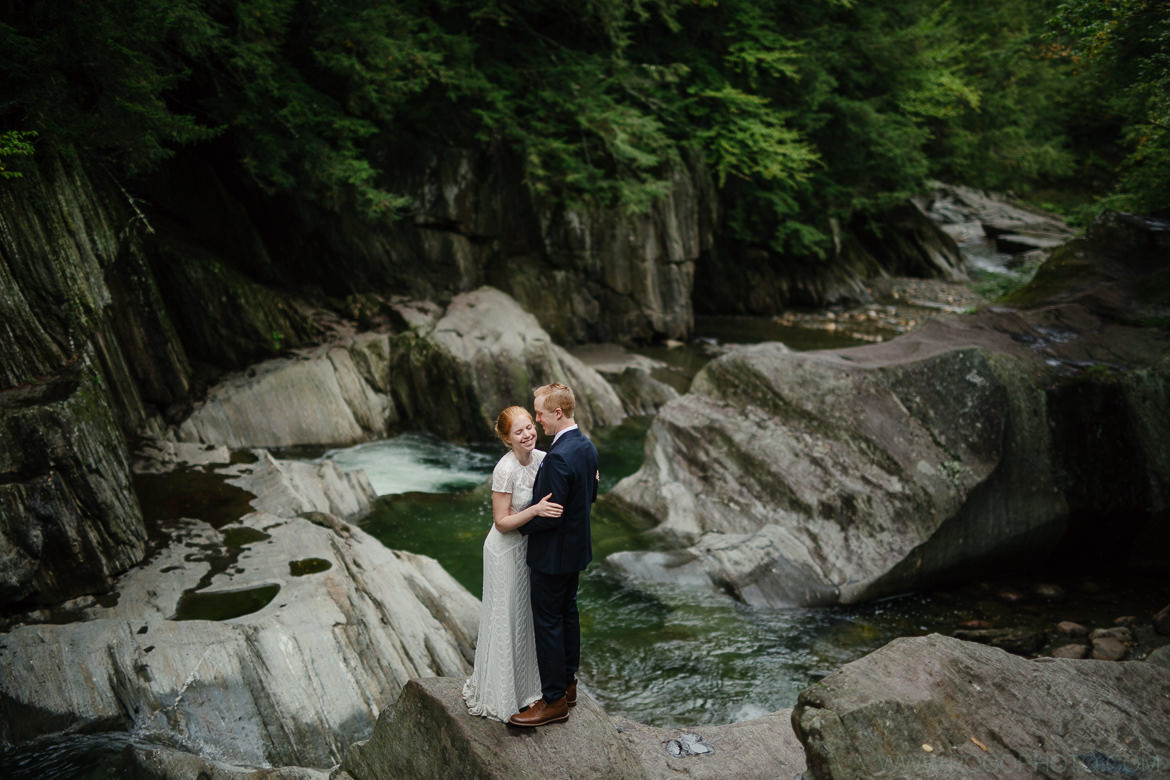 A wedding day that had so much rain, all day long… we couldn't resist making these two get dressed up again on a day with clearer skies. A magically empty swimming hole and waterfall in Warren was the perfect location, and had personal meaning for Sam + Mike.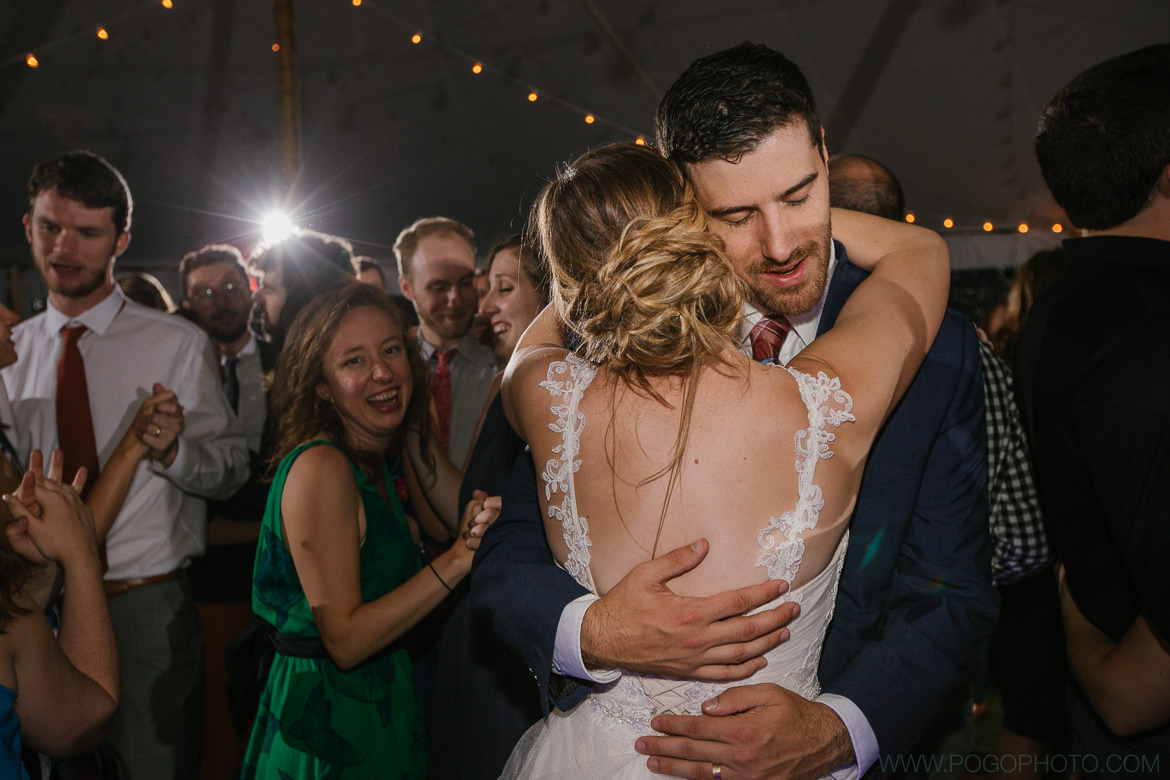 No drone required: Steve hiked half a mile up to shoot across a 1500 foot valley to nail this shot. (Em is technically visible in this shot, but good luck figuring out where.)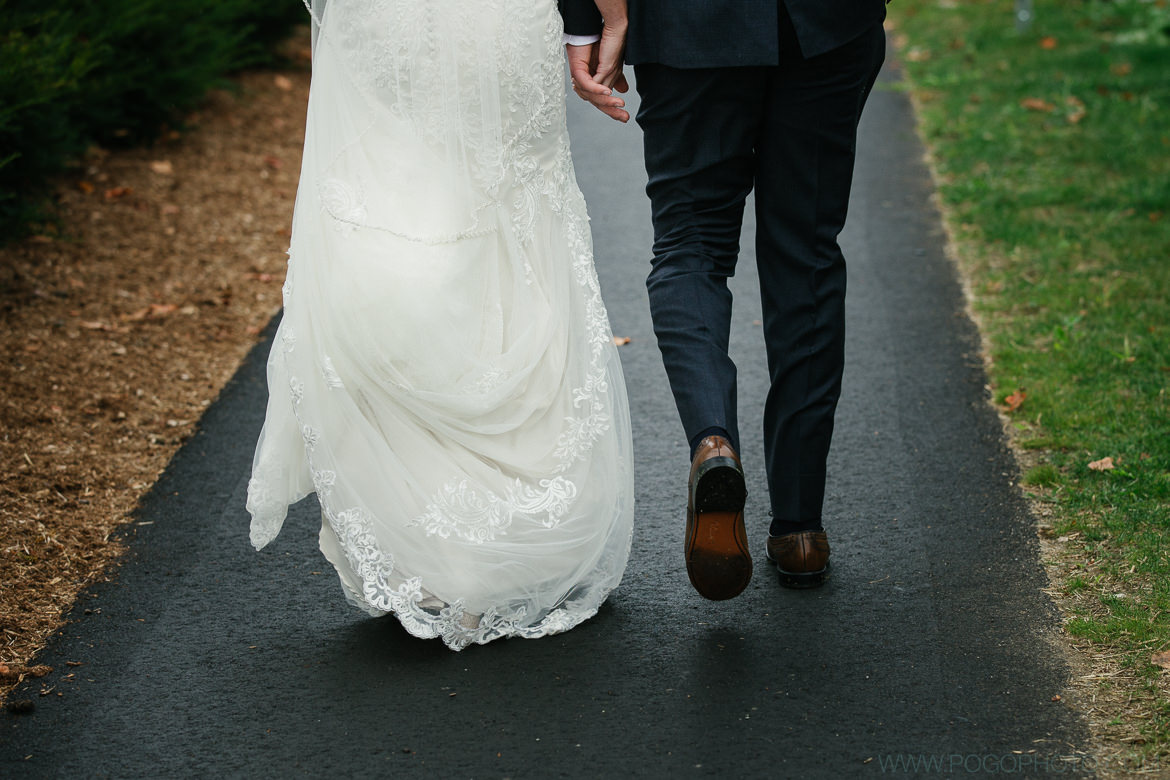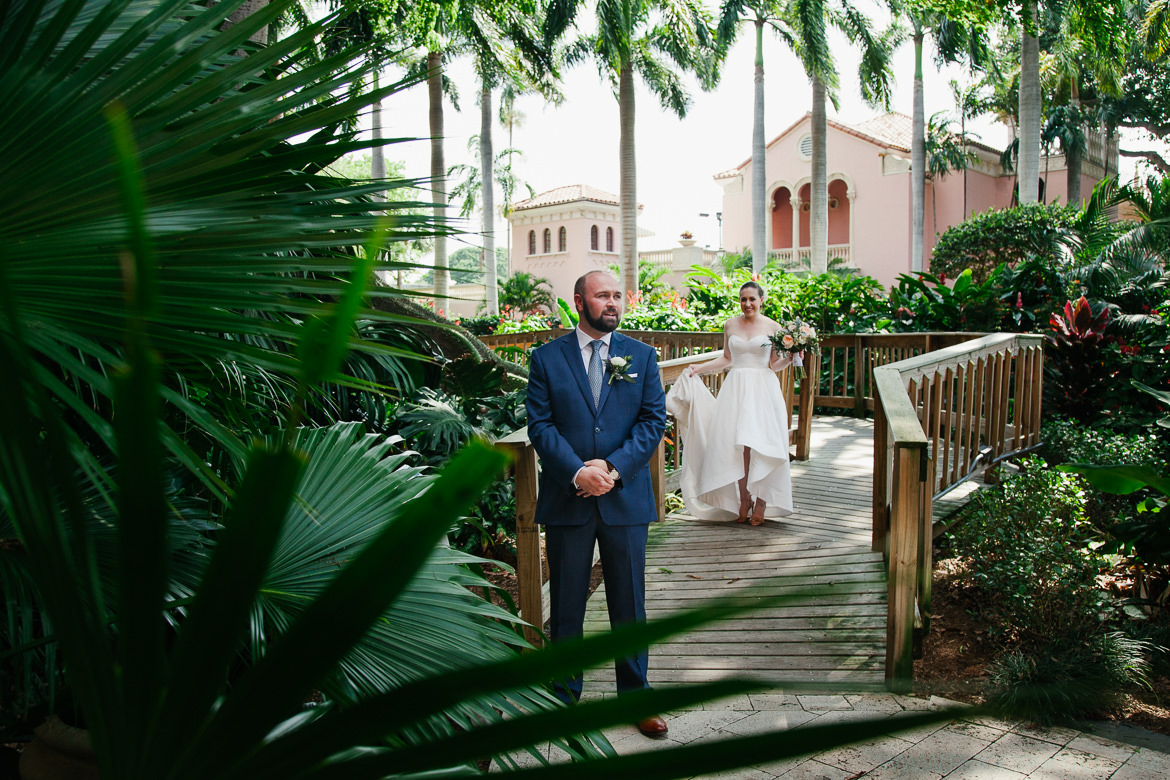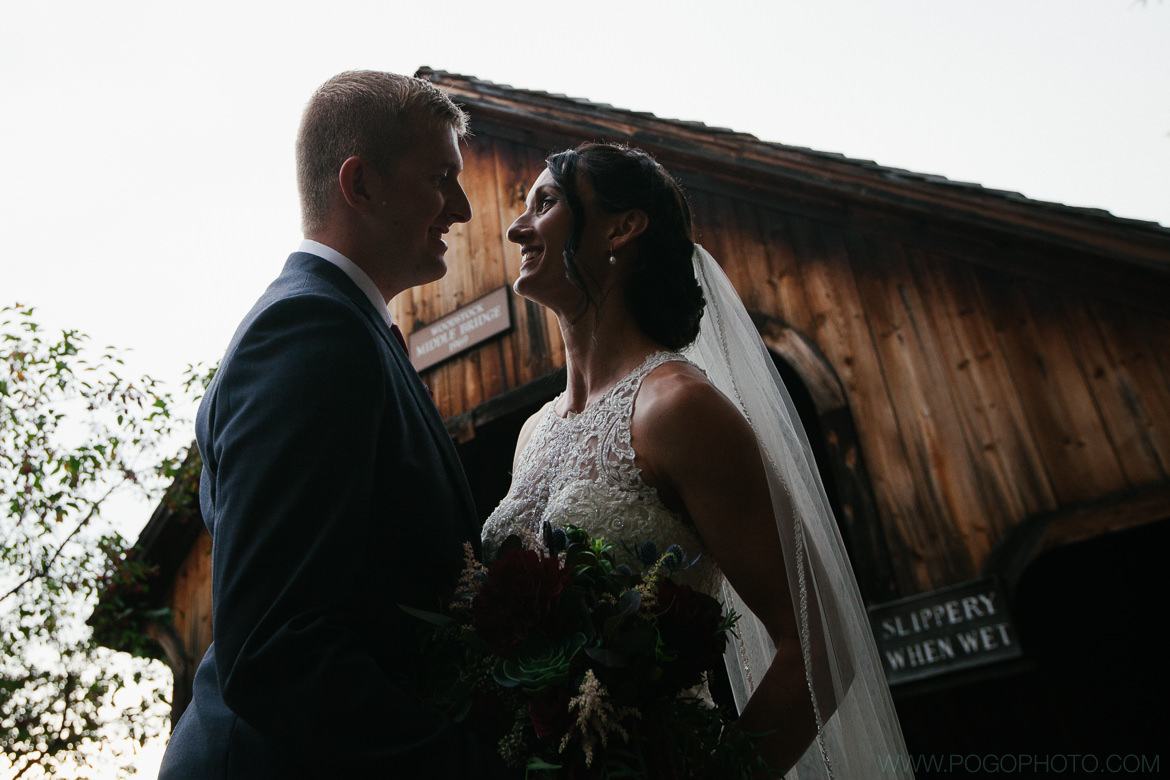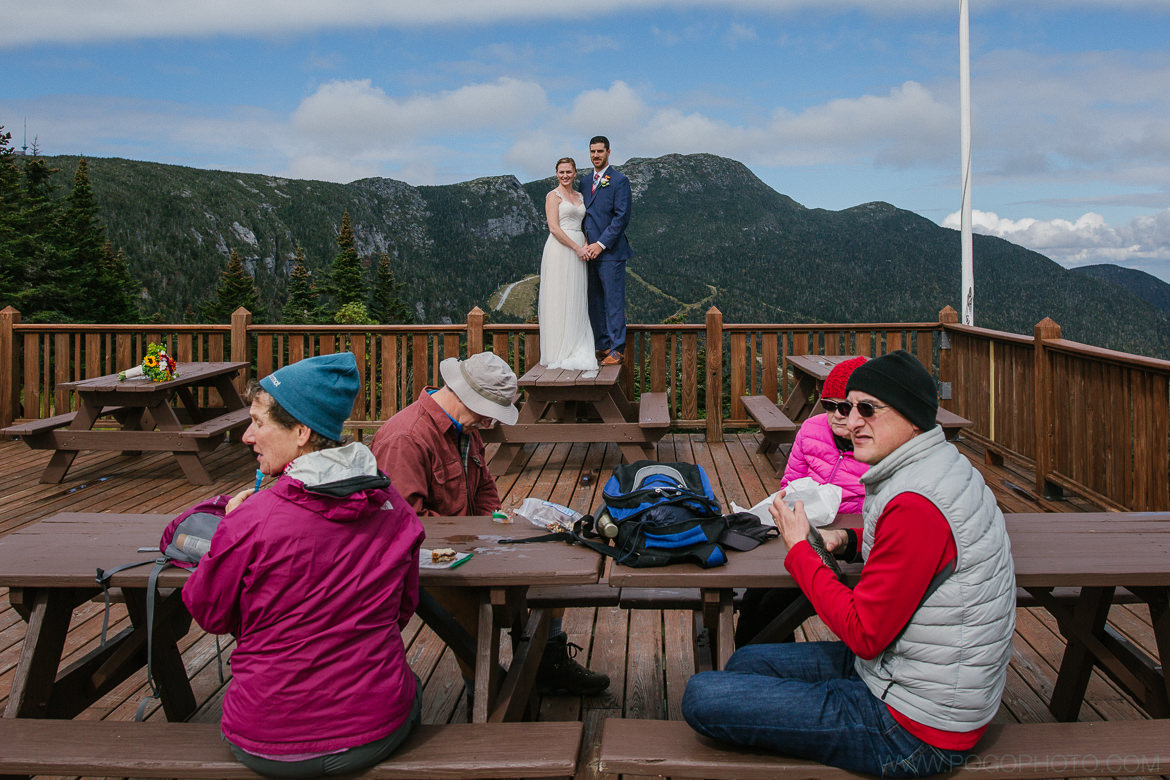 "Are we in the way? We can move!" Nope. Definitely not in the way. :-)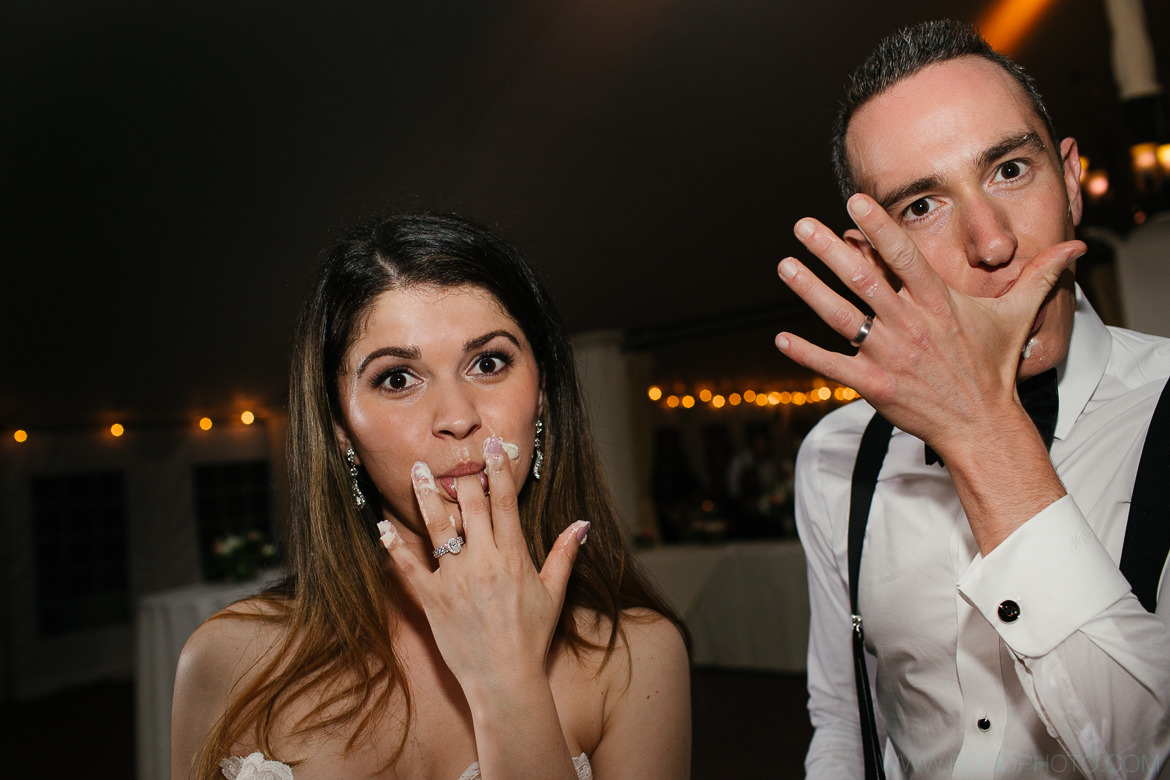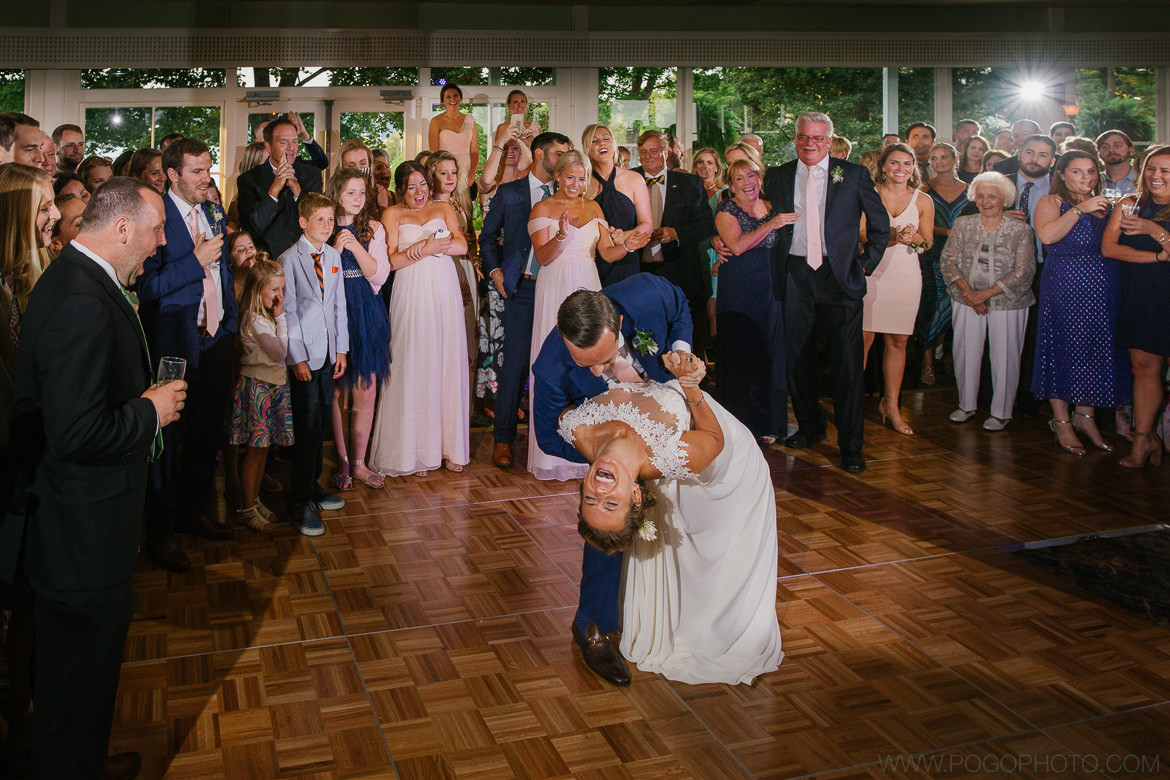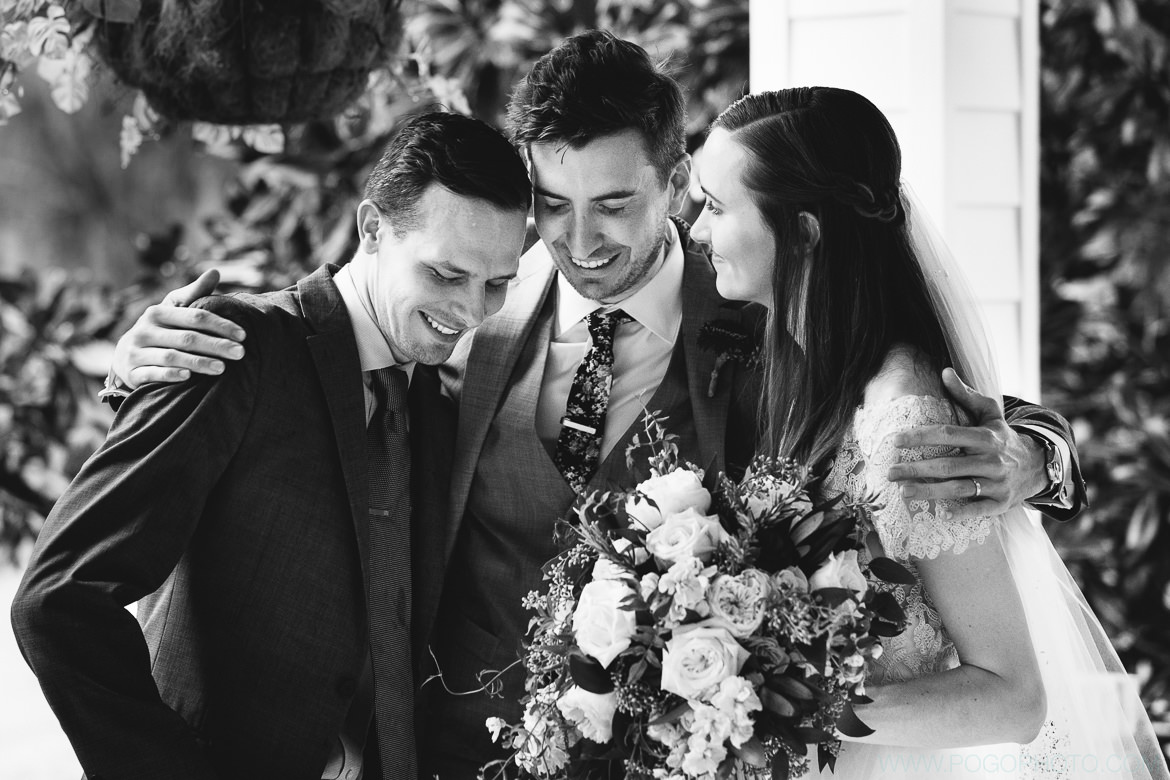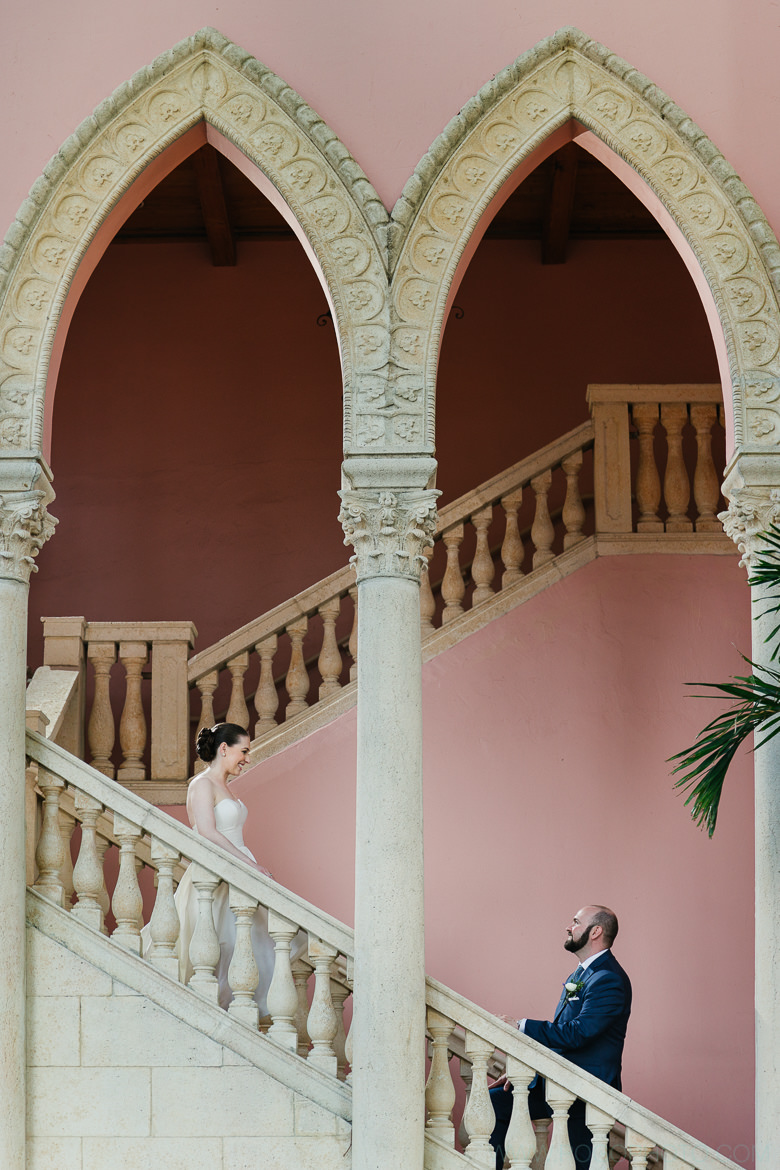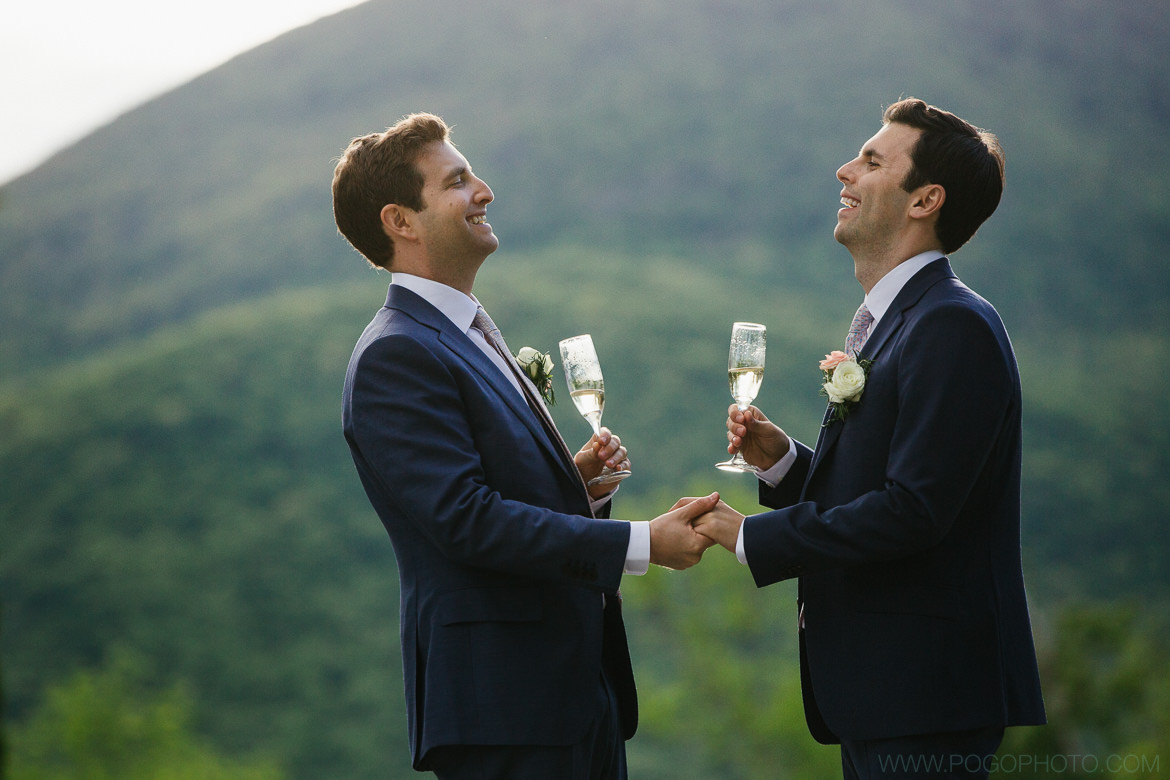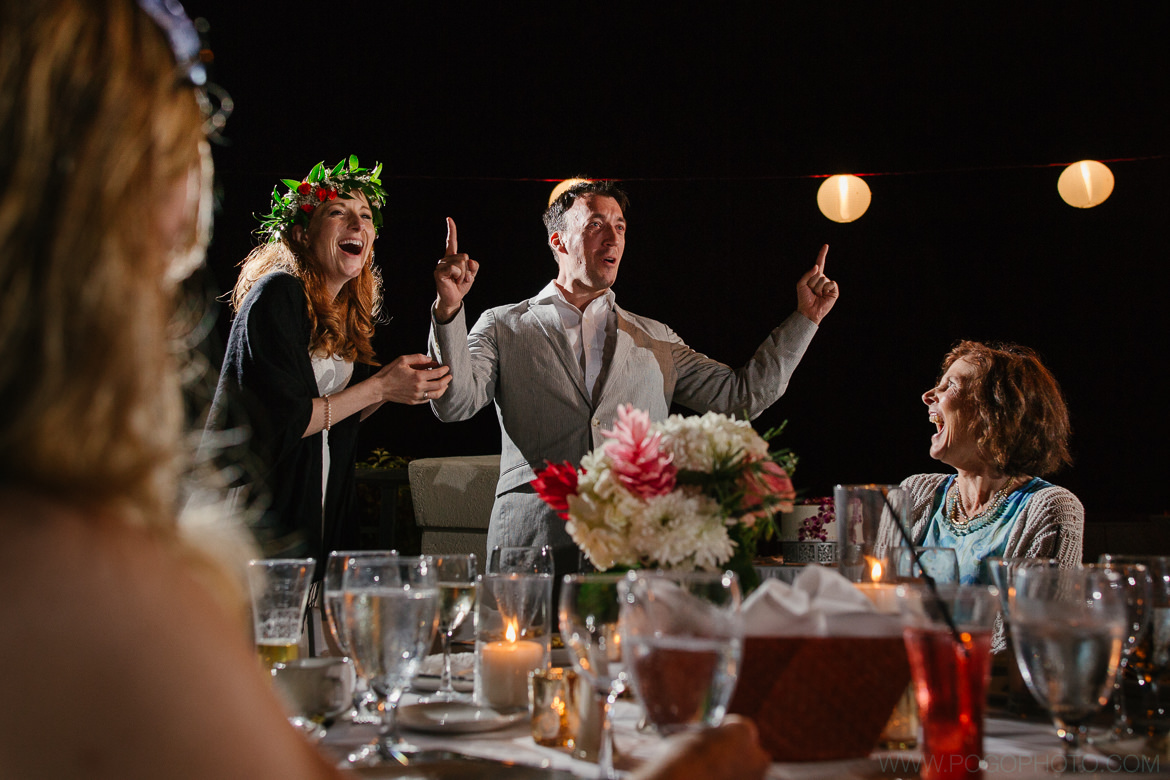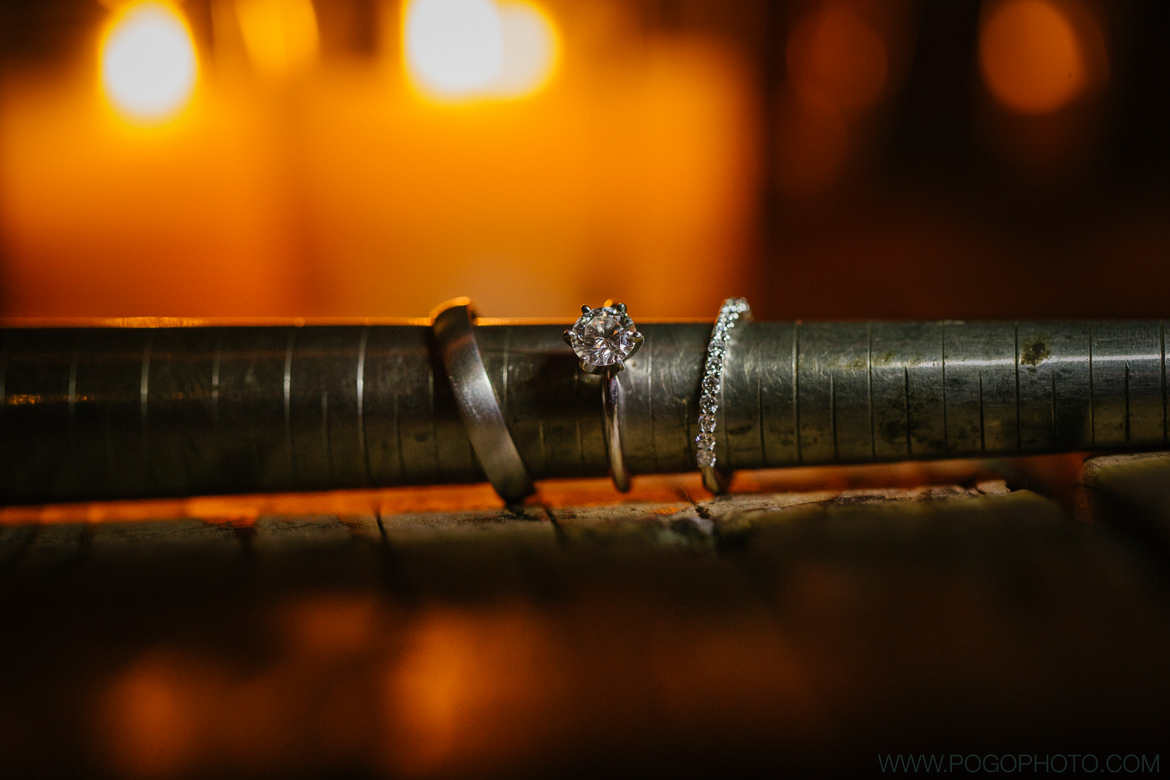 When a venue owner asks if you'd like to use an antique ring mandrel for a detail image, you say yes. (Helps if you know what it is already…) Thanks for being awesome, Inn at the Round Barn Farm!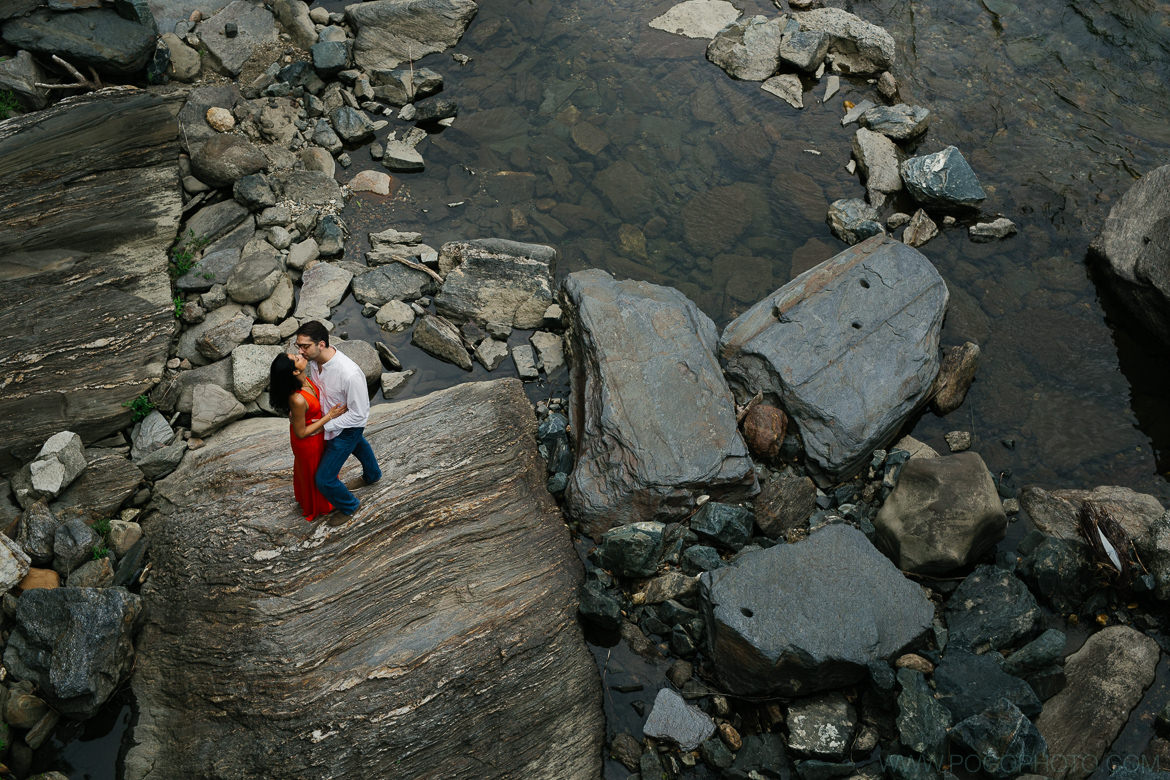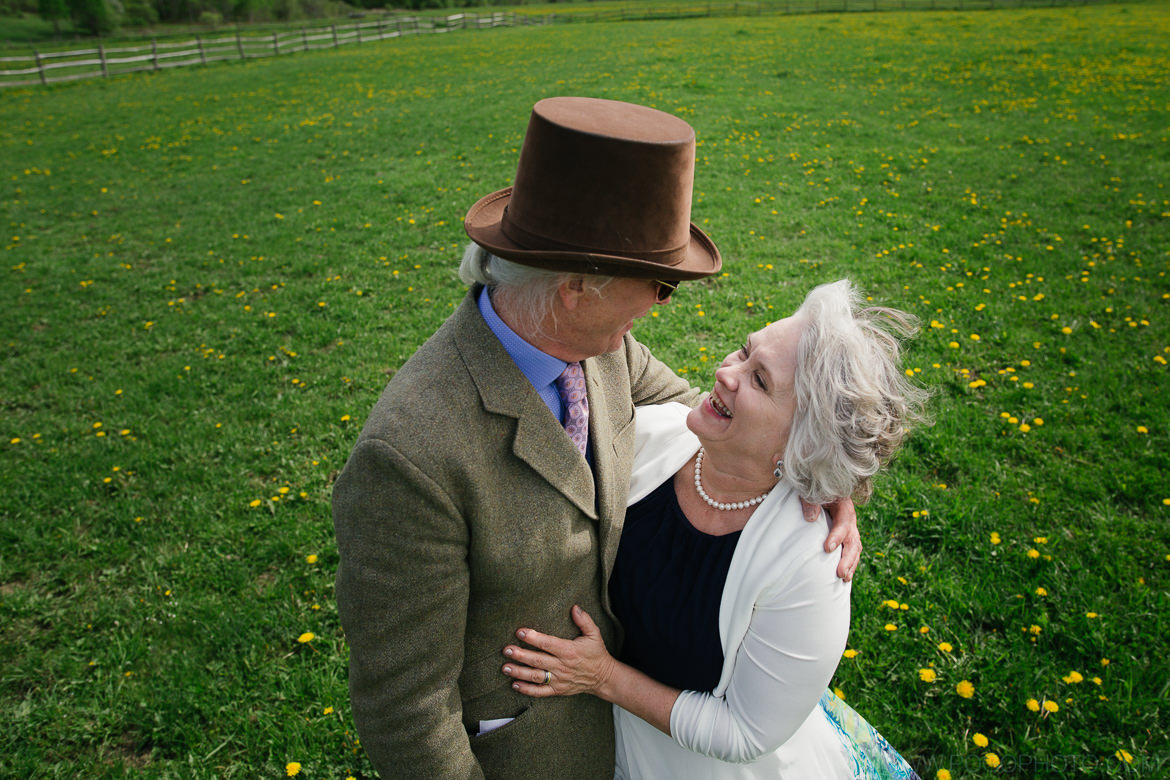 Em's favorite photo of her exuberantly happy momma on her wedding day. (Also: YAY NEW FAMILY!)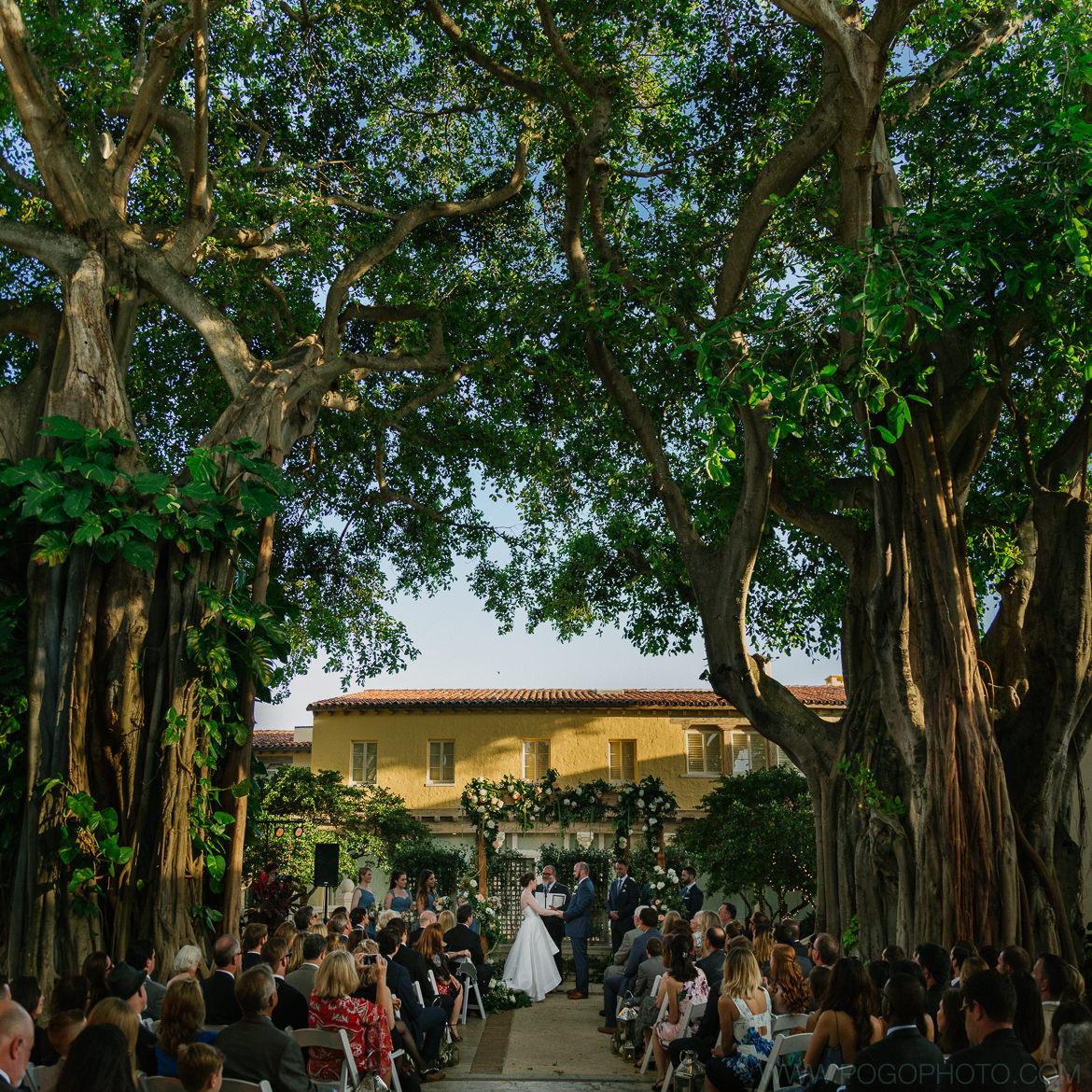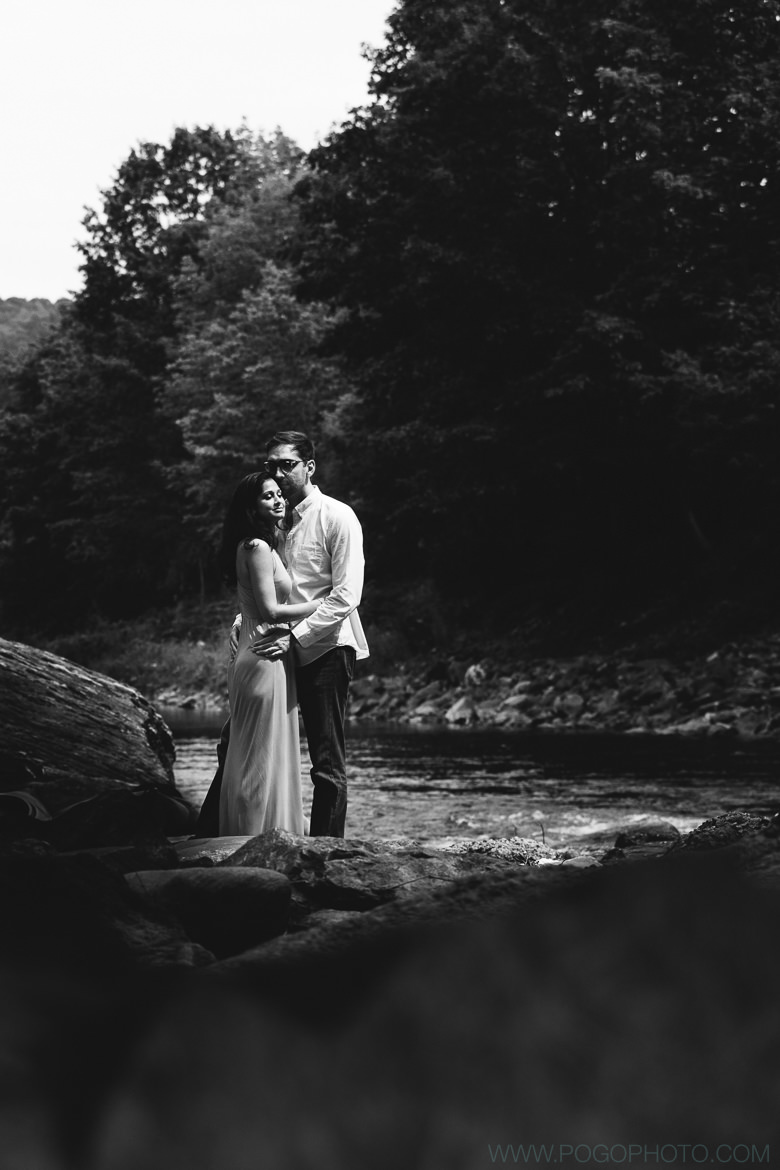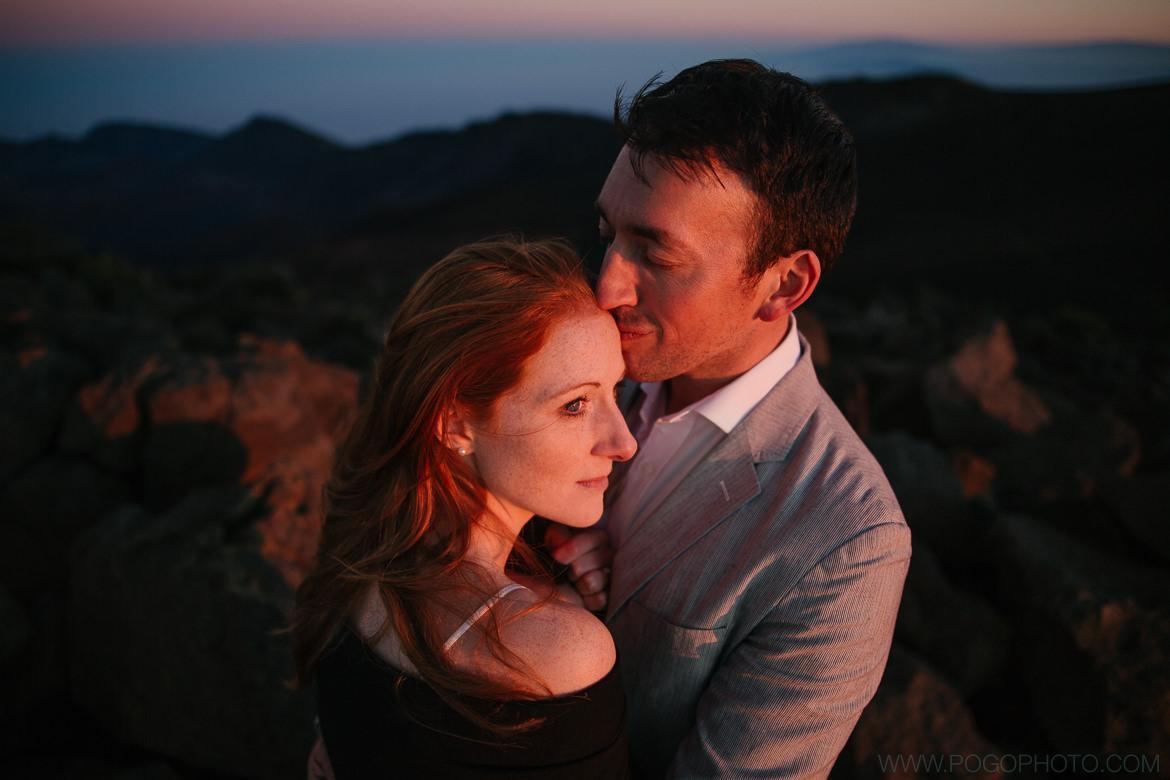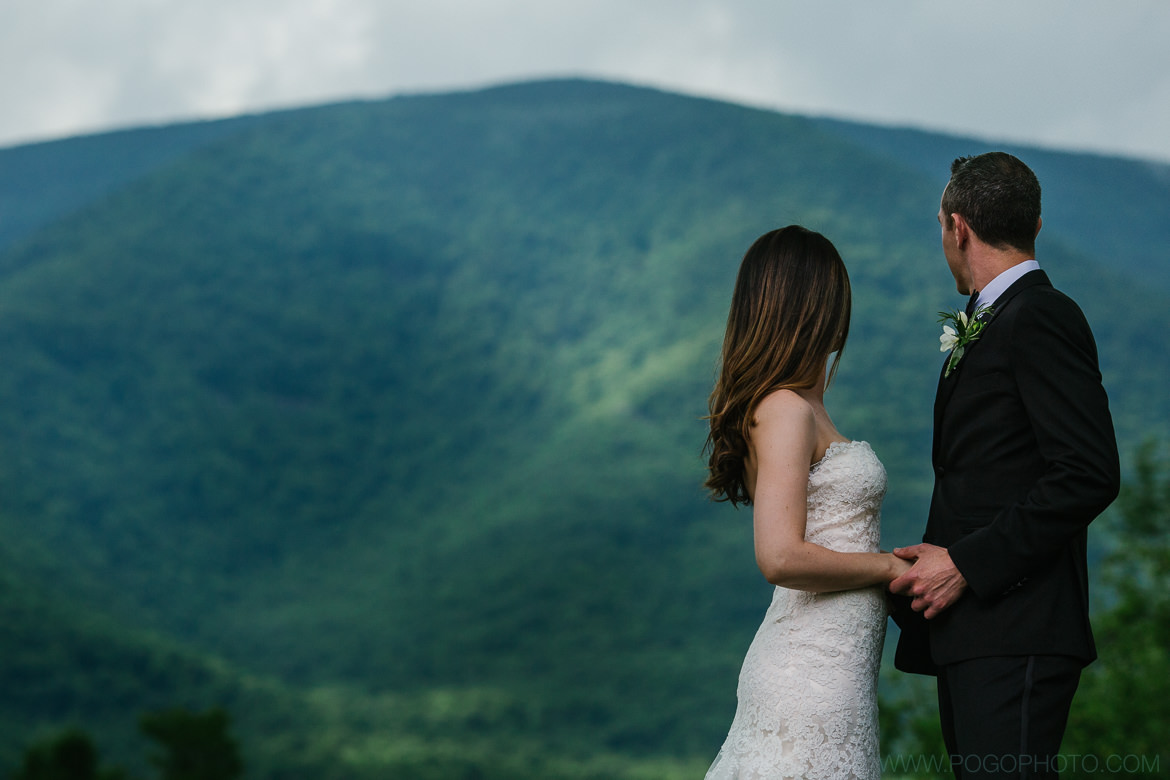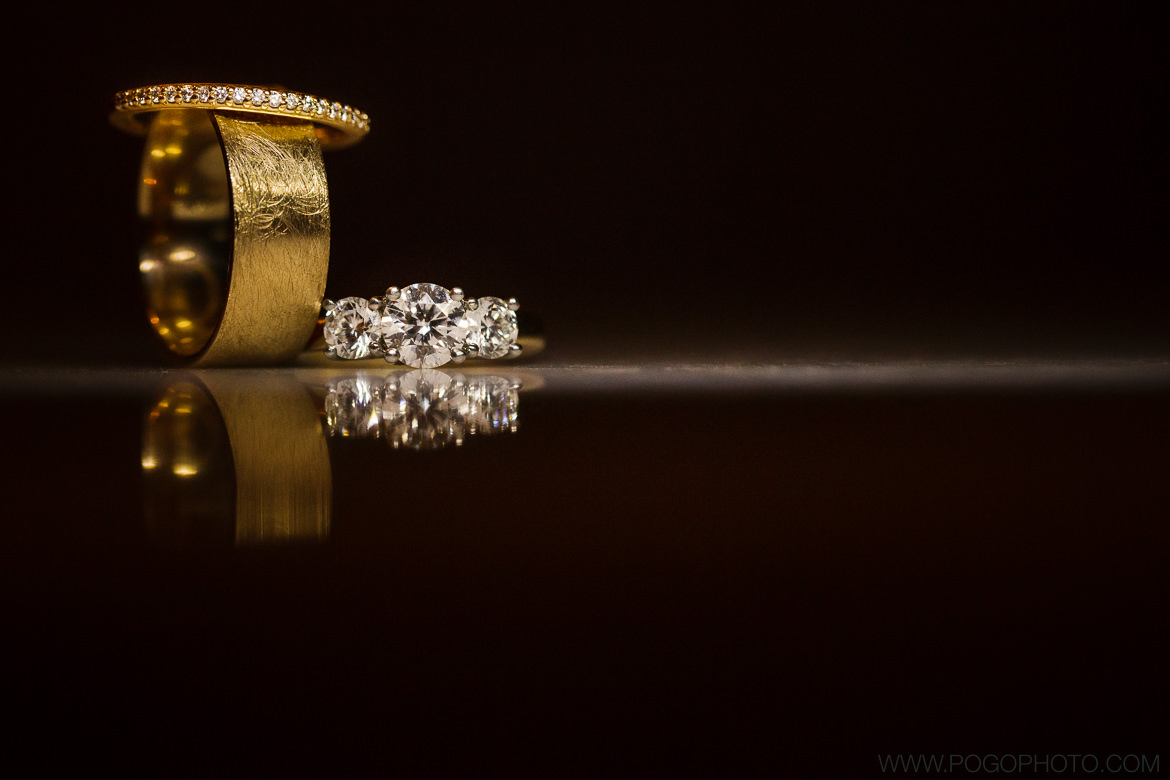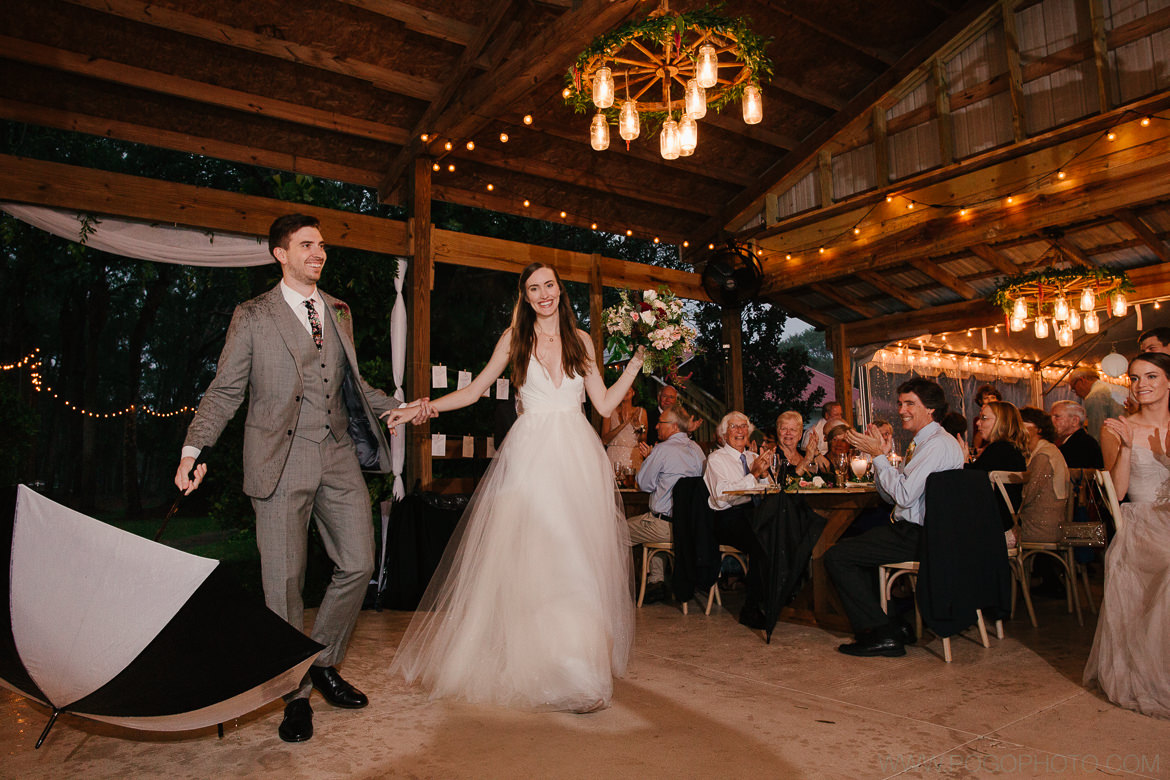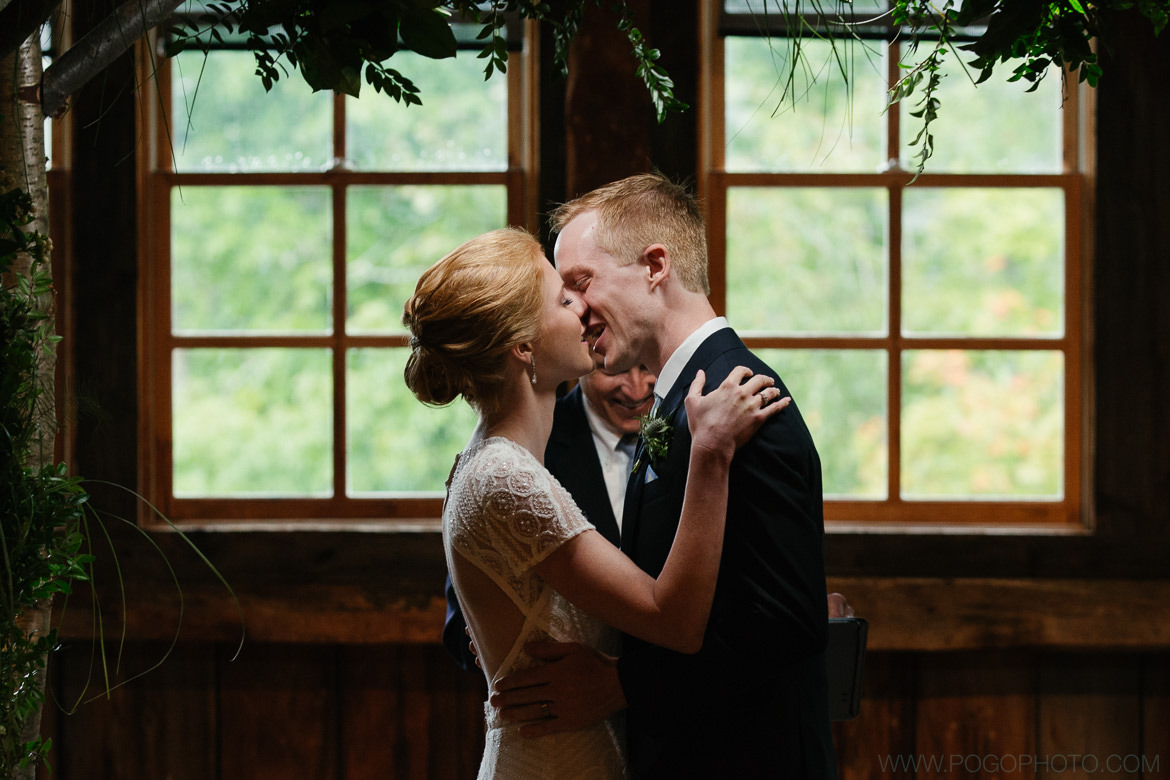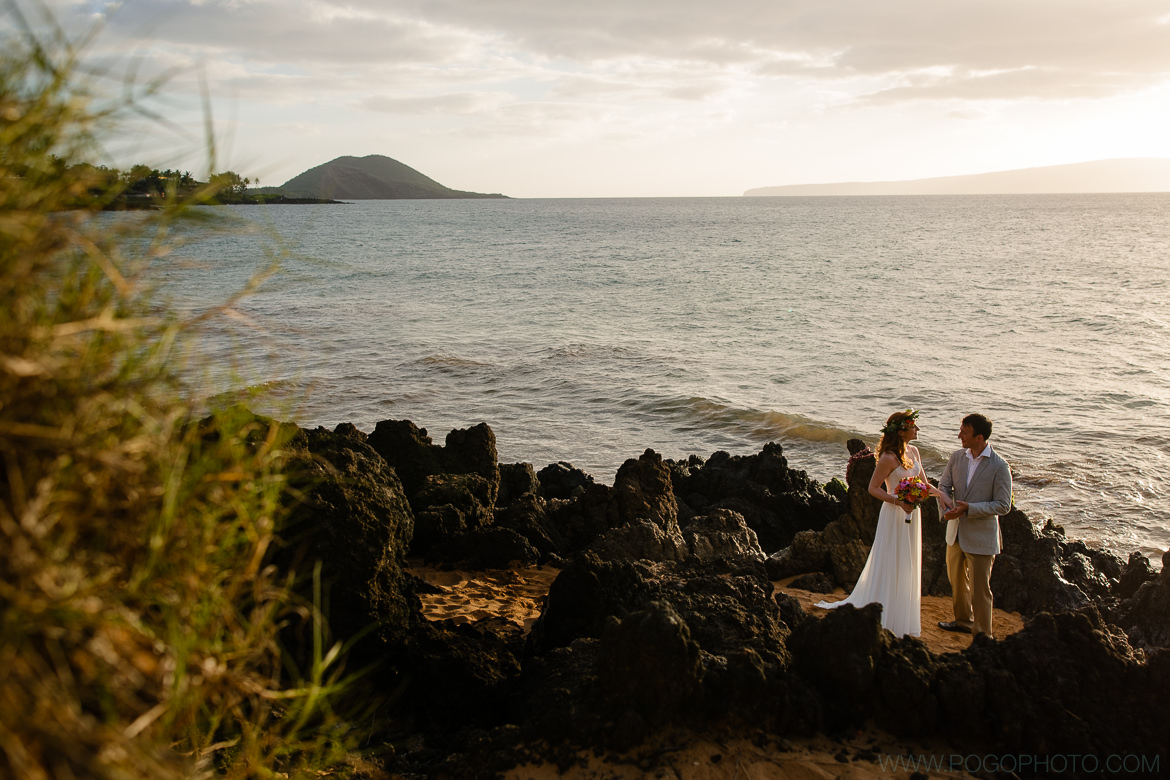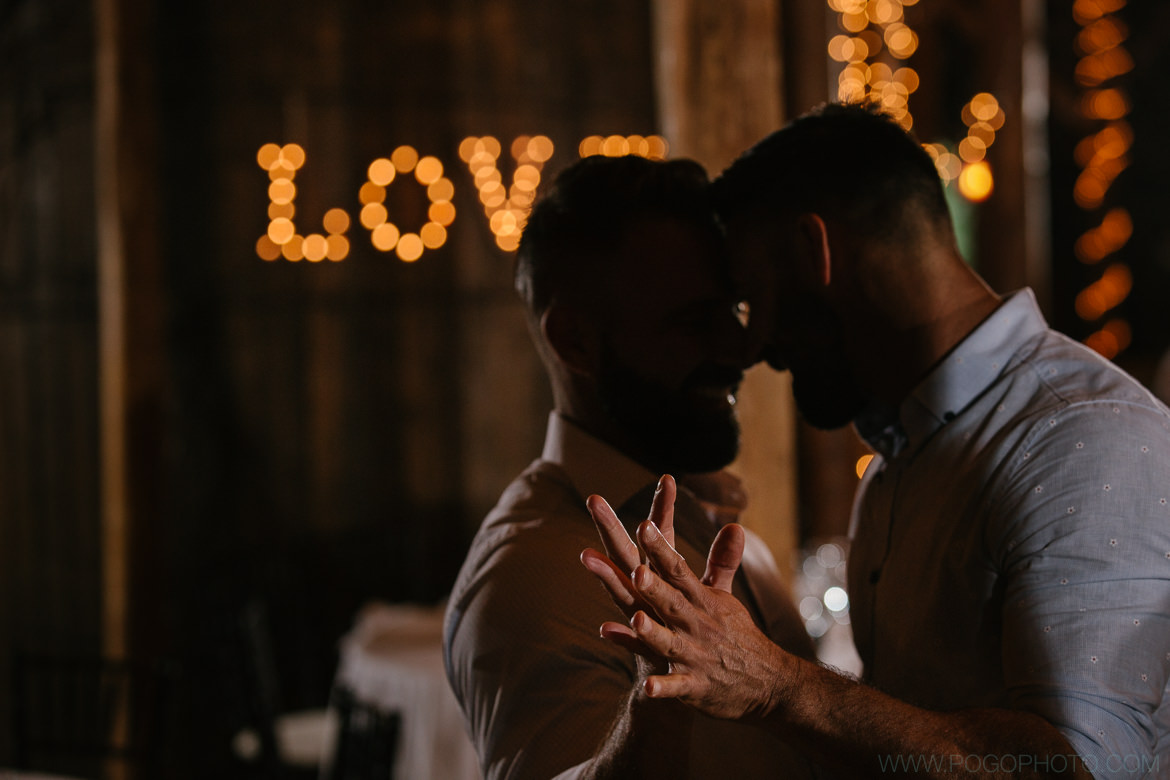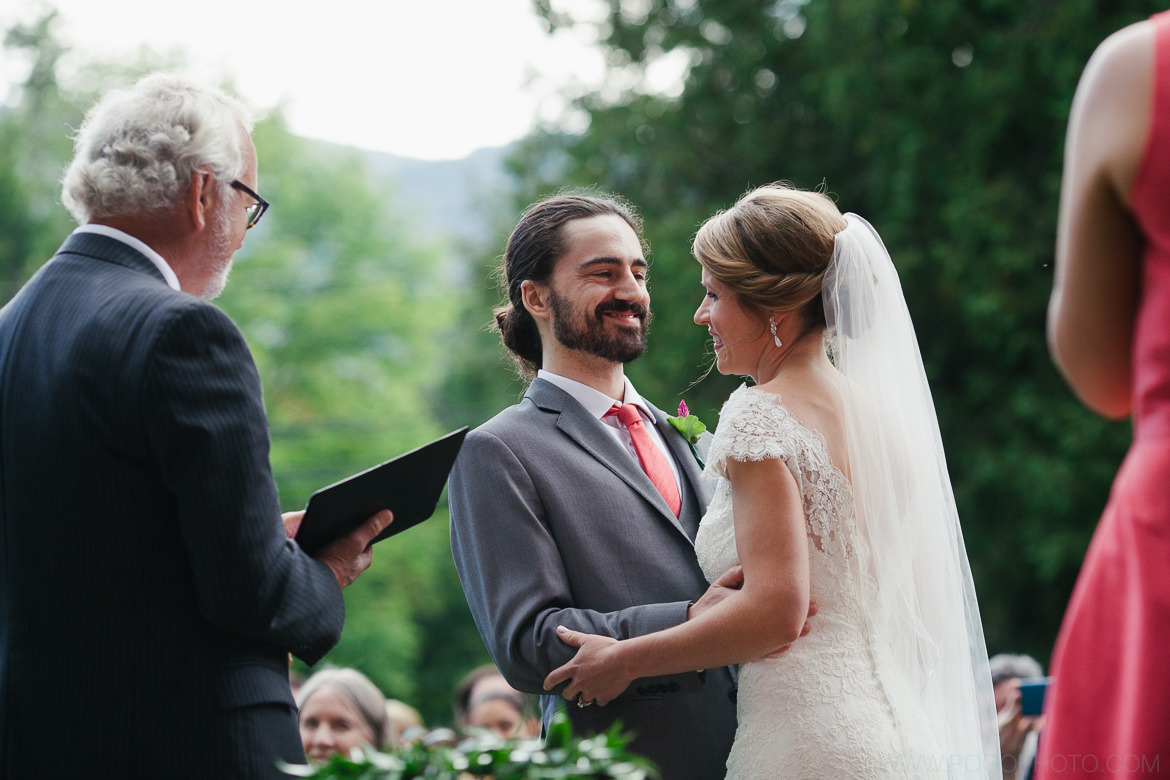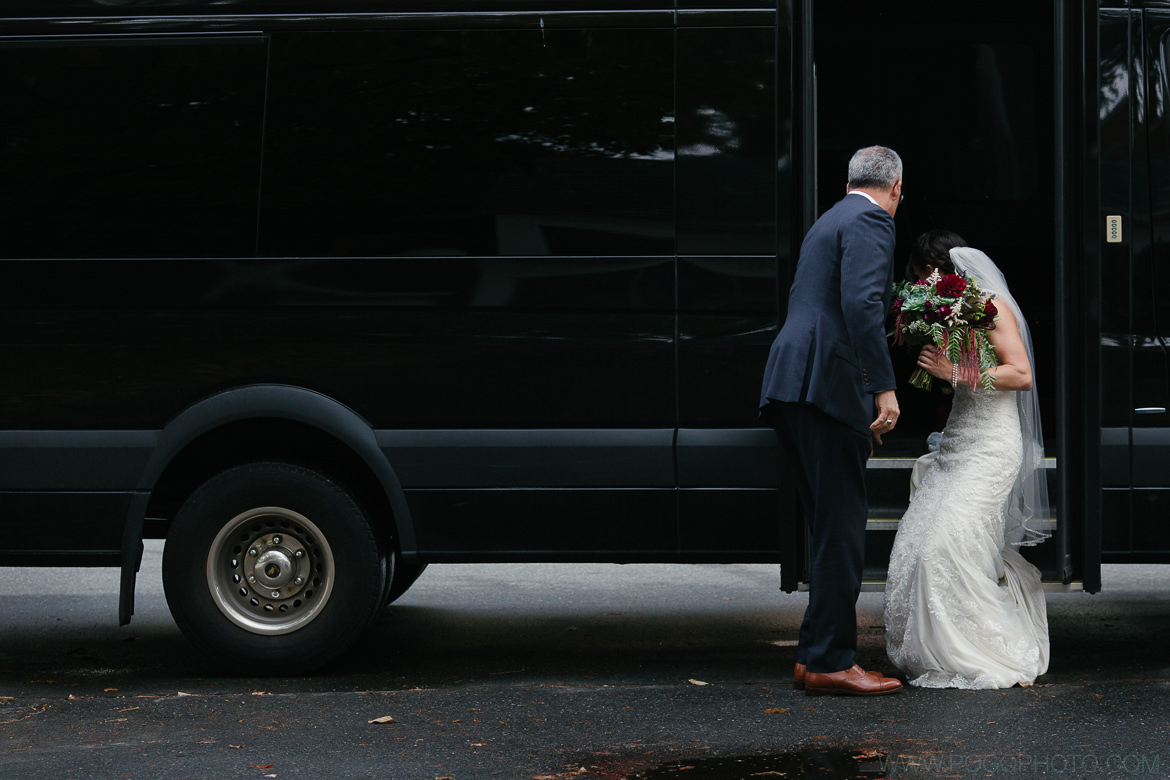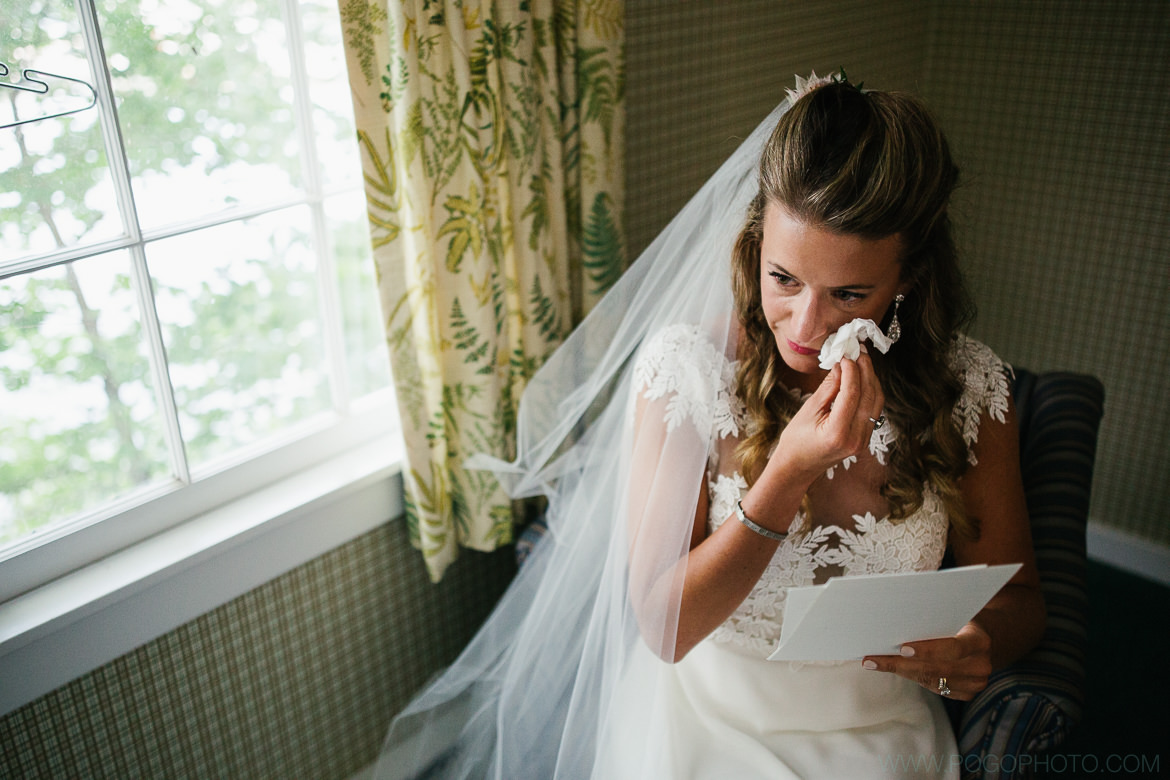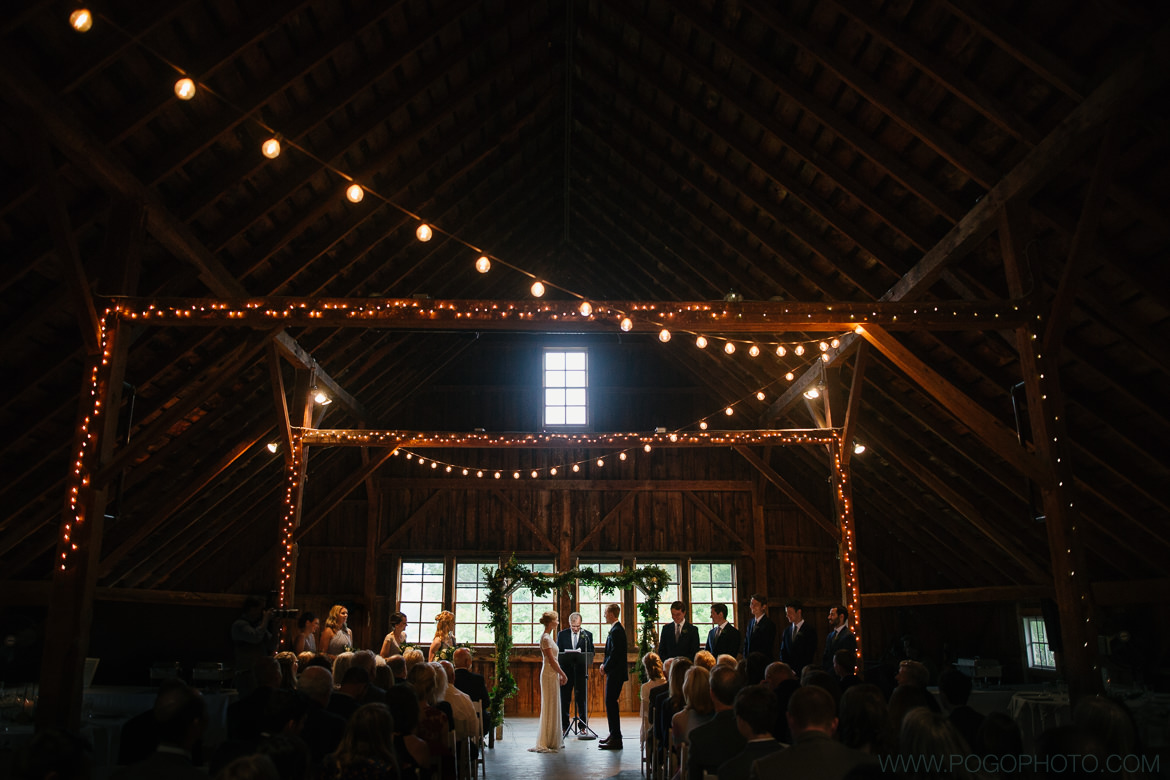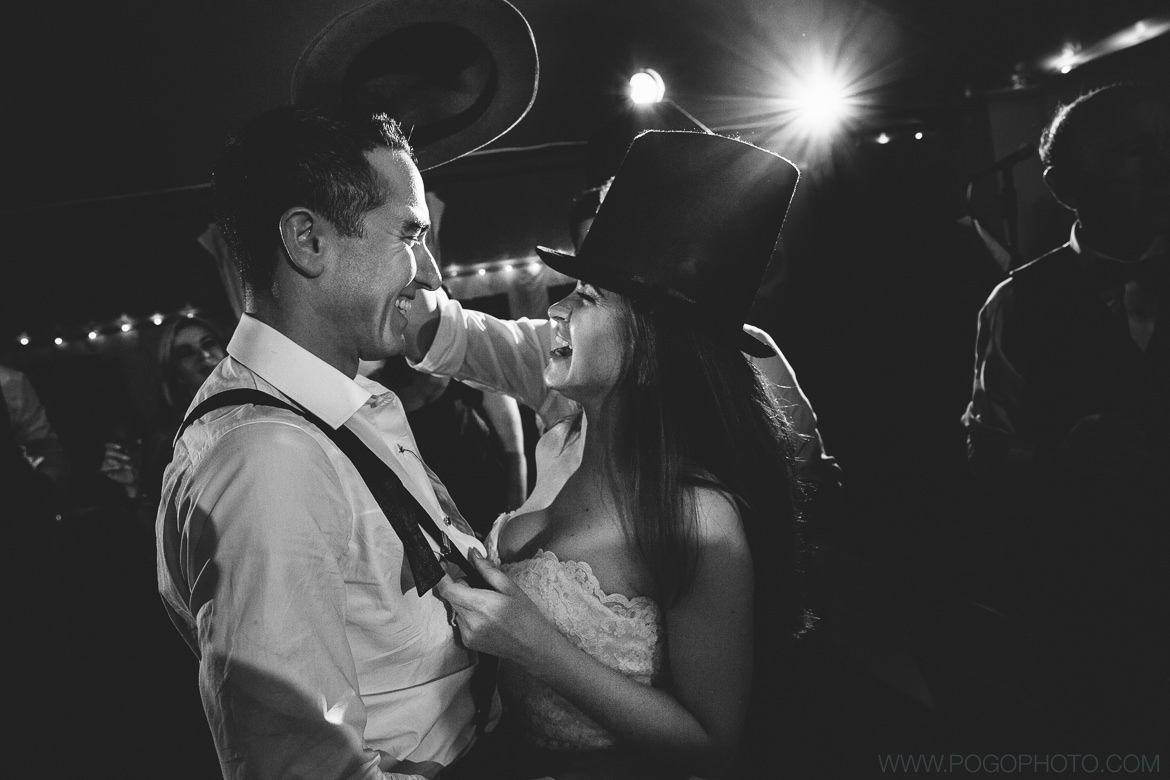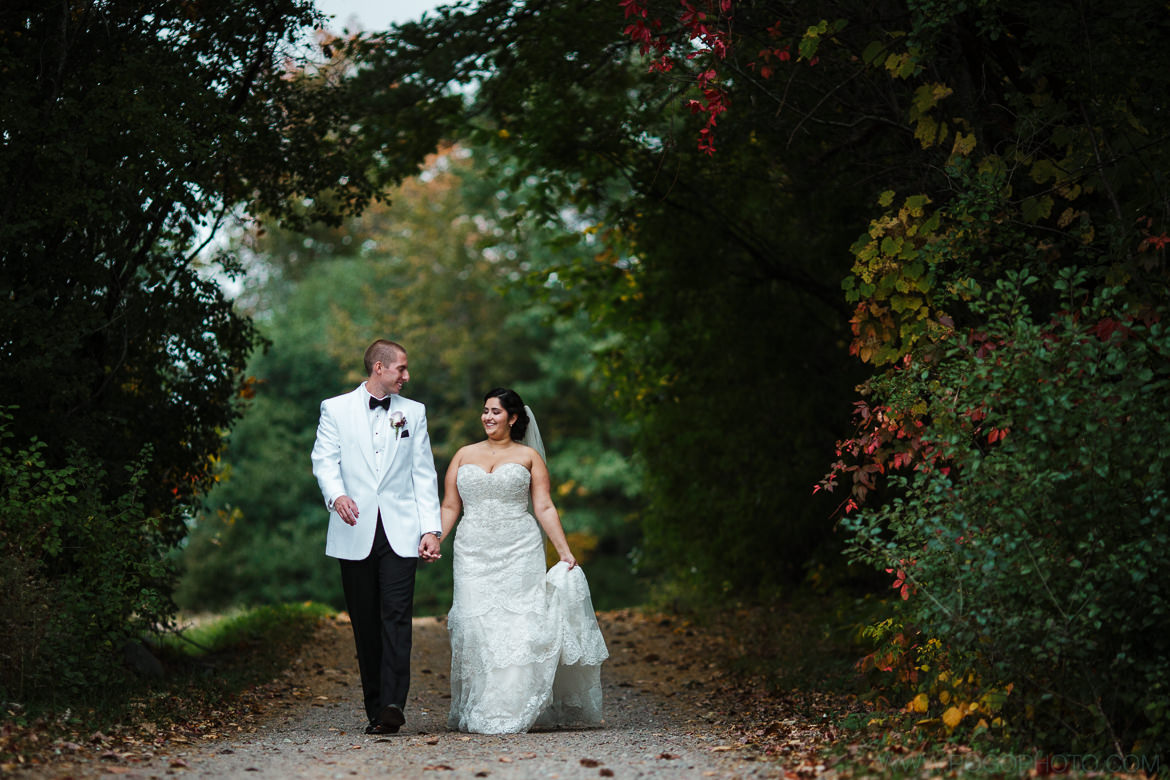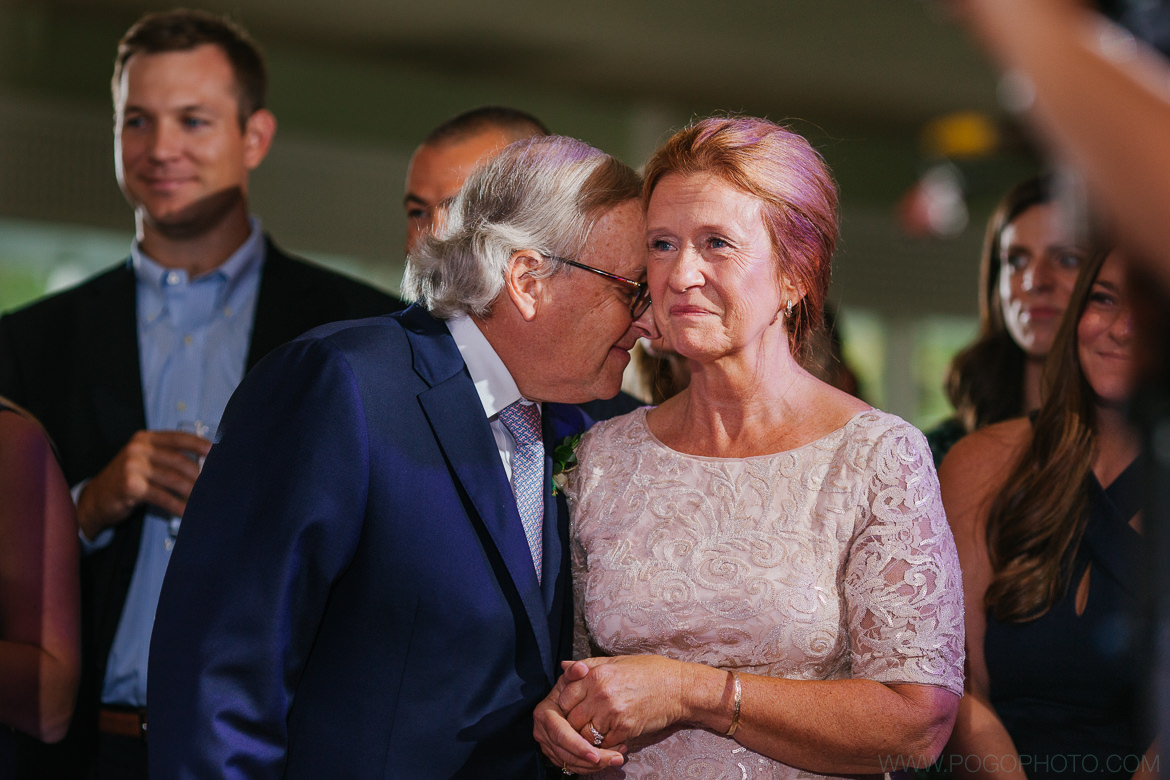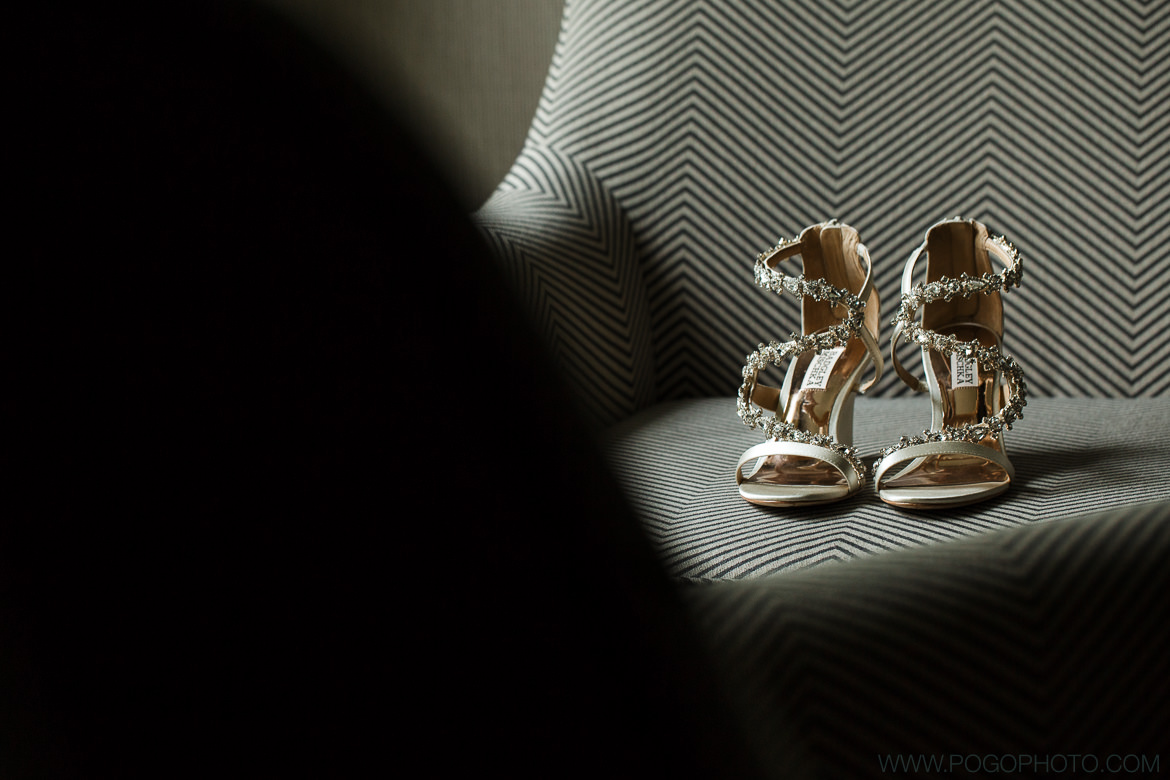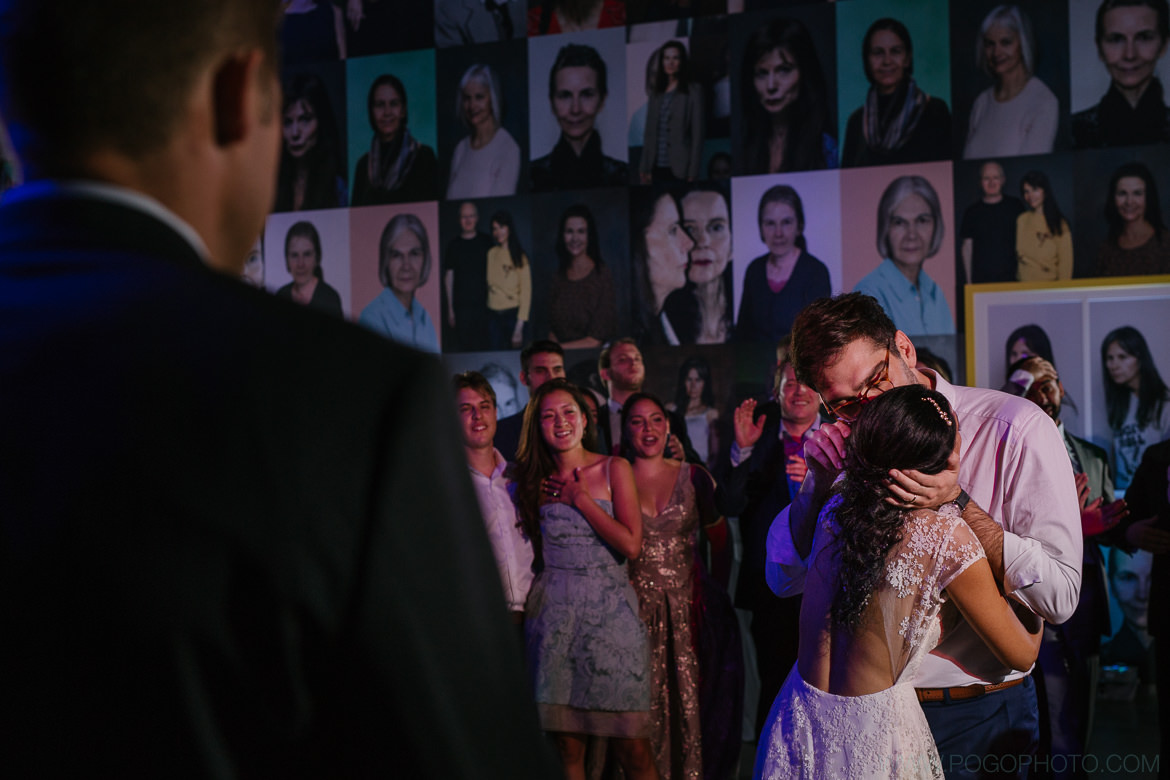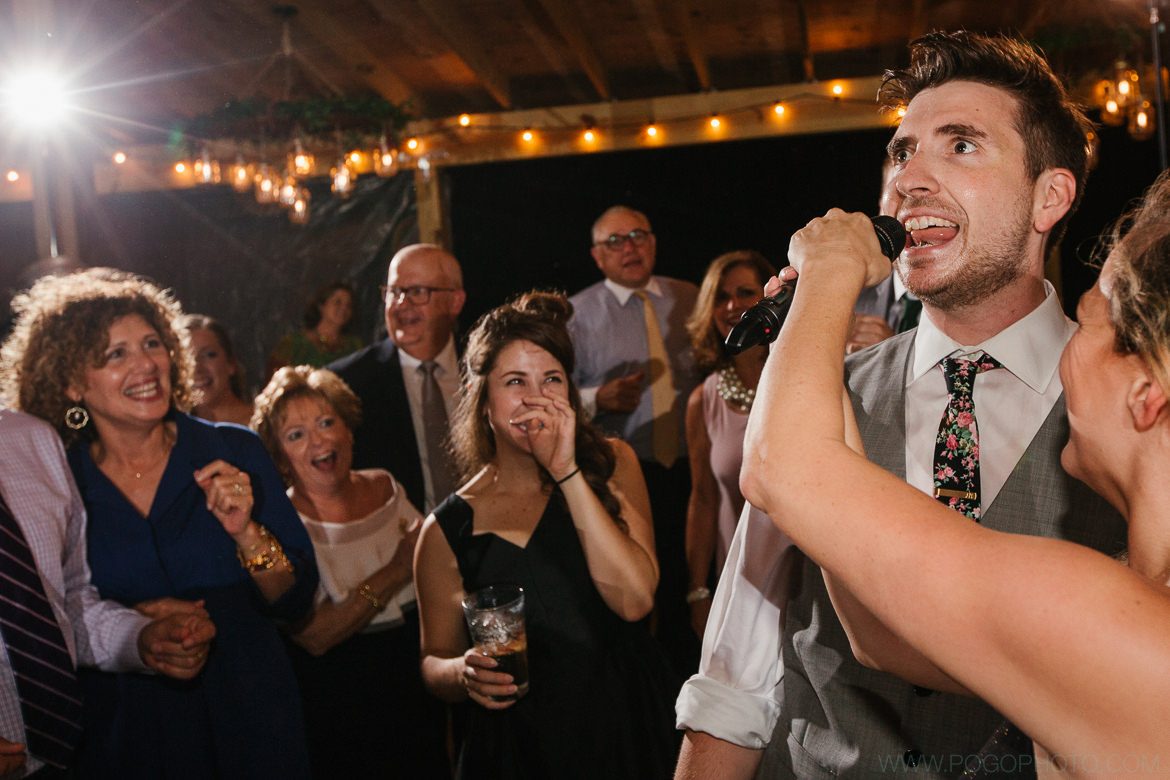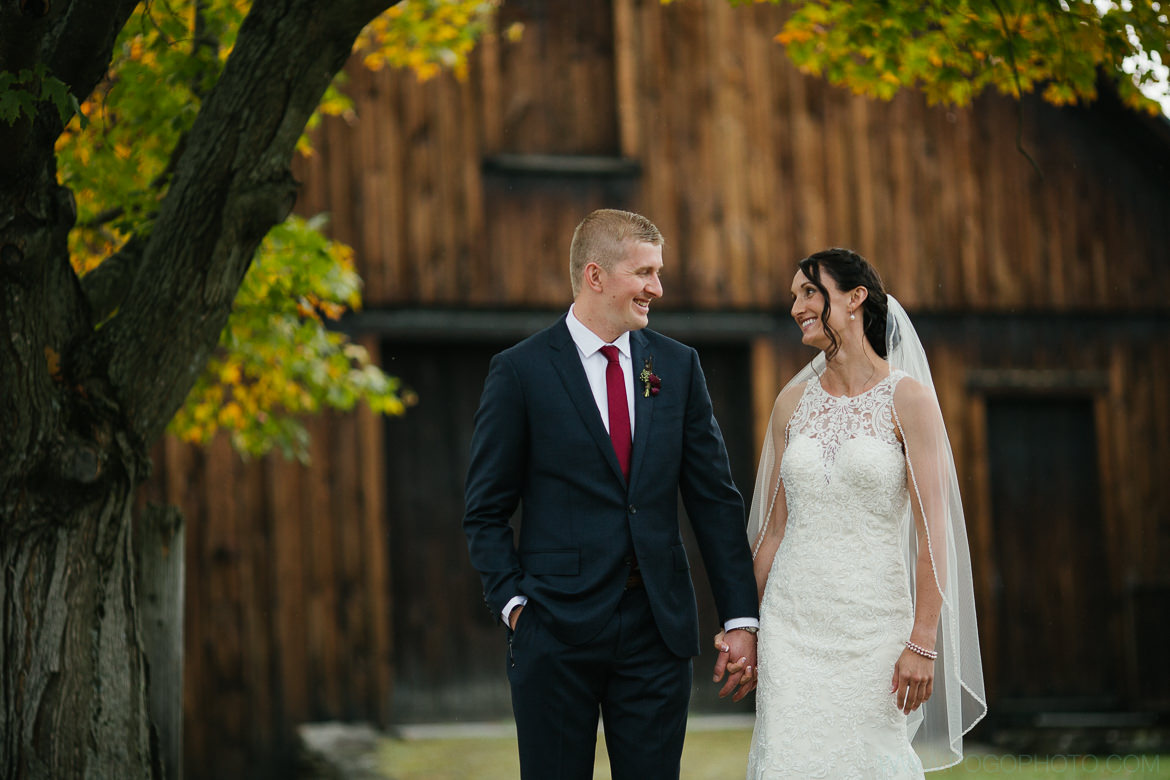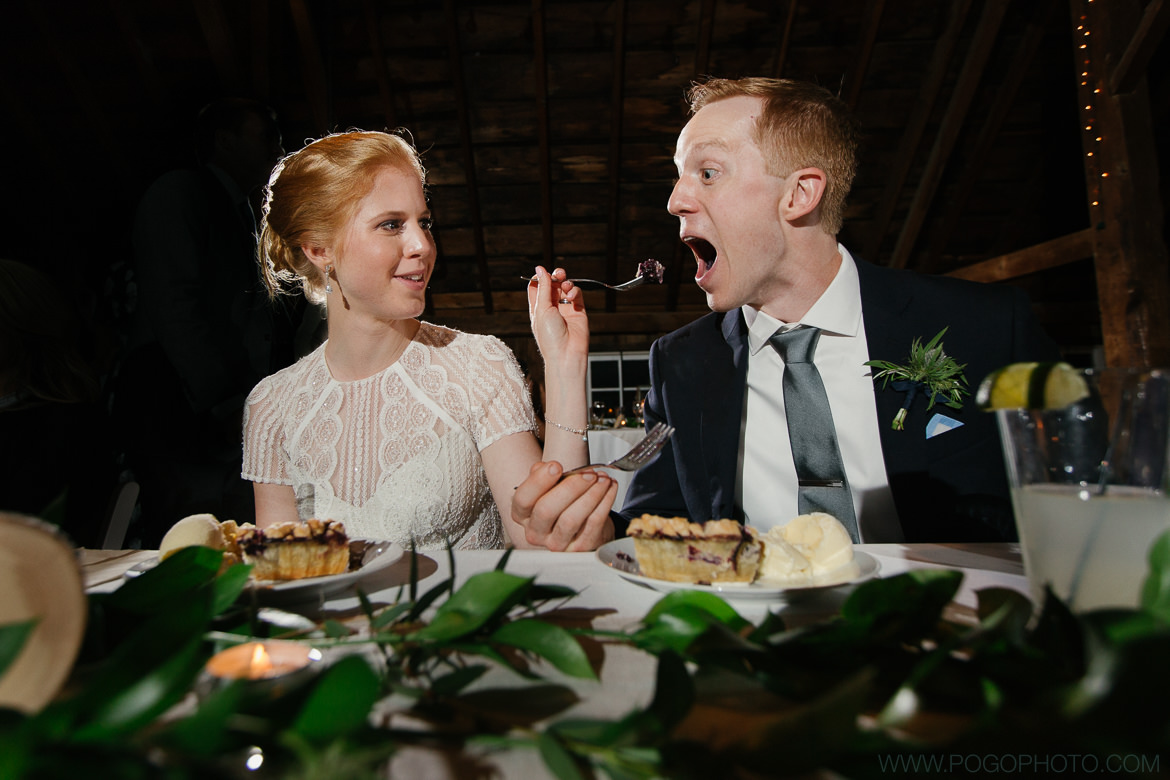 WOW, thank you for reading and scrolling this far down! That wraps it up for our favorites from the year… but we promised you some behind the scenes shots, so keep scrolling. :-)
Dance floor selfies have become a Pogo trademark. Not always successful (damn cameras are heavy and there's no way to see what you're doing), but when they work we think they're hilarious.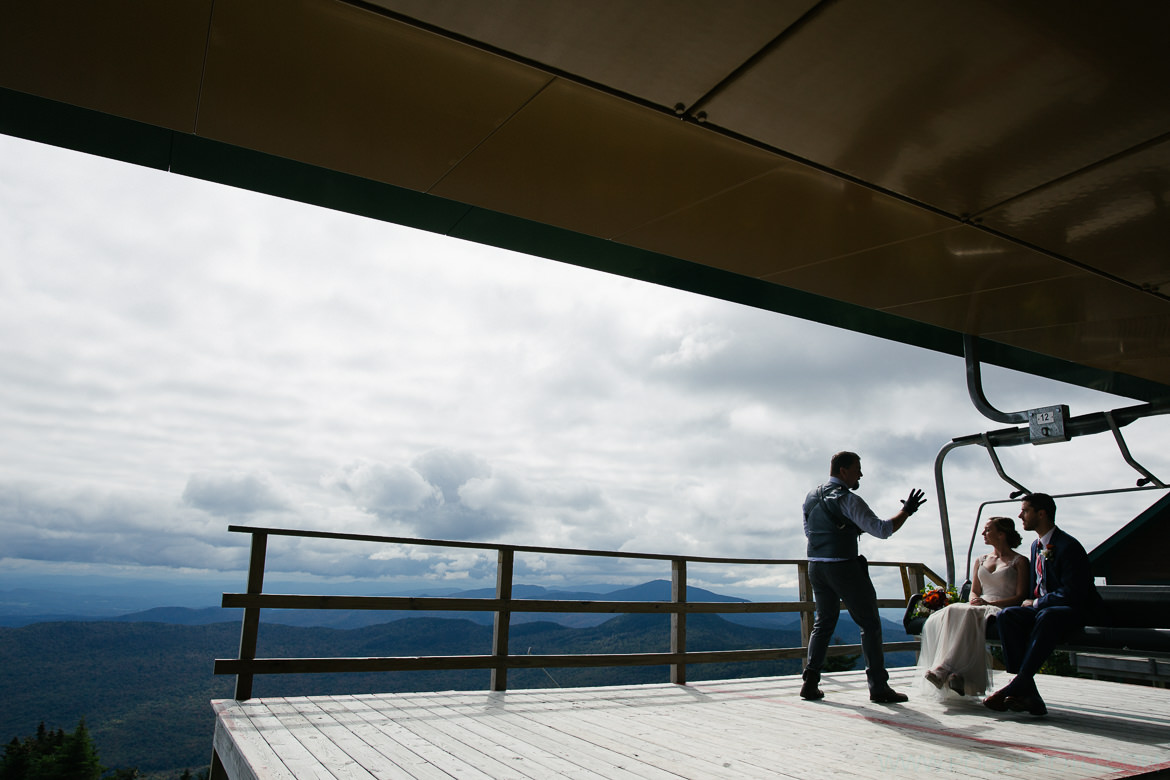 We promise Steve did not strangle anyone. The gloves were for warmth.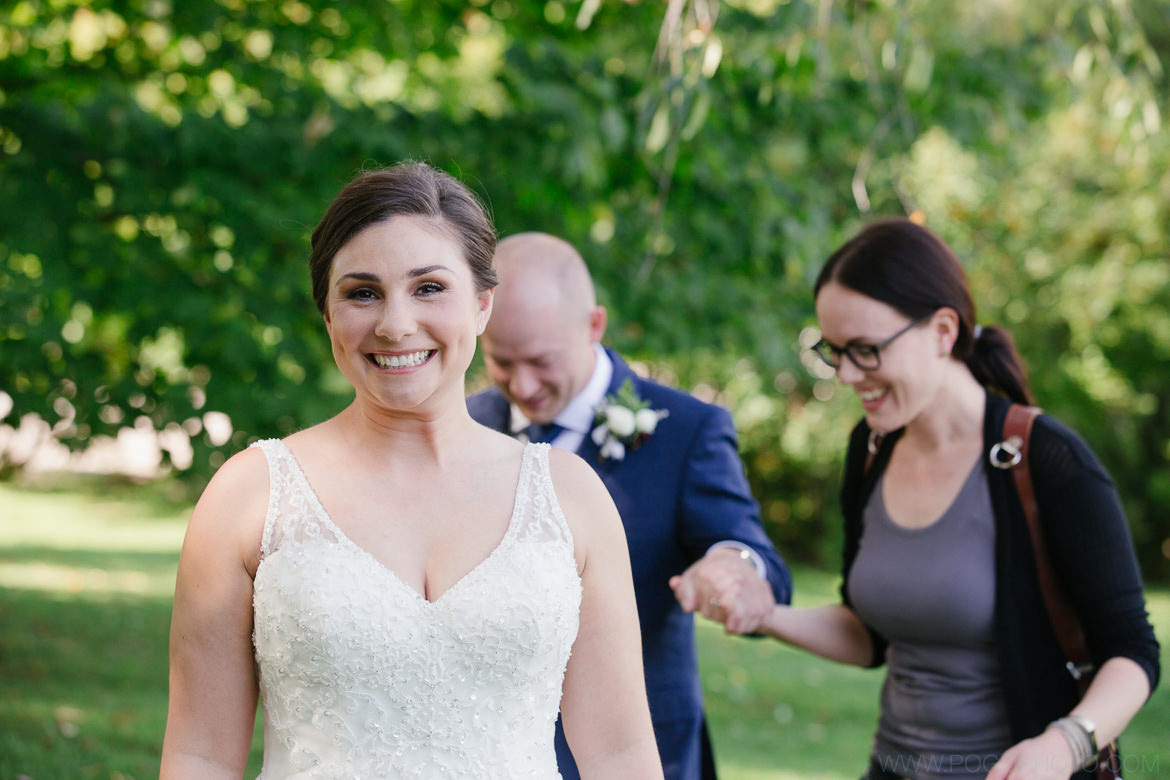 Lumpy ground + closed eyes = Em lending a helping hand for a first look.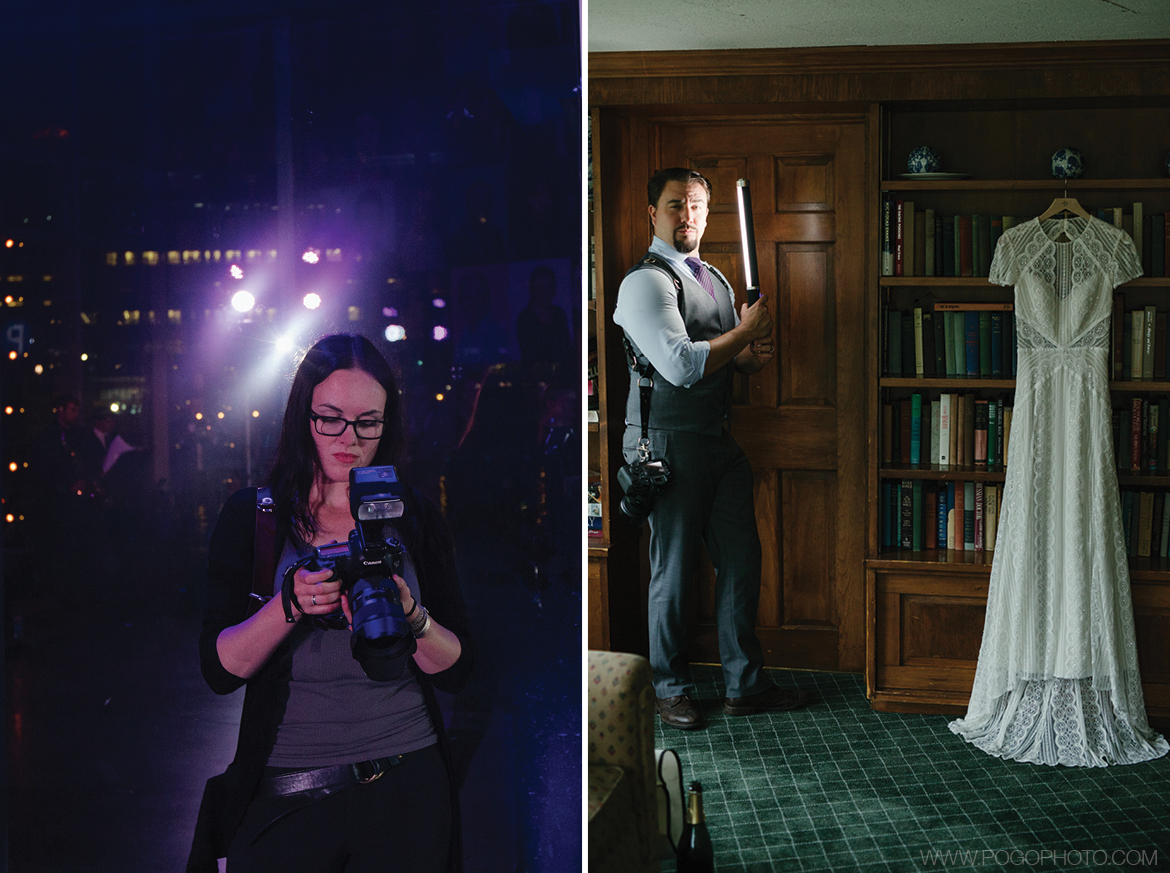 A typical "hmm" face (she's not mad); Steve helpfully lighting himself rather than the dress.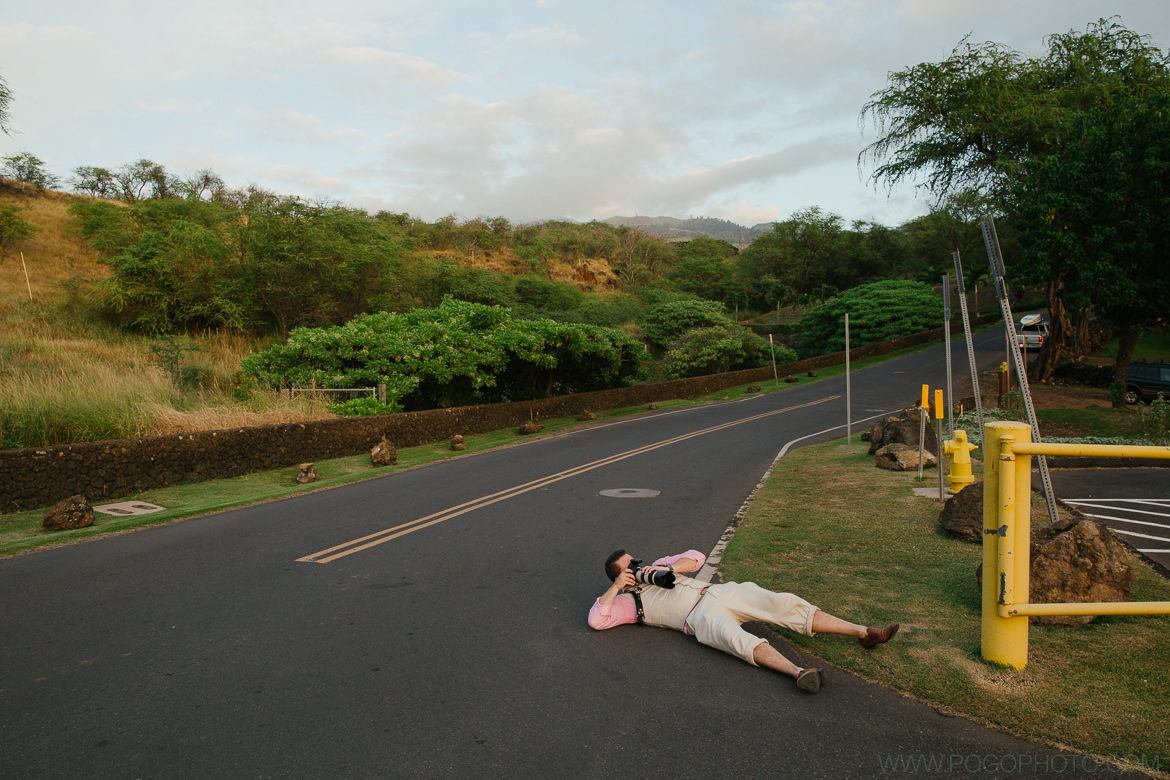 (He lived.)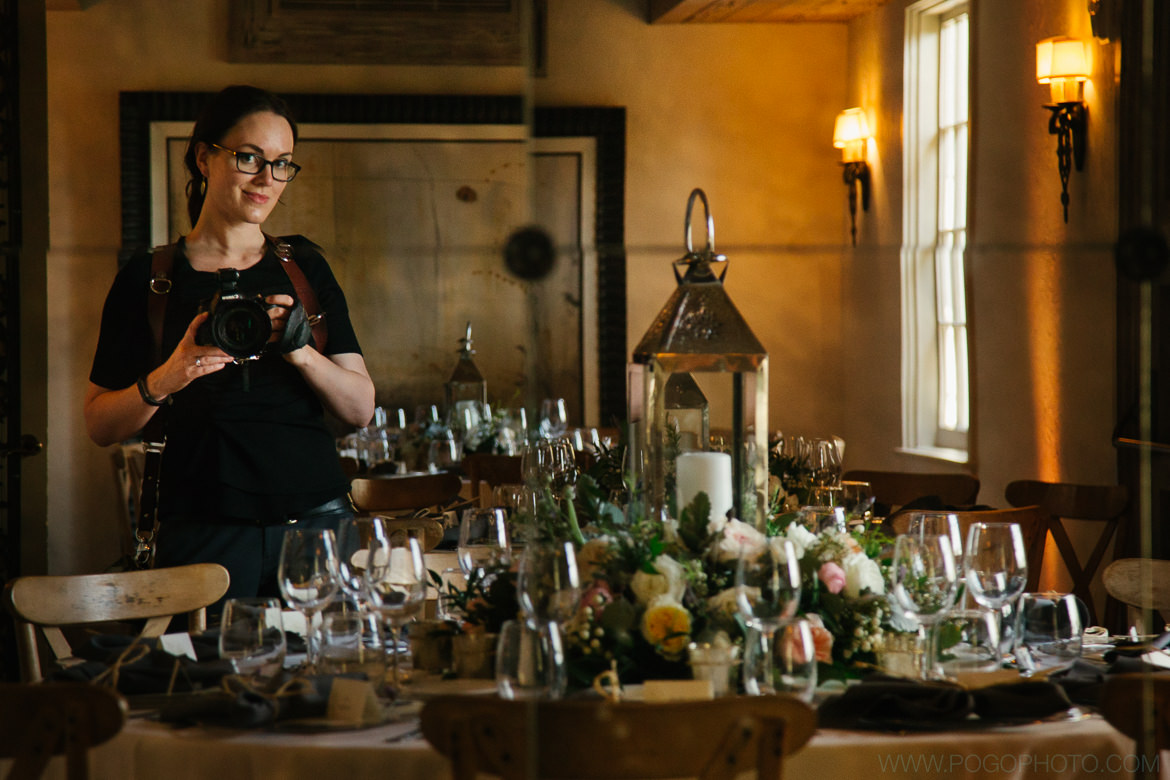 Sometimes there's great window light and no subject. Problem solved with a mirror selfie!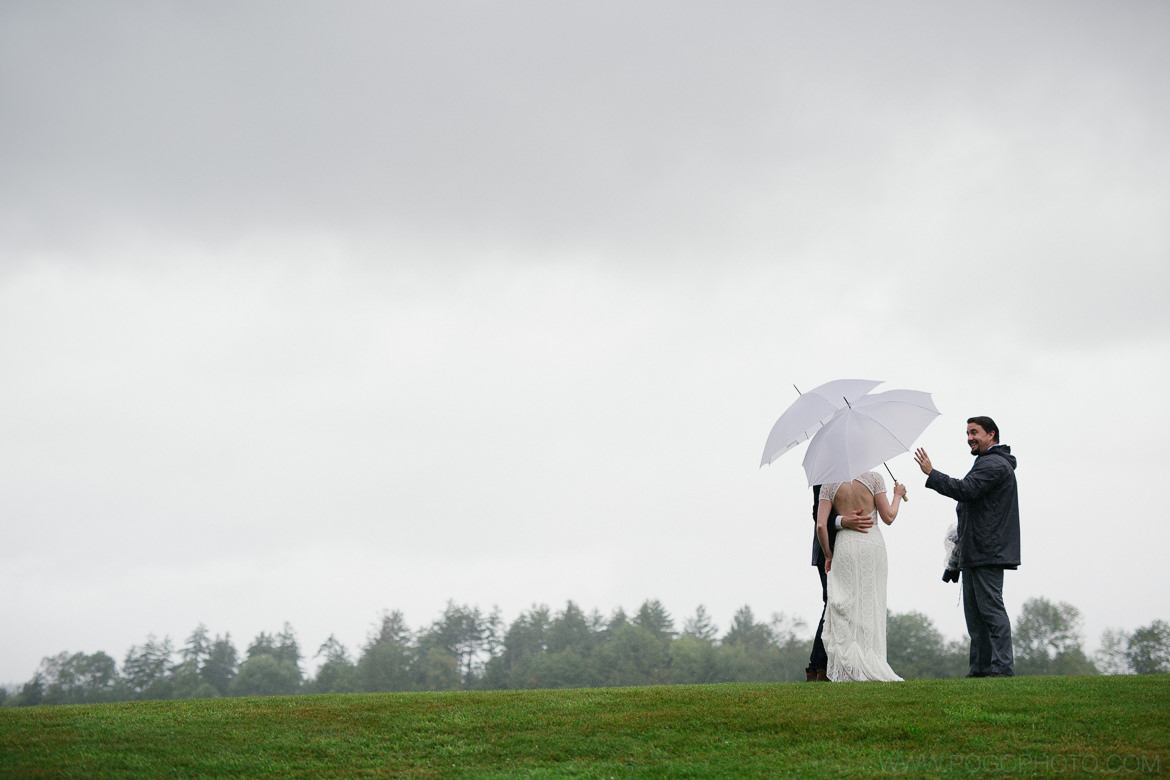 Rainy wedding day? Pssssh. No problem. Let's stomp around in the rain! (Resulted in that awesome b+w image at the top!)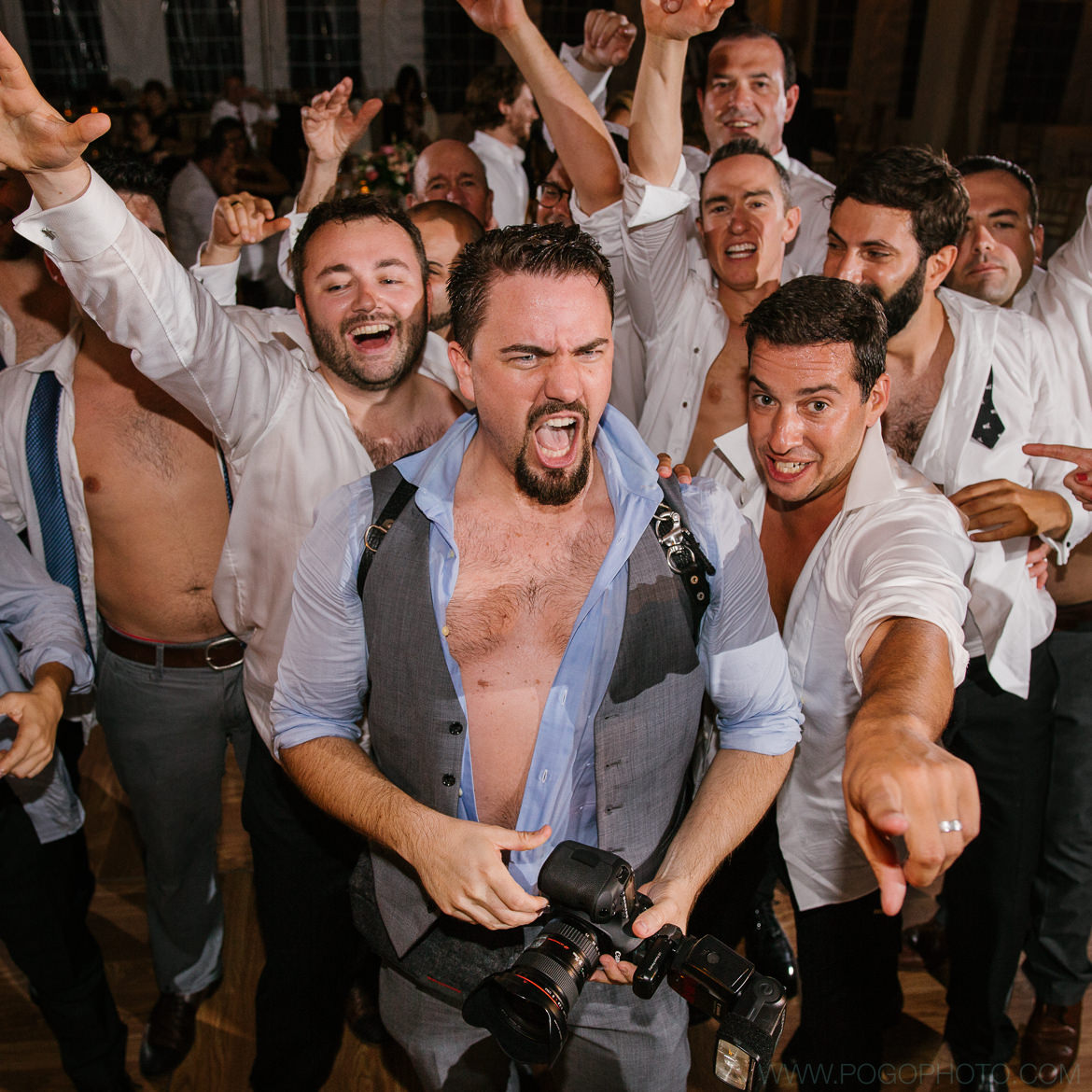 This, uh… requires a bit of explanation. It was extraordinarily hot on this dance floor. Alcohol tends to make clothing fall off. The groomsmen enthusiastically stripped themselves, and then realized Steve, who was sober, was still dressed. What's he gonna do, say no? (We're trying to remember what song this was. Probably by Journey.)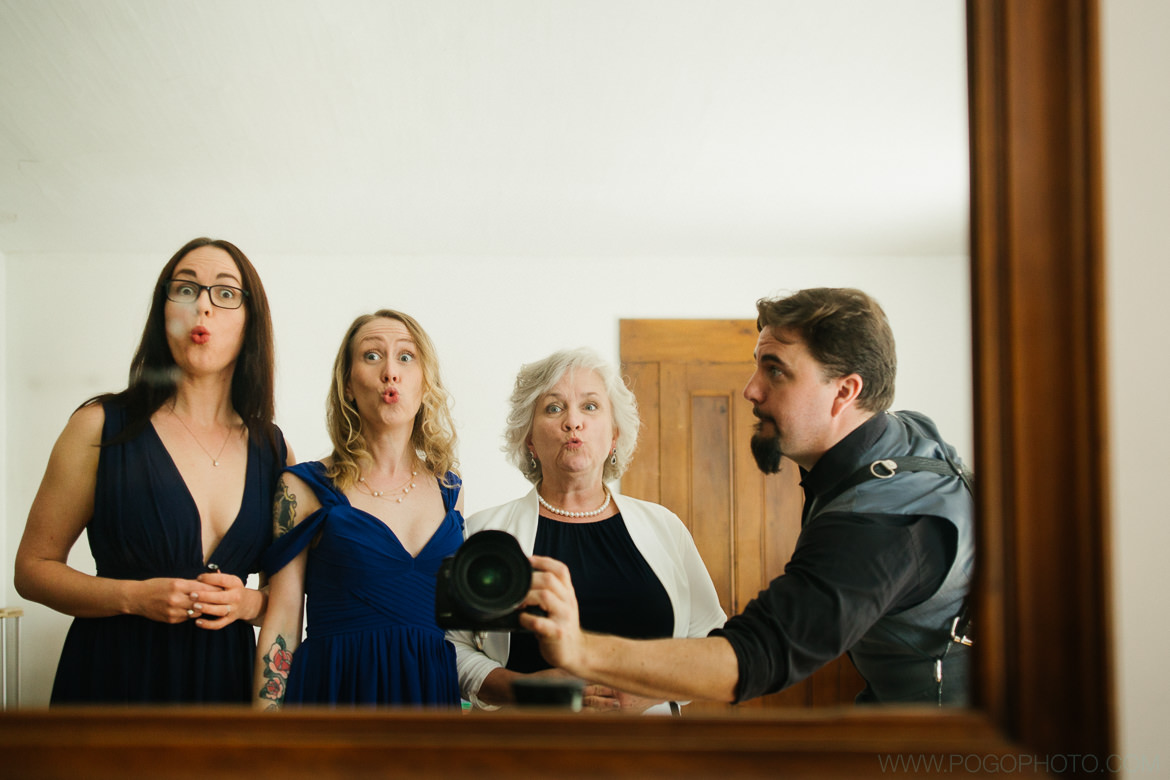 Em. Em's sister, Monica. Em's mom, Evelyn. (The bride!) Steve. The gals all made the same face coincidentally.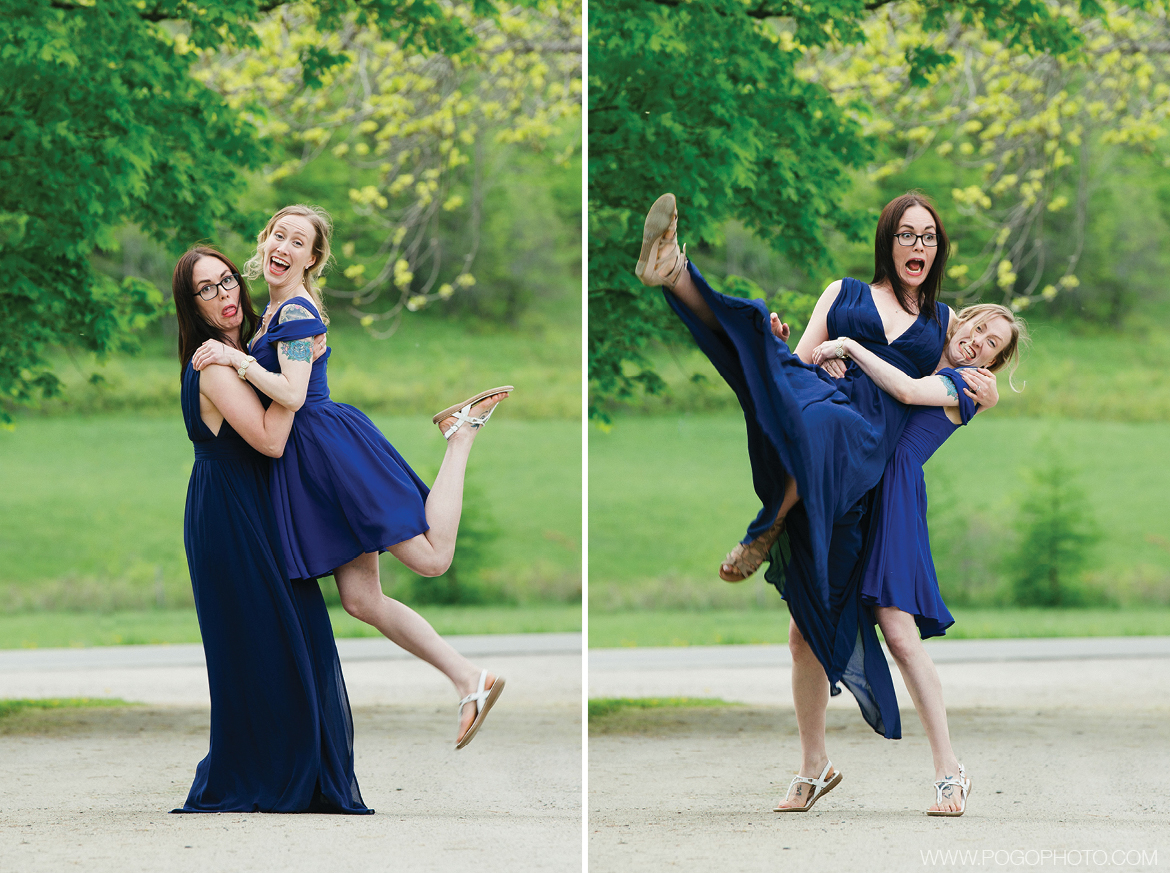 Sisters.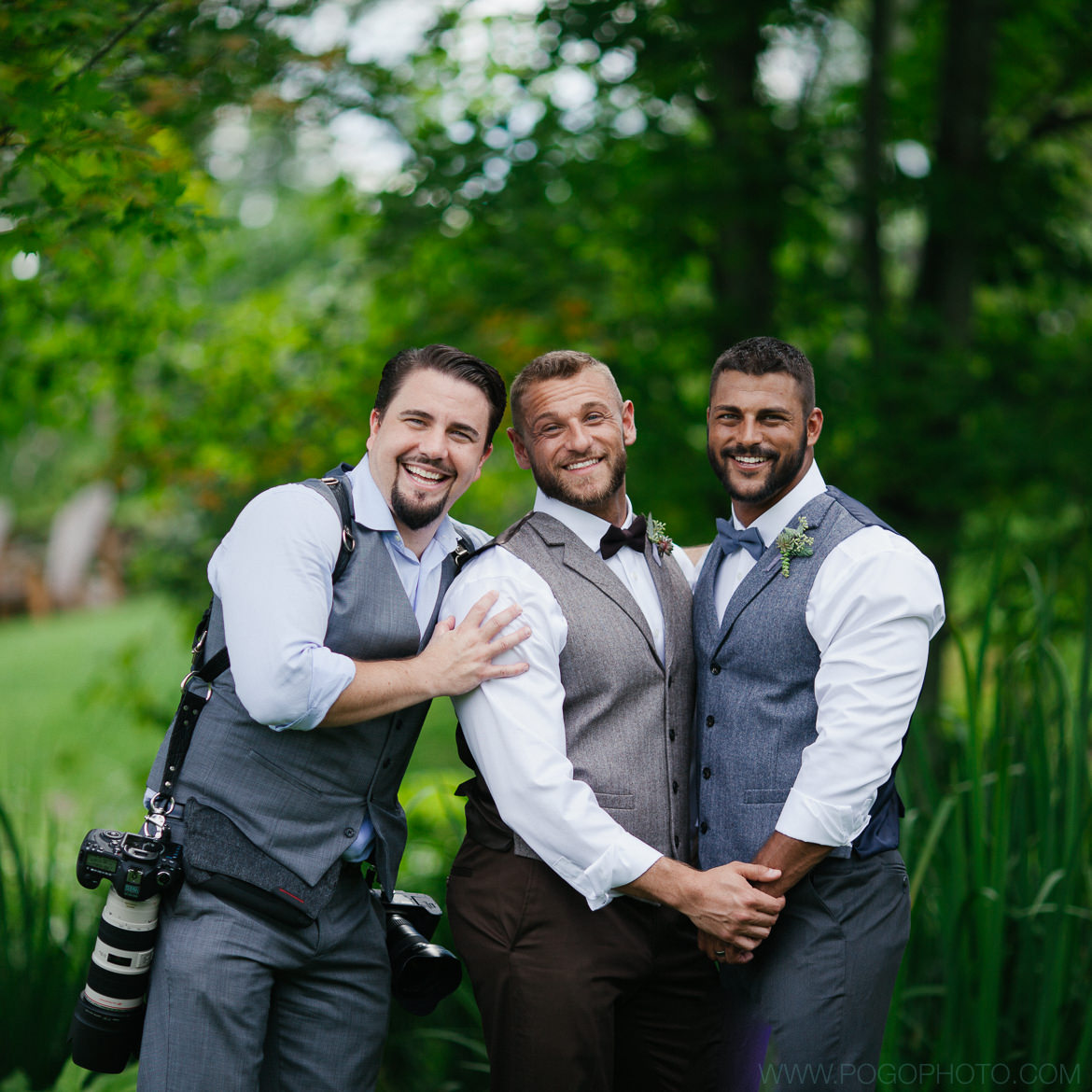 Steve matched the grooms! Vests for everyone!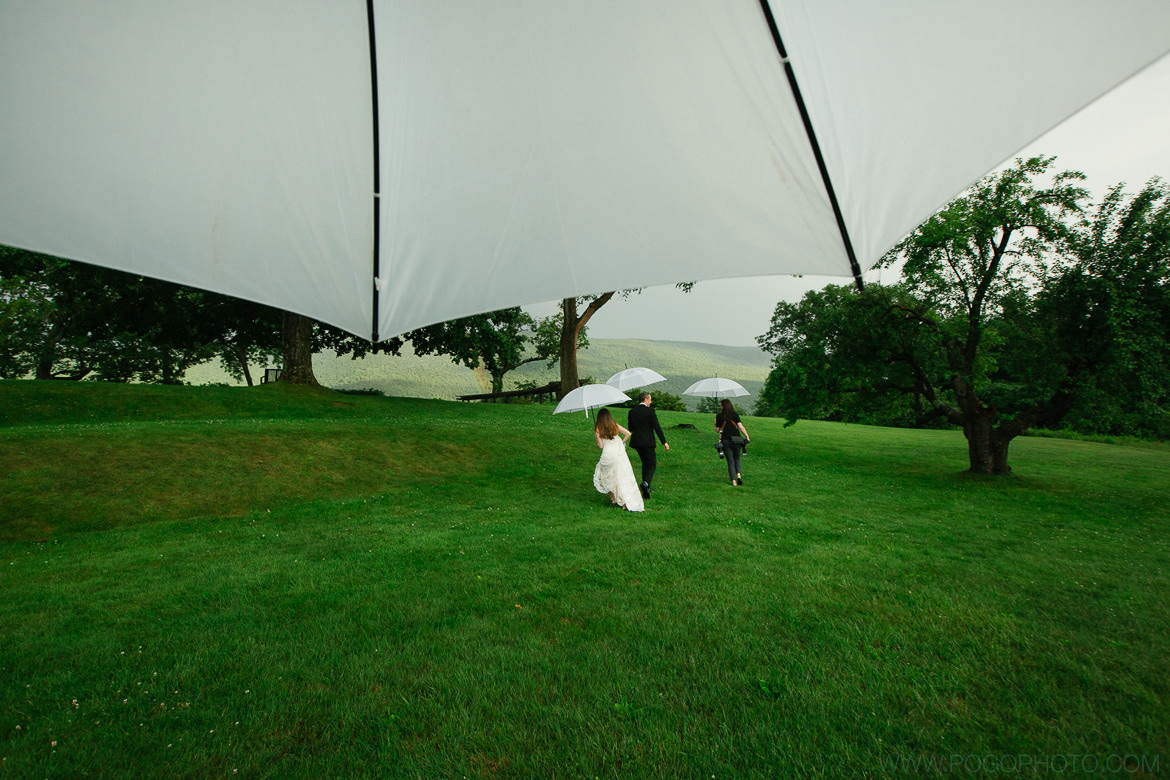 Shhh. We're hunting rainbows.

THIS IS HOW YOU EAT A CUPCAKE.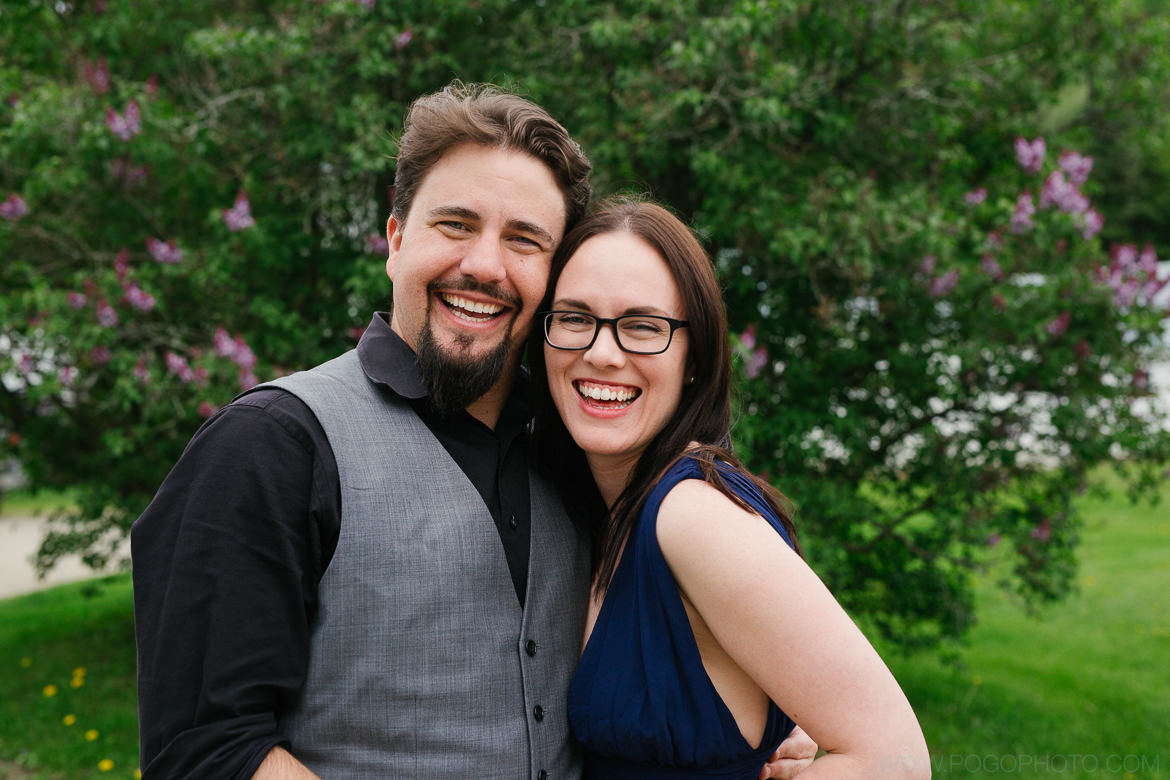 And us, having a wonderful day and a wonderful life. (Photo– and laughs– thanks to Em's sister Monica.)
Thank you for checking out our favorite images! We can't wait for next year.
XOXO– Em + Steve
Comments
comments