Whoa, these months are just flying by, aren't they? It's already time for October's 10 on 10 post! (Not sure what I'm talking about? Click here to see the first month and learn a bit more about the 10 on 10 project, and click here to see all of the posts to date.)
We went on a pretty epic roadtrip this fall. We'll have many, many more images in the near future (once we give our clients some extra love, that is), but the long and short of it: Steve wanted to drive from South Florida to Alaska. So he did. Em joined him for the Florida-Seattle run. Hands-down winner of this trip? Glacier National Park, in the northern mountains of Montana. Absolutely breathtaking.
Before we go any further, please go check out the other talented photographers who are participating this month. (Go ahead, we'll be right here for you when you come back.)
Alright, so Glacier National Park. (Not to be confused with Glacier Bay National Park in Alaska; there are no whales in Montana, so it has a somewhat different vibe.) We fell in love with this place from the first moments we entered the park. Wind swept, chilly, spectacular. The-Going-to-the-Sun Road is something that must be experienced: a 50 mile winding road the takes a route directly along lakes and up steep switchbacks to feel like you're actually trying to drive into the sky. The first day we were in Glacier (the day we're posting here) the road had a closure at the highest point, Logan Pass, so we couldn't drive the entire road. So we drove the bit we could from the east side (St Mary) headed west (West Glacier)… then drove alllllll the way around on the "main roads" and did the west side headed east. (Click through to the rest of the post to see more.)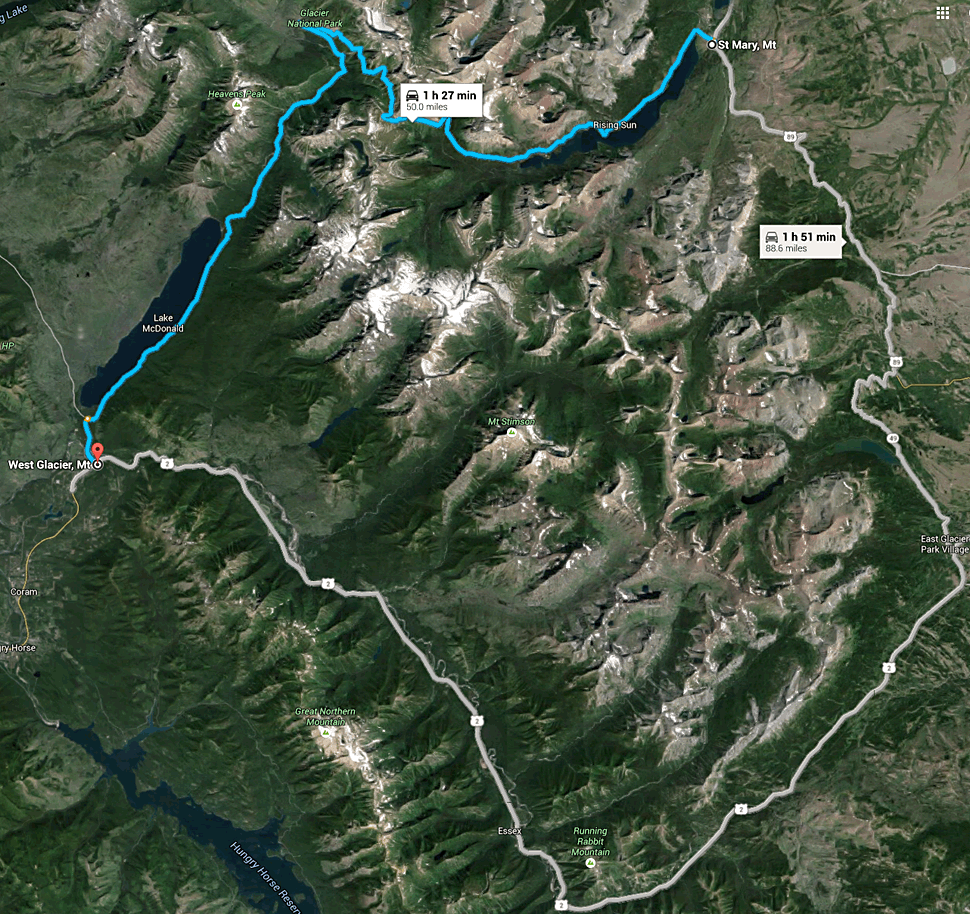 It was, uh… a long way around. And Google is vastly overestimating our ability to drive quickly on these roads. Not to worry, the next morning Logan Pass had been plowed and was open, so we went back and did the whole road again. Twice. (Oh right, did we mention Logan was closed because of SNOW? On Labor Day weekend? These Florida kids were chilly.) There's so much more we could say about this place, but we'll leave it for now. It can be summed up with this: it's a must-see. Go as soon as possible. (Which given the snow situation probably isn't until next summer, so you have plenty of time to plan.) Something to note: a year long National Park pass will get you into so many amazing places; it covers your entire car full of people and only costs $80. (It's even cheaper if you're over 65! $10 for a lifetime pass!) We highly recommend going this route; these parks belong to us as a nation, and they should be shared and enjoyed in person. Check out the National Parks website and find somewhere to explore! (Wow, we sound like an after school special. But seriously. Do this.)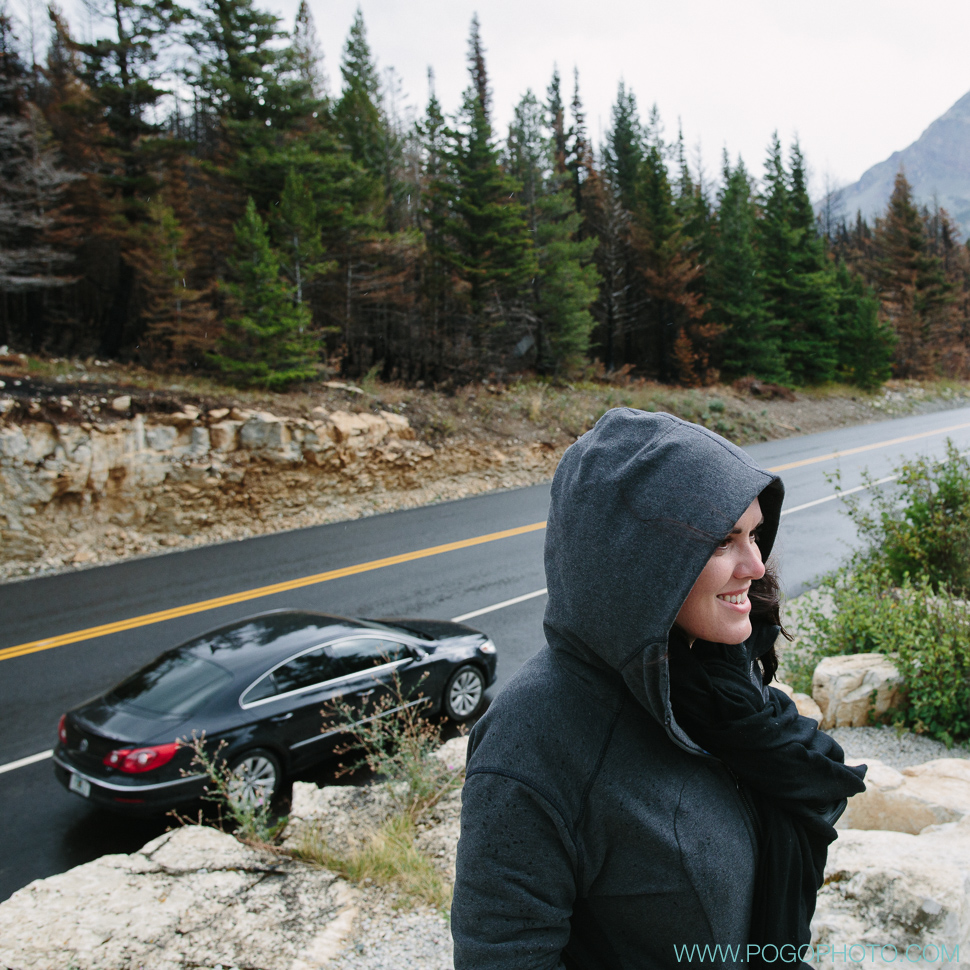 Our trusty chariot, Tyra the VW CC. Zillions of miles and she barely complained. Below: Steve taking selfies; Em trying to freak him out with various faces for him to see on the review screen.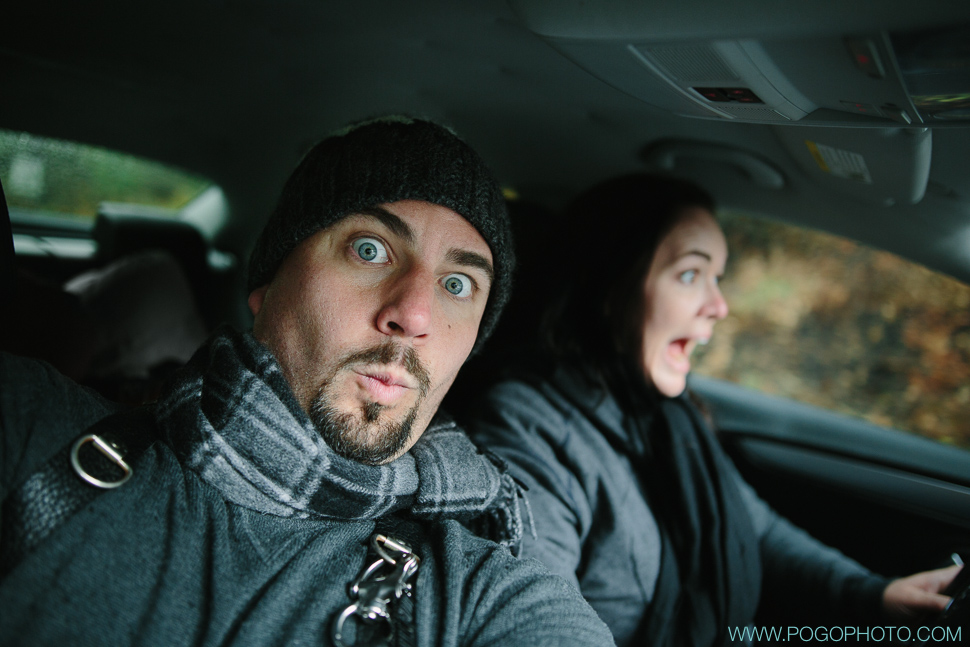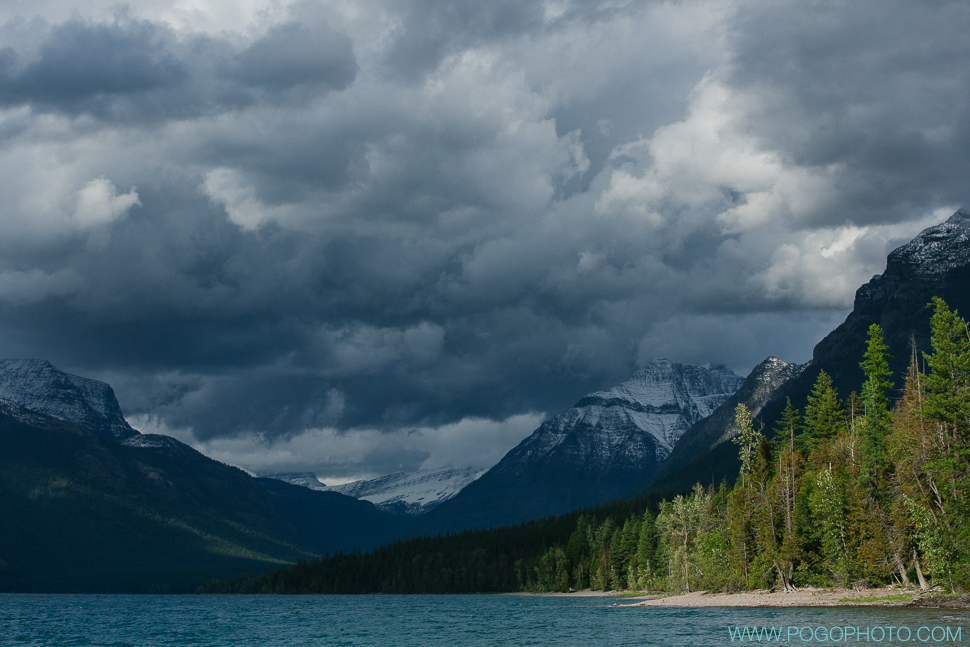 Over on the west side the weather was warmer, but still stormy looking. This is Lake McDonald, which has amazing rainbow colored rocks and a relaxing lap of waves on the shore.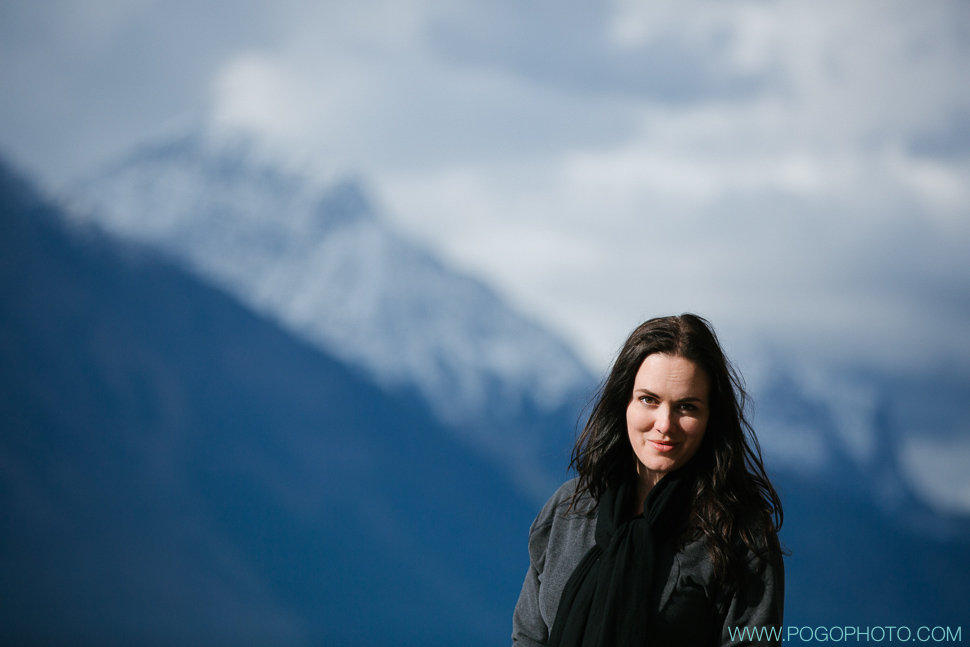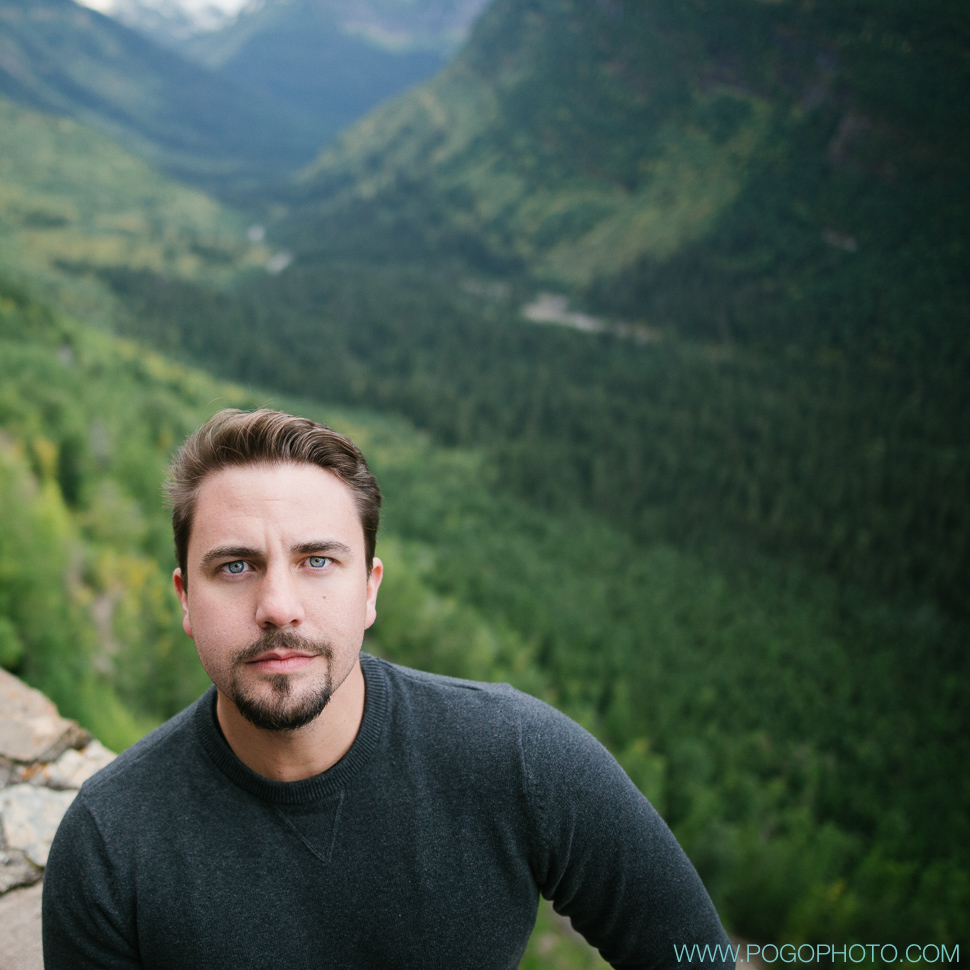 We stopped for a cold lunch just after the big switchback in the road, overlooking this beautiful valley. Cold lunch sitting in the cold air on cold rocks made us very grateful for seat heaters. And wishing we'd thought to bring a Thermos of coffee.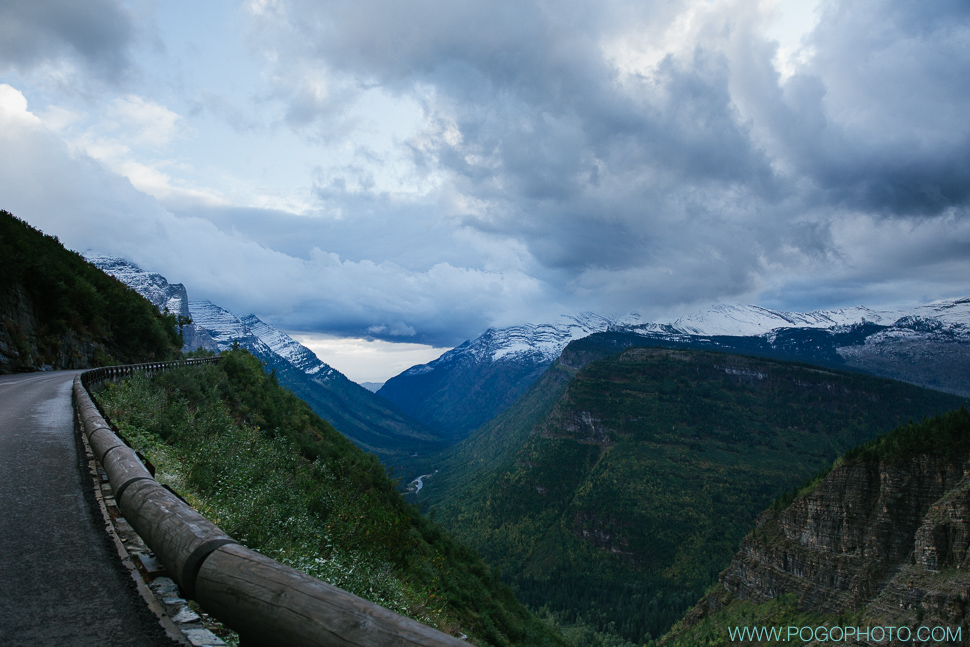 This is what the road feels like. And this is why Em drove almost the entire time. Narrow lanes, distracted drivers, sheer plummets down cliffs; what's not to love?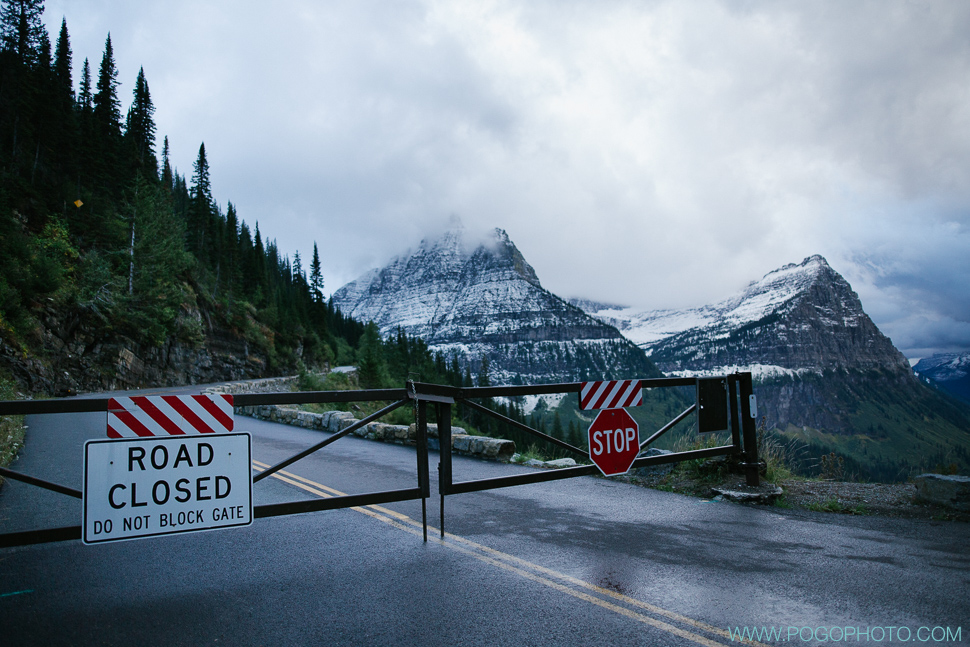 We had to turn around here, though driving through these gates the following day might not have felt so good if we hadn't had to stop this time. We also wouldn't have seen this spectacular sunset or met an amazing photographer who specializes in images of Glacier National Park (and leads landscape photography workshops in the park!)… go check him out by clicking here.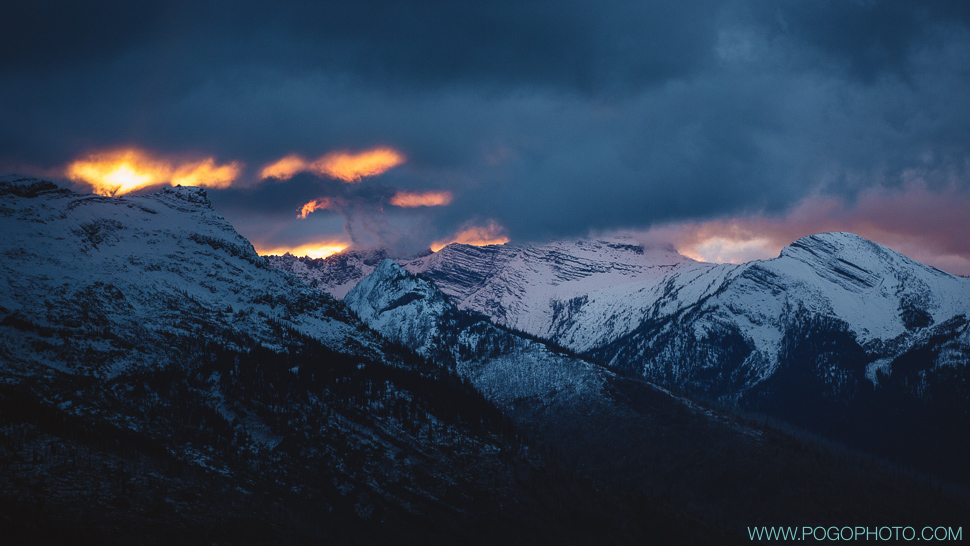 That's all for now, but believe us, this was a hard one to narrow down! We have thousands of images to sort through, and we're already planning what we want to do next time we return to Glacier. xoxo–Em + Steve
Comments
comments