In case you hadn't seen, life has been busy in Pogo land! We've been traveling like crazy, so our backlog of blogging shoots is piling up, but not to worry– Em will be back in Florida soon and updates will be flying at you. In the meantime, it's September 10th already, which means it's time for our third 10 on 10 post! (Not sure what I'm talking about? Click here to see the first month and learn a bit more about the 10 on 10 project, and click here to see last month's post.)
We went to Quebec City for our fifth anniversary, almost on a whim; having never really looked into the place before, we wanted to see what this "almost European" city was like, so we booked a room at the famed Chateau Frontenac (which is seriously like a castle on a hill) and drove up from where we'd been staying in Vermont.
Before we go any further, please go check out the other talented photographers who are participating this month. (Go ahead, we'll be right here for you when you come back.)
Back? Great! Check out a day in Quebec City with your two favorite Pogos. Warning: we're a little cuddly. Also, I bent the rules a bit: these images are from a 24 hour period… just not all in one day. We slept in a bunch because that's what we like to do on relaxing vacations, so I didn't have a full day to use. :-) The first half are from August 13th, around Quebec City, and the last ones are from a visit to Chute Montmorency, which is an incredible waterfall just north of the city, complete with a suspension footbridge high above the falls. I included a bonus vertical Pogo Pano so you can see the view over the edge.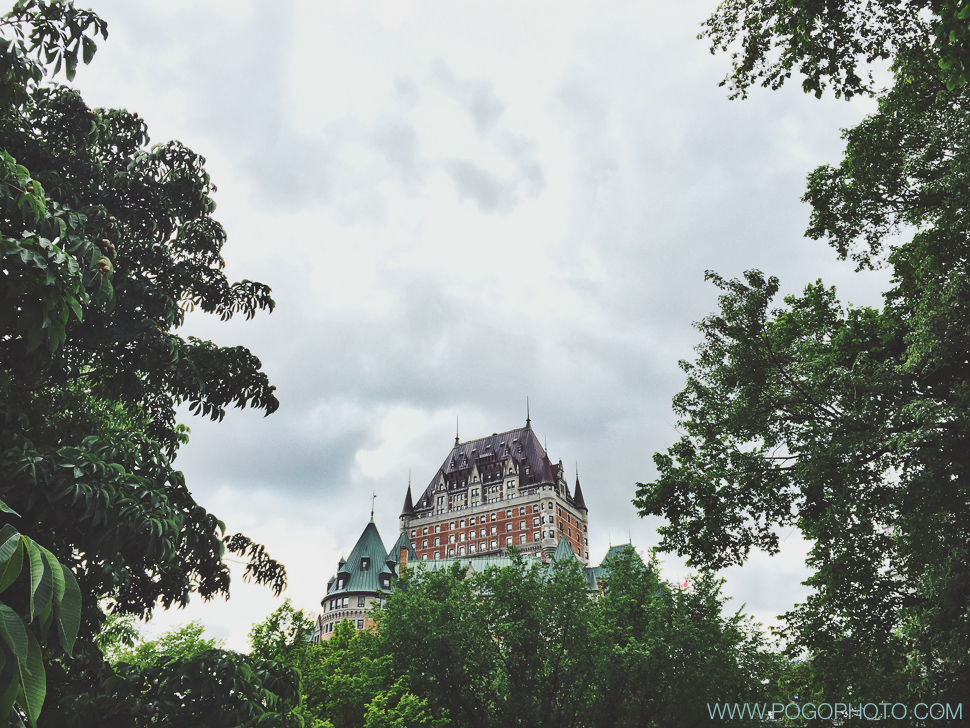 Our castle, Chateau Frontenac. While it could be said that this is a cheesy place to stay, we absolutely loved it. Teeny hotels and bed & breakfasts are great, but this place was grand and perfect for our stay in Quebec City.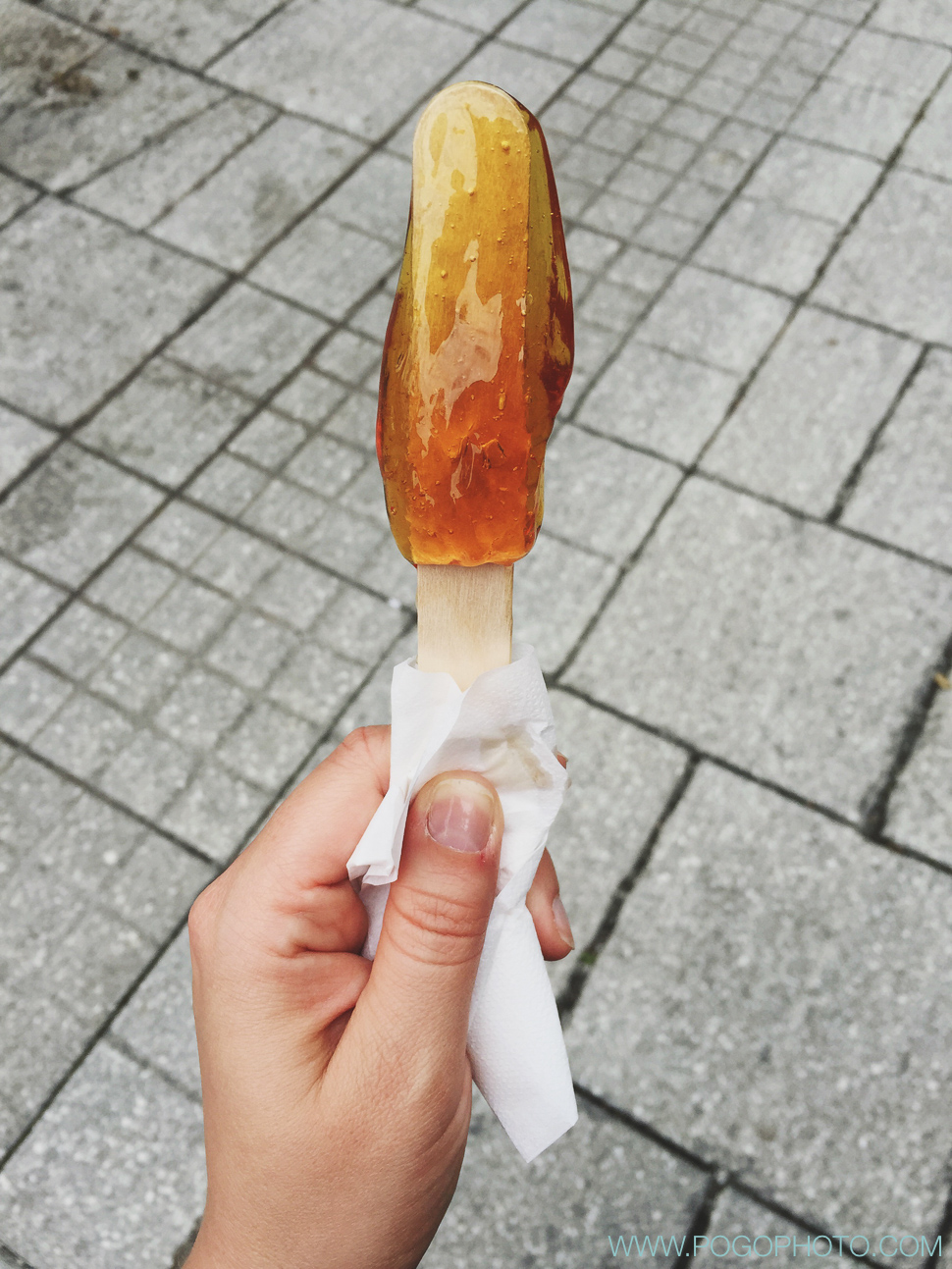 Maple taffy. This is one of the most delicious things I've ever eaten; it's also called "sugar on snow", but I never knew it was something you could get in the summer. (Vermonters make it during snow storms to keep kids quiet.) Boil pure maple syrup to a magical temperature, pour on shaved ice, and scoop up with a popsicle stick. Eat it before it gets all over you! Yummmm.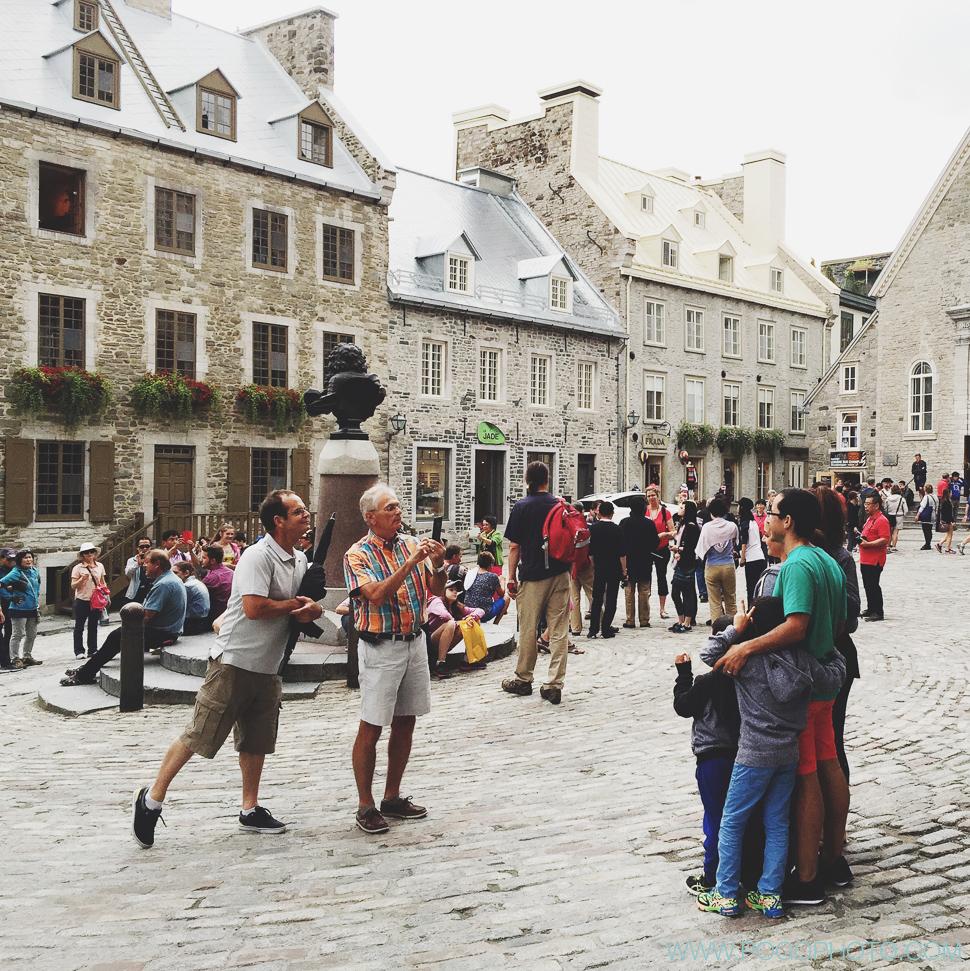 Tourists touristing in the crowded streets. (Turns out other people come here in the summer months, too. Who knew?)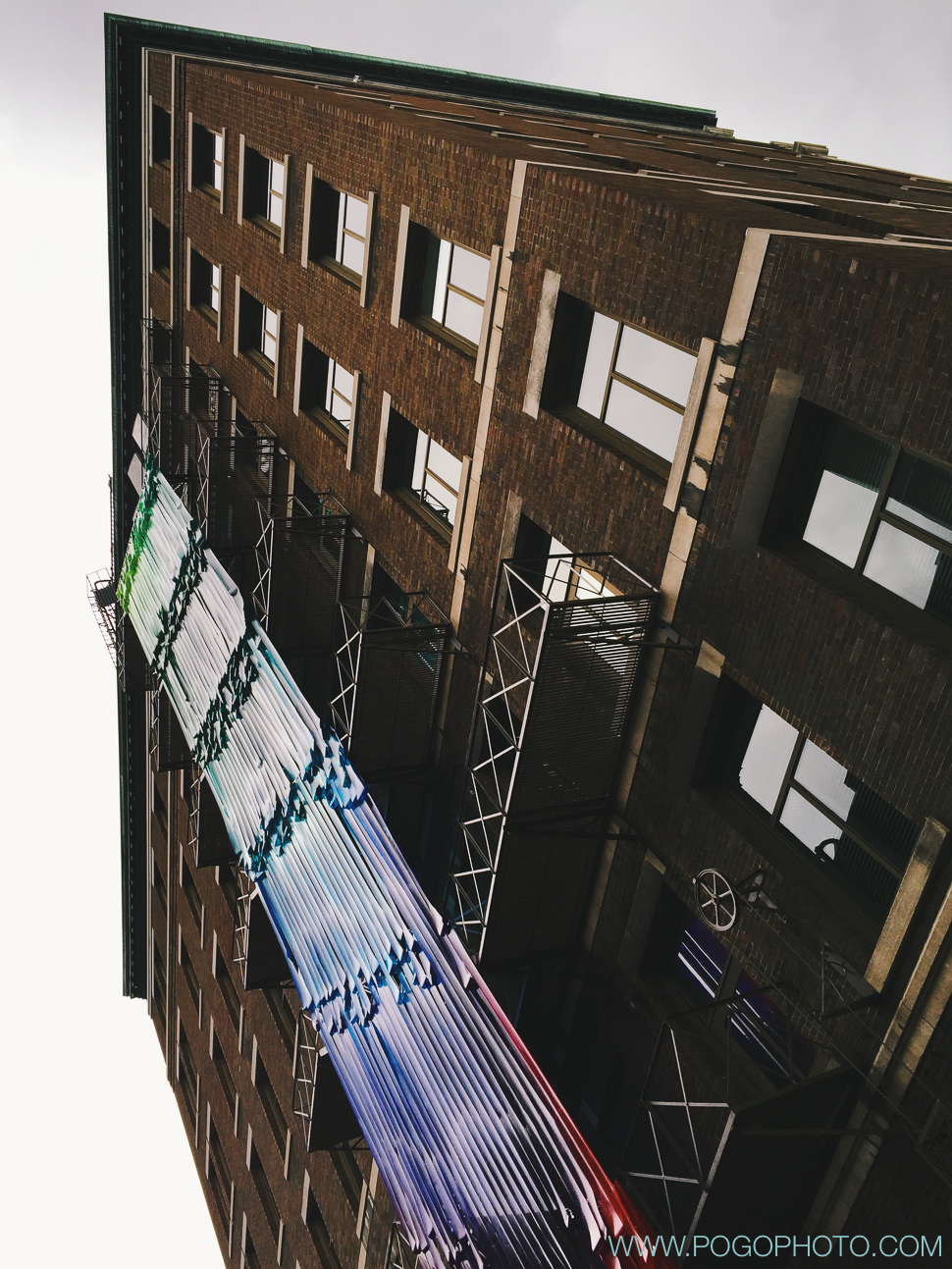 The back of a really cool looking independent hotel had strips of what looked like fruit rollups swaying in the breeze.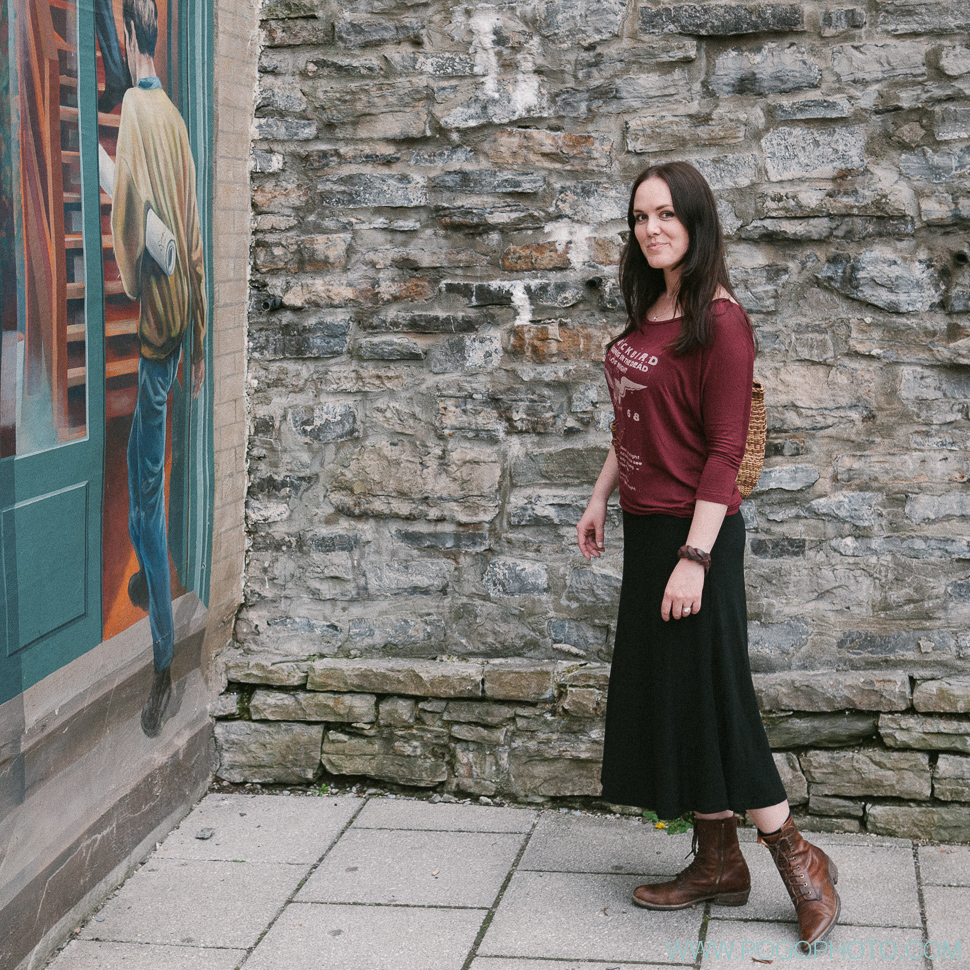 Yep, I'm sharing the credit on this entire blog post. Steve has been taking photos of me all summer and I have to admit that I love it. Here I am entering a trompe l'oeil bookshop.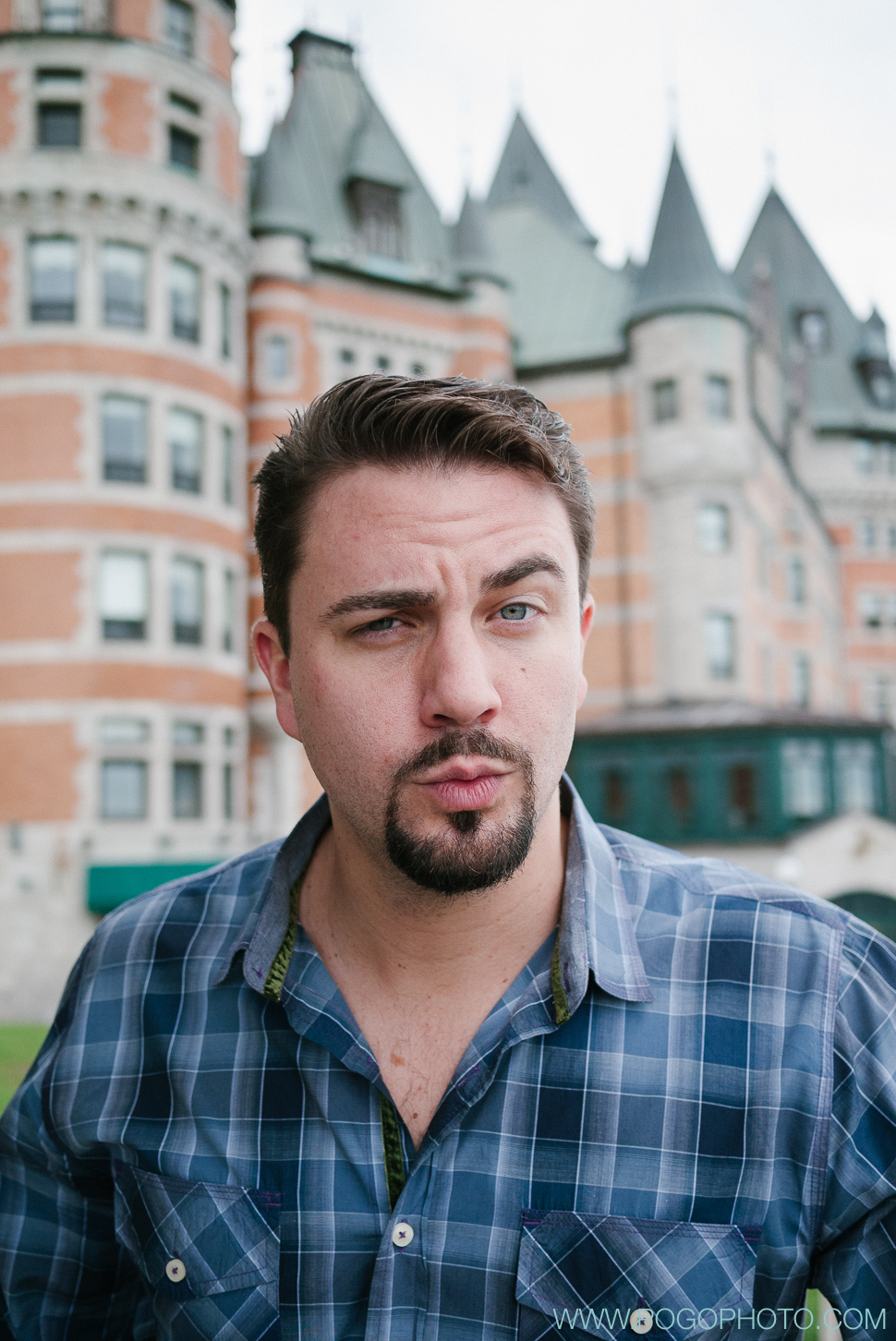 So I take photos of him too. Such a cutie. :-)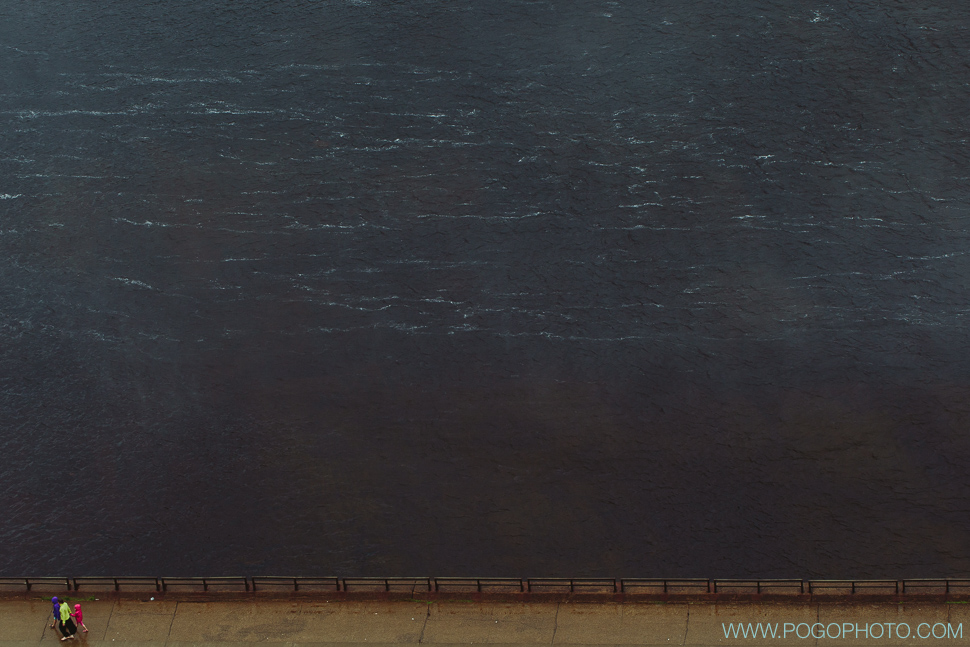 The next morning we drove out to the waterfall north of town. There are stairs to climb up one side of the mountain, and a viewing platform below. It wasn't a cold day, but the spray from the falls and the threatening skies made it feel a little cool.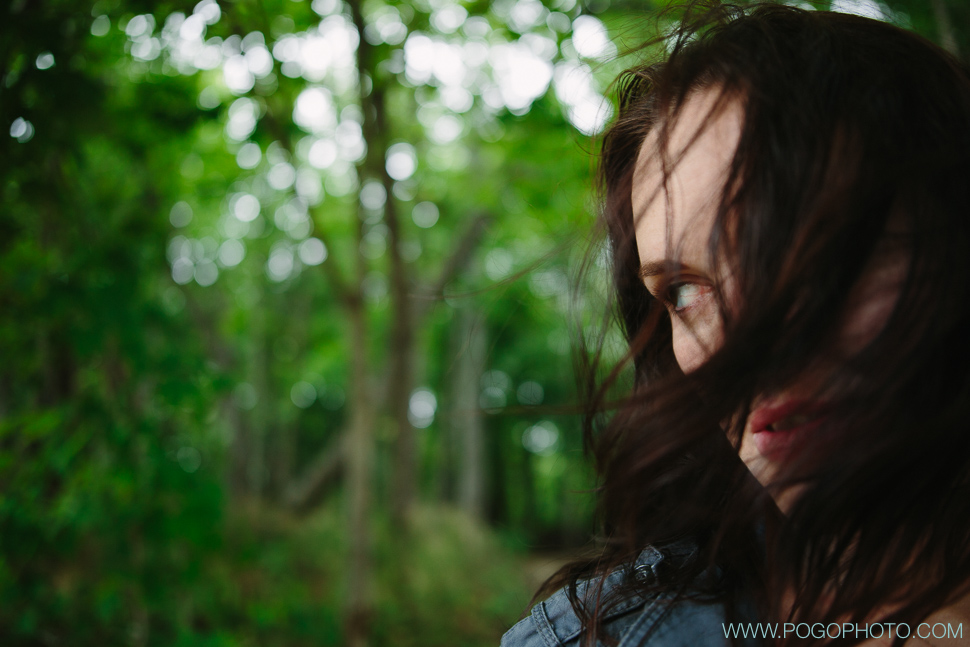 Dodging a rainshower we hid under some trees in the woods and Steve took this windy portrait of me that I love.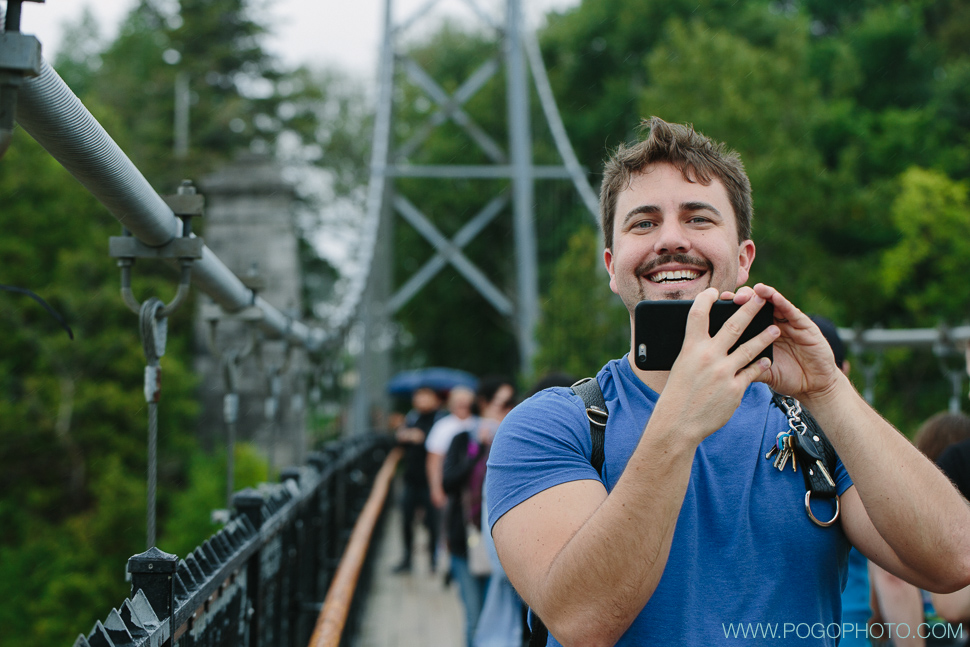 He also decided that Hyperlapse (an iPhone app that does timelapse videos much, much better than the built-in camera does) is more fun when you're following someone around, so he took one of me walking across the bridge. At some point when I figure out how to post videos I'll add it to this blog post. :-)

Here's your bonus Pogo Pano… it's a loooong way down!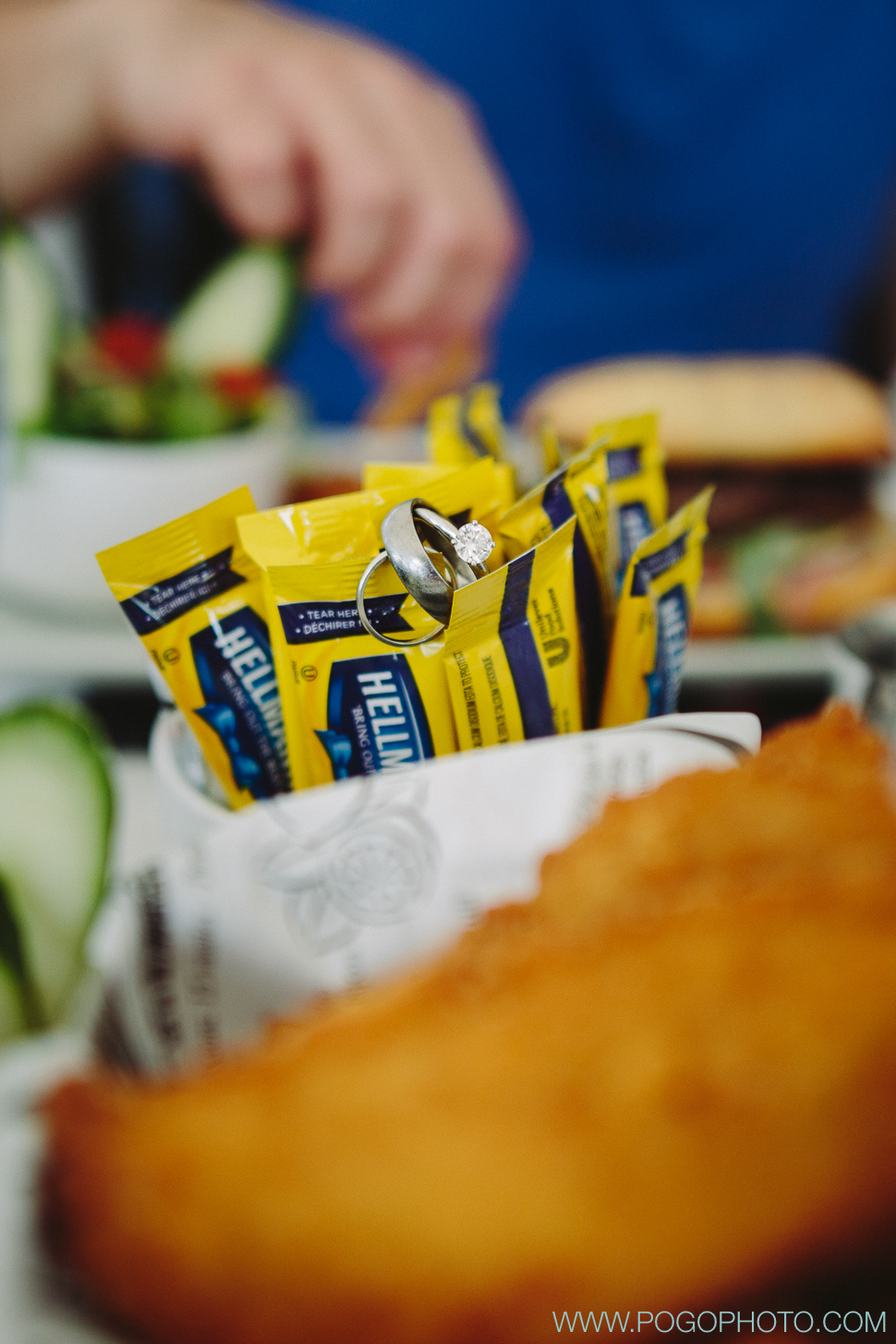 And it wouldn't be the wedding anniversary of wedding photographers without a silly detail photo of our wedding rings. And that photo couldn't be taken in Quebec without involving mayo.
(I think Bruce Willis said it best in The Whole Nine Yards, which was set in Montreal.)
Thanks for checking out this month's personal post, and can't wait to show you what we have up our sleeves for next month! Hint: we just went to Glacier National Park.
xoxo–Em + Steve
Comments
comments